Josta® 2-Tier Rack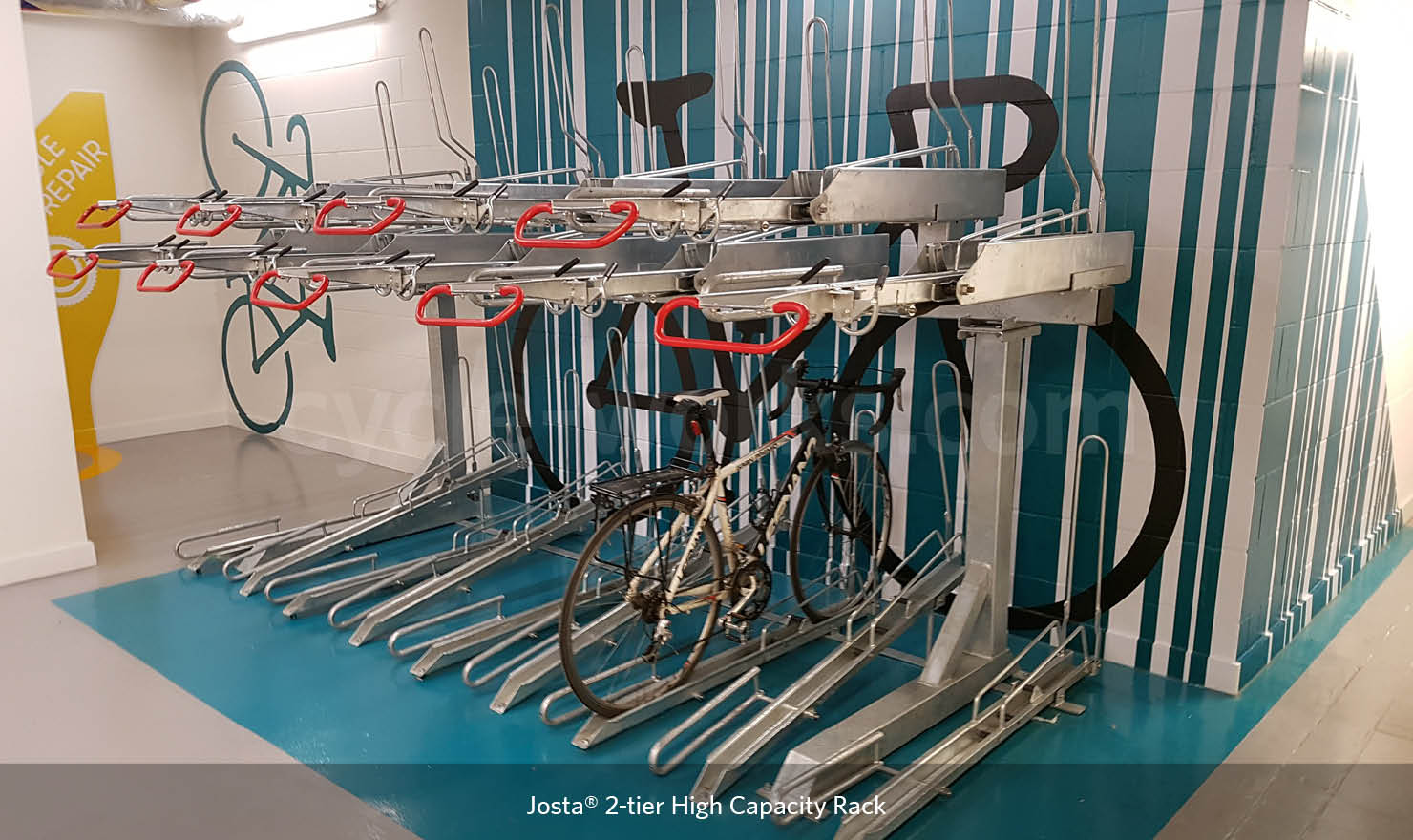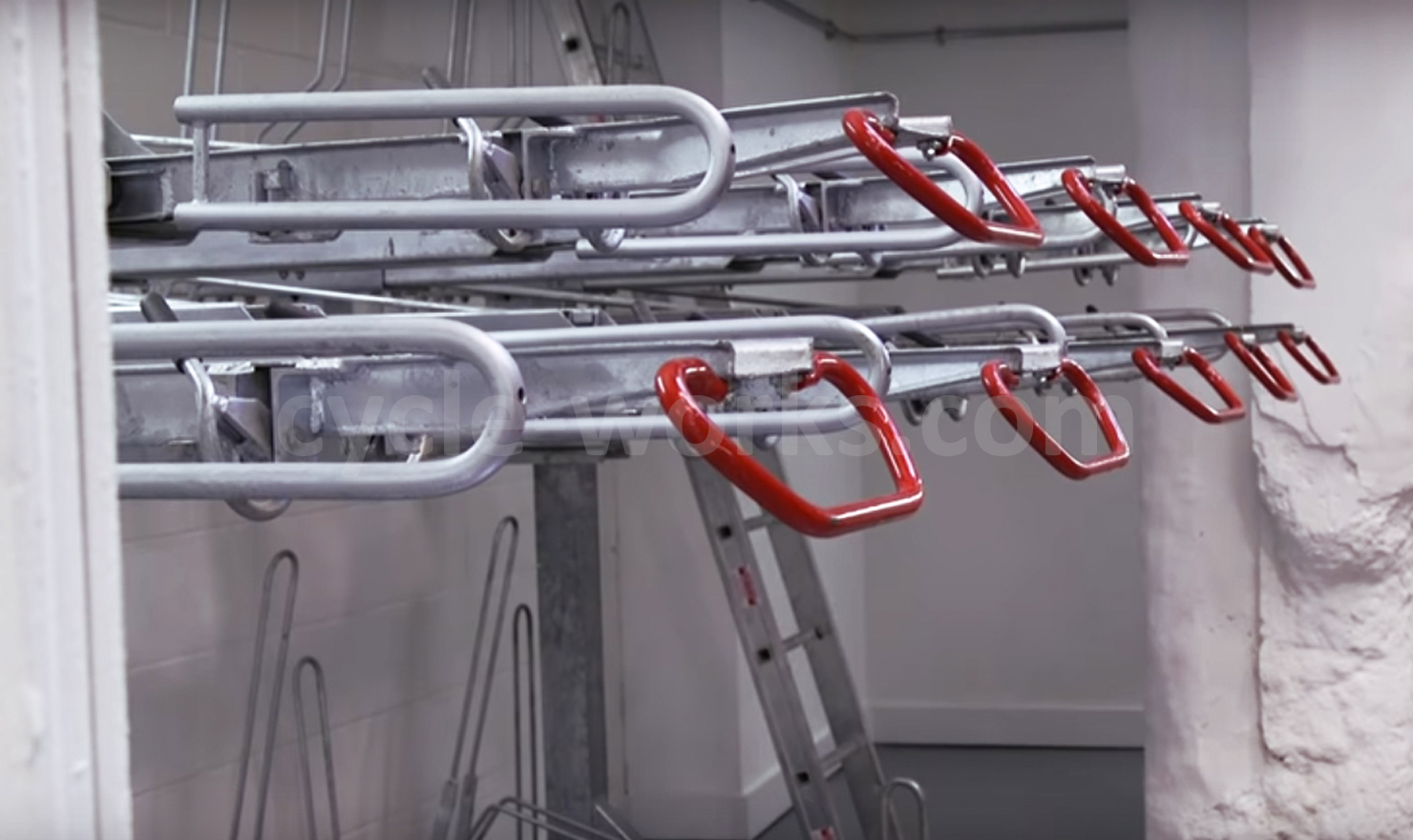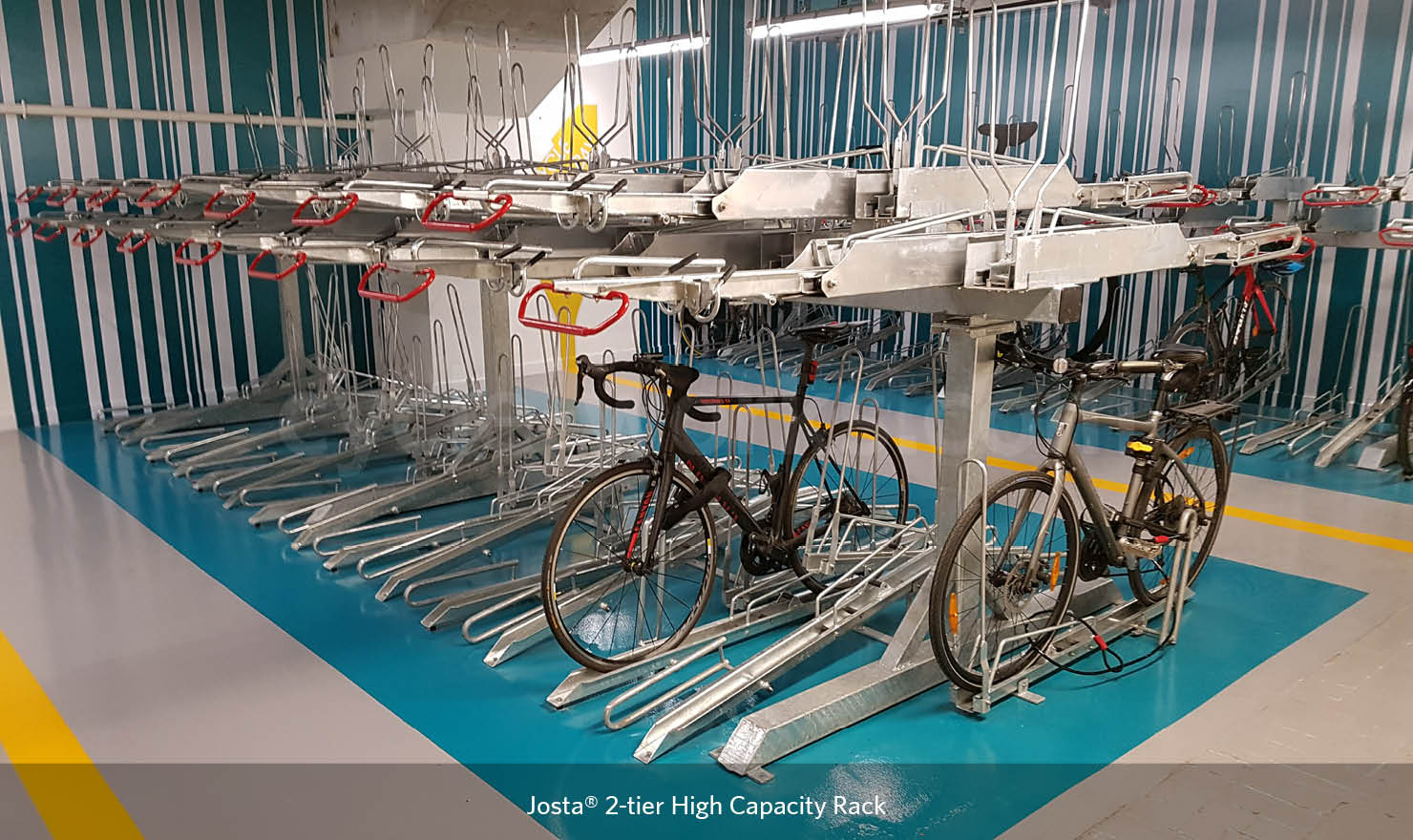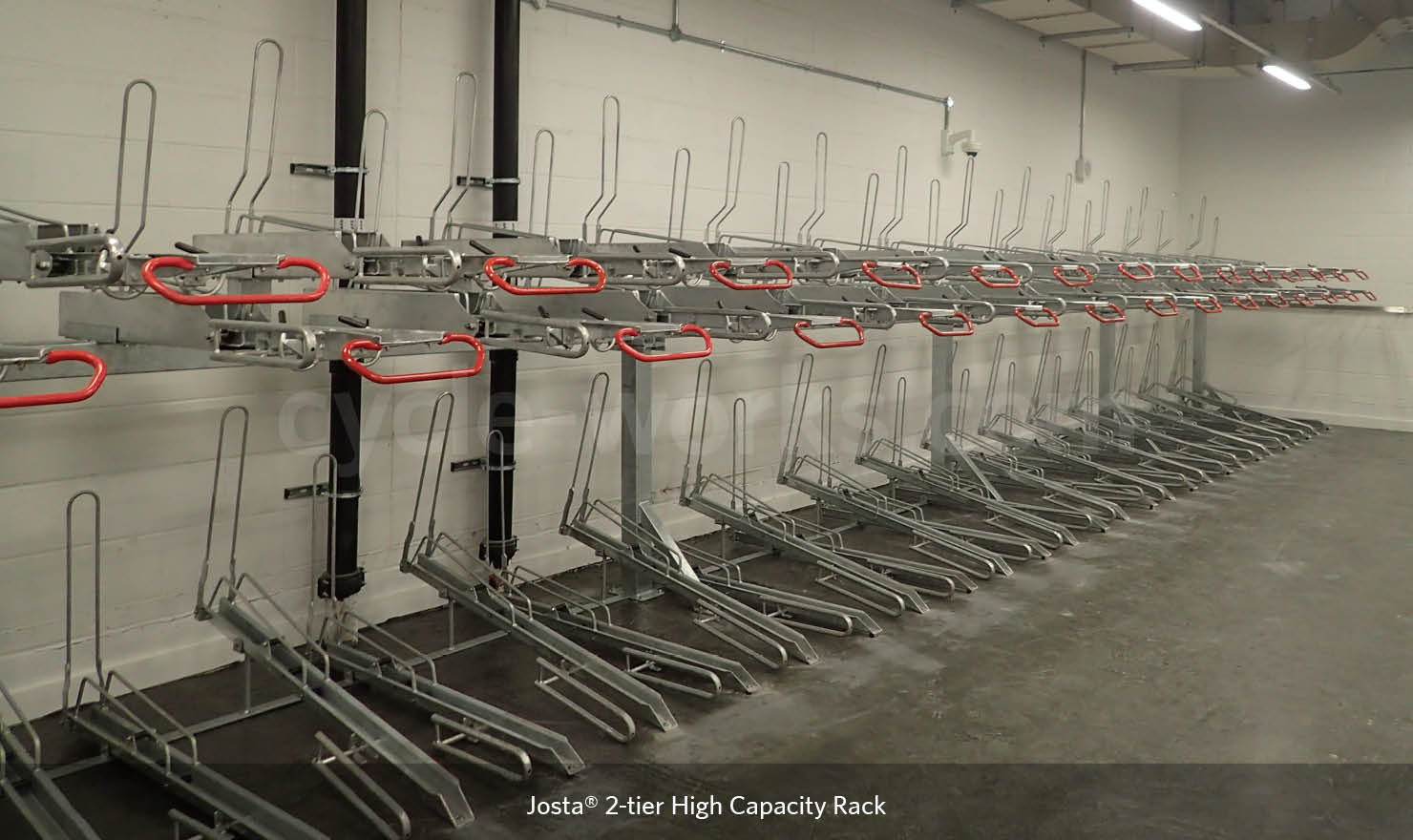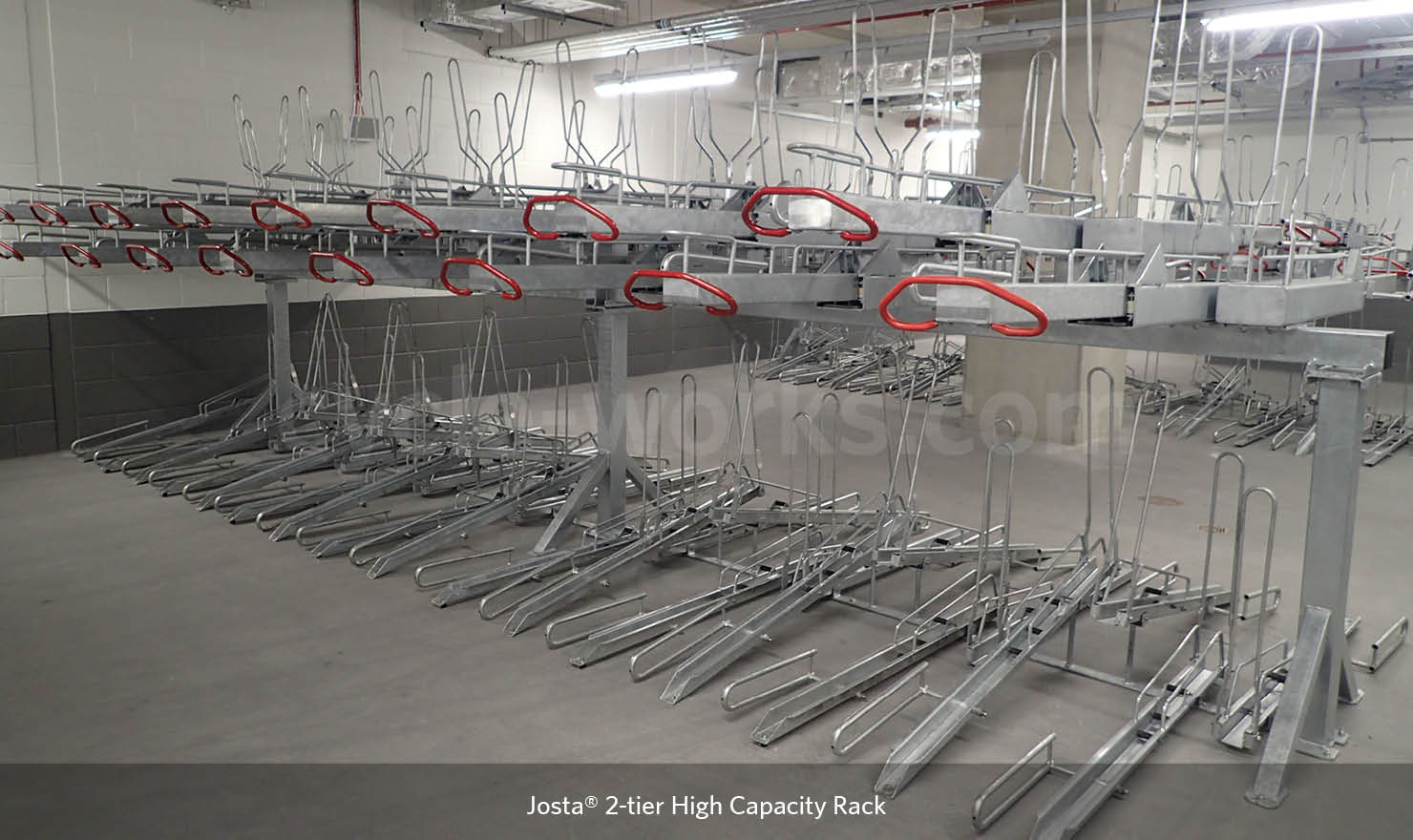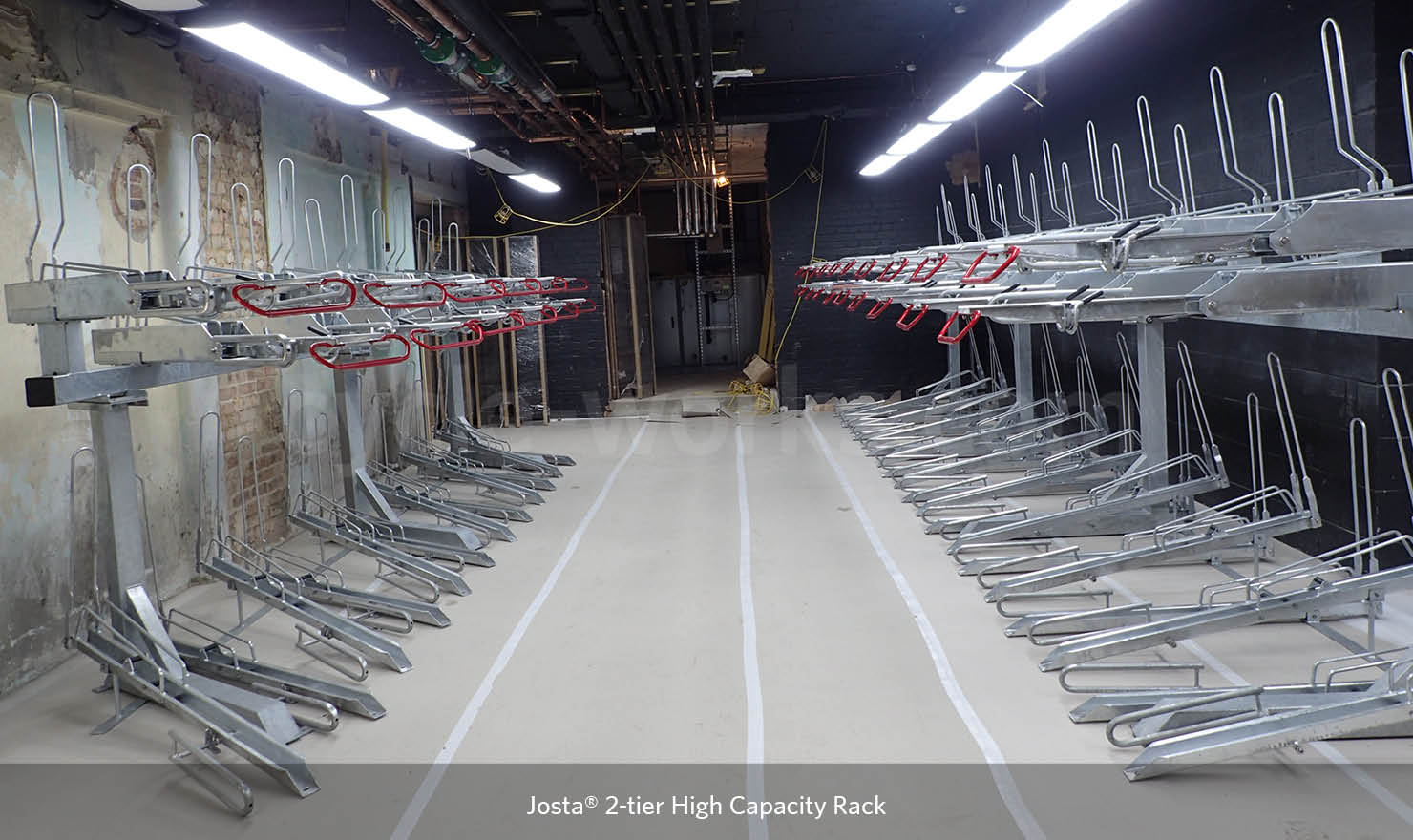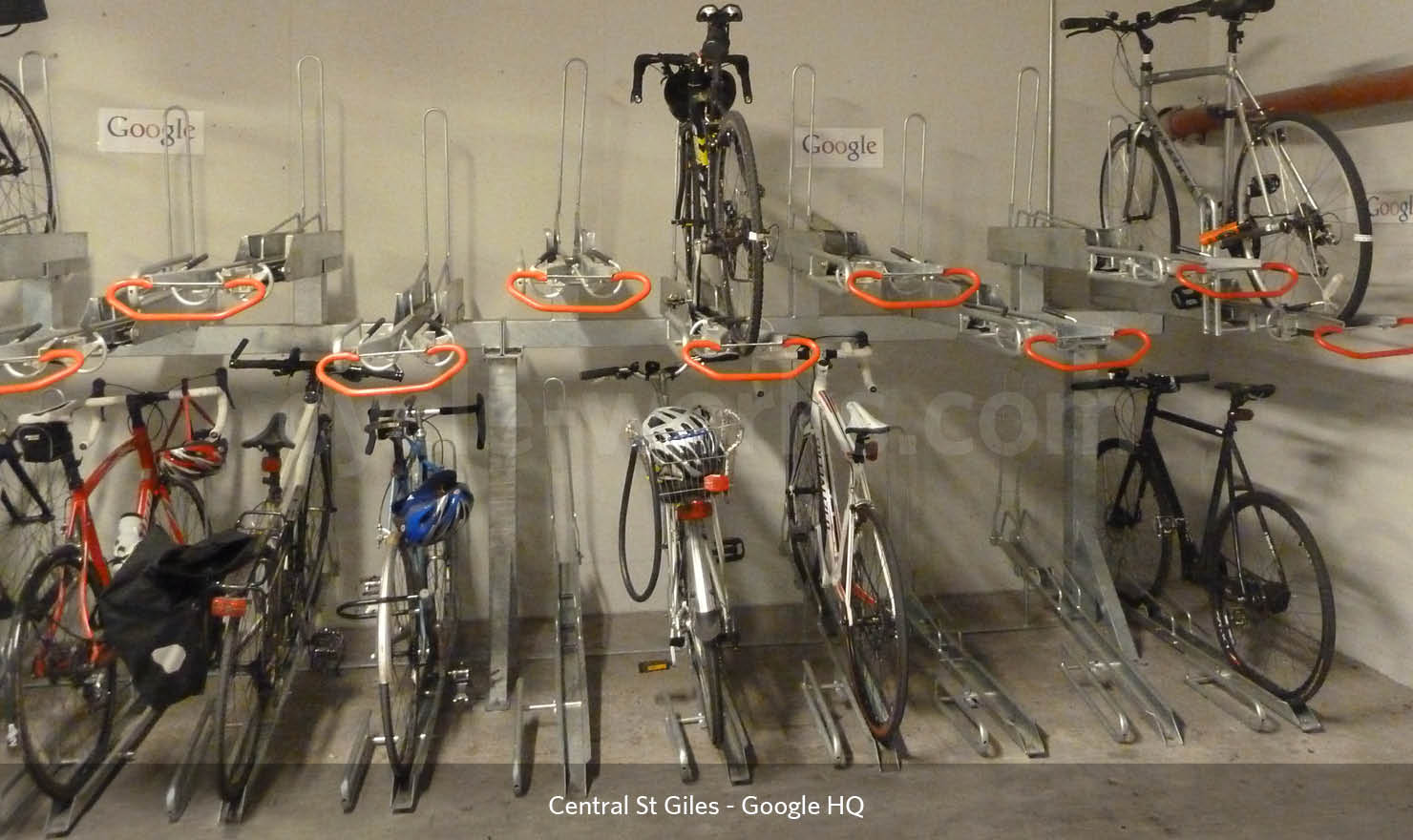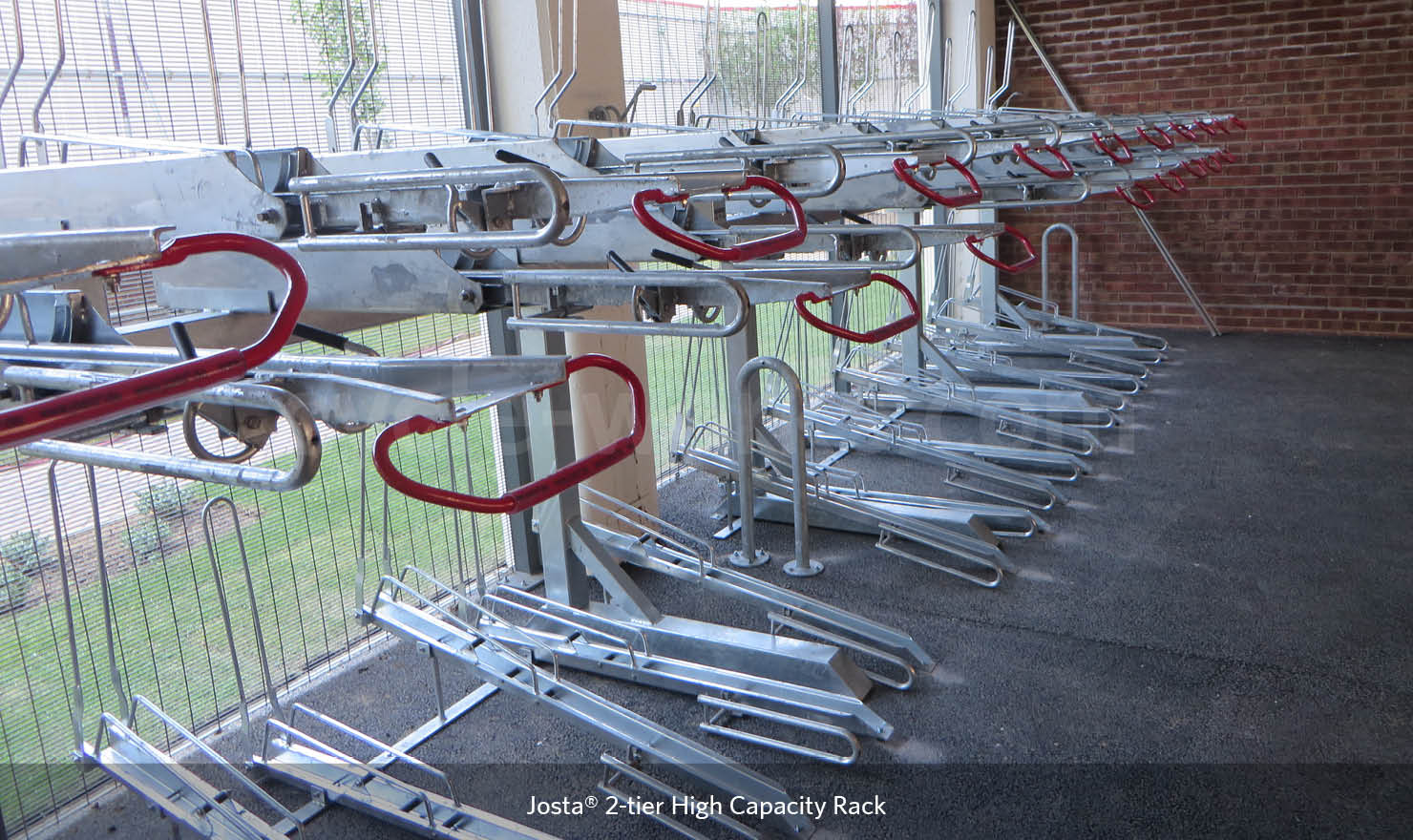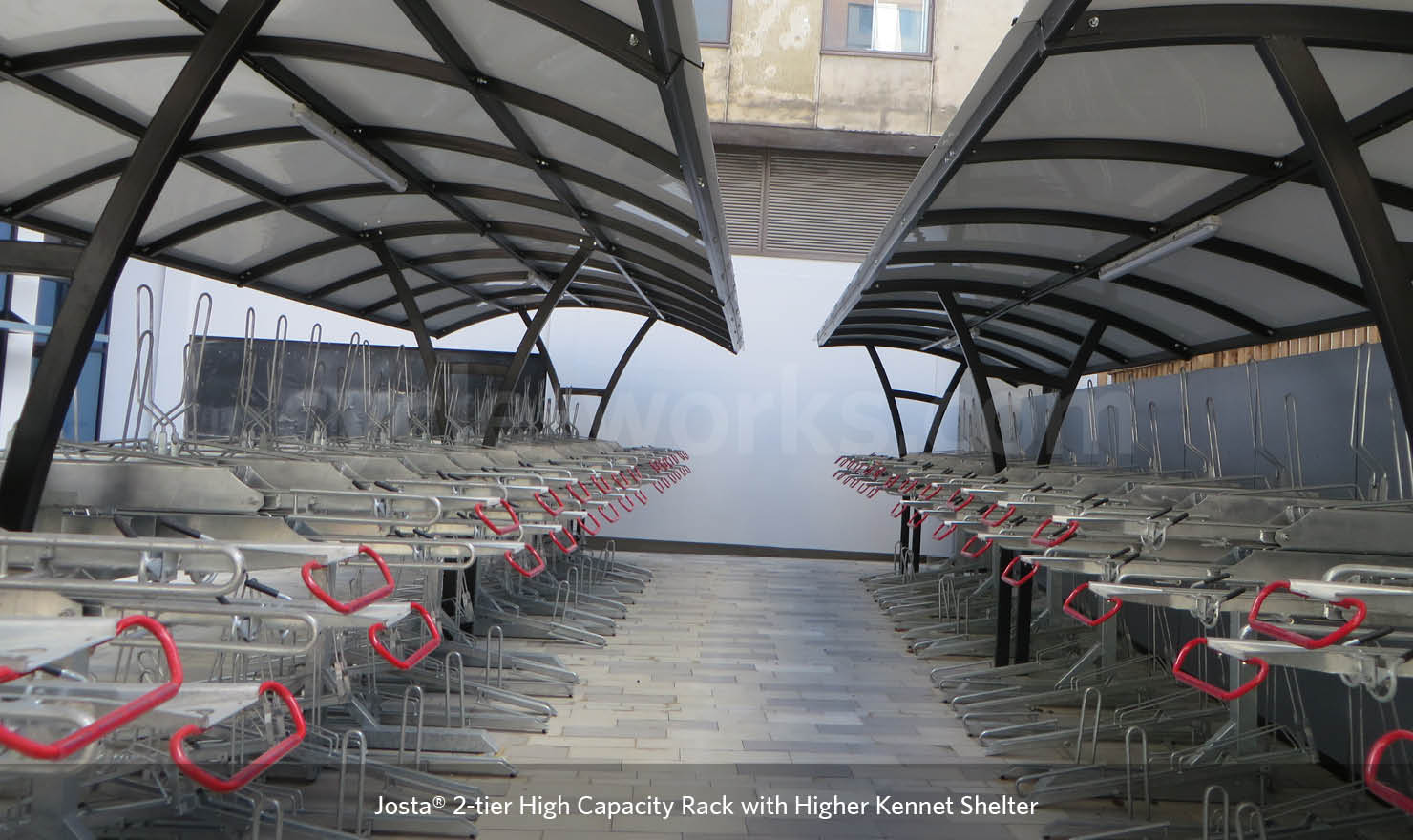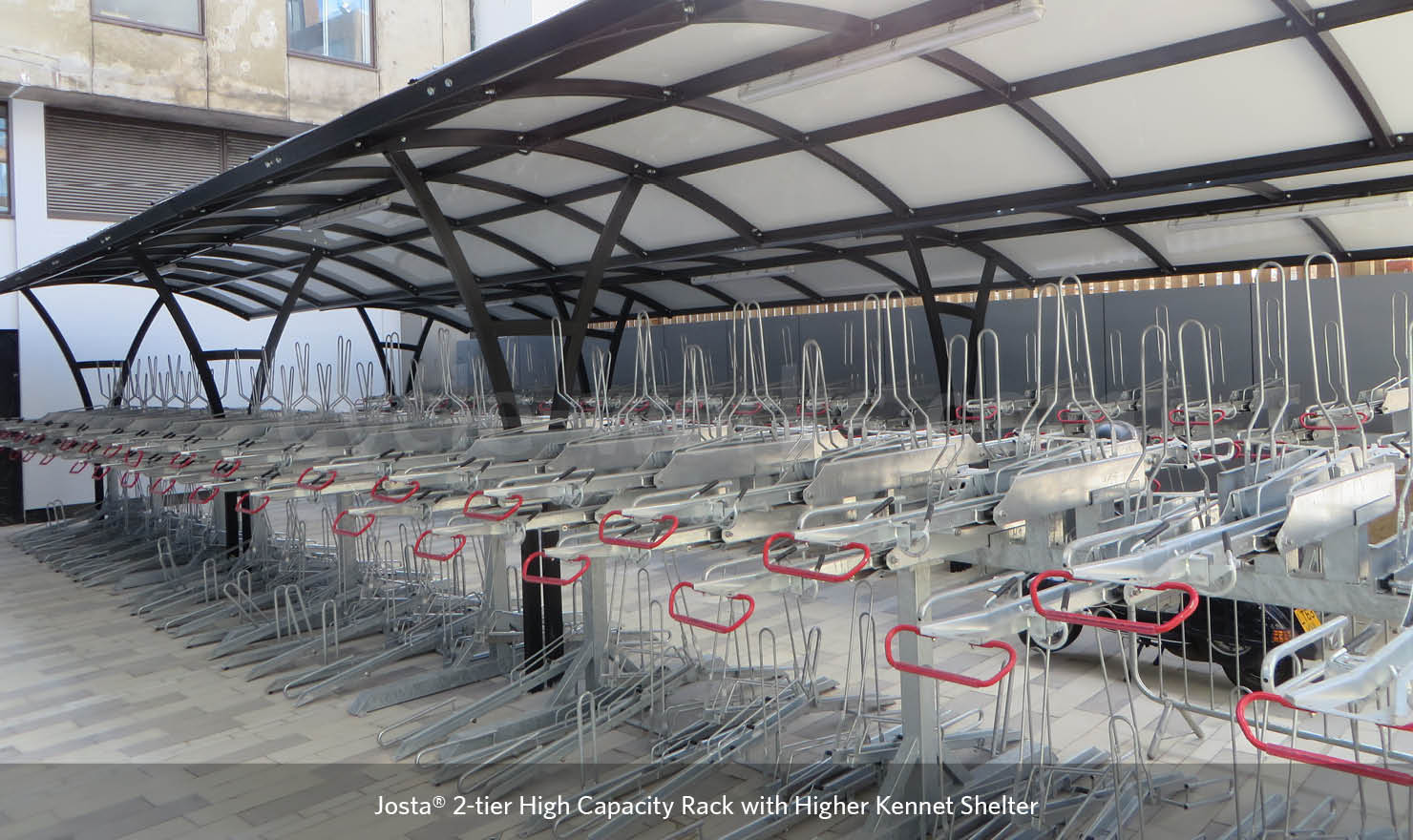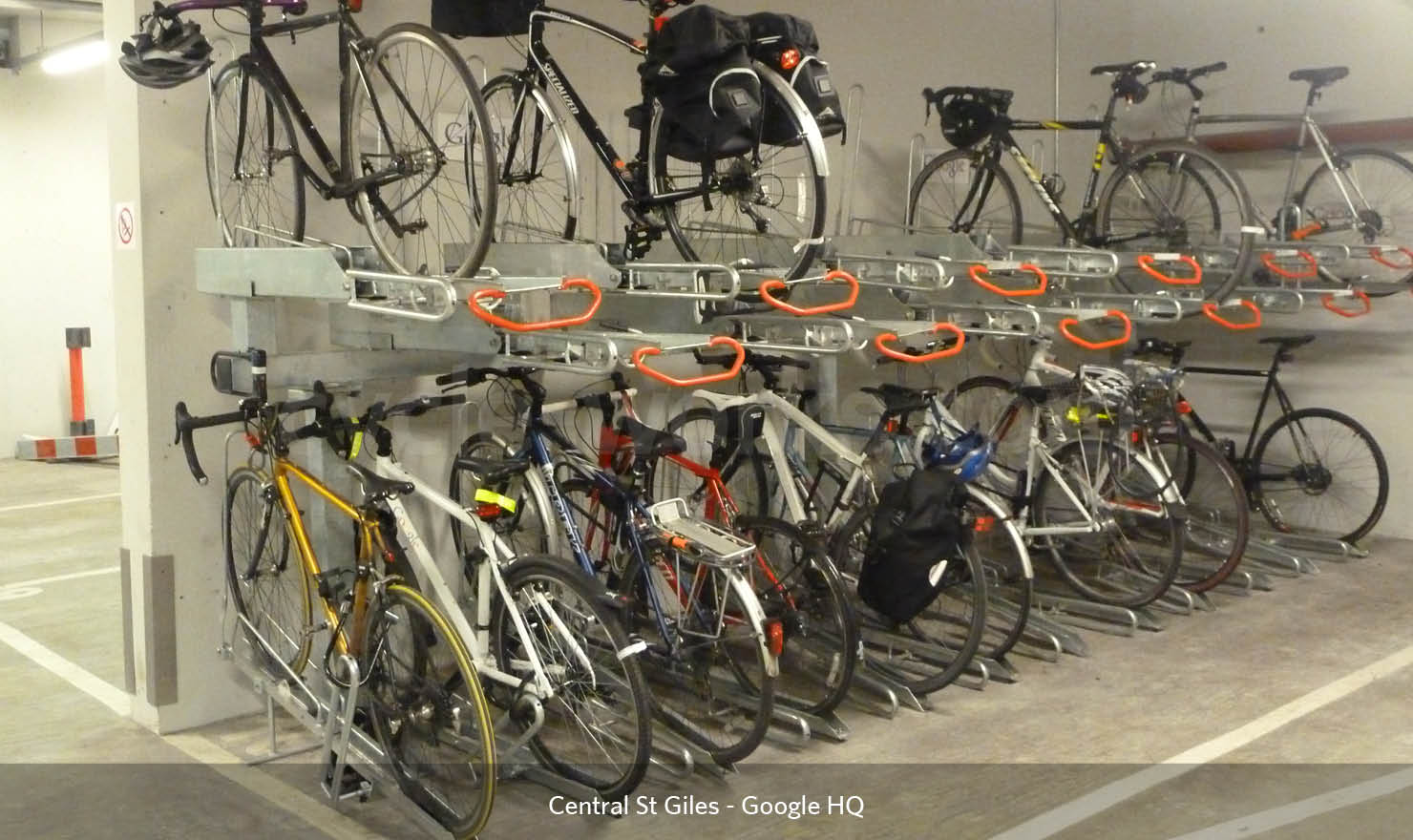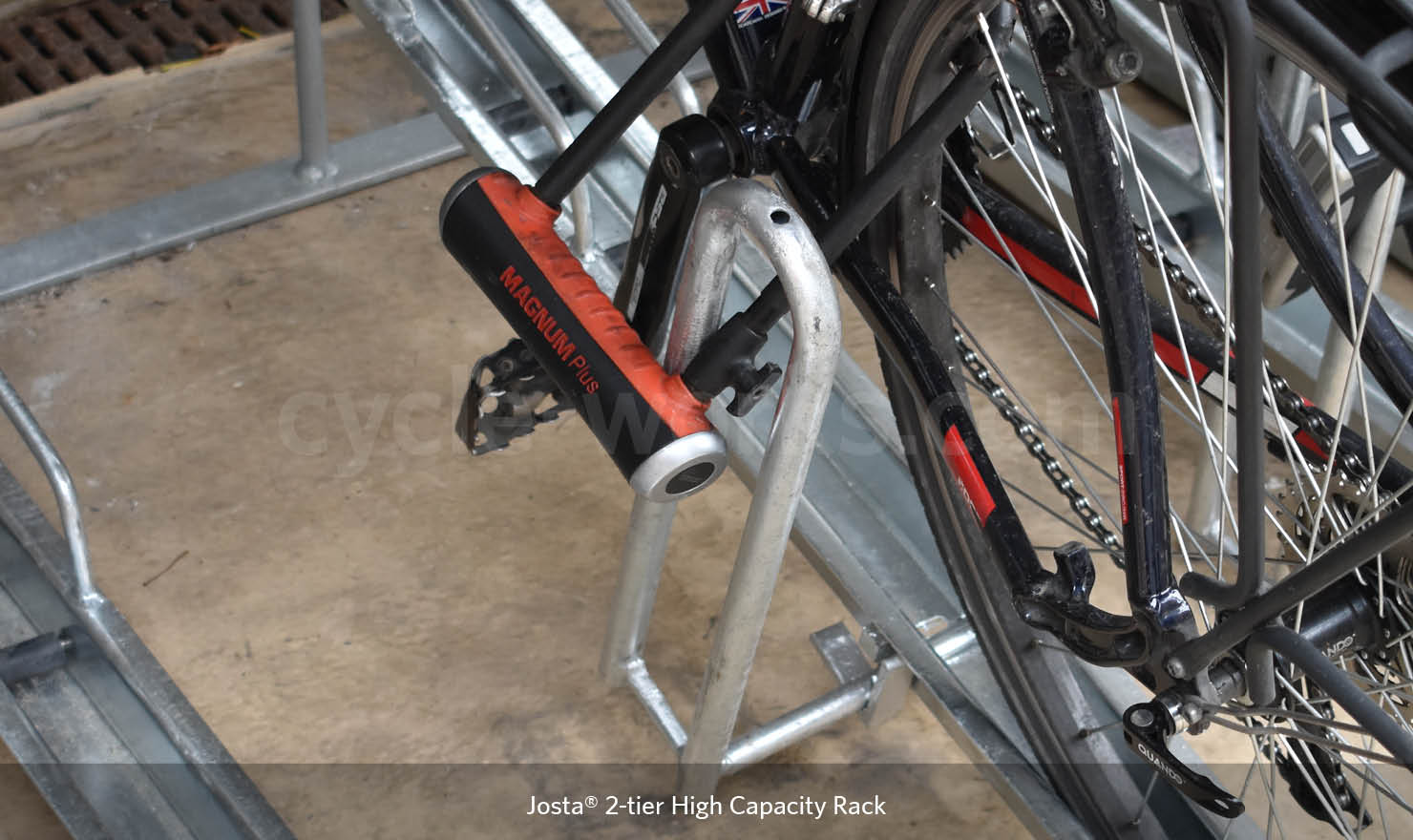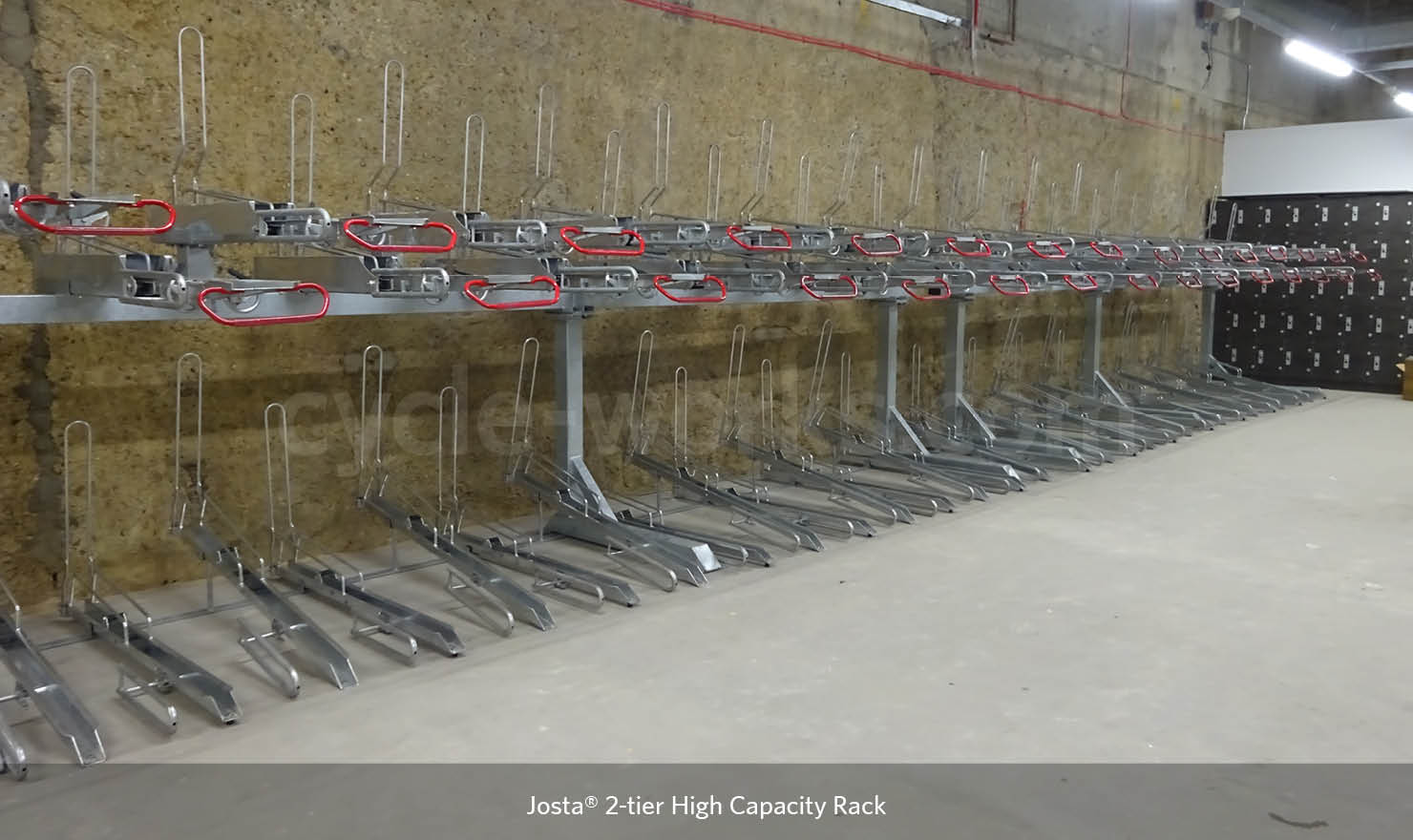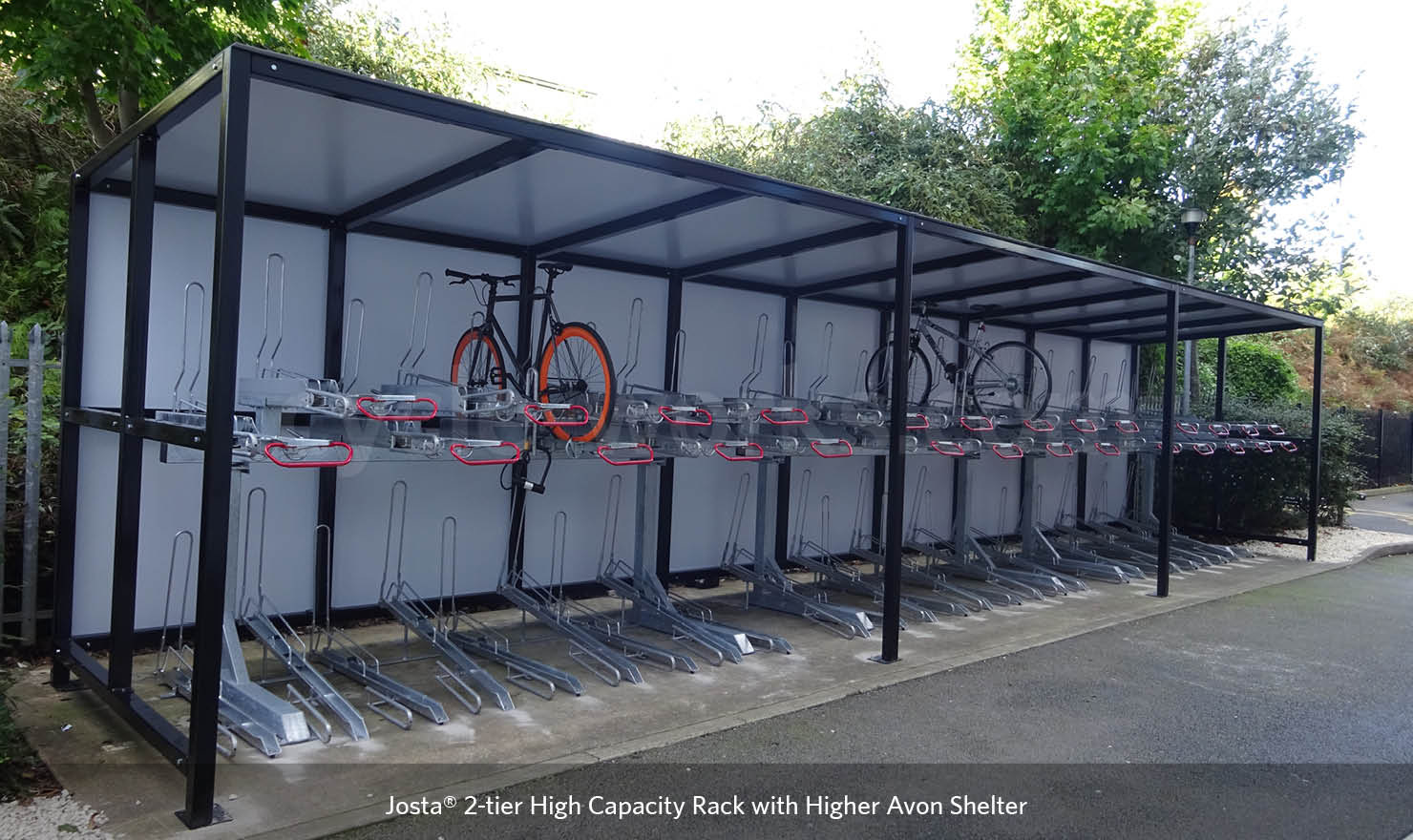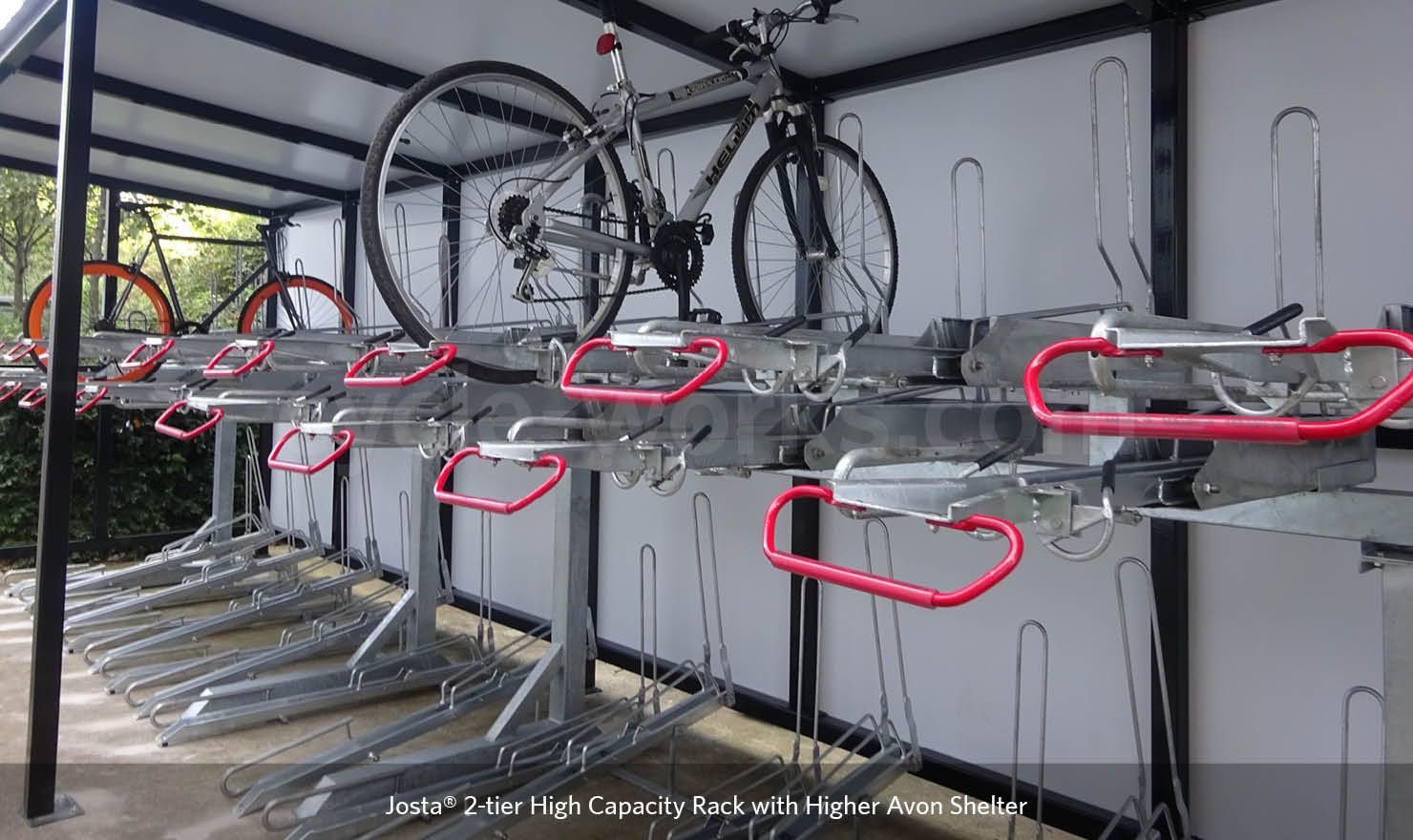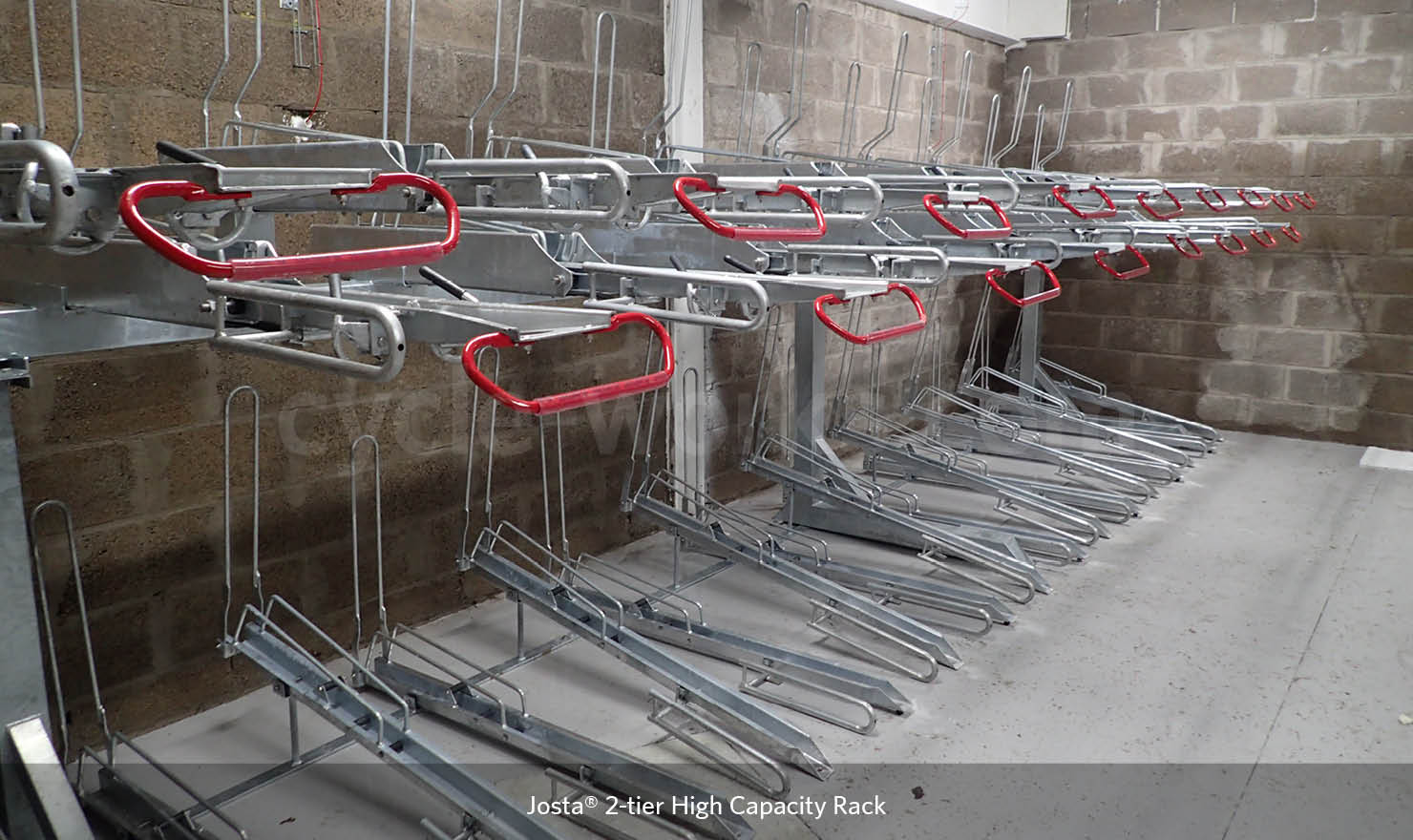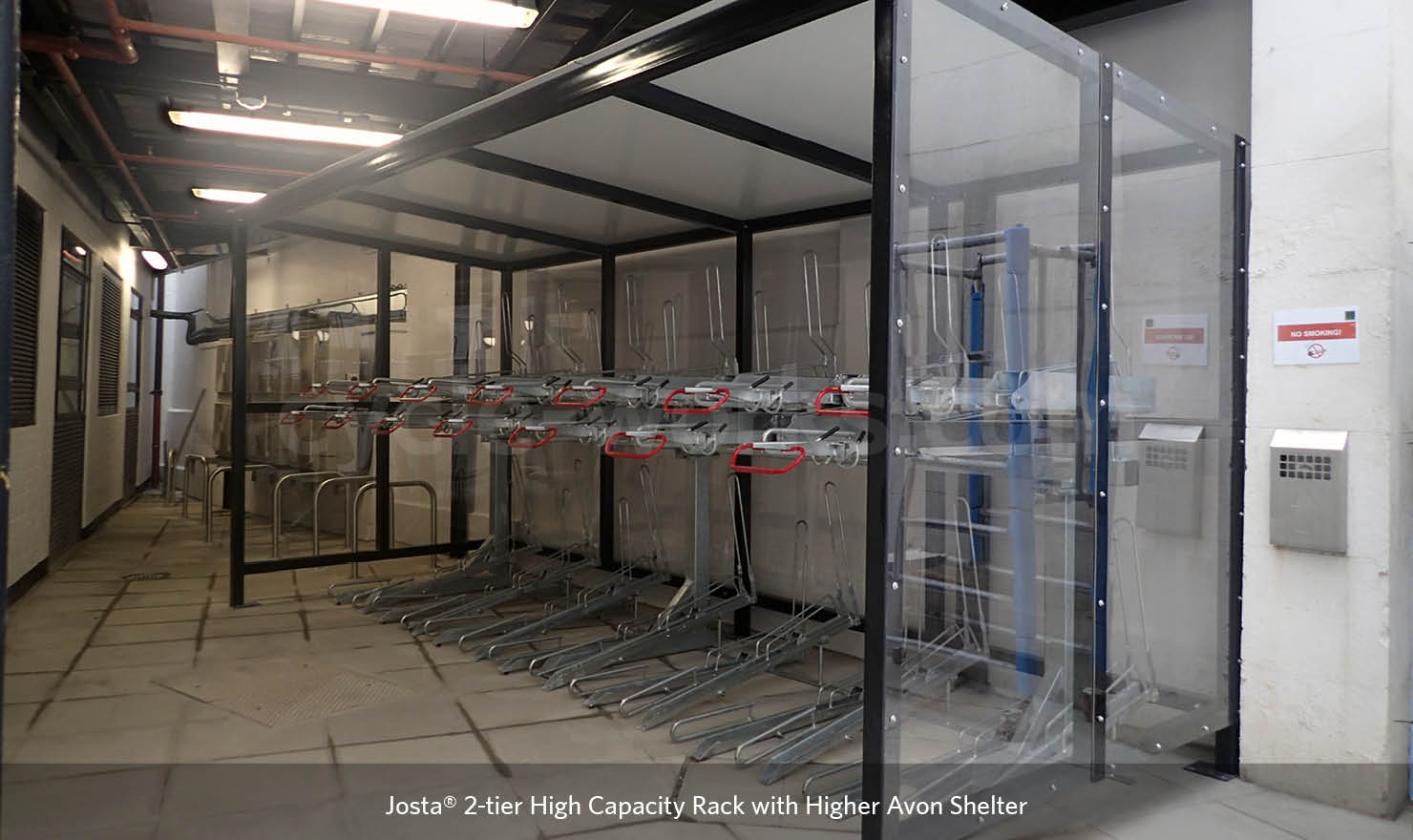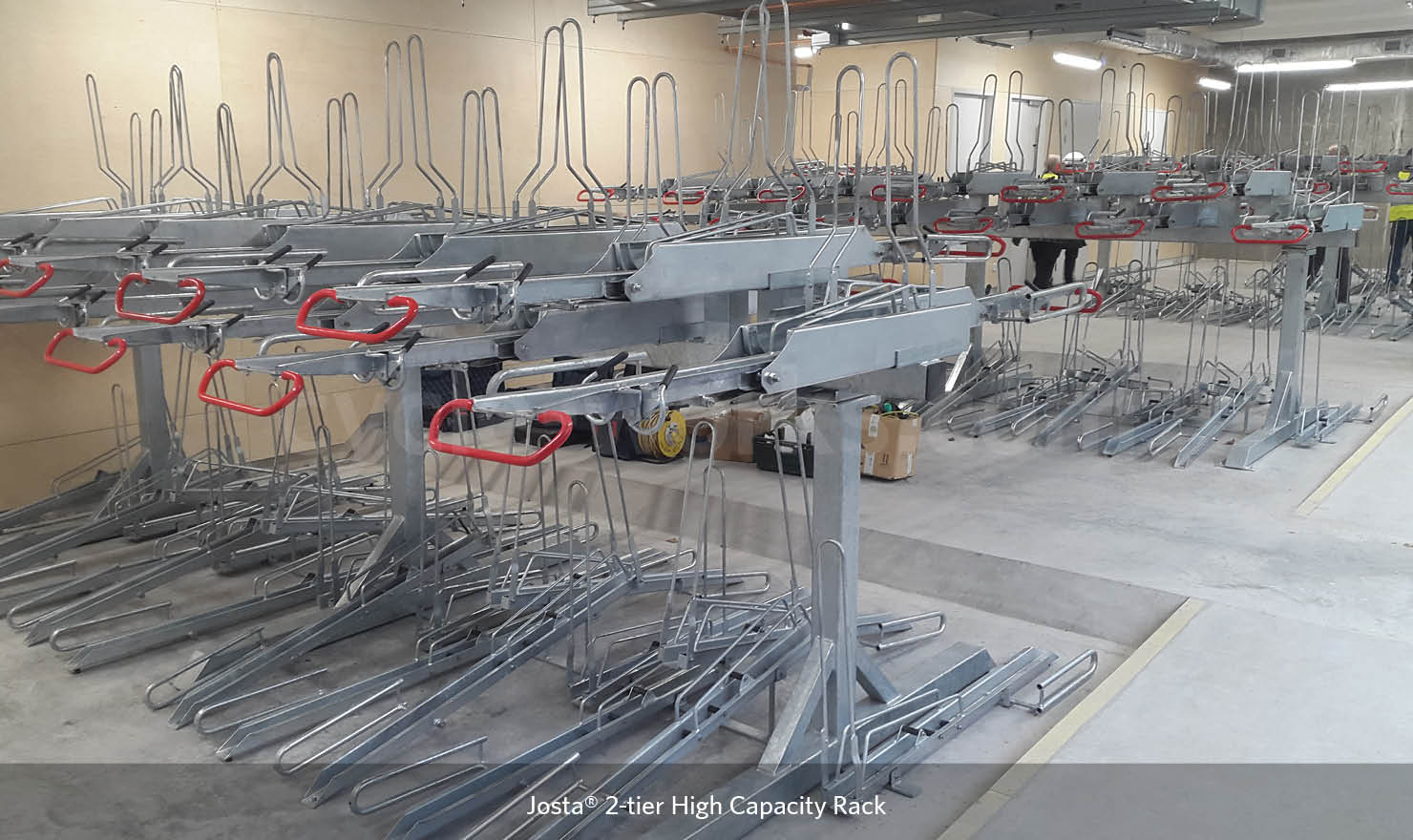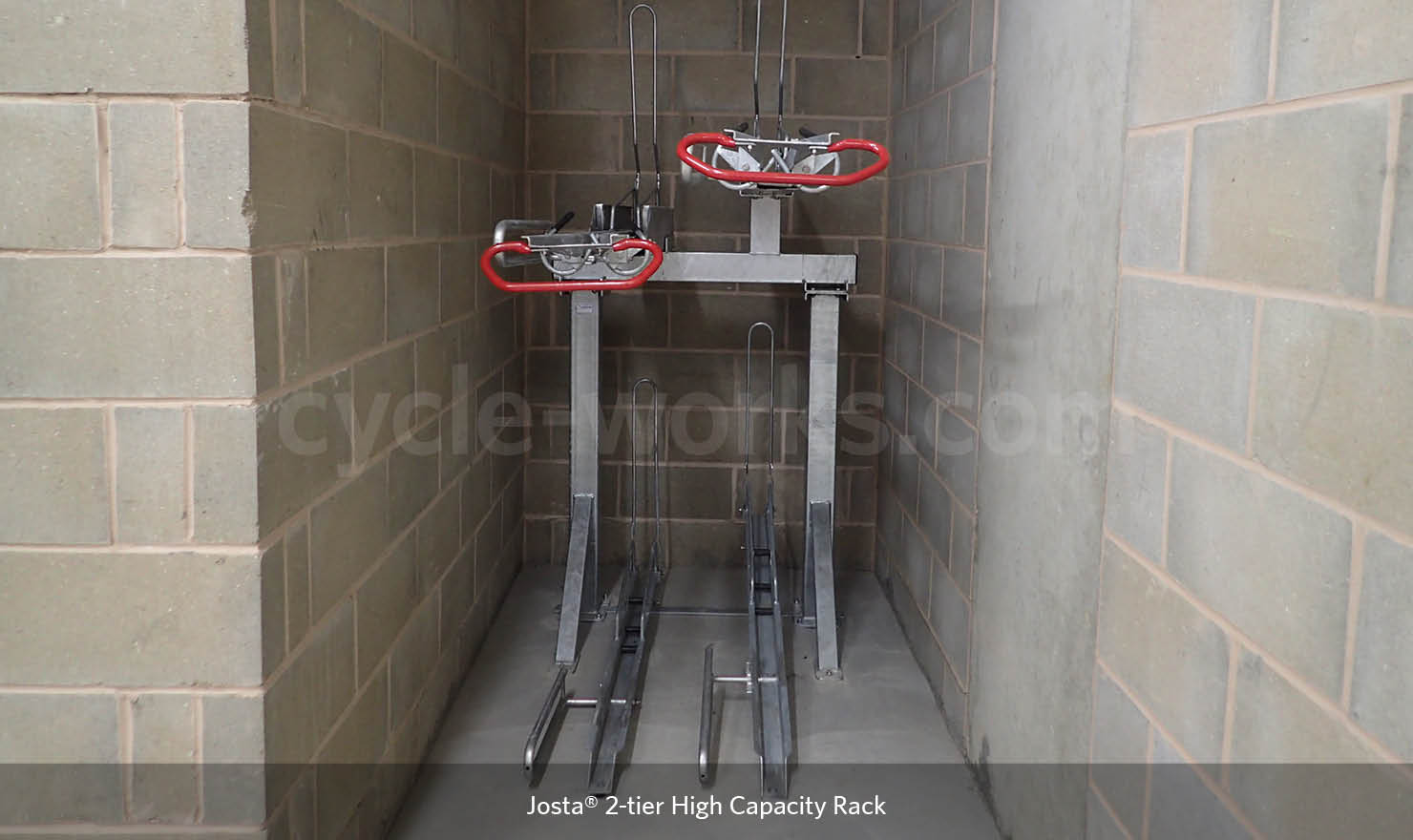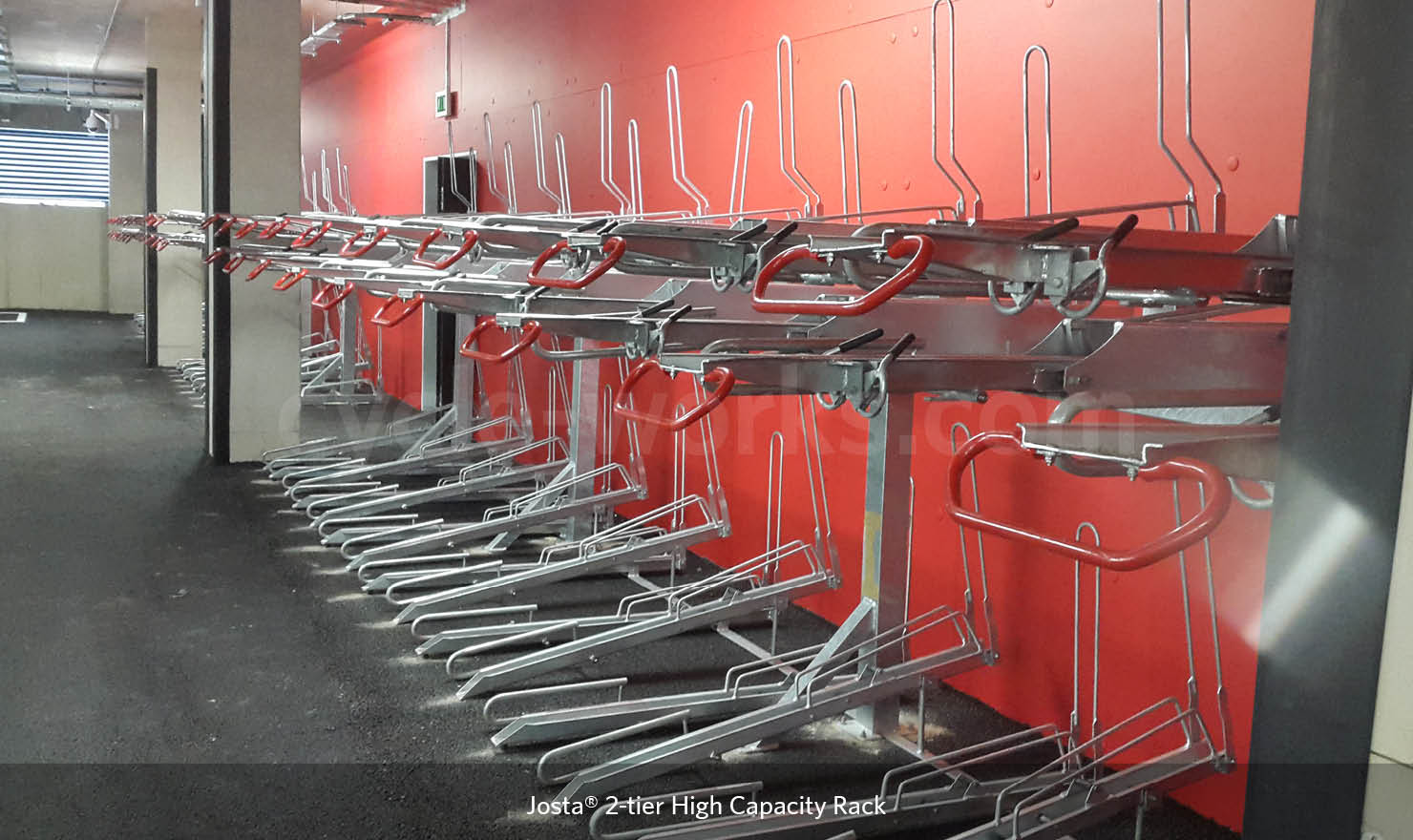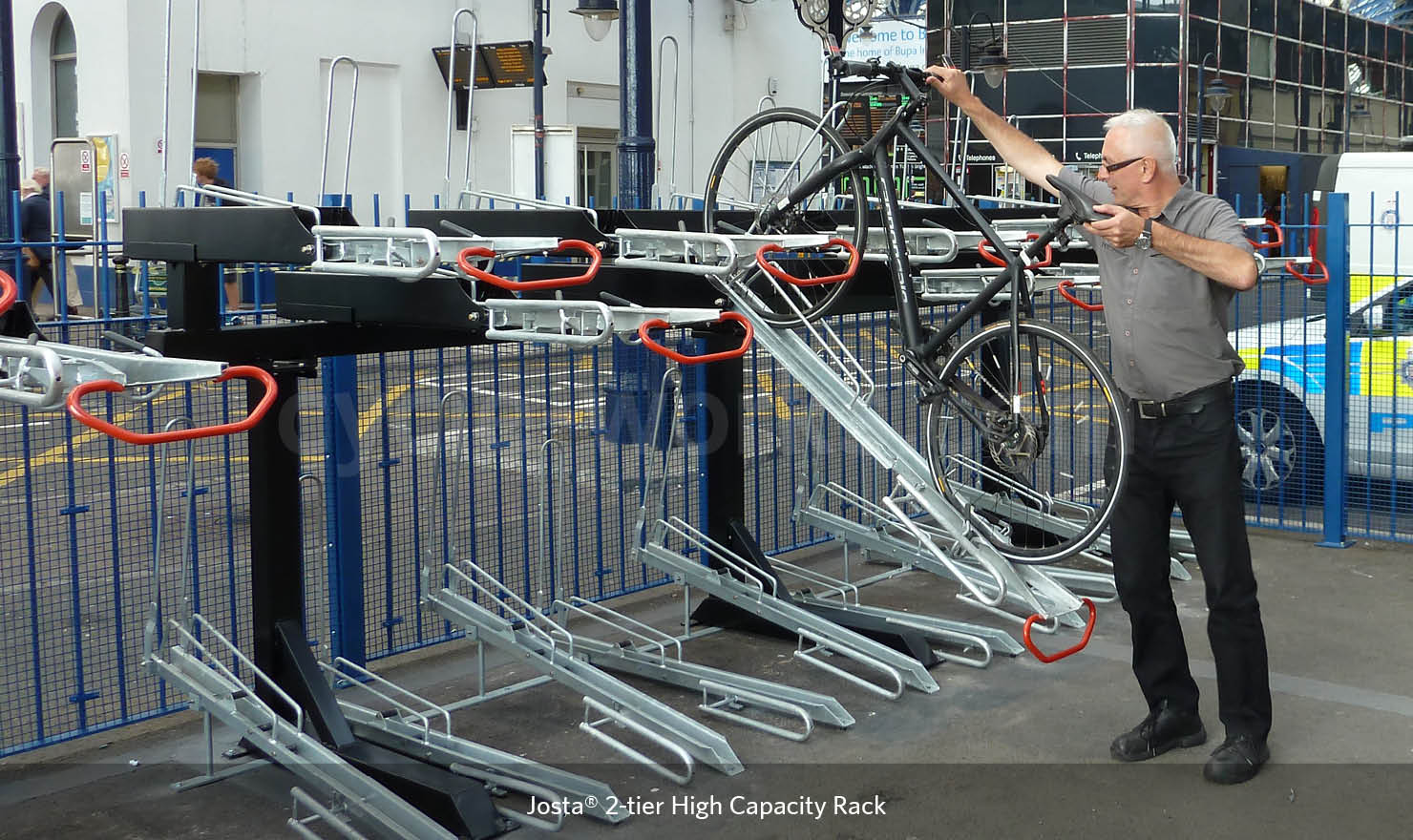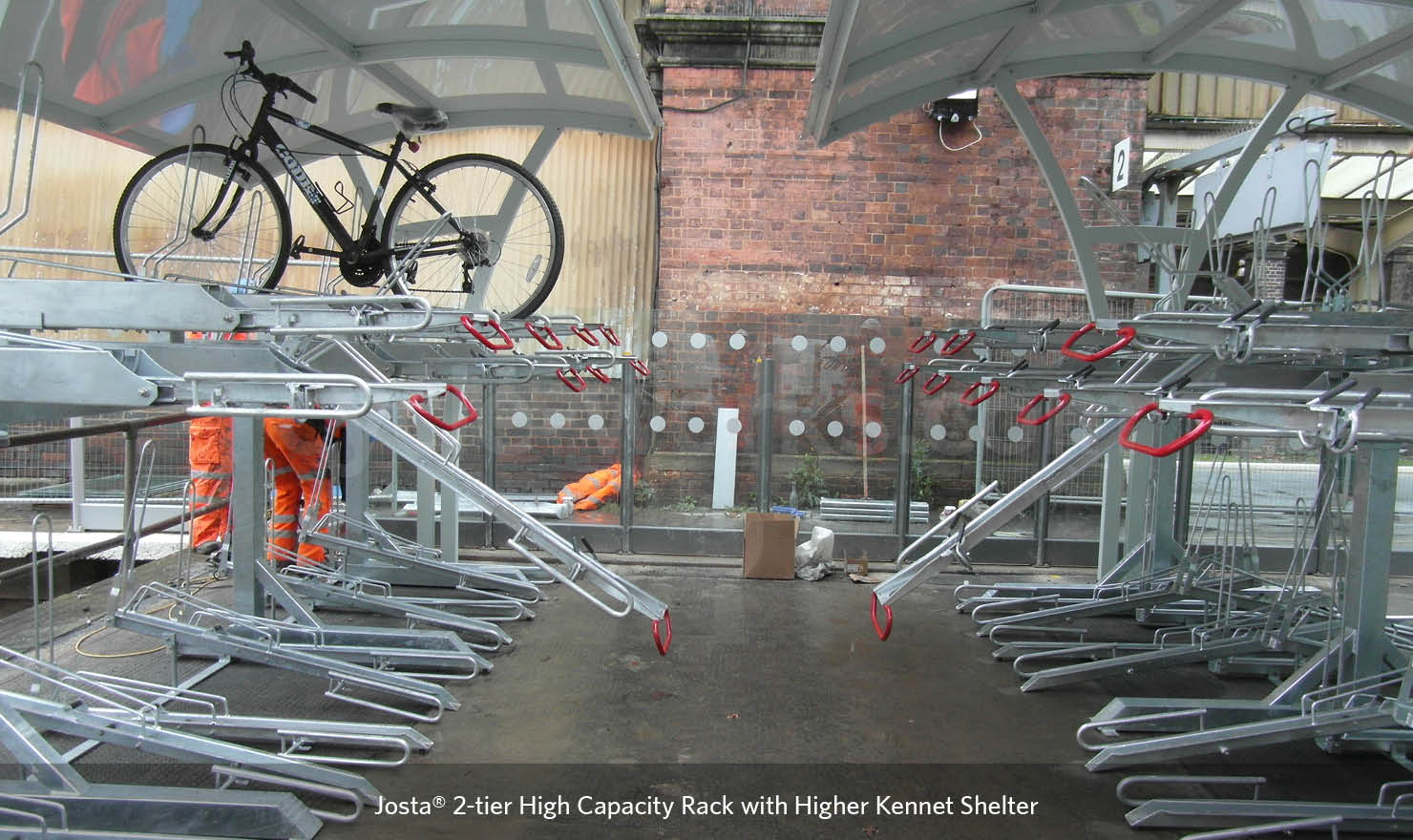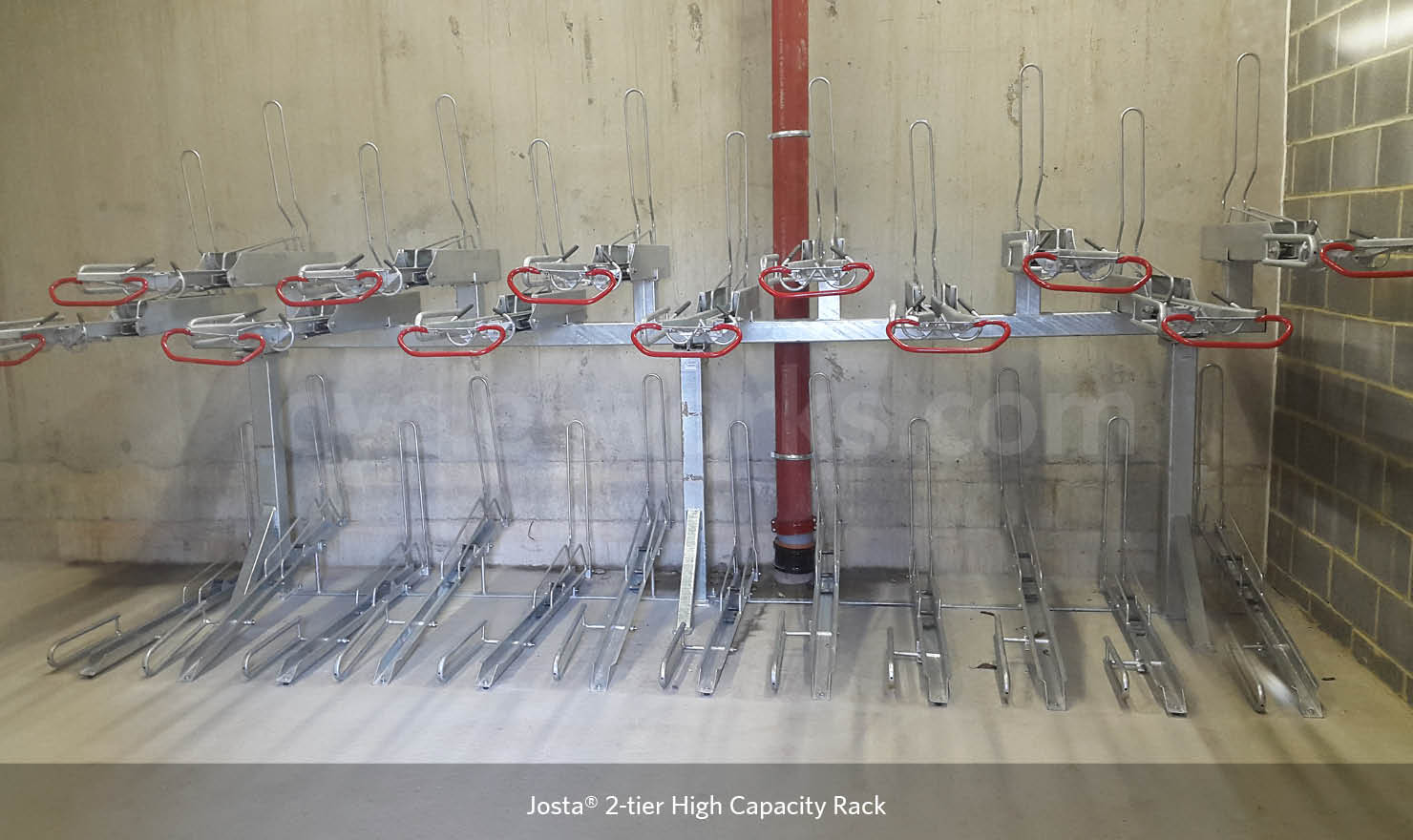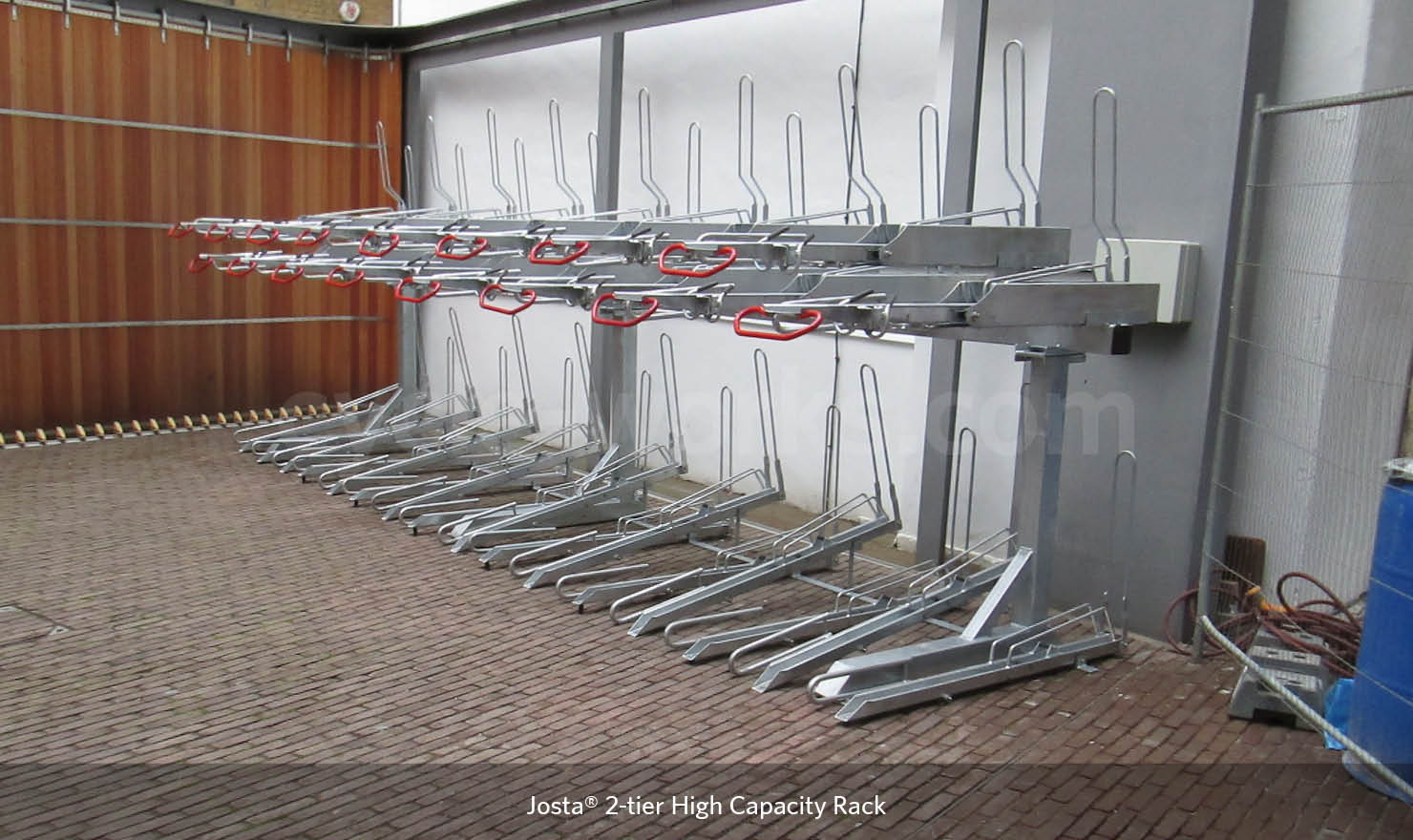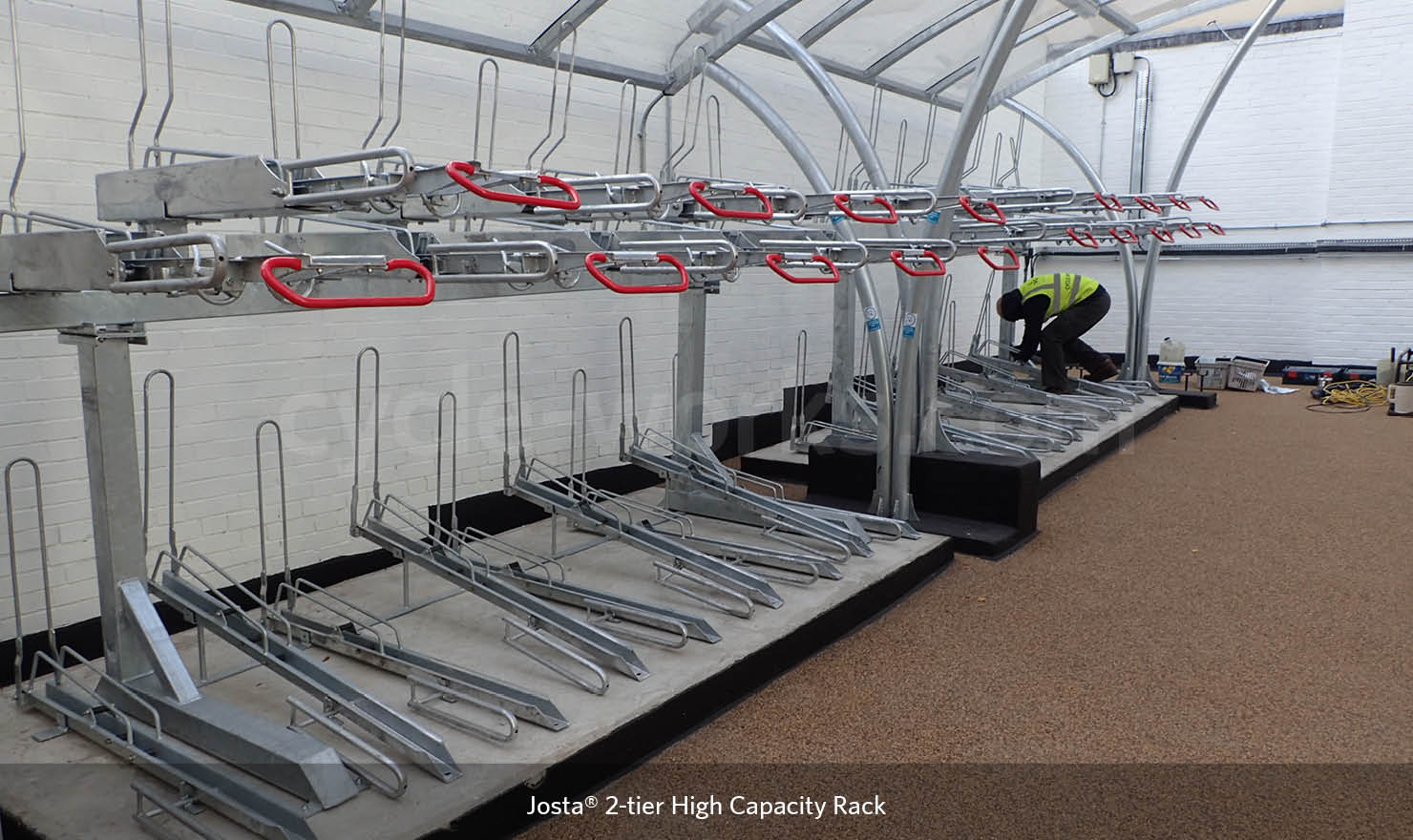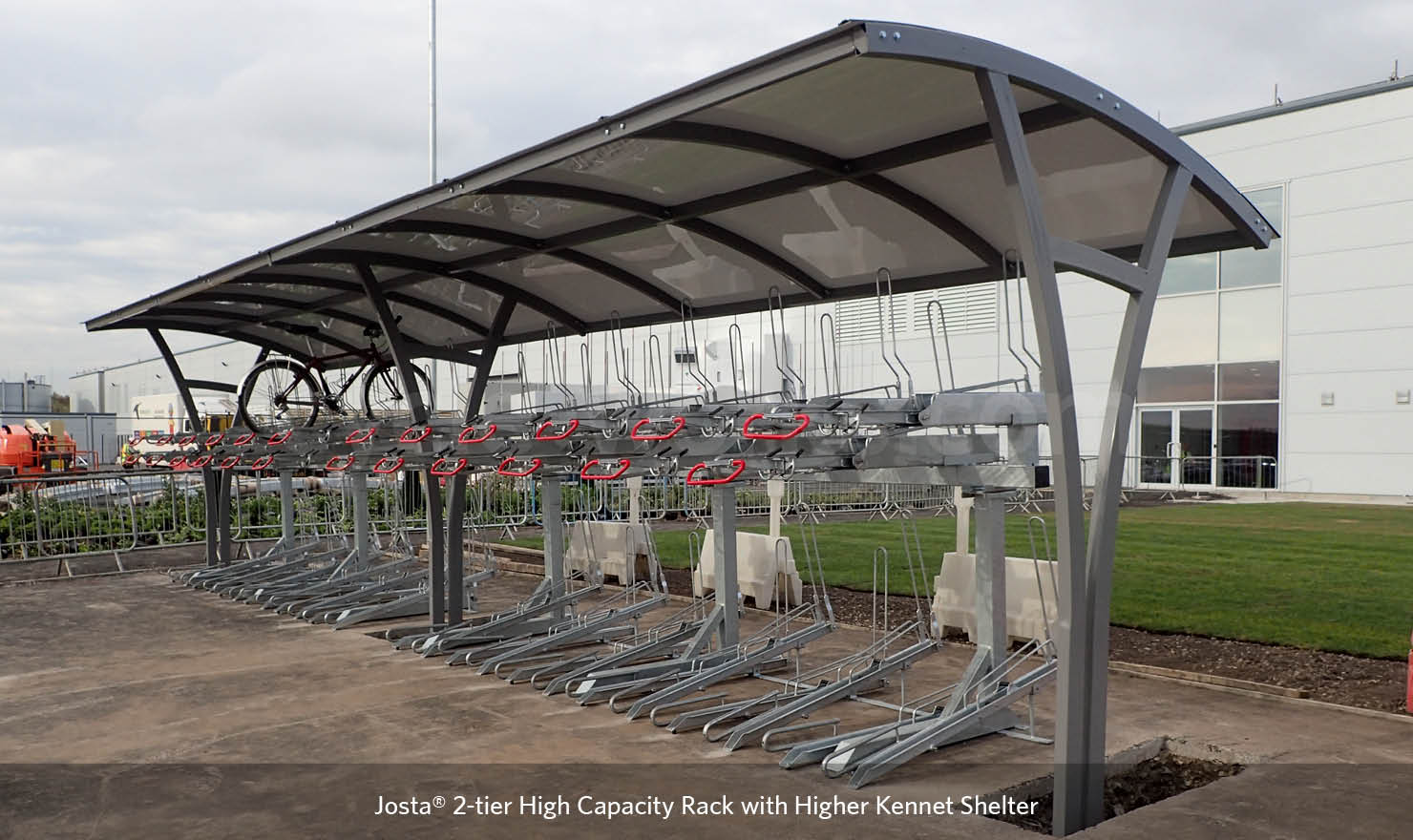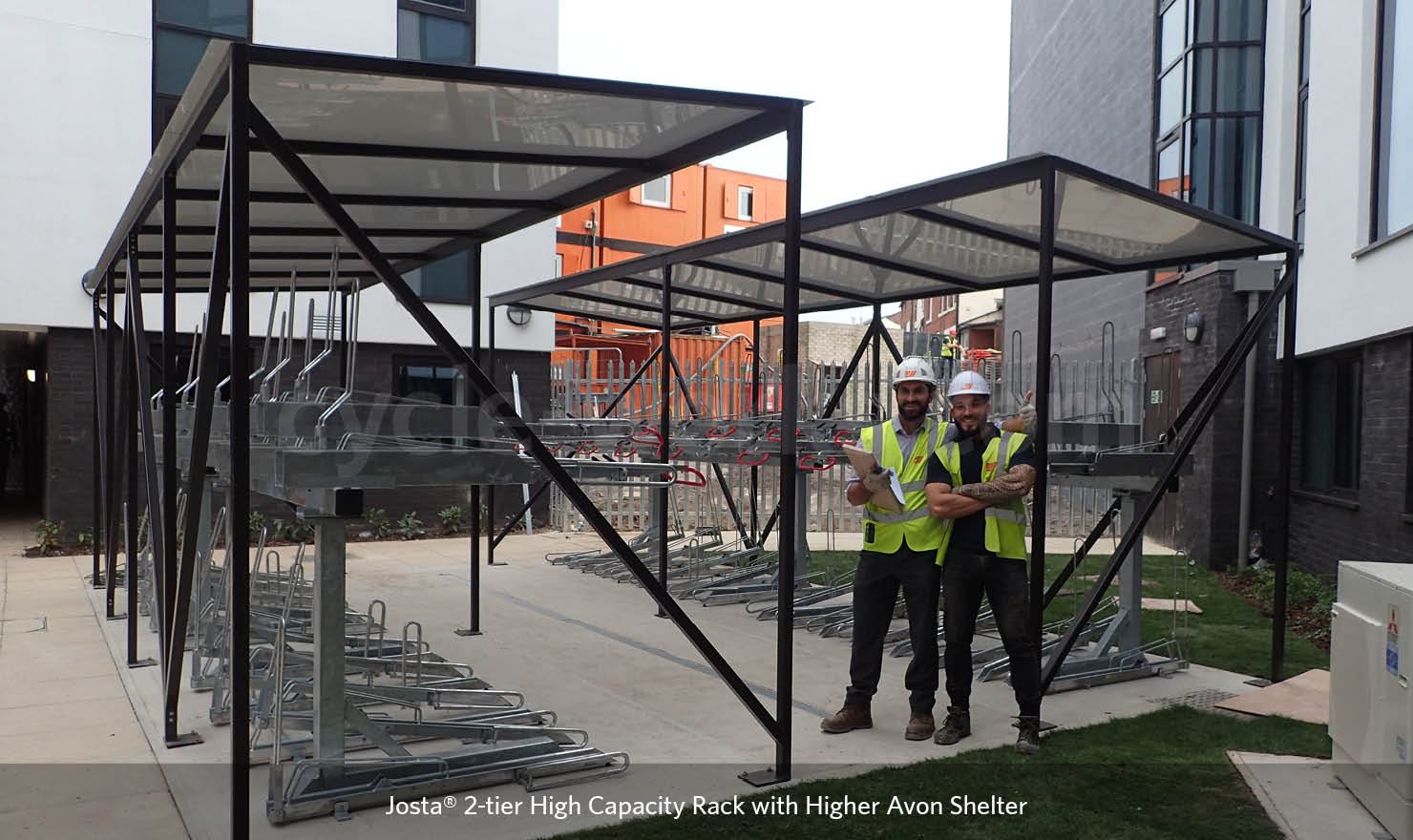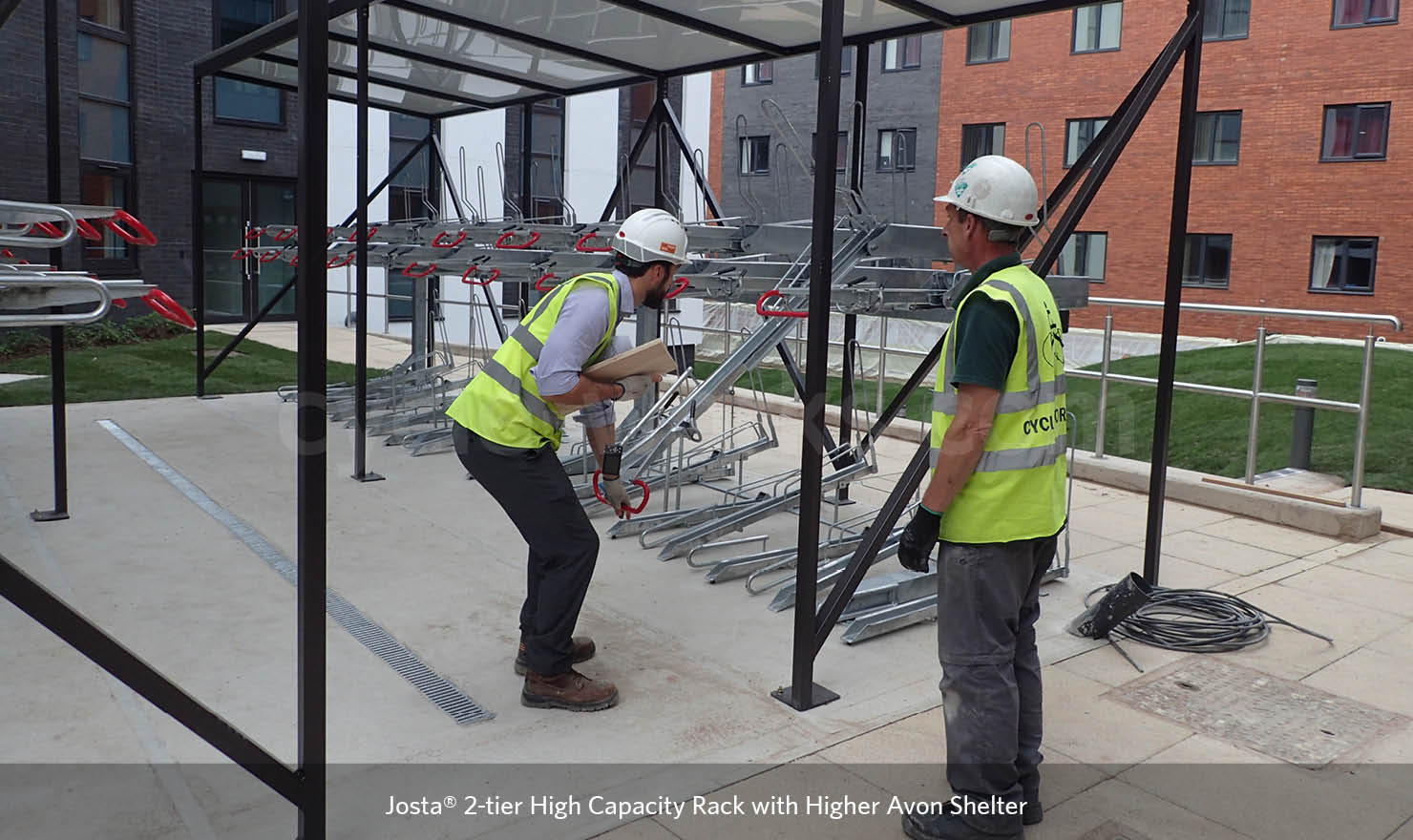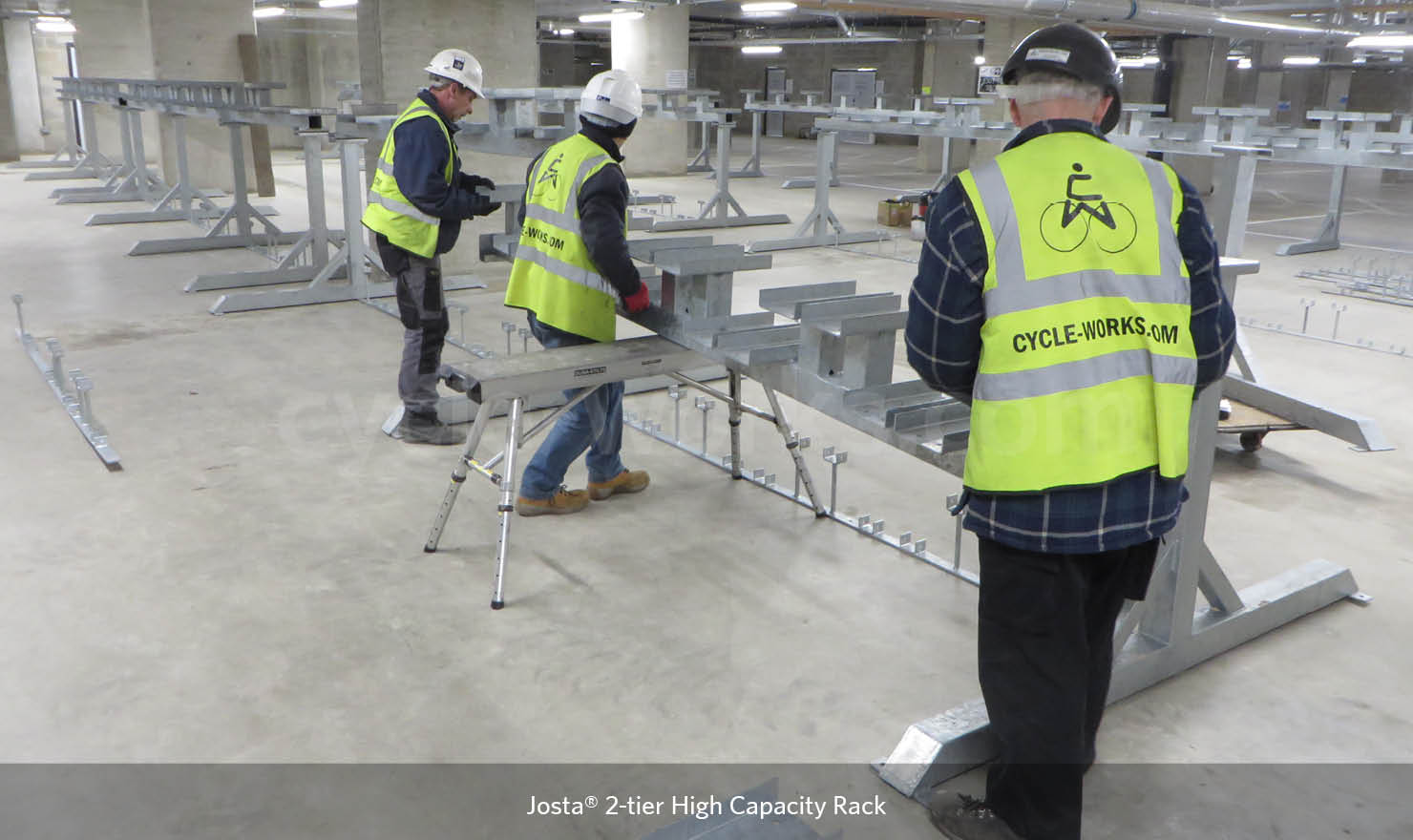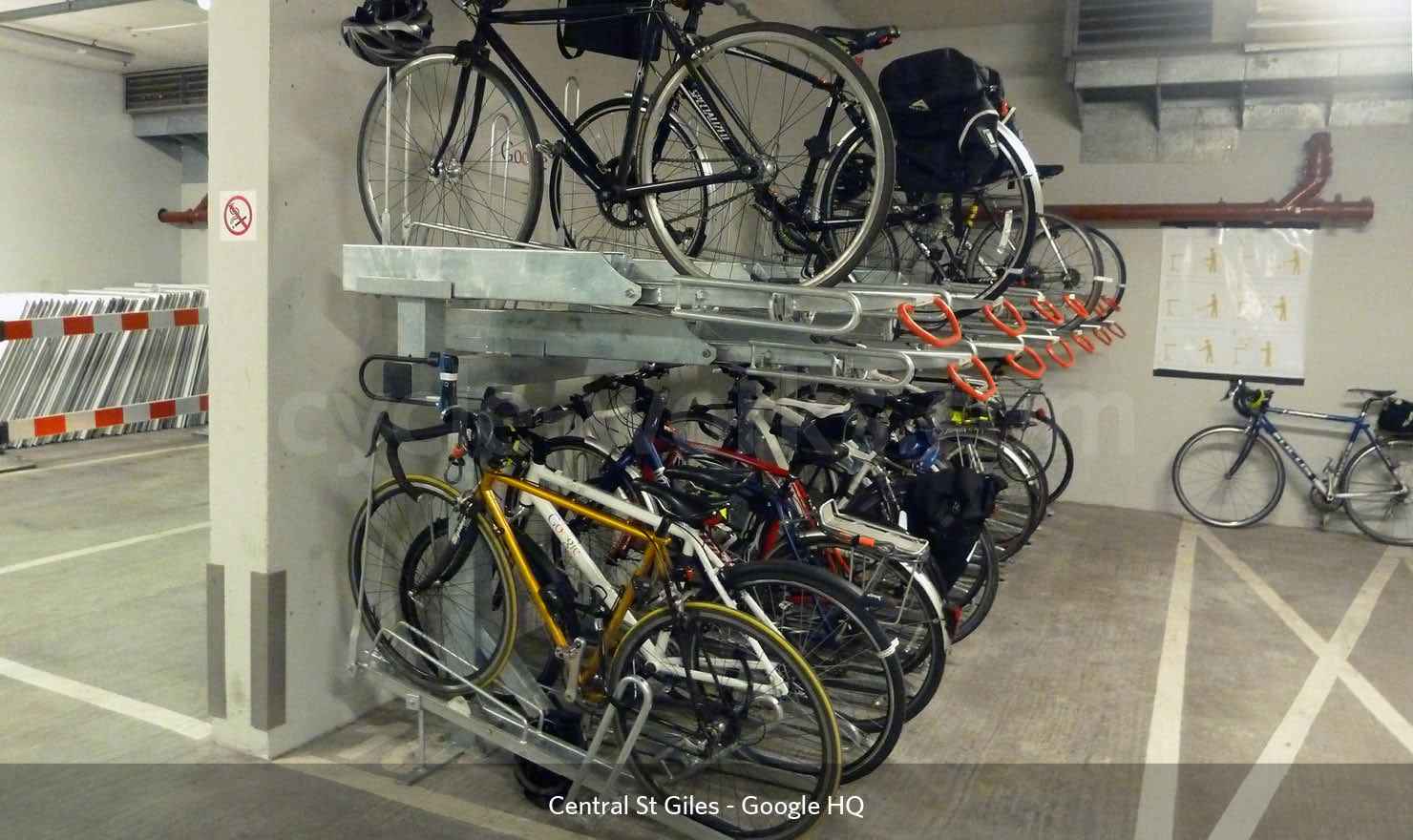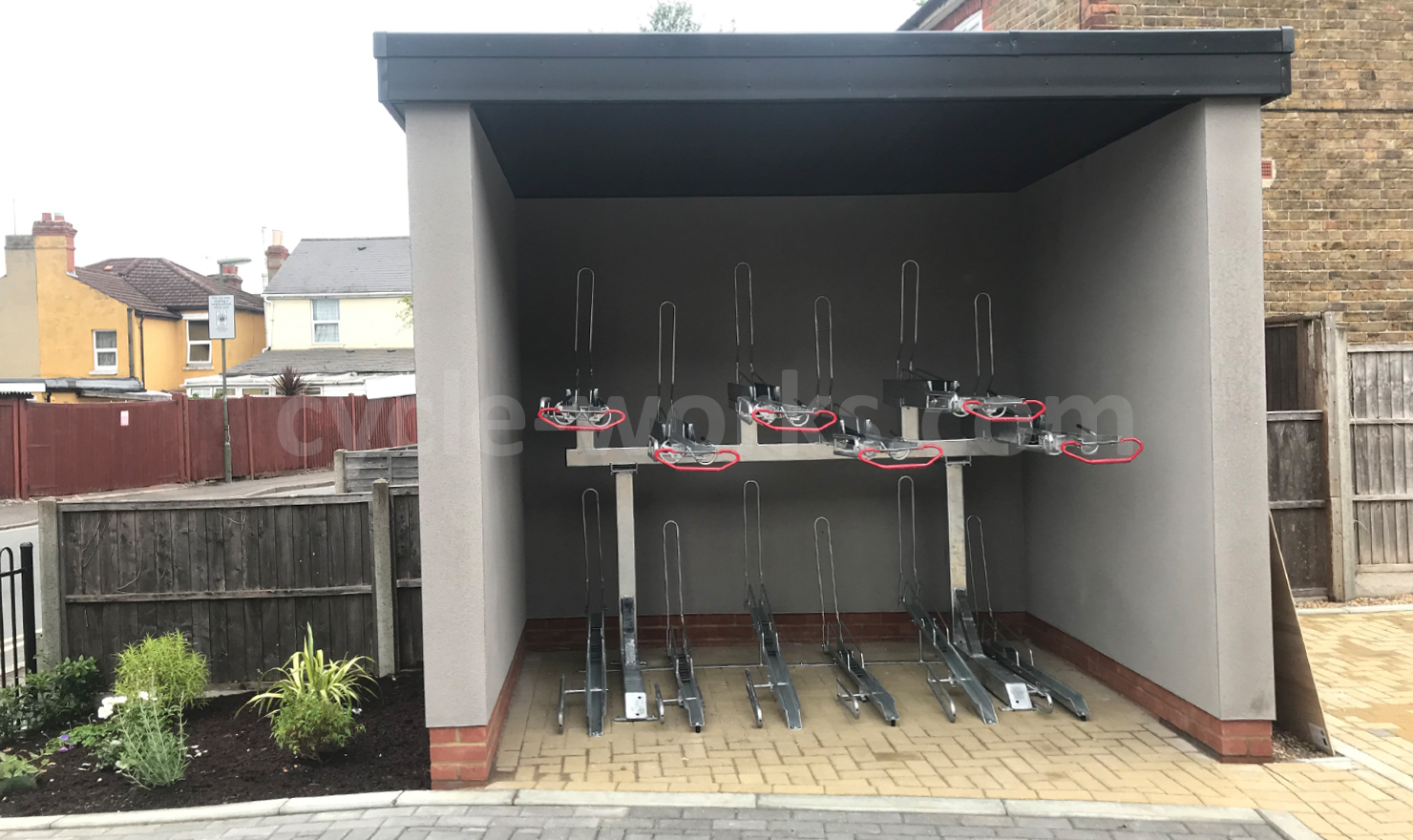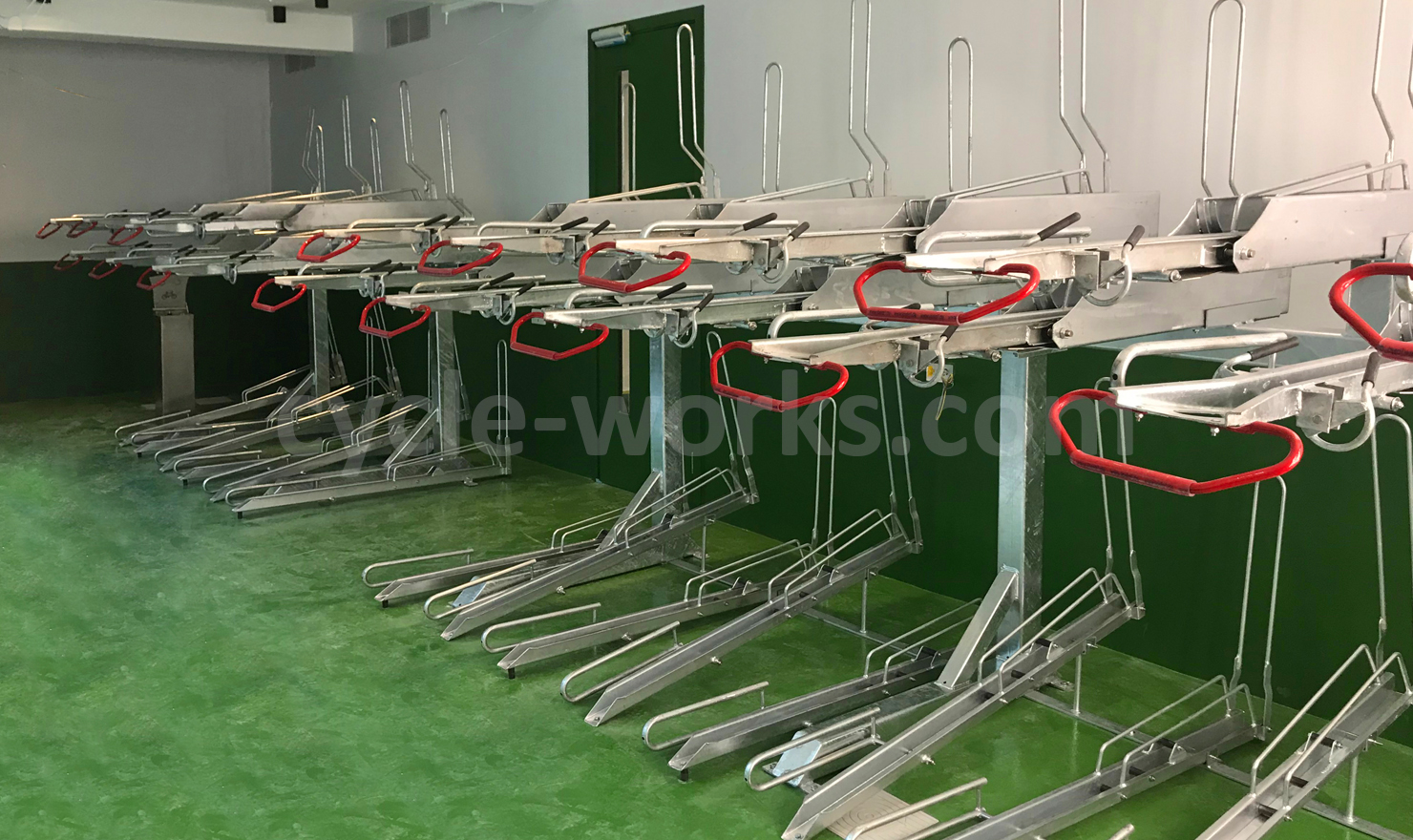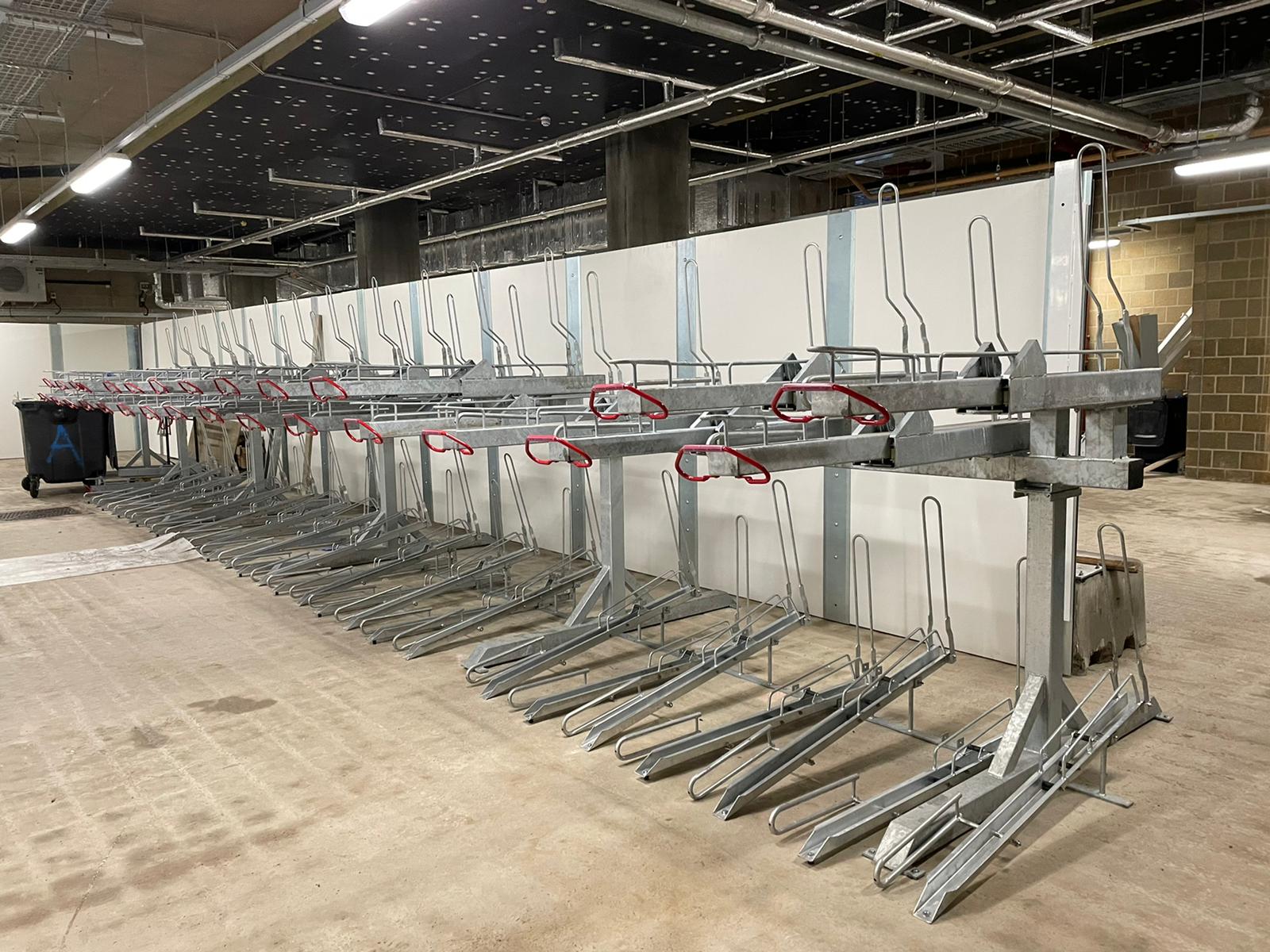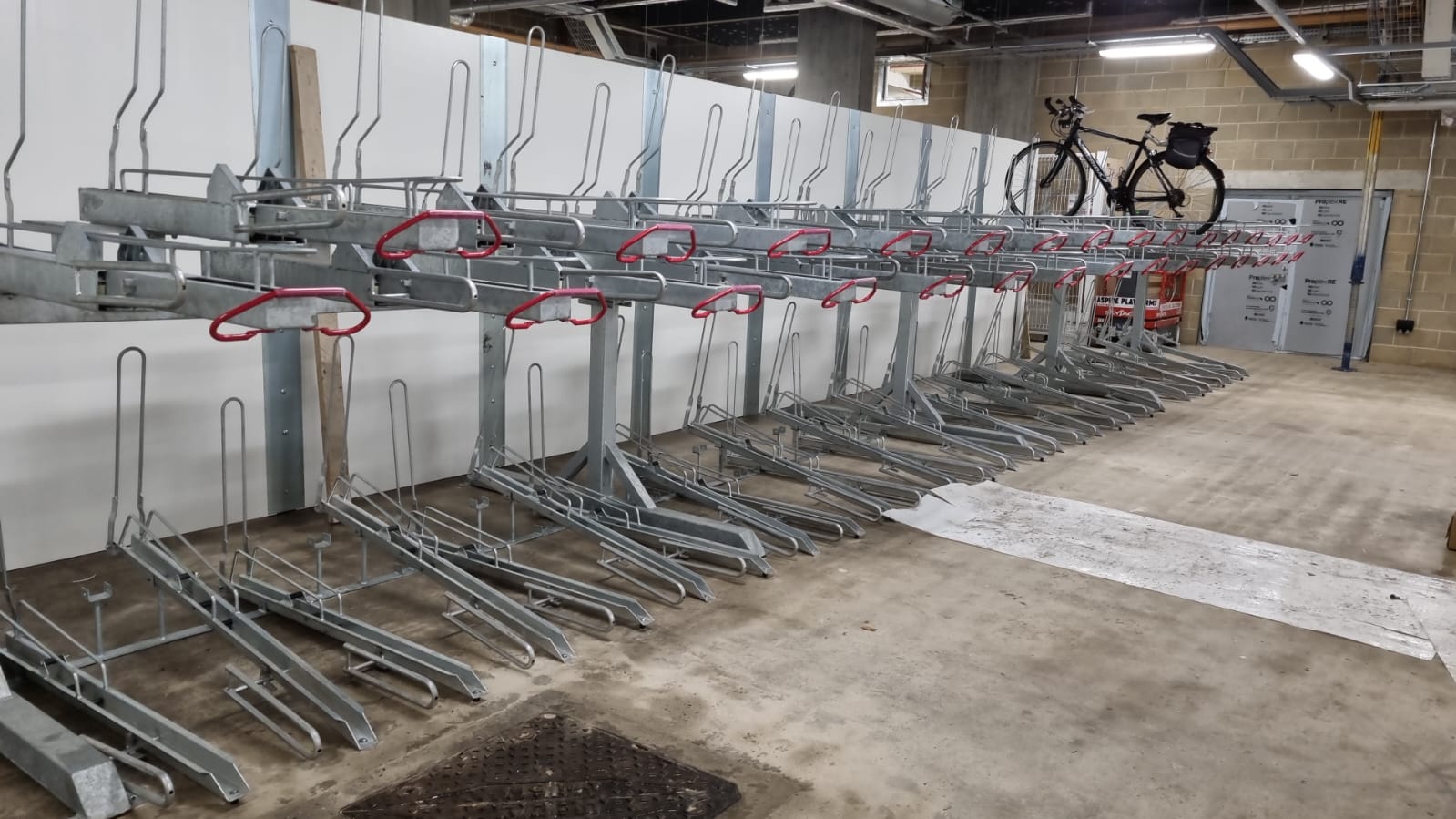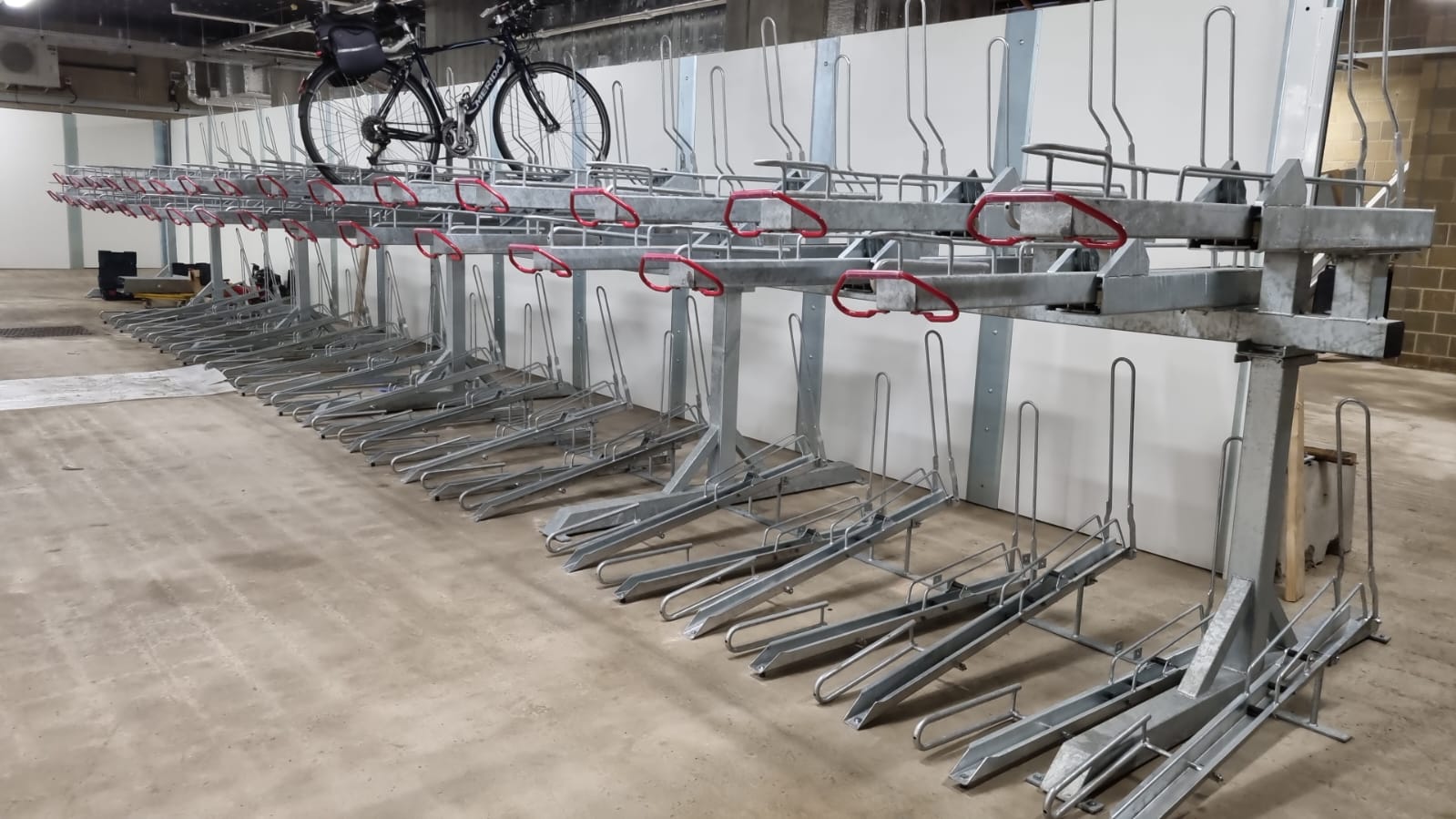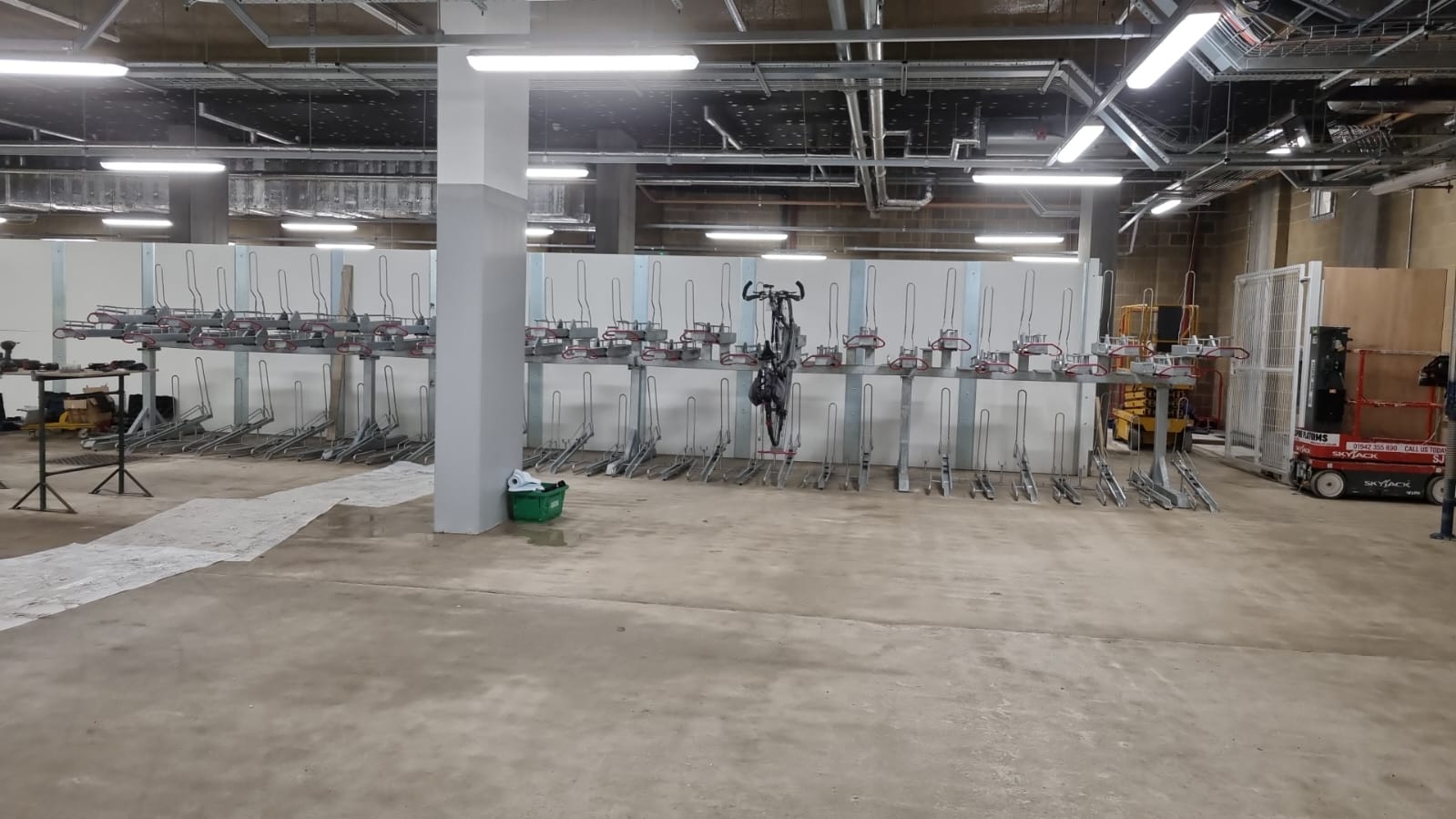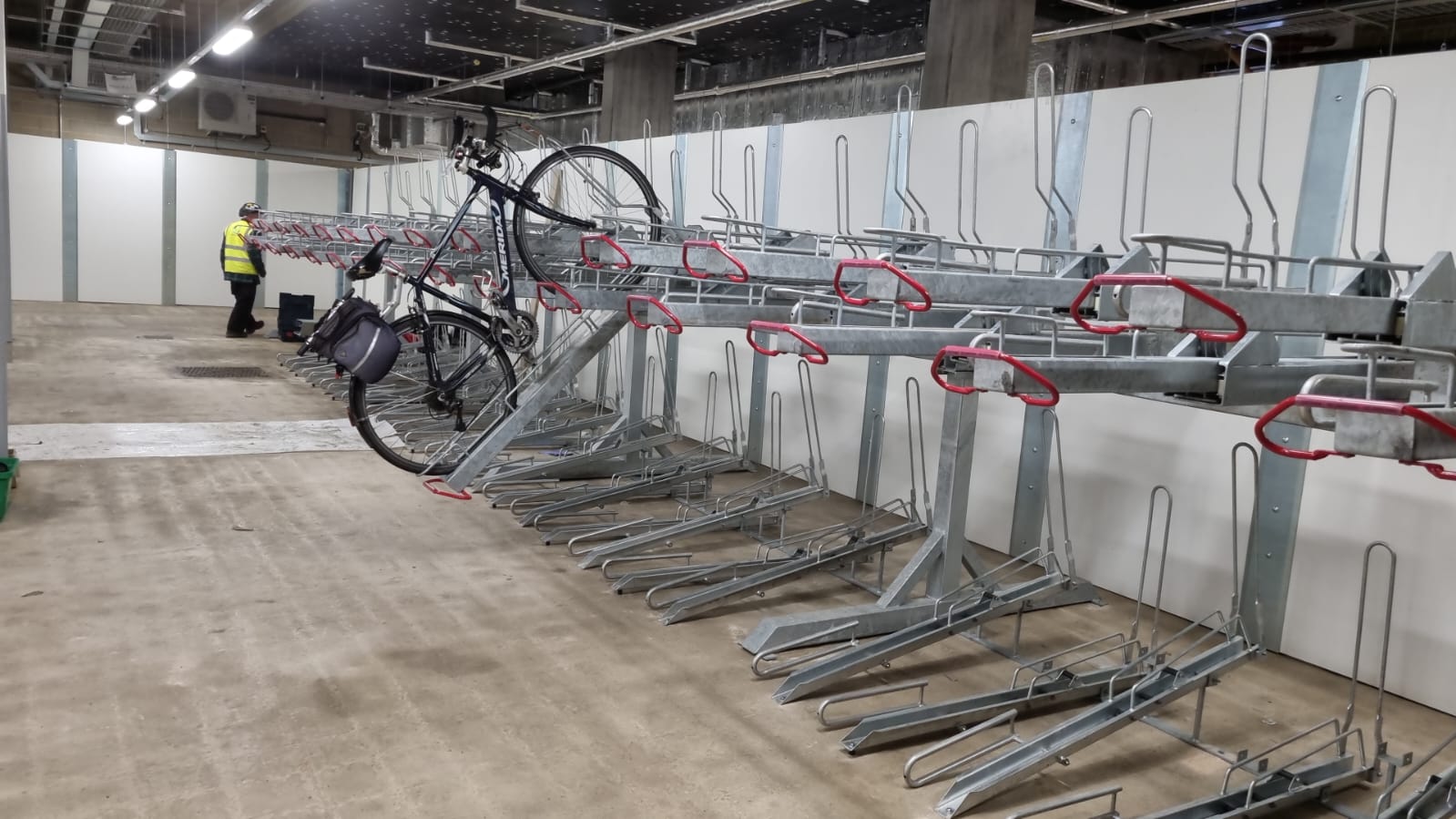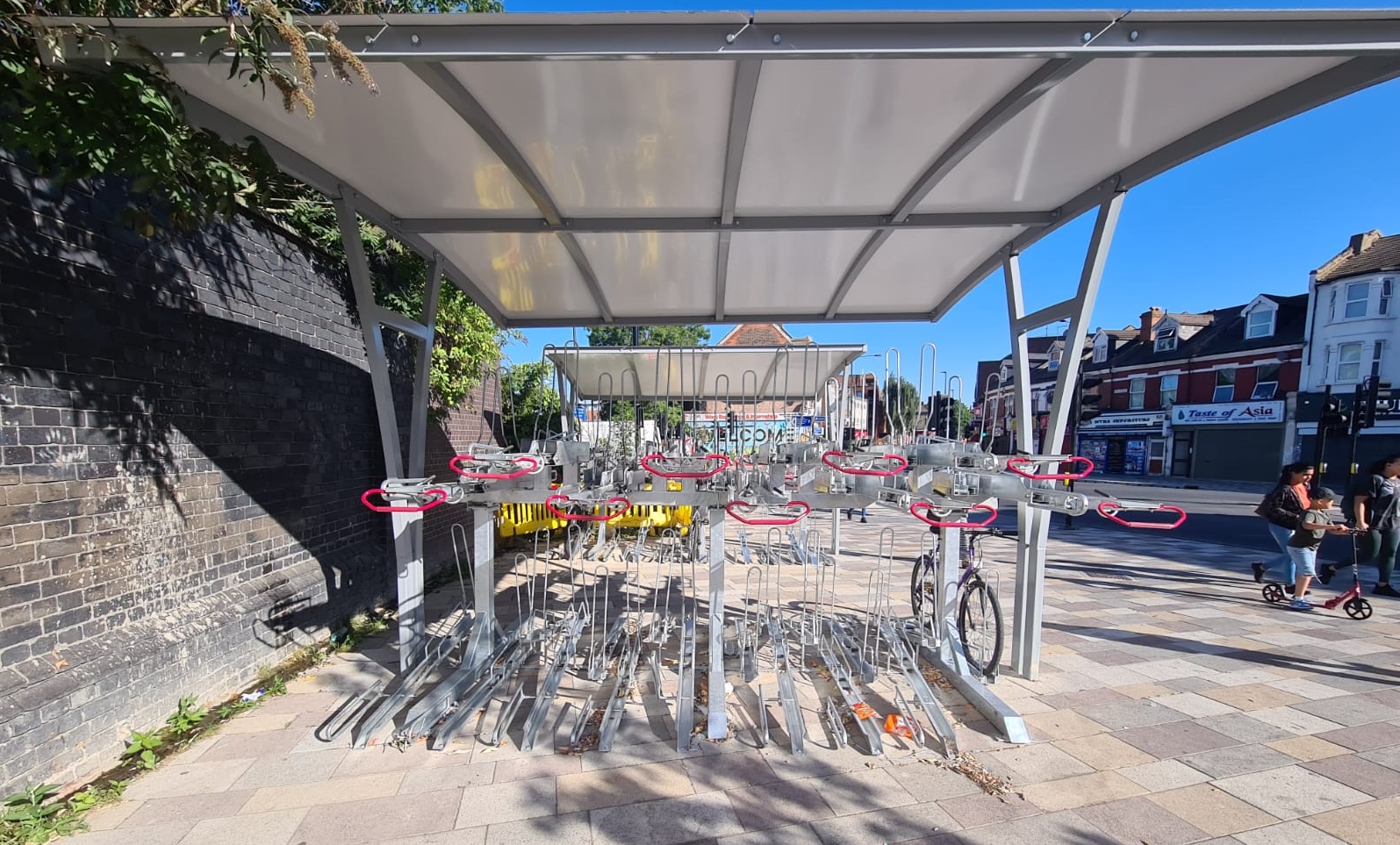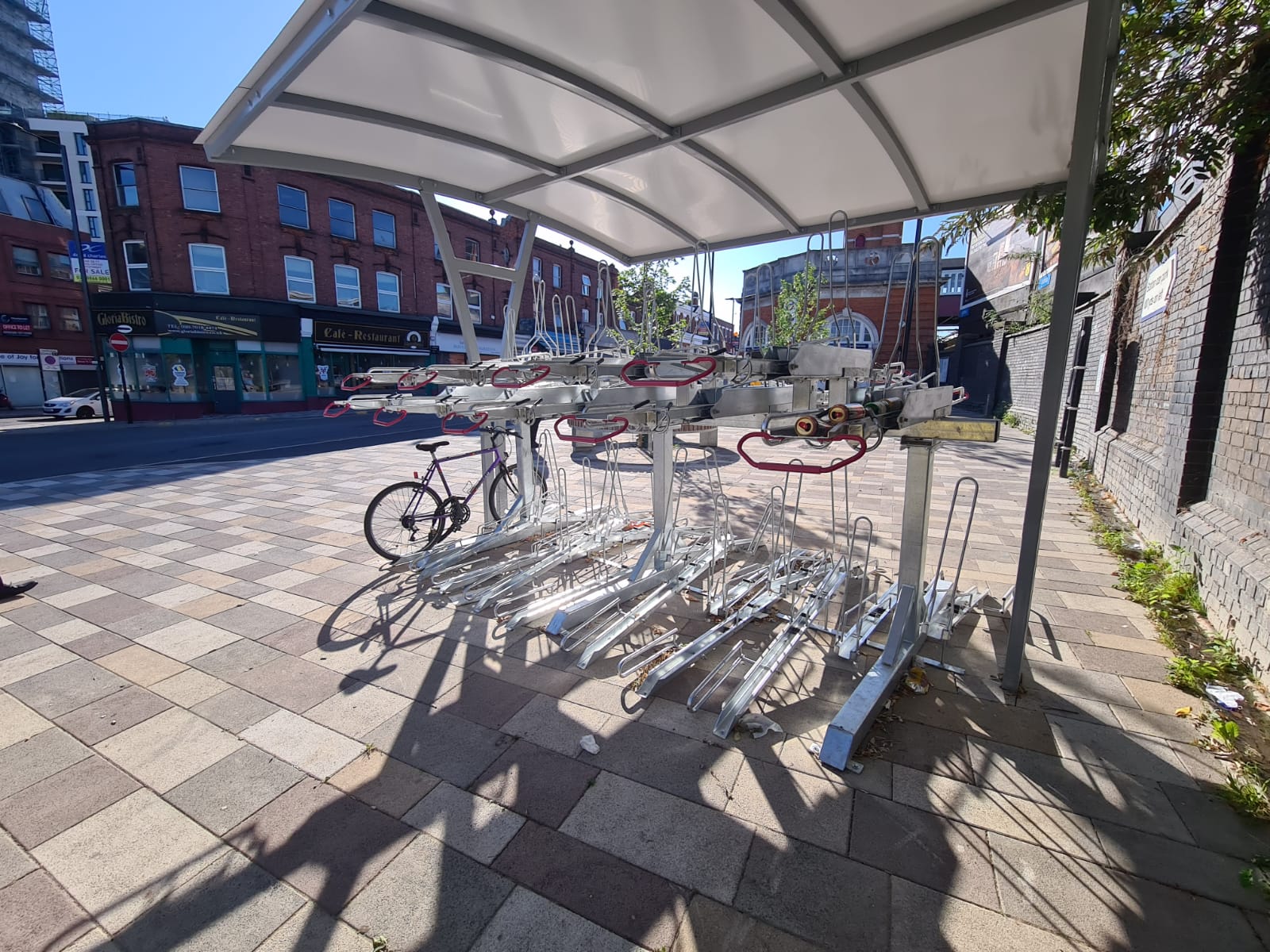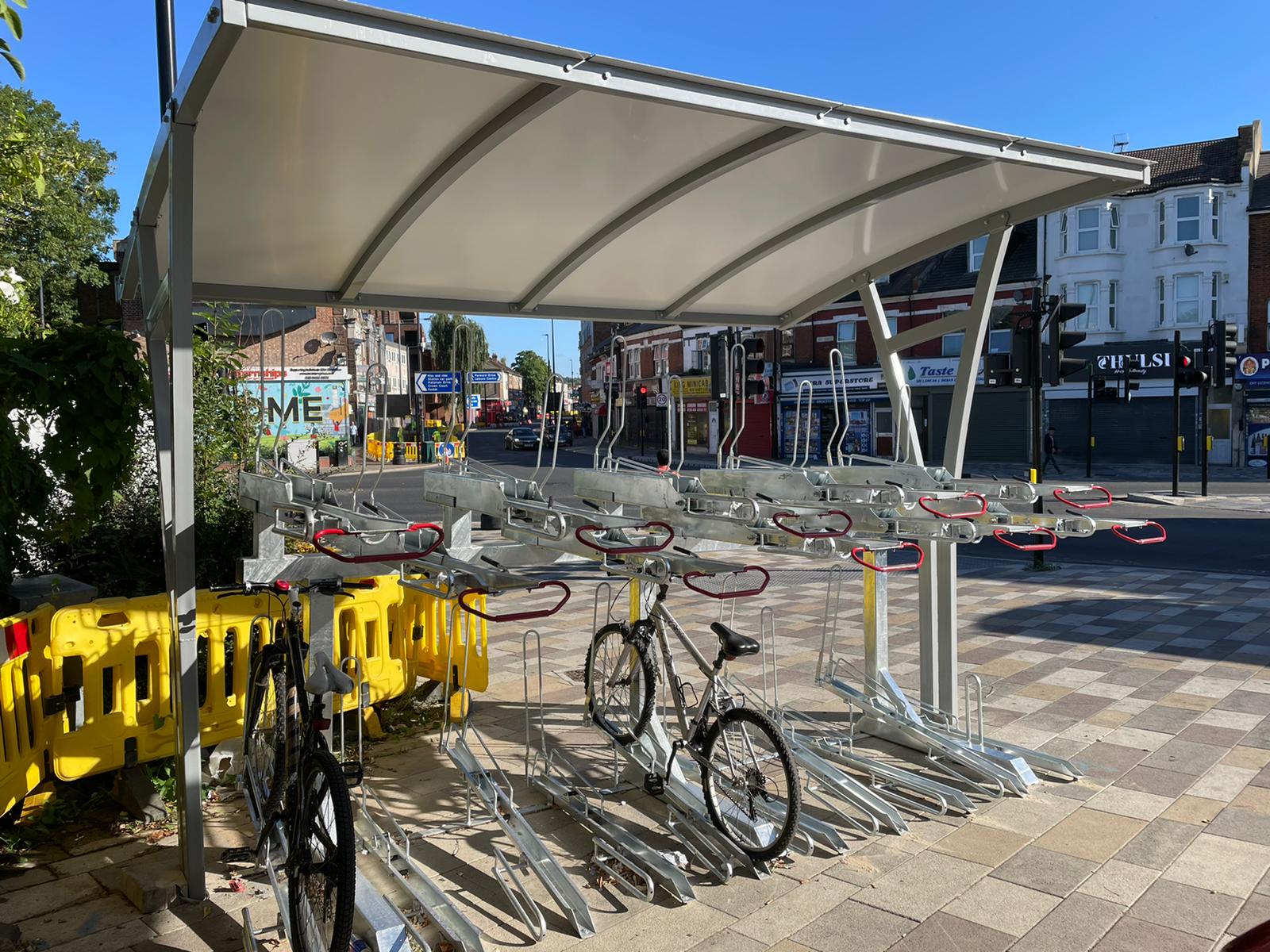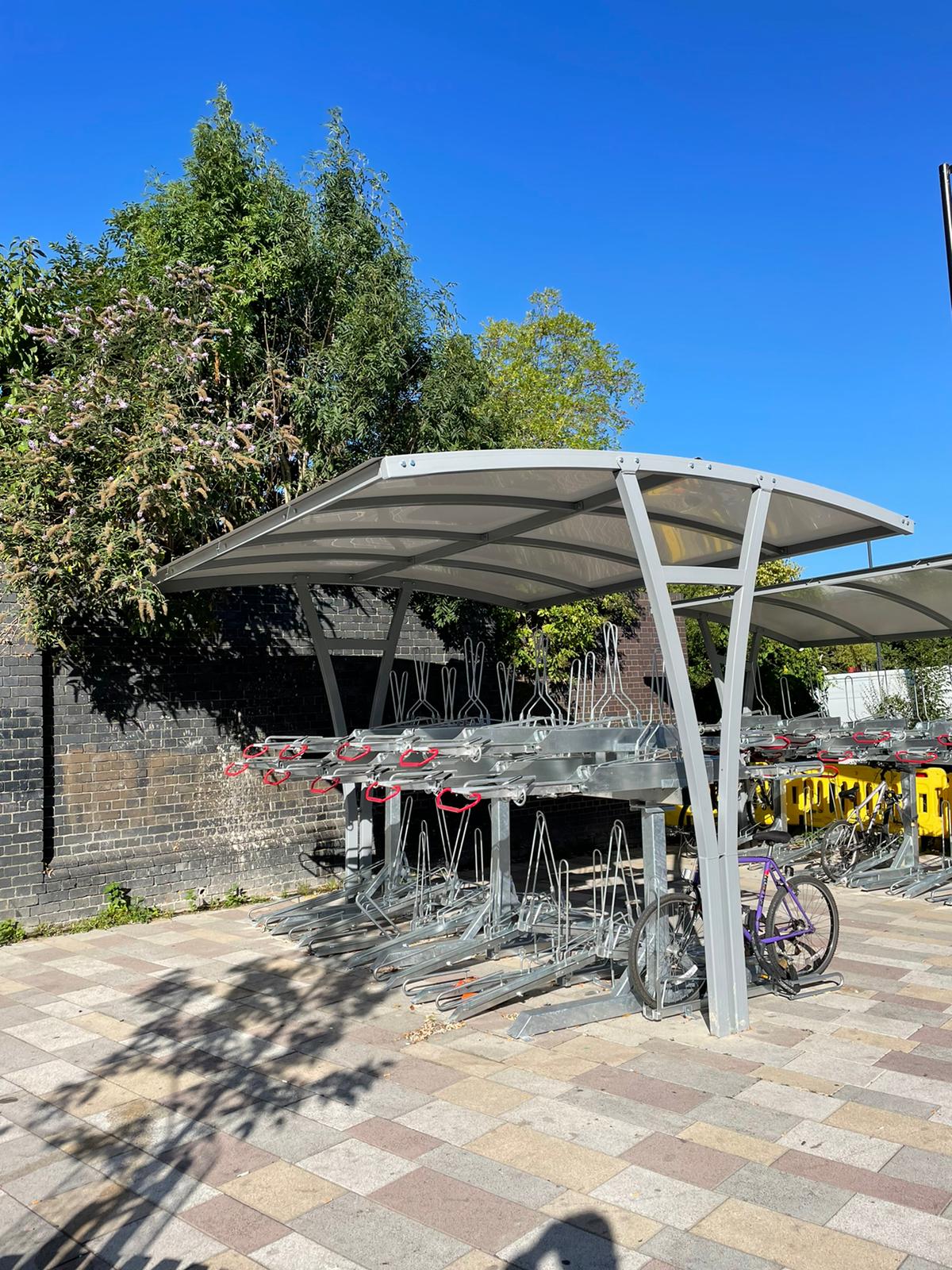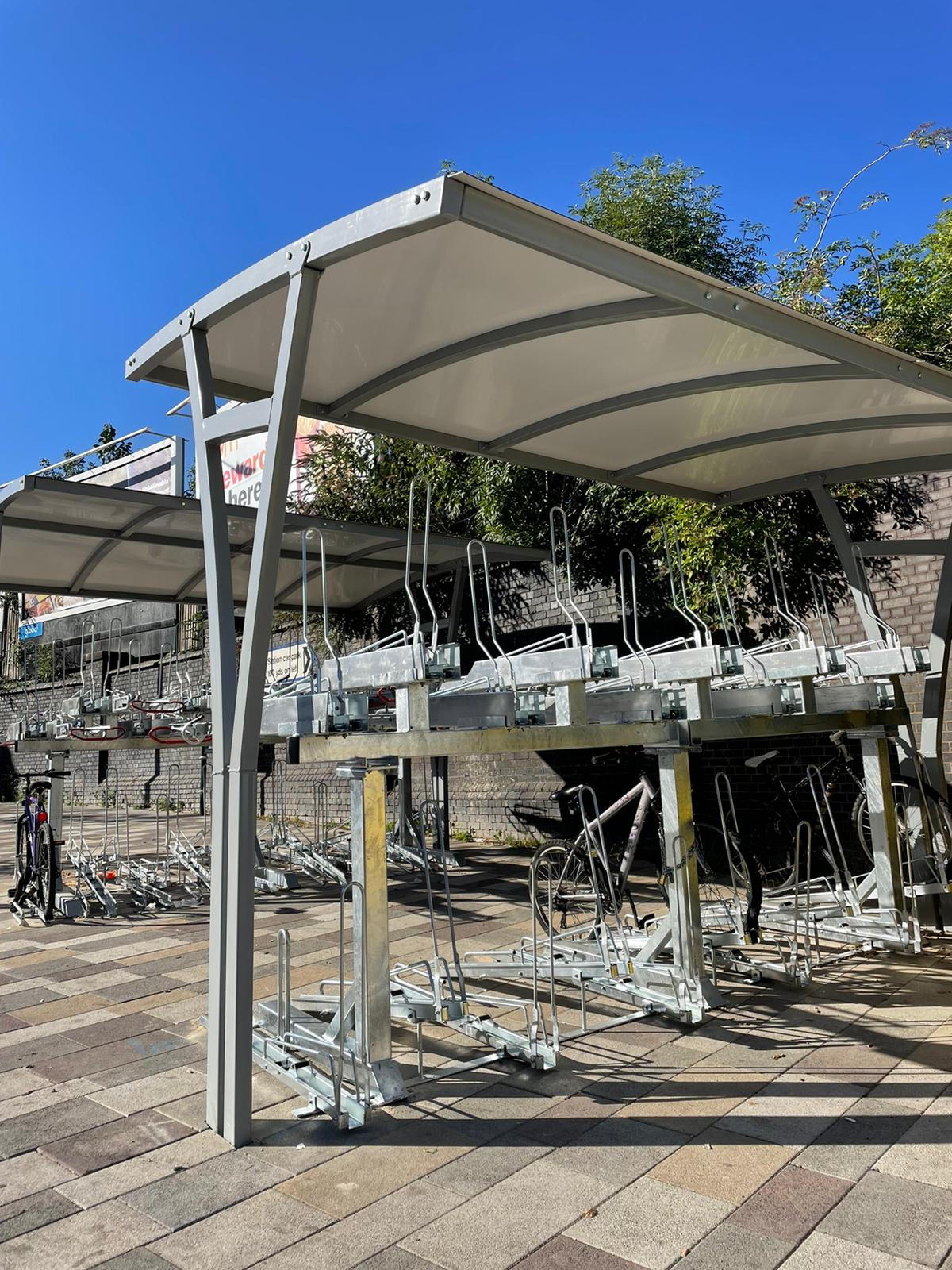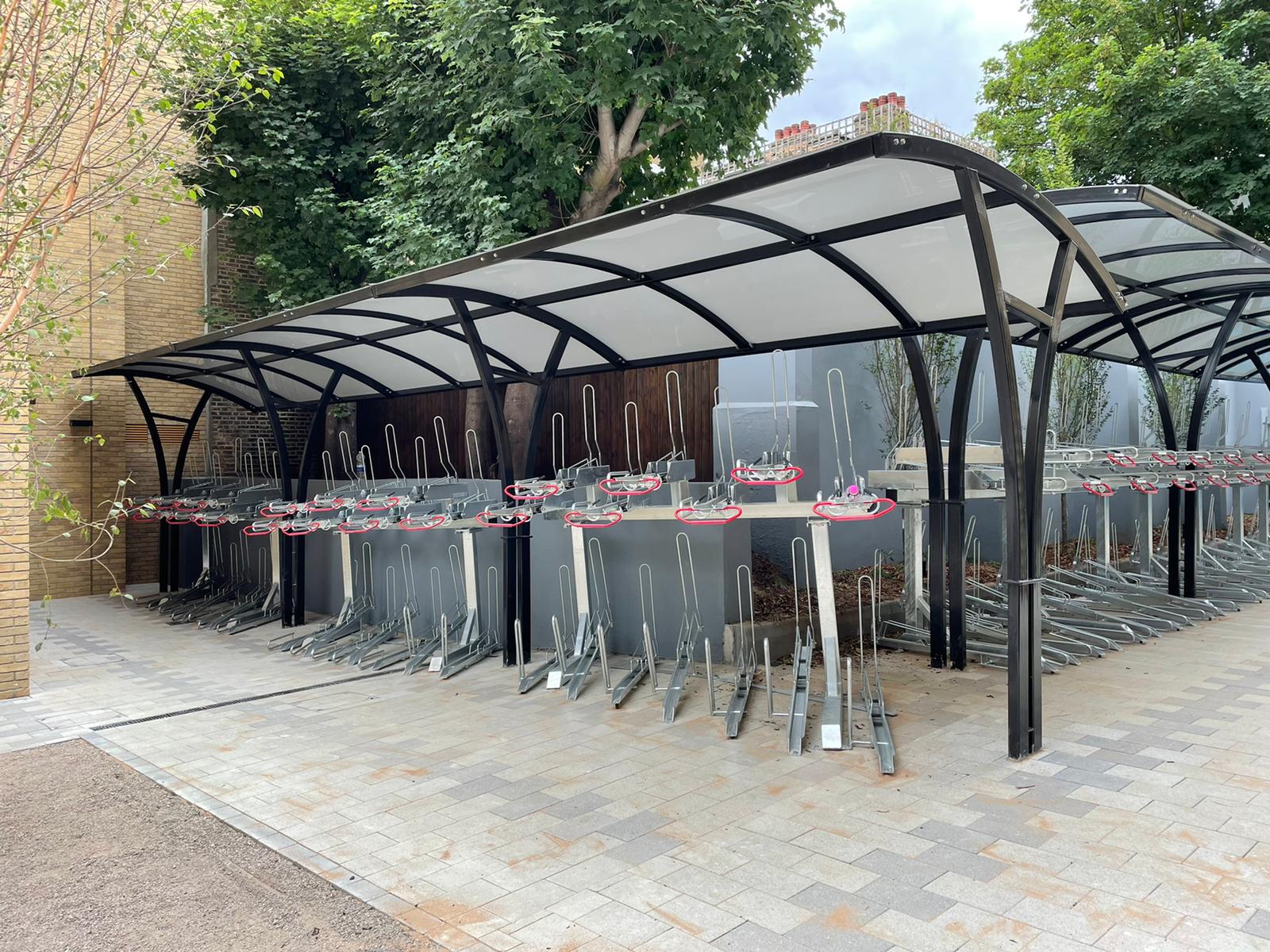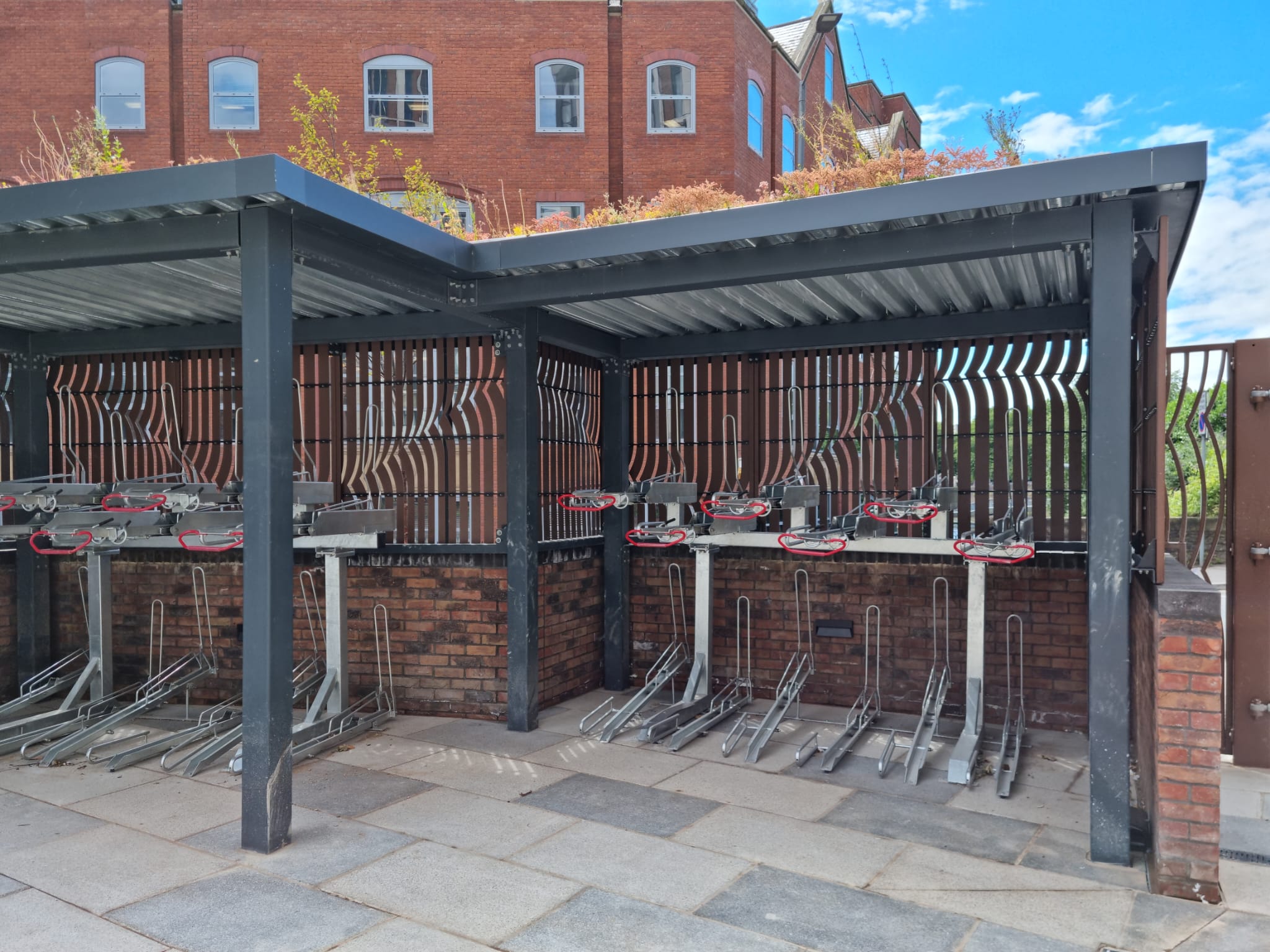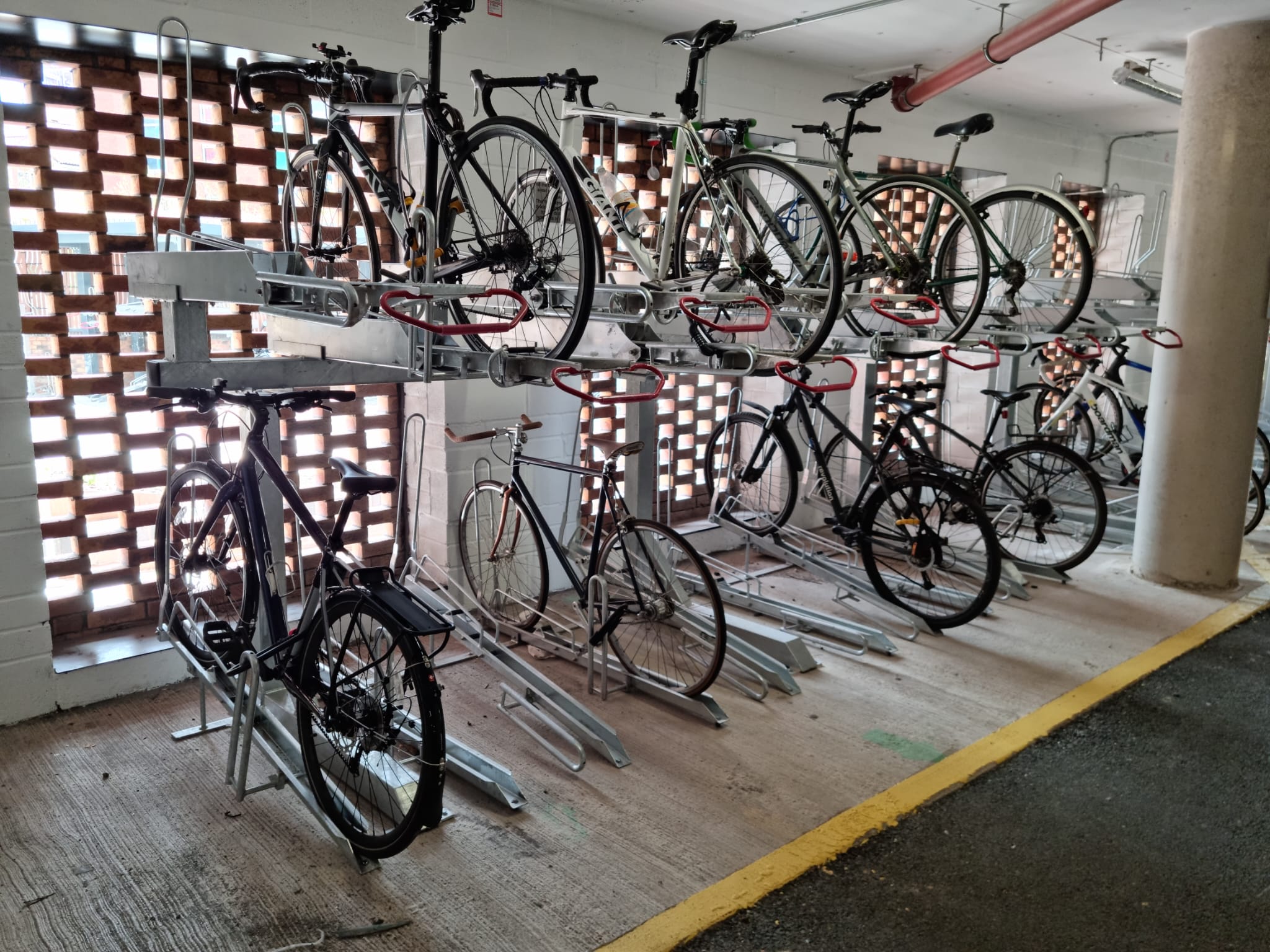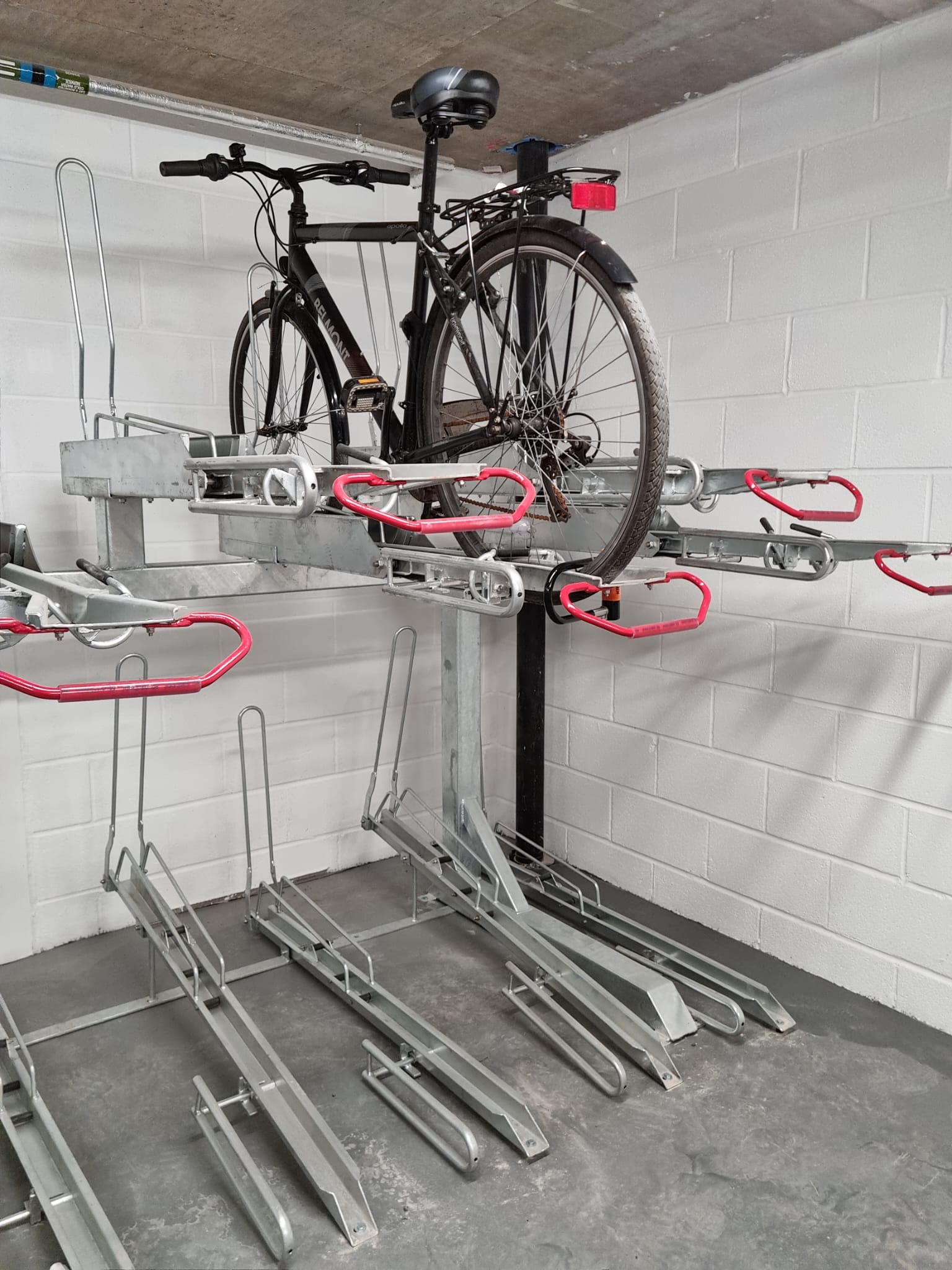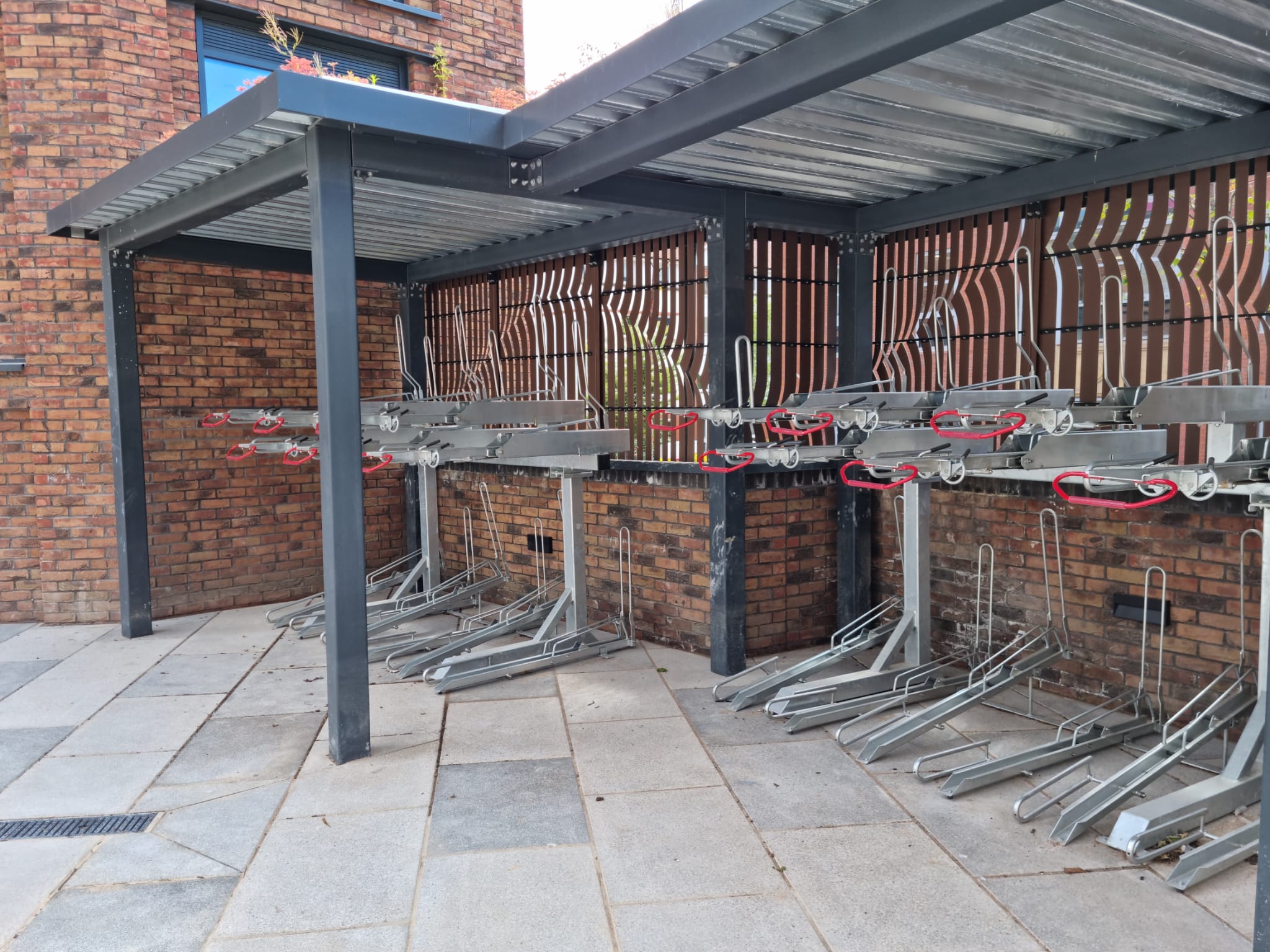 Josta® 2-tier racks are designed to fit the maximum number of bikes into a limited space.
The racks are safe and easy to use, mainly due to the big low handles and the special gripping mechanism. This mechanism stops the bike from rolling back and injuring the user – a unique patented safety feature that is particularly important for heavy bikes.
The racks are also designed for a long tough life of constant heavy use, with minimum maintenance.
Cycle-Works installed the first Josta® 2-tier racks in the UK in 2001 for Transport for London. Since then, we have installed the racks at many UK sites. This includes railway stations such as London Euston and Liverpool Street Stations, plus approximately 1500 racks at over 50 Merseyrail stations. Sites also include prestigious new office blocks, town centre locations and residential developments. For these, we worked with most major contractors to find the best possible solution for what is often very limited space.
---
Features & Benefits
Space efficient – it stores two bikes directly above each other

Custom-made for specific sites

Easy-to-use, safe and organised parking

Individual racking – one bike per space

Each bike can be locked to its own security bar

Patented gripping mechanism keeps the bike securely in place

German design and quality
---
Why This Product is so Good
This space-efficient racking system stores one bike directly above the other. It therefore increases the amount of bicycles parked (or reduces the size of the site) by up to 50%.
---
Safety – the Unique Josta® Wheel Holding Device
The Josta® gripping mechanism has been crucial to the success of this 2-tier system around the world. This device holds each wheel firmly in place, stops the bike from rolling back or bouncing out of the rack. This is especially important if the top rack is dropped by mistake. Without the patented wheel holder, the bike could 'bounce' dangerously and become unstable. This is a serious liability issue, as well as one of ease of use. Only the Josta® 2-tier system has this patented device.
---
We Now Offer Josta 2-Tier Racks with Gas-Assisted Lifting
To read more about Josta® 2-tier racks with gas assisted lifting, click here.
---
Sustainability
This cycle rack can be used to help demonstrate compliance with BREEAM and achieve a high BREEAM rating.*
This cycle rack can be used to help contribute towards gaining your 2 ENE8 Cycle Storage Credits when used in an appropriate situation, under the Code for Sustainable Homes.
*Cycle-works and its products and services are not affiliated, endorsed or certified by BRE Global or its affiliates. All rights are reserved.
Layout & Space Requirements
This racking system is designed to fit your exact space, so rows can be as long as required. It can be used in conjunction with our other cycle parking systems to give the maximum capacity for your site.
To design your site, please follow these guidelines:
The headroom is the most important factor for this racking system. A minimum of 2600mm is required for maximum capacity.

Please leave 300mm to any adjoining side wall to give space for the handlebars of the first bikes on either side.

Minimum spacing is 400mm.

These racks can also be installed at a headroom of 2400mm, but for this, the racks need to be spaced at 600mm minimum.

Please allow 2000mm for the rack itself. For access, the manufacturer's minimum requirement is 1700mm.

The racks can also be installed from a central spine. For this option, please leave 1700mm for access on both sides. The 2-sided unit is 3100mm wide.

Racks can also be installed at a 45 or 55 degree angle.

We are happy to give advice with your site planning. Please let us know if your require dwg files. If you send us your draft site plan (dwg or pdf format), we can check that the layout works well and suggest changes if necessary.
Capacity
This system parks one bicycle per rack. Two racks are installed as one unit – one rack at the top, one at the bottom, directly underneath. Please note that we quote per bike space.
Dimensions
The actual rack is 2000mm long and requires 400mm width per double bike space. 300mm are required at each end to give space for the handlebars of the first bikes.
For further details please see our design and layout guidelines above.
Mounting/Installation
A level concrete base is required – not screed! This racking system is then installed by our team of experienced installers. Special supporting legs for non-concrete sites are available at an extra cost.
---
Materials, Locking Mechanisms & Accessories
Material Options
These racks are usually supplied in a galvanised finish. The framework can also be powder coated.
Locking Mechanisms & Options
A security bar allows the cyclist to lock the bike frame and wheels with their own chain or D-lock
Accessories
Reflective 'Mind your head' stickers: For added security, reflective 'mind your head' stickers can be provided for the racks.
---
Frequently Asked Questions
Ease of Use
The Josta® racks are quick, safe and easy to use. There are thousands already in daily use across Europe and North America.
Cost
A major issue with the 2-tier racks is often the initial expense. They are obviously far more expensive than single level racks. Nothing will be cheaper than a Sheffield stand – a simple bent bar! However, the extra cost is usually outweighed by the increase in cycle parking capacity that they provide. We can normally double the capacity in a limited area. There are also many other advantages as each person has their own, individual space.
In addition, the provision of high capacity bicycle parking often means that fewer car parking spaces need to be allocated for the required cycle parking. This means that some of the initial cost of the racks can be retrieved by profitable use of car parking space, which can be either rented or sold to users.
This system may allow customers to meet building requirements, at far lower cost than building additional exterior shelters or installing lockers.
Space
Users need a 2 – 2.5m access area in front of the racks, if the racks are installed at 90 degrees. This can be reduced if the racks are angled. Please contact us to discuss your exact site requirements
Headroom
The racks really need 2.6m of headroom in order to get the maximum capacity. There is still a considerable benefit if the headroom is less. We make the framework to order, so can take allowances of lower pipes, ducting, sprinklers etc. Please contact us to discuss options.
Do you sell to private households?
Not really for this product, simply because we have found that other products are more suitable and cost-effective for home storage.
What about people who do not want to use the top level?
We have found that this is usually not a problem. As most people prefer to use the top row, there is generally plenty of space on the bottom row.
What about maintenance?
There are very few moving parts, and the nylon bushes have an extremely long life. Replacement components are readily available if the rack is damaged, e.g. by cars or trucks.
What if there are areas with less than 2.6m headroom?
We make the racks for the specific site, so can easily accommodate lower areas.
Product & Specification Sheets
To download the Josta® 2-Tier Cycle Rack product sheet, click here.
To download the Josta® 2-Tier Cycle Rack specification sheet, click here.
For information on the loading area required for this system, click here.
---
Case Studies
To download our Strata SE1 case study, click here.
To download our Network Rail case study, click here.
To download our Chester Station case study, click here.
To download our Merseyrail case study, click here.
To download our Hove Station case study, click here.
To download our H2 Fitness case study, click here.
To download our HBOS Bristol case study, click here.
To download our Leicester Bike Park case study, click here.
To download our Leicester Bike Park case study, click here.
---
Videos
Cycle-Works supplied and installed Josta® 2-Tier cycle racks in the Alphabeta Building – a stylish and contemporary office development in Finsbury Square, London. What sets the Alphabeta Building apart from other offices, is its bike ramp that enables workers to cycle straight into the building and down to the cycle storage area without having to dismount.
Check out this video where the BBC's video journalist Dougal Shaw tries the ramp out for himself;
Pricing
Josta® 2-Tier Racks are extremely economic units to install. Quotes are based on your bespoke specification, location and the quantity required.
Please contact us for a quotation, call 02392 81 55 55 or email sales@cycle-works.com.
---
Delivery
Current lead time is 6-8 weeks from receipt of your written purchase order. Extra time may be needed if extensive customisation is required.