Josta® 2-Tier Bike Rack with Gas-Assisted Lifting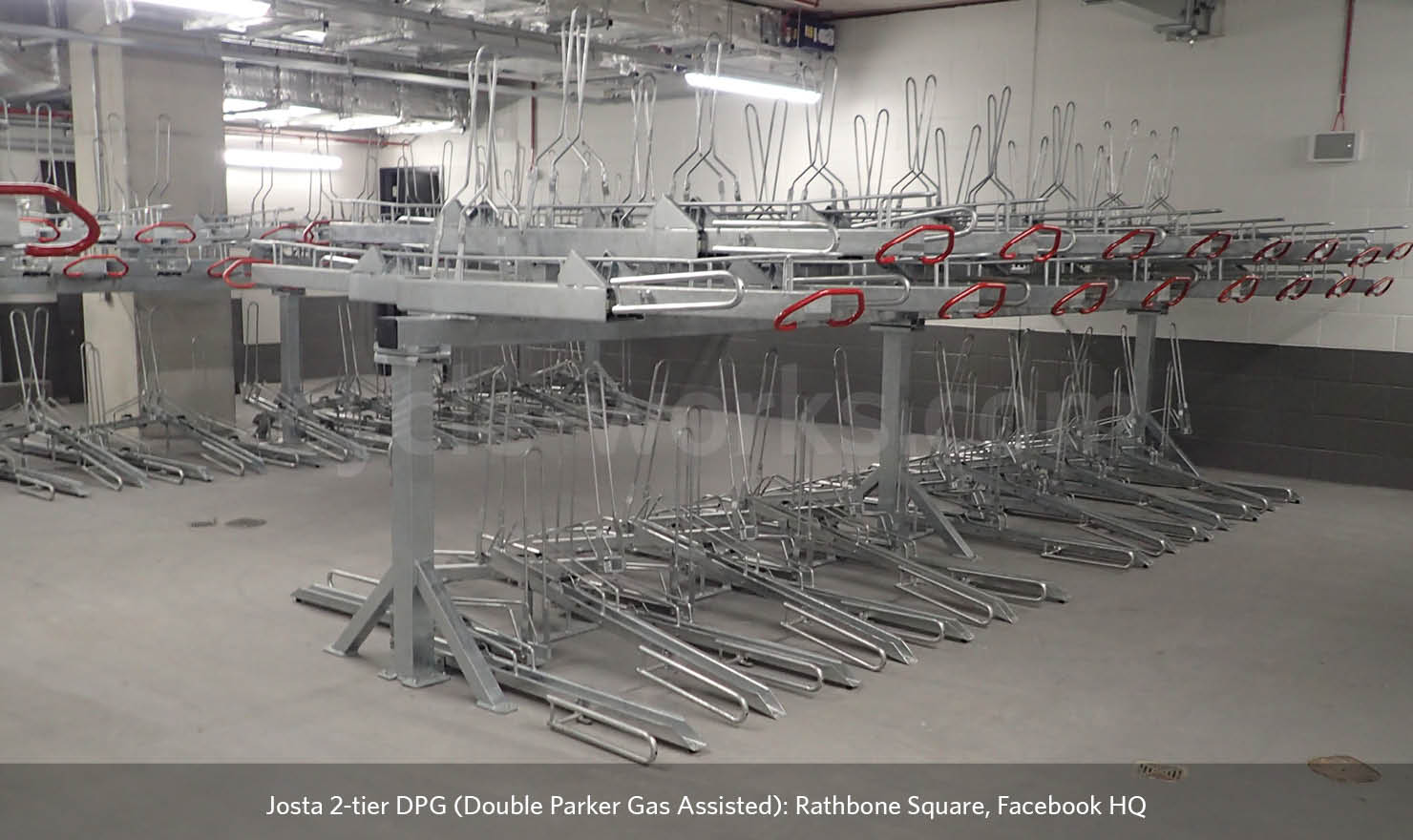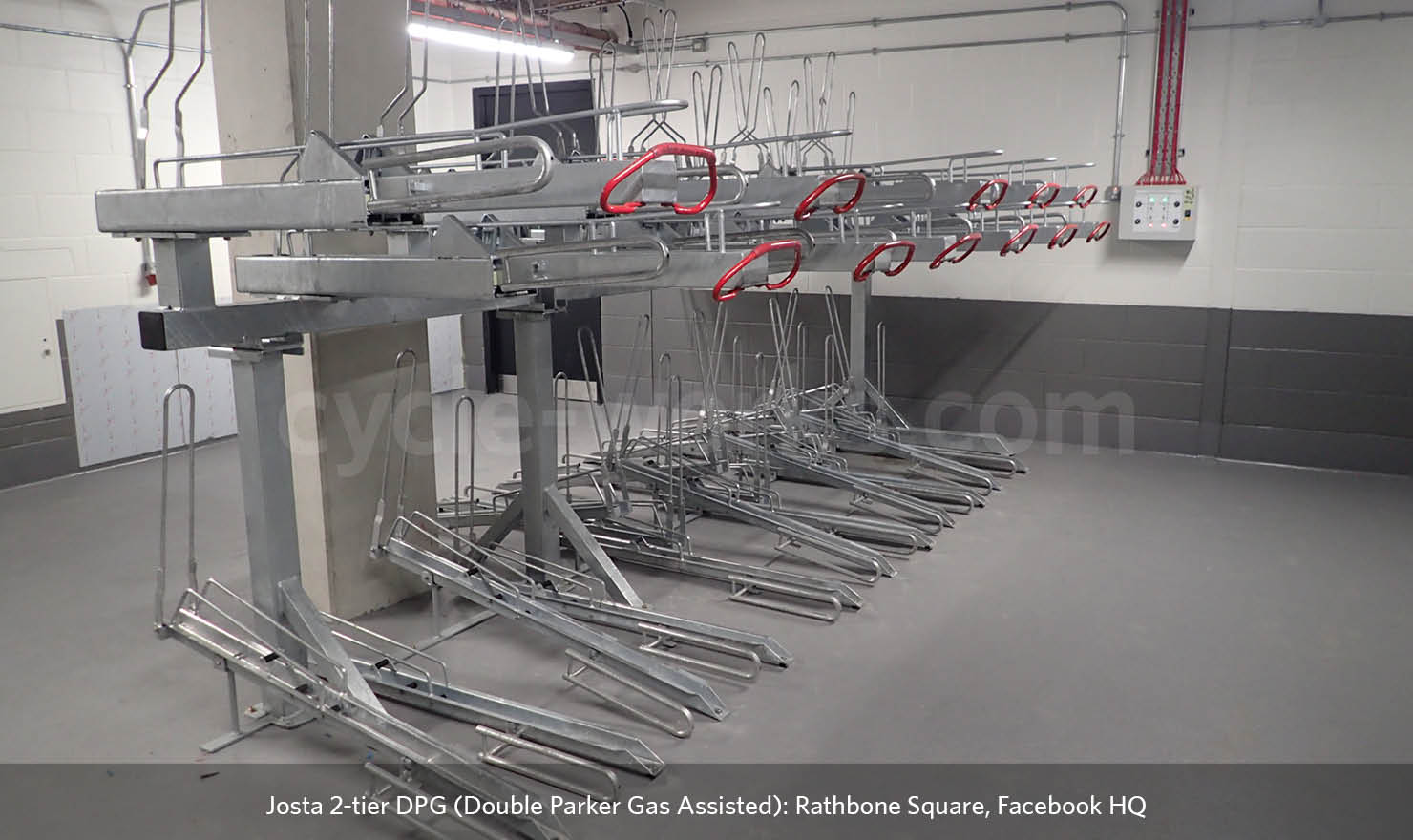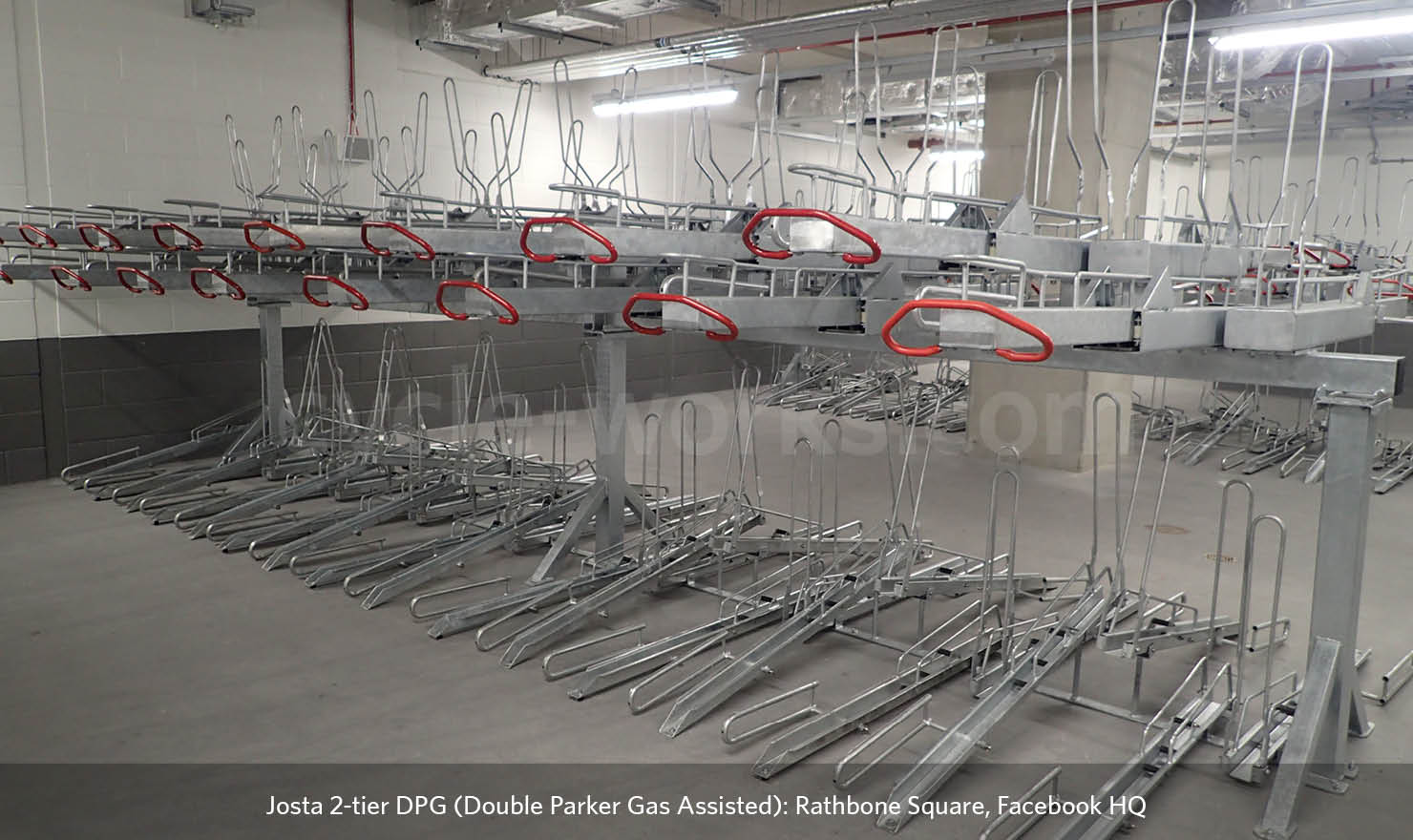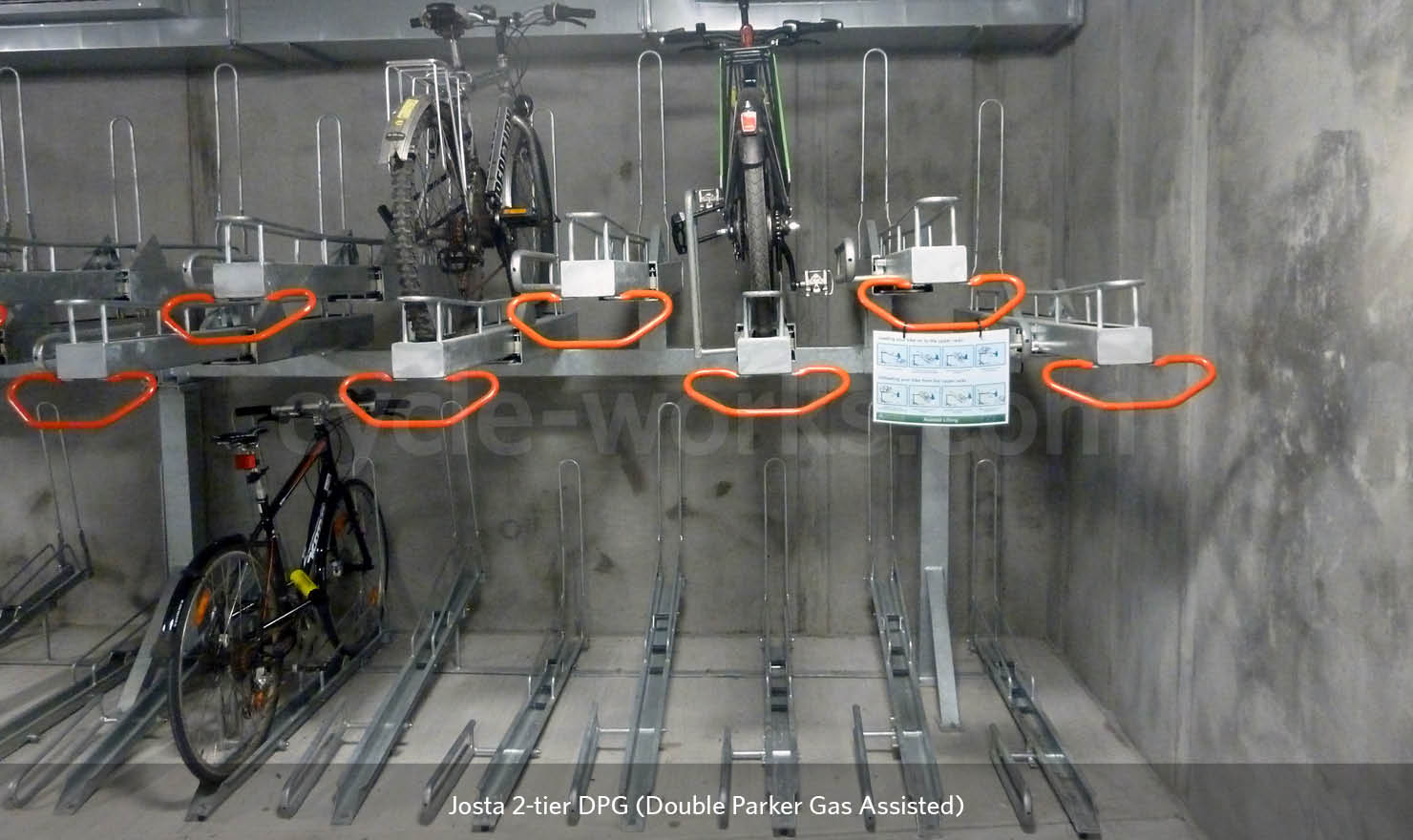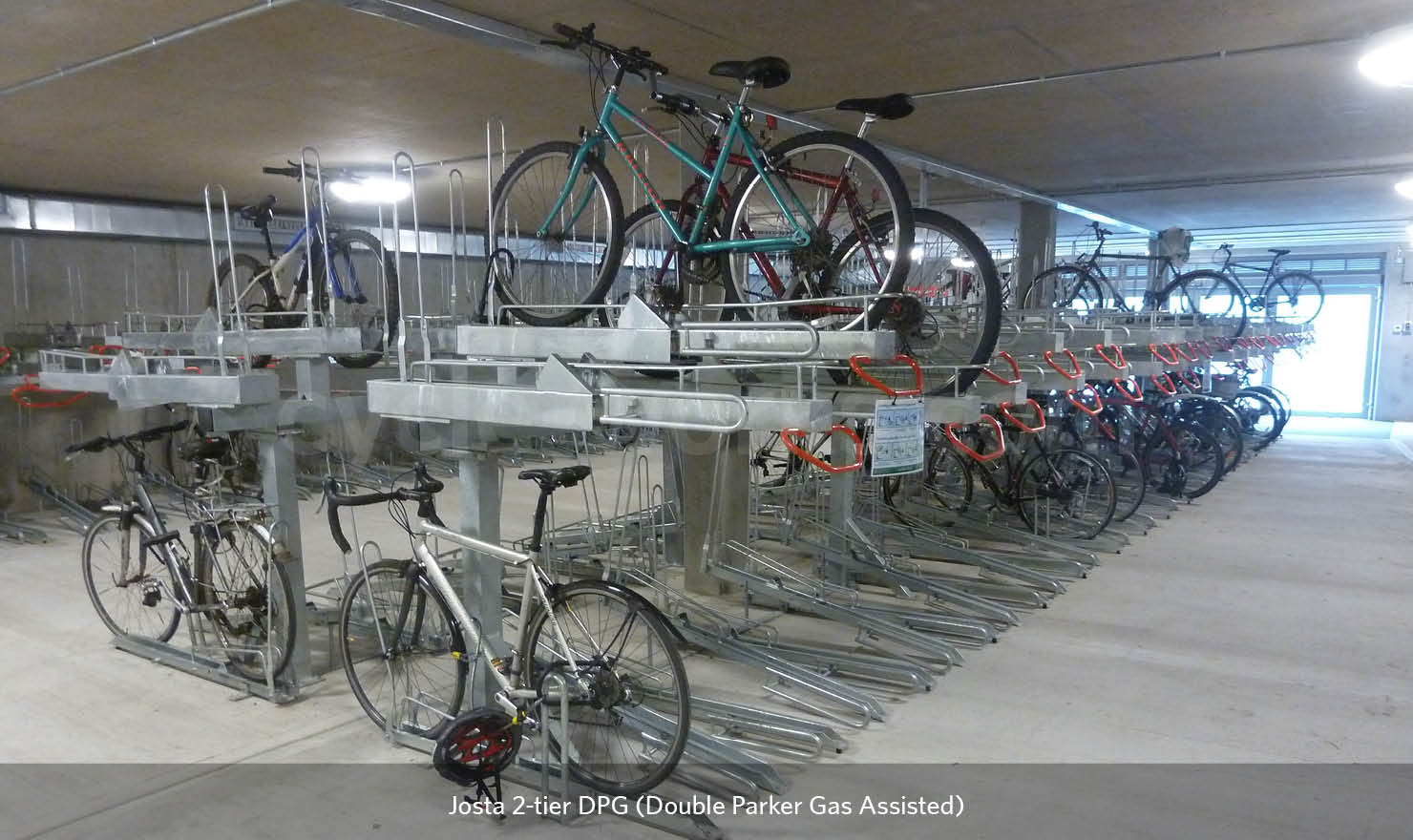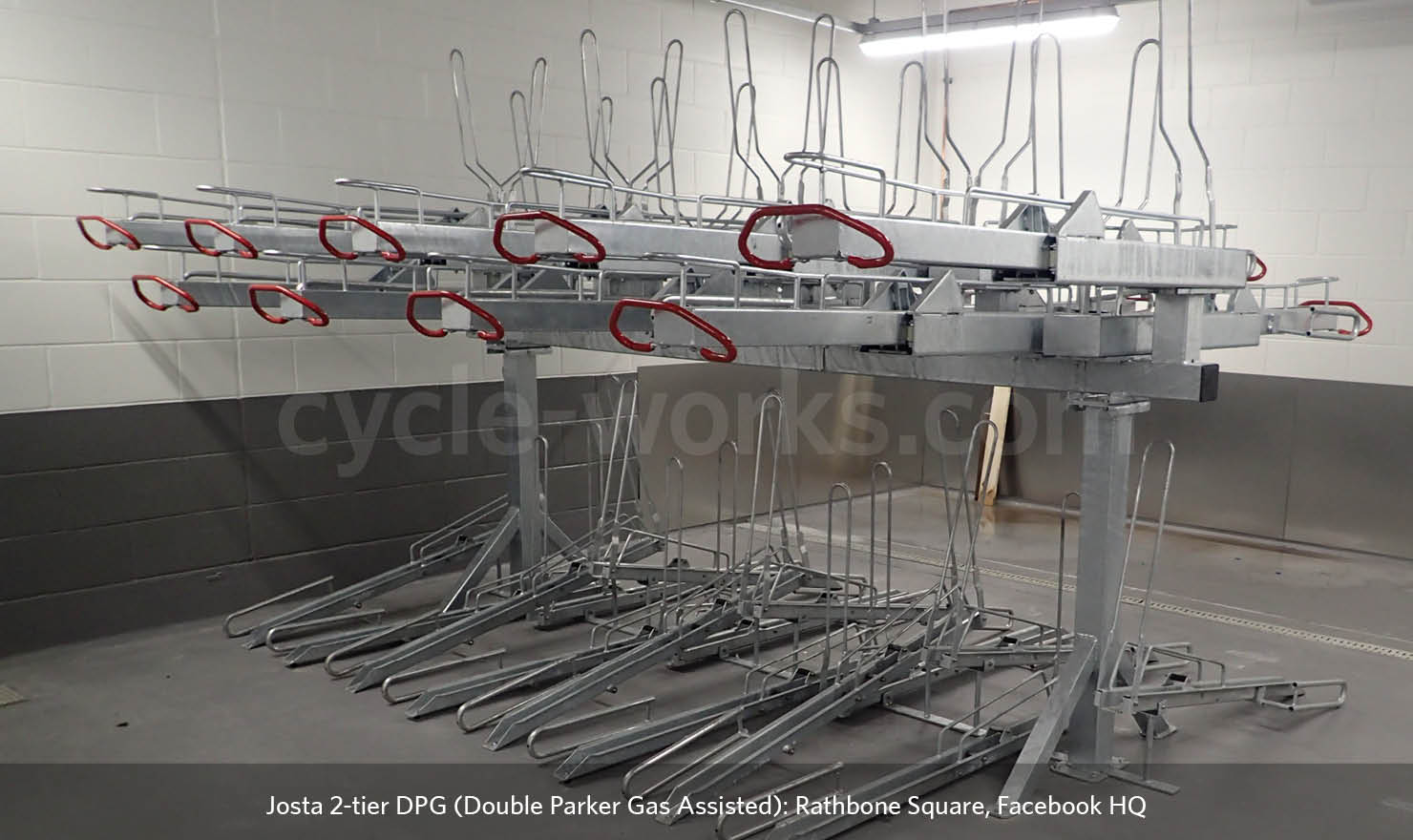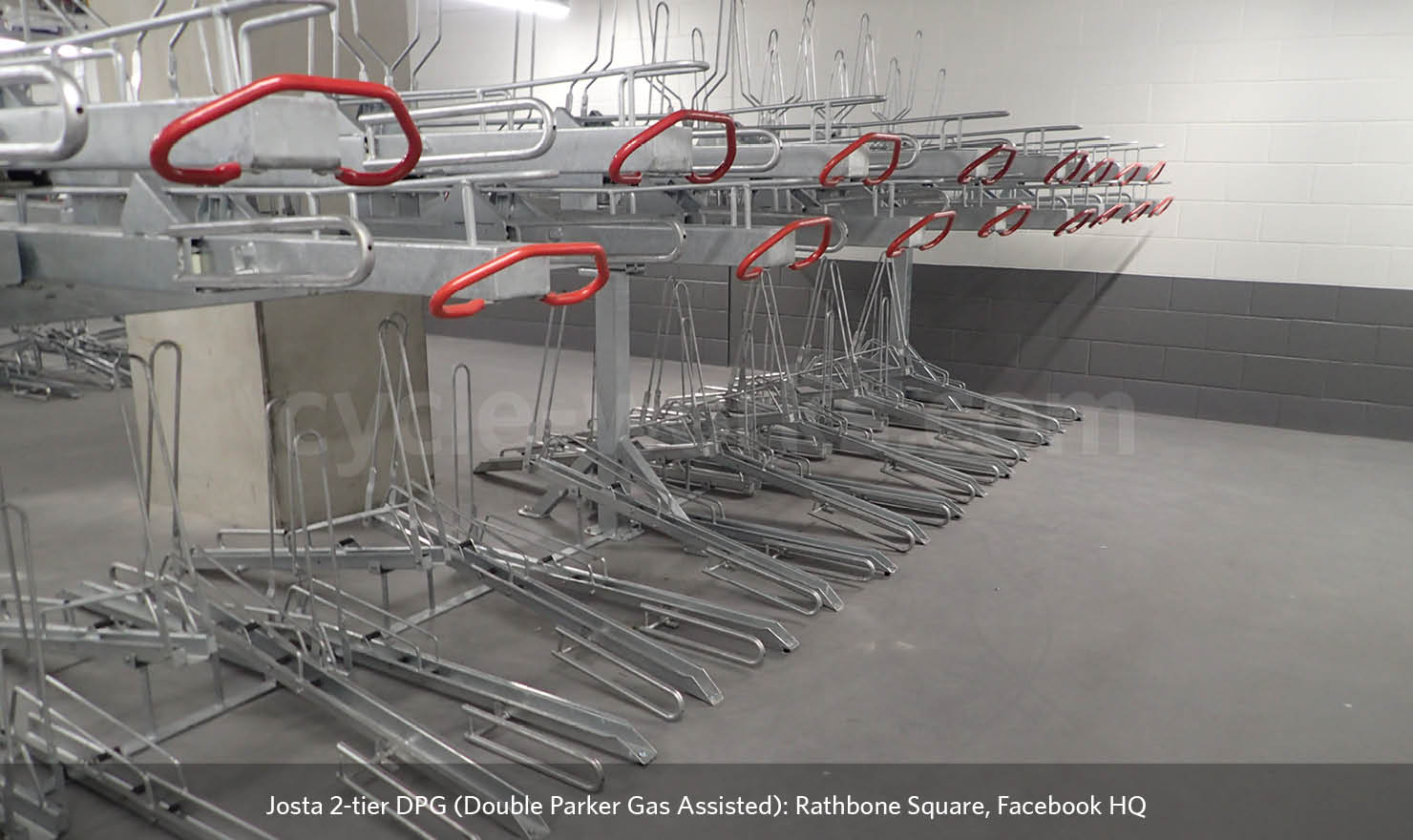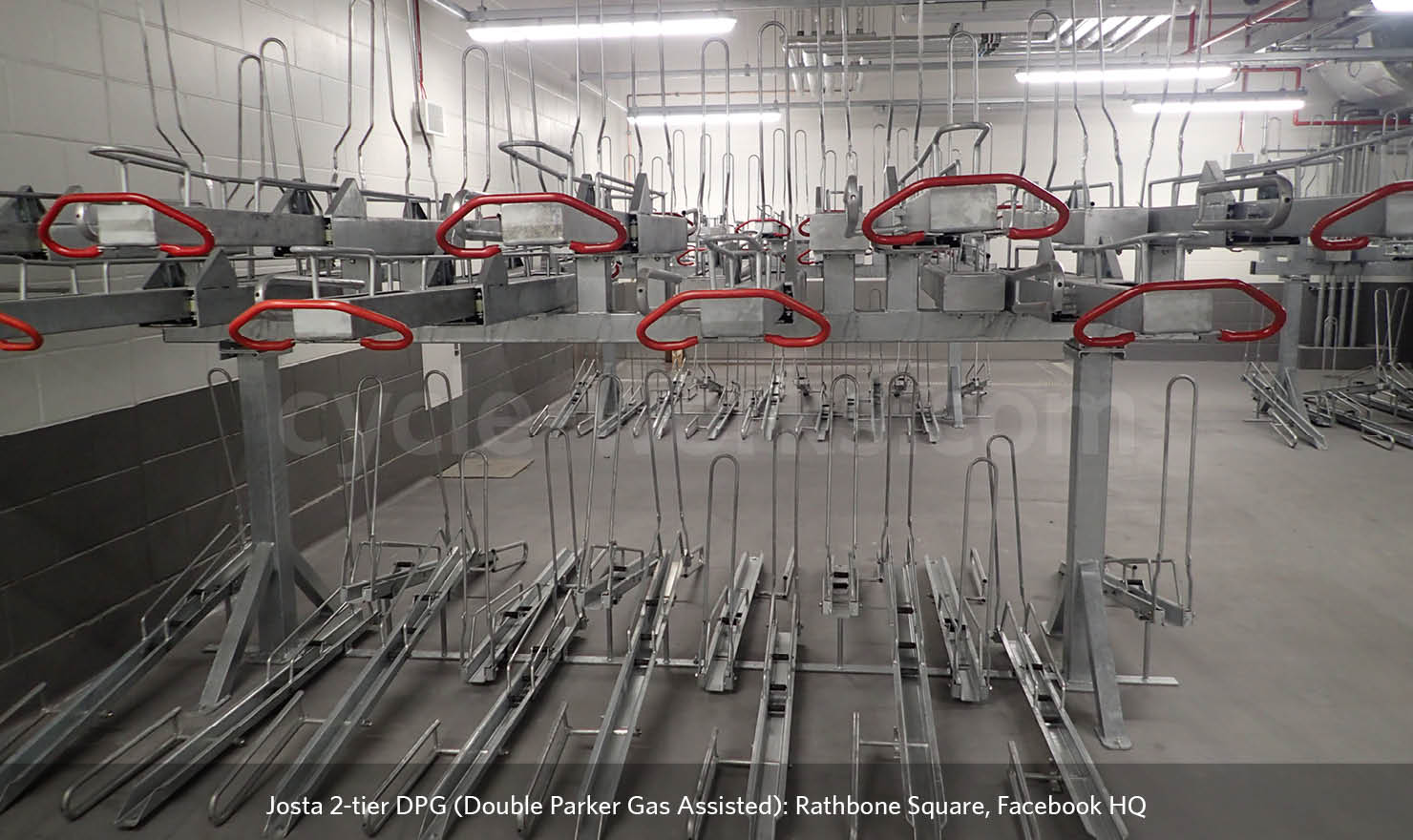 Josta® have developed a new 'gas cylinder' model that makes lifting and lowering the racks even easier. The strong gas strut is built into the middle of the top rack in a unique design. This means there are no moving parts to catch fingers, and the whole structure has a modern and stylish look. In addition, the gas-assisted Josta 2-Tier rack features the same compact design and footprint as the standard version within a two-metre walkway.
---
Features & Benefits
Space efficient – it stores two bikes directly above each other

Custom-made for specific sites

Easy-to-use, safe and organised parking

Individual racking – one bike per space
---
Why This Product is so Good
This space-efficient racking system stores one bike directly above the other. It, therefore, increases the number of bicycles parked (or reduces the size of the site) by up to 50%. Integrated gas struts make the top racks very easy to lift.
The rack is custom-made for specific sites to maximise the cycle parking capacity, and can be used in conjunction with other systems.
This cycle rack can be used to help demonstrate compliance with BREEAM and achieve a high BREEAM rating.*
This cycle rack can be used to help contribute towards gaining your 2 ENE8 Cycle Storage Credits when used in an appropriate situation, under the Code for Sustainable Homes.
*Cycle-works and its products and services are not affiliated, endorsed or certified by BRE Global or its affiliates. All rights are reserved.
Layout & Space Requirements
This racking system can be designed to fit your exact space. It can be used in conjunction with our other cycle parking systems to give the maximum capacity for your site.
---
To design the site, please follow these guidelines:
The headroom is the most important factor for this racking system. A minimum of 2700mm is required for the gas-assisted version.

Leave 300mm to any adjoining side wall to give space for the handlebars of the first bikes.

The racks are then spaced at between 400mm and 500mm apart. We have found 450mm to be a good planning spacing, giving capacity as well as ensuring ease of use.

Please allow 2000mm for the rack itself. For access, the manufaturer's minimum requirement is 1700mm. However, we have found that 2000mm is an ideal spacing. This access can be used by opposite rows as well.

The racks can also be installed from a central spine. For this option, please leave 1700mm-2000mm for access on both sides. The 2-sided unit is 3100m wide.

Racks can also be installed at a 45 or 55 degree angle.

We are happy to give advice with your site planning. Please let us know if your require dwg files. If you send us your draft site plan (dwg or pdf format), we can check that the layout works well and suggest changes if necessary.
---
Capacity
One bicycle per rack. Two racks are installed as one unit – one rack at the top, one at the bottom, directly underneath. Please note that we quote per bike space.
---
Dimensions
The actual rack is 2000mm long and requires between 400 and 500mm width per bike space. 300mm are required at each end to give space for the handlebars of the first bikes.
For further details please see our design and layout guidelines above.
---
Mounting/Installation
A level concrete base is required. This racking system is then installed by our team of experienced installers. Special supporting legs for non-concrete sites are available at an extra cost.
---
Material Options
These racks are usually supplied in a galvanised finish. The framework can also be powder coated.
---
Locking Mechanisms & Options
A security bar allows the cyclist to lock the bike frame and wheels with their own chain or D-lock.
---
Accessories
Reflective 'Mind Your Head' stickers, for added safety, can be provided for the racks.
The PVC coated handles are delivered in red to ensure that they are more visible, for example in underground car parks where they may not be any natural light.
---
Ease of Use
Josta racks are quick, safe and easy-to-use. There are thousands already in daily use across Europe.
---
Cost
A major issue with the 2-tier racks is often the initial expense, as they are more expensive than other racks. However, the extra cost is usually outweighed by the increase in cycle parking capacity that they provide. This allows our customers to meet building requirements.
In addition, the provision of high capacity bicycle parking often means that fewer car parking spaces need to be allocated for the required cycle parking. This means that some of the initial cost of the racks can be retrieved by profitable use of car parking space, which can be either rented or sold to users. Funding sources are often available, such as council grants, lottery or EU funds.
---
Headroom
The racks need 2700mm of clear headroom. Please bear in mind that overhead pipes are often ignored in the planning process, causing problems when we install the racks. Please ensure that all services are marked clearly on your plans.
---
Frequently Asked Questions
Do you sell to private households?
Not really for this product, simply because we have found that other products are more suitable and cost-effective for home storage.
What about people who do not want to use the top level?
We have found that this is usually not a problem. As most people prefer to use the top row, there is generally plenty of space on the bottom row.
What about maintenance?
There are very few moving parts, and replacement components are readily available if the rack is damaged, e.g. by cars or machinery.
What if there are areas with less than 270mm headroom?
For these areas, we can often install other products such as Josta wall racks or Sheffield stands.
Customers & Sites
We have done many sites with these products, including some of the following categories:
Councils
Hospitals & Healthcare
Schools, Colleges, Universities
Architects & Construction Companies
Transport Operators – Train / Bus /Air
Major Employers
Bike Stations
Residential
We have worked directly for most of the major construction companies, or as a subcontractor. We have worked directly for:
Bovis Lend Lease
Laing Homes
Jones Lang Lasalle
Laing O'Rourke
Mansell
Harry Neal
Blenheim House Construction
Mace
Menzies
Hadham Engineering
CMF
Brookfield
ISG
Sir Robert McAlpine
Carillion
Barratt
Galliford Try
Pricing
Josta® 2-Tier Racks are extremely economic units to install. Quotes are based on your bespoke specification, location and the quantity required.
Please contact us for a quotation, call 02392 81 55 55 or email sales@cycle-works.com.
---
Delivery
Current lead time is 6-8 weeks from receipt of your written purchase order. Extra time may be needed if extensive customisation is required.