Velo-Safe Locker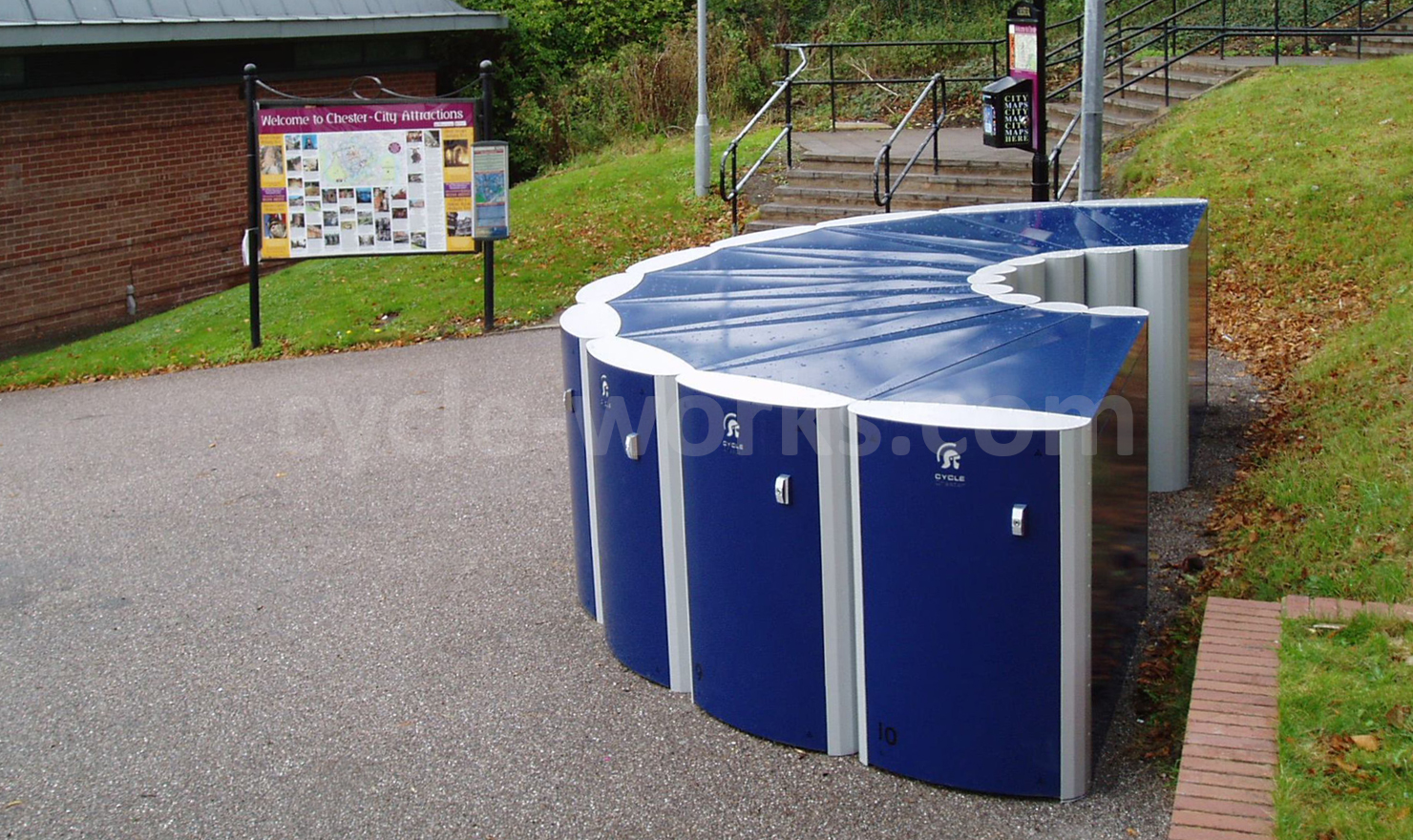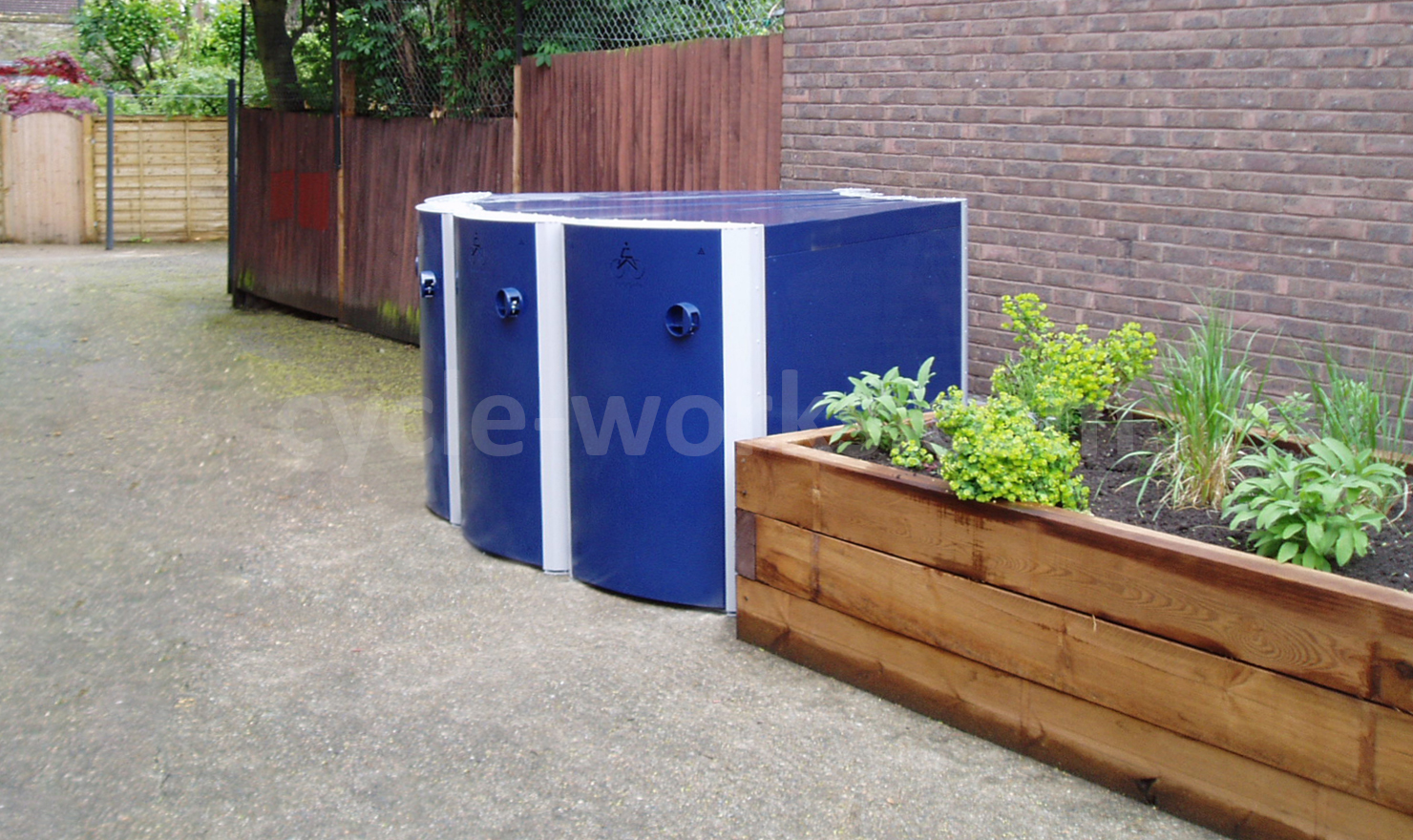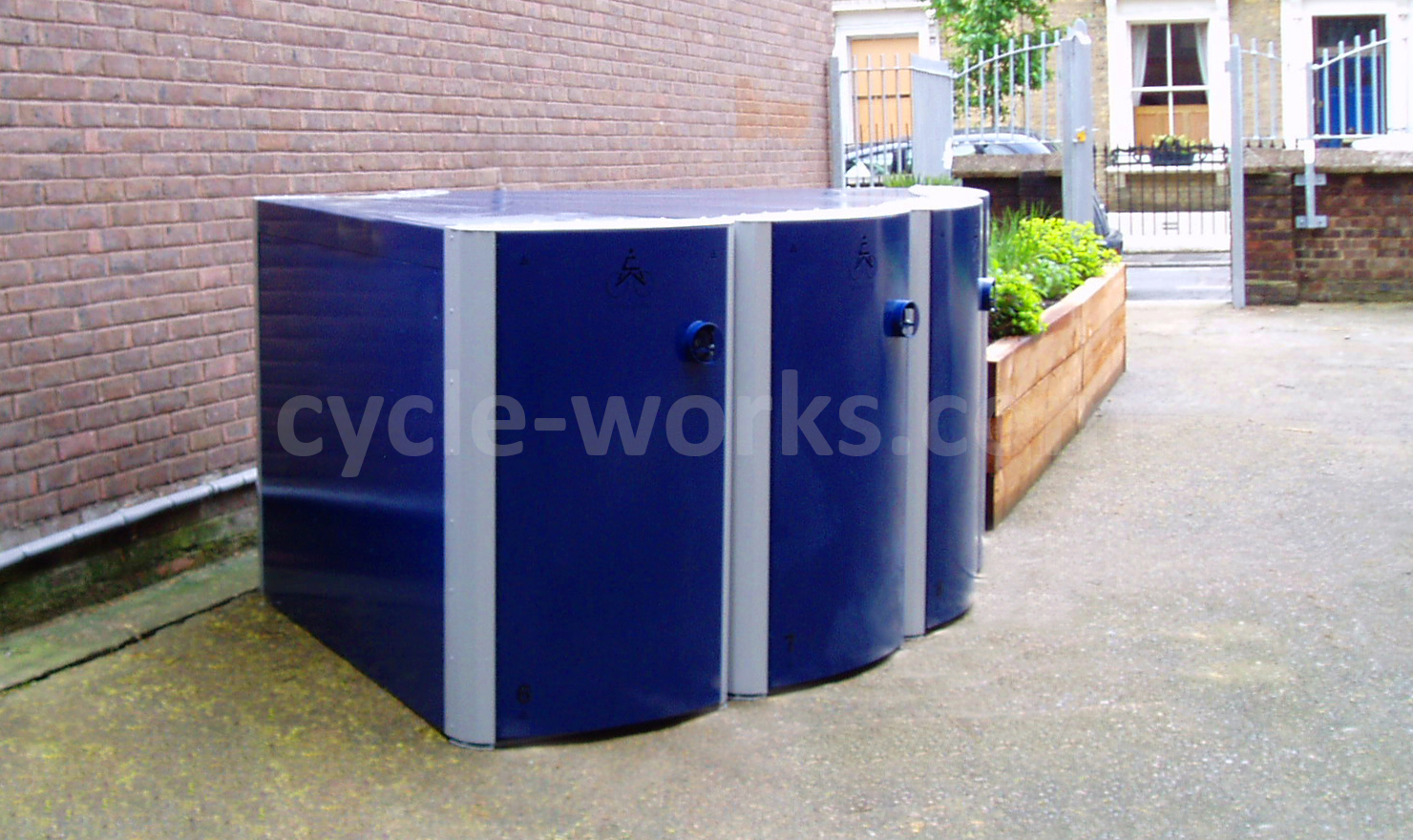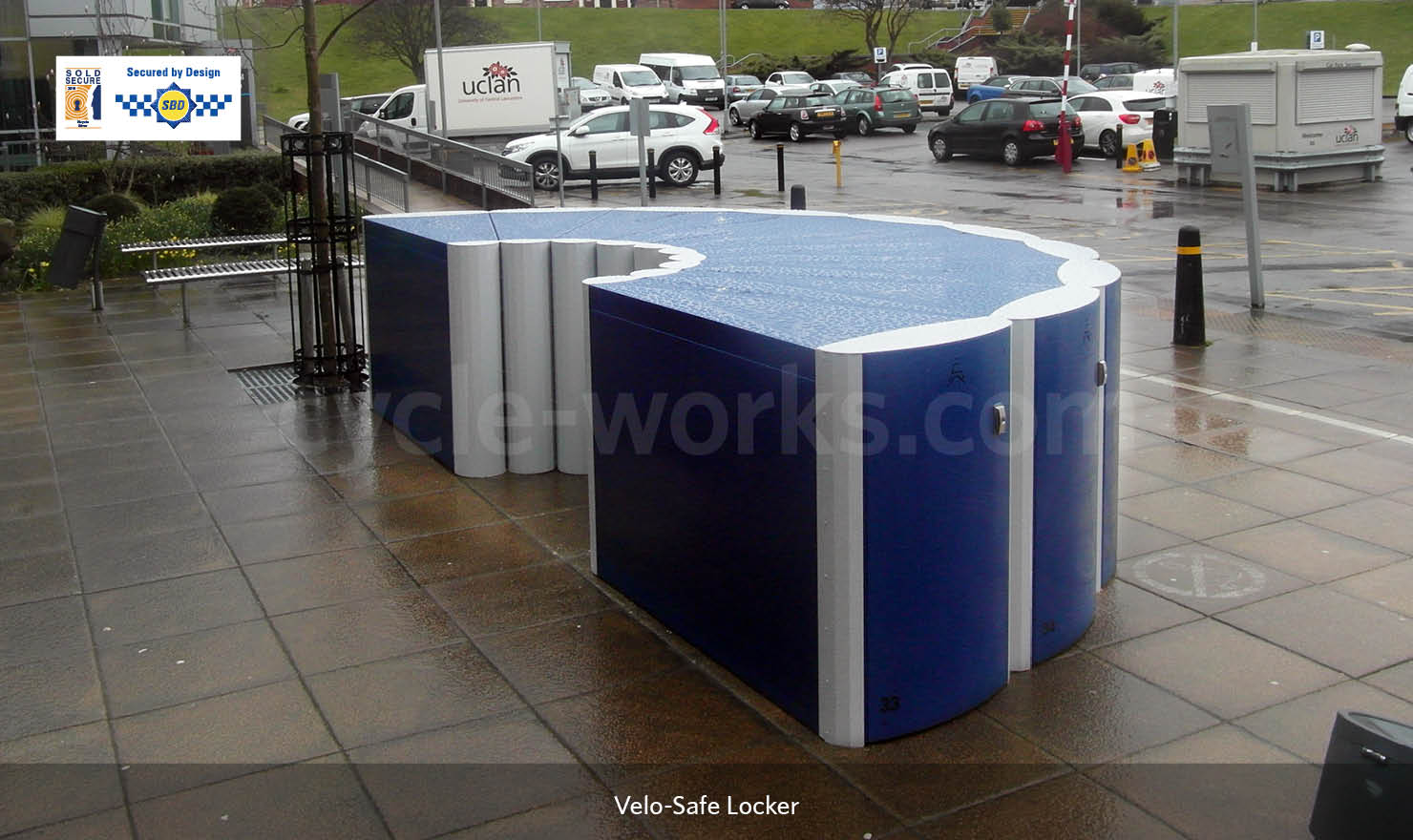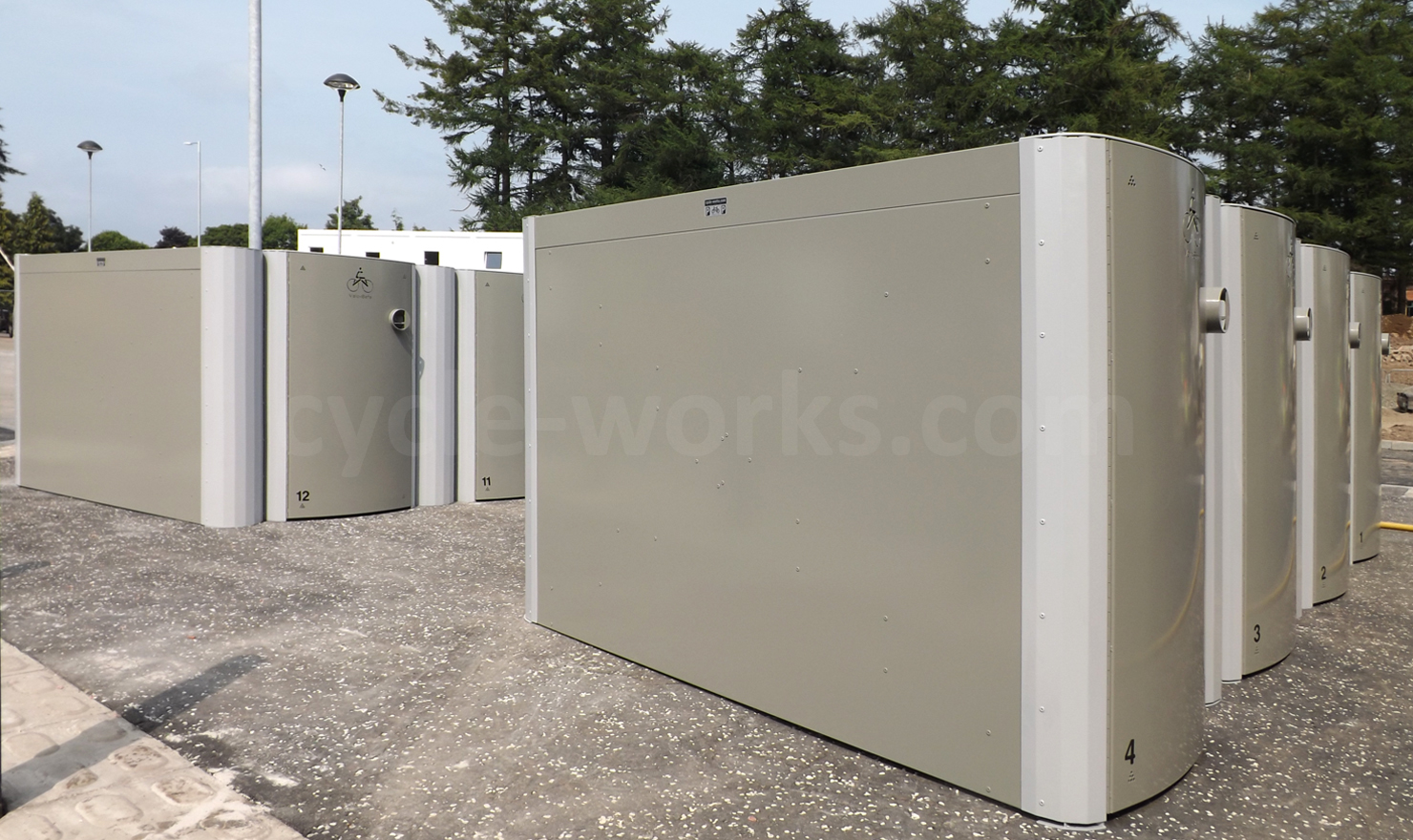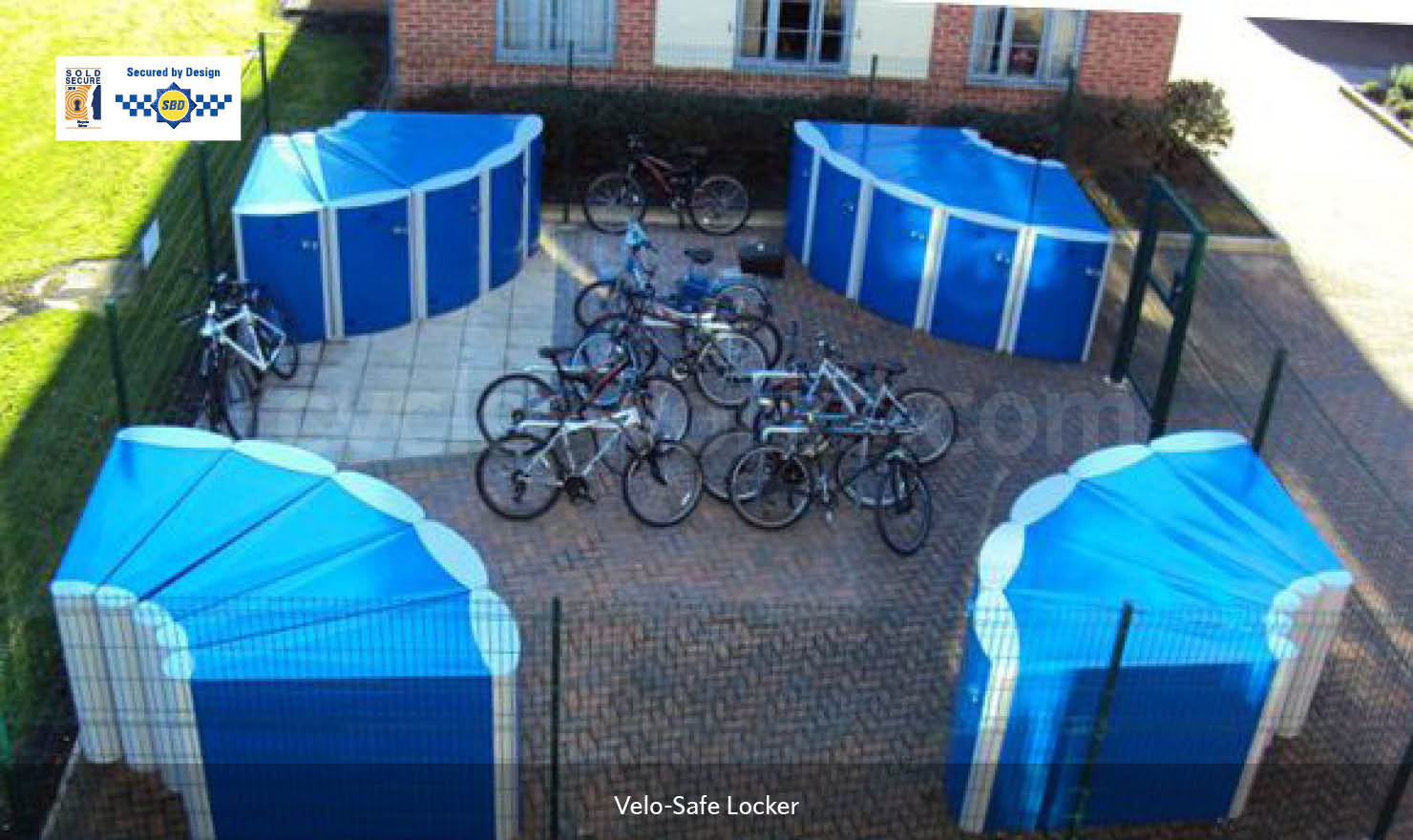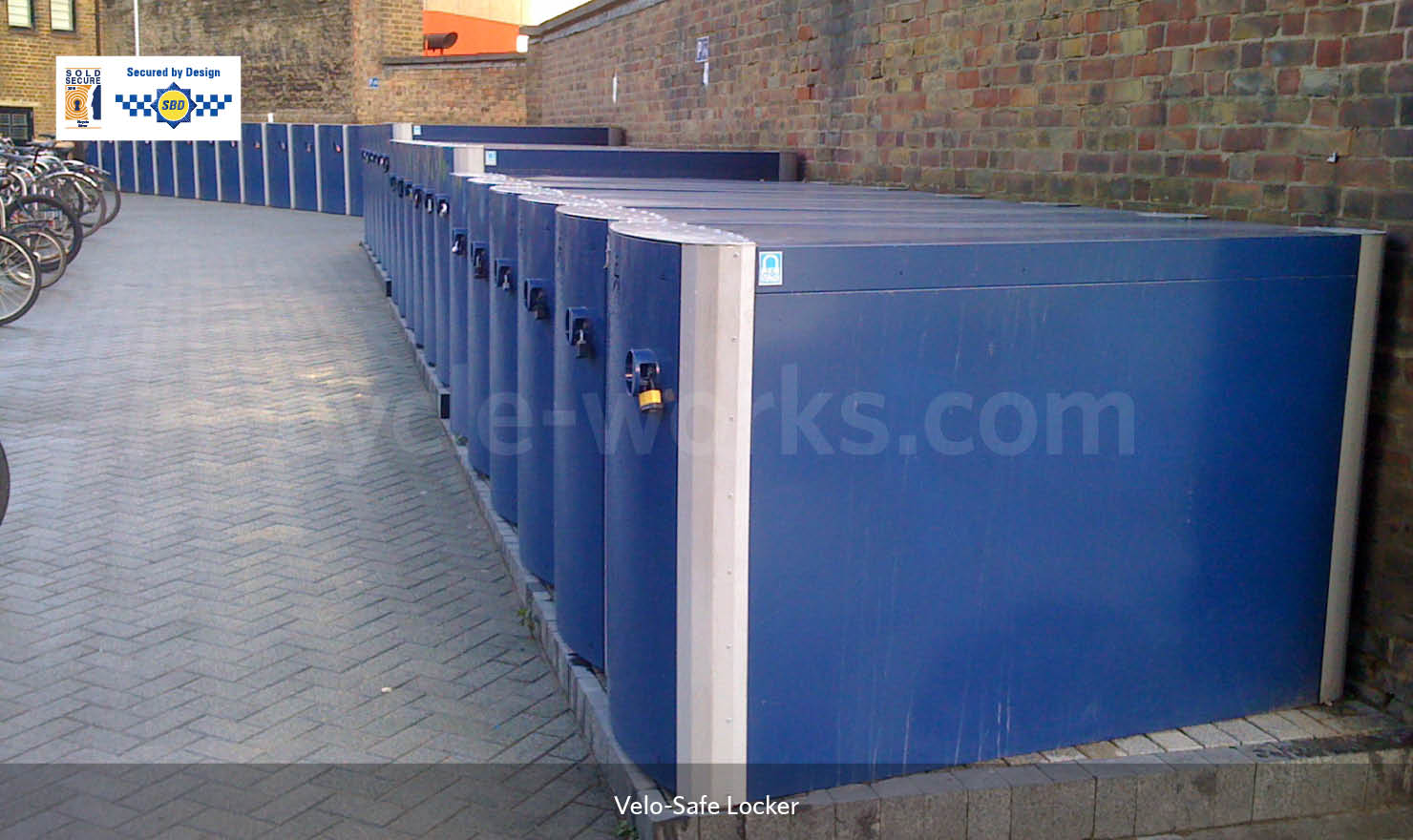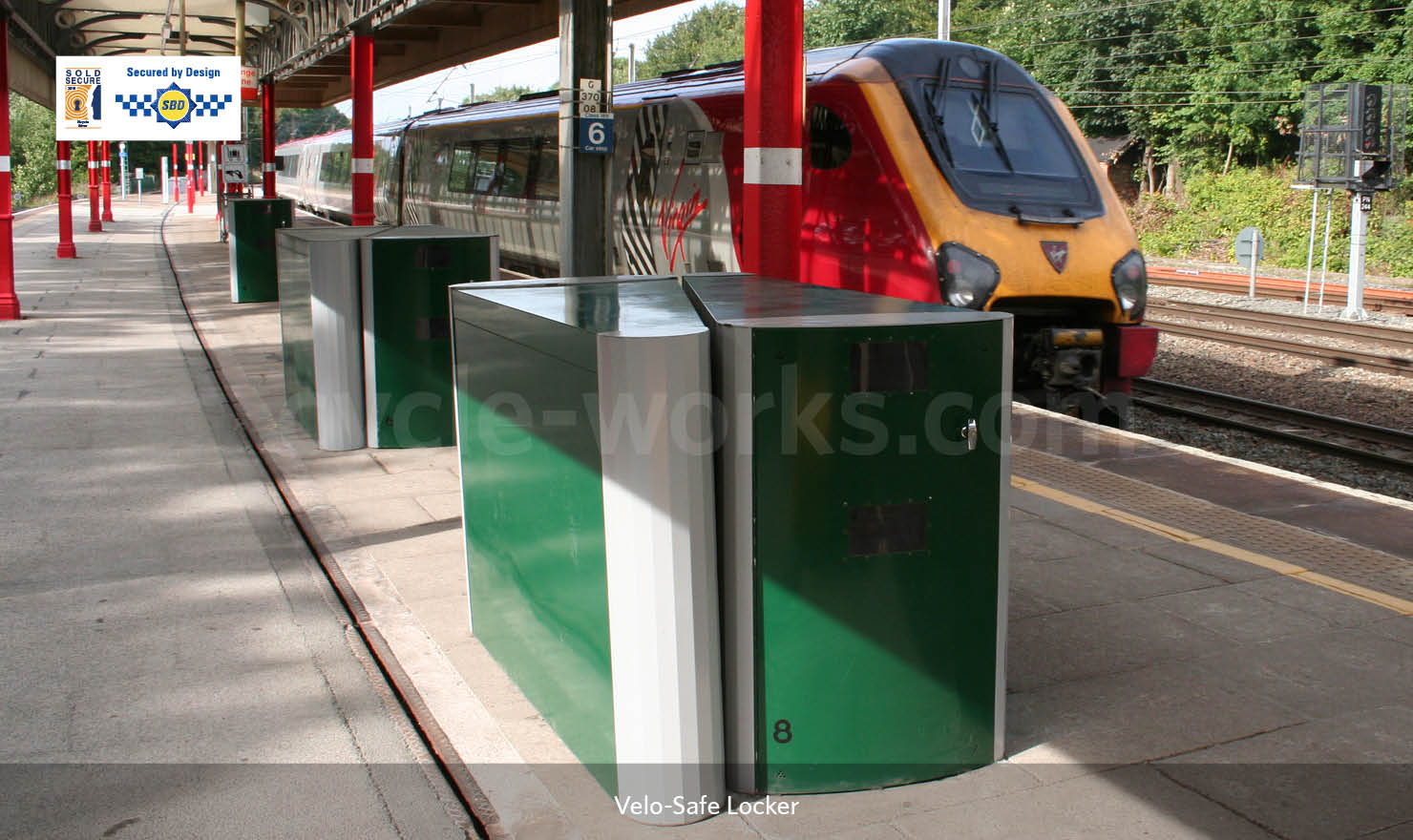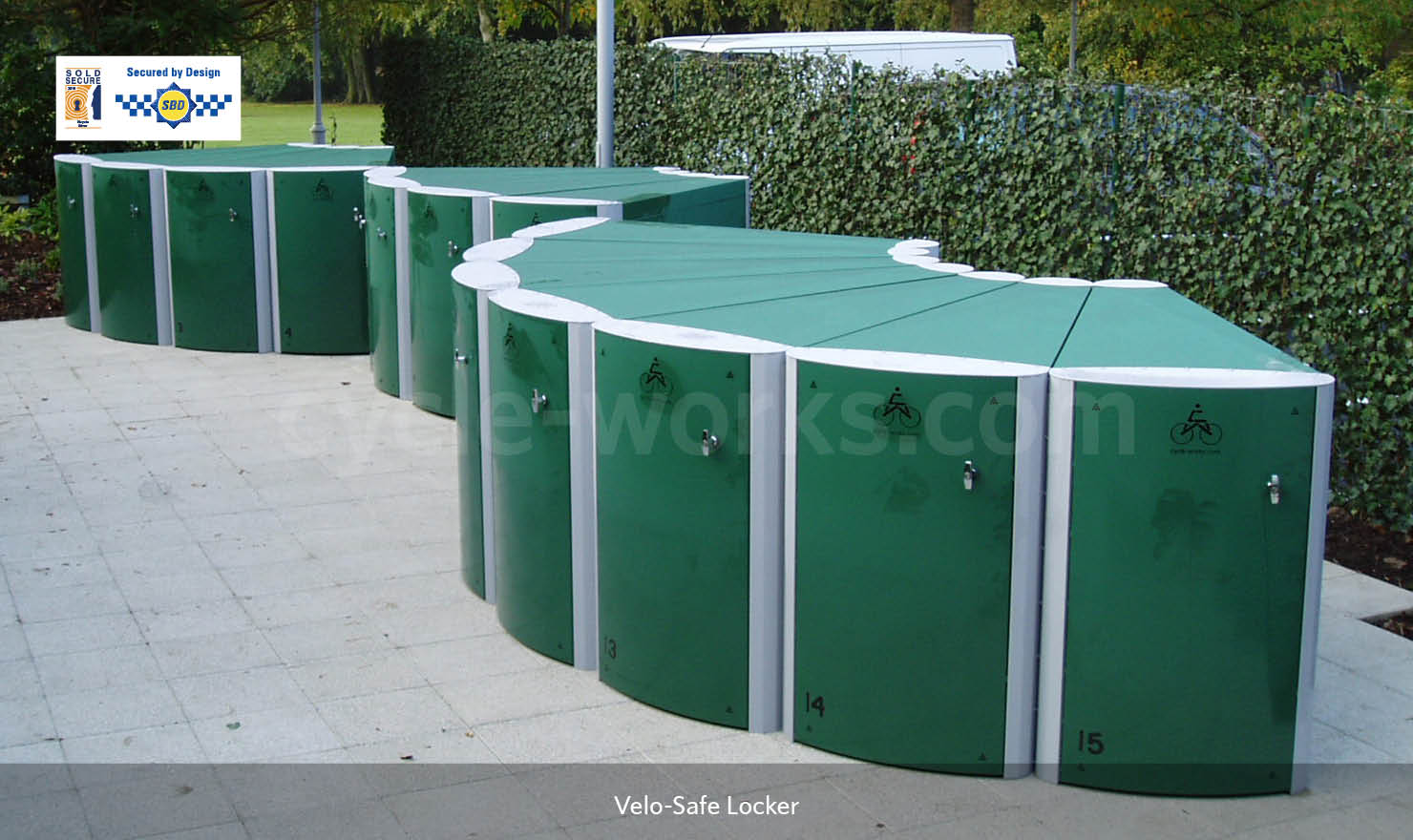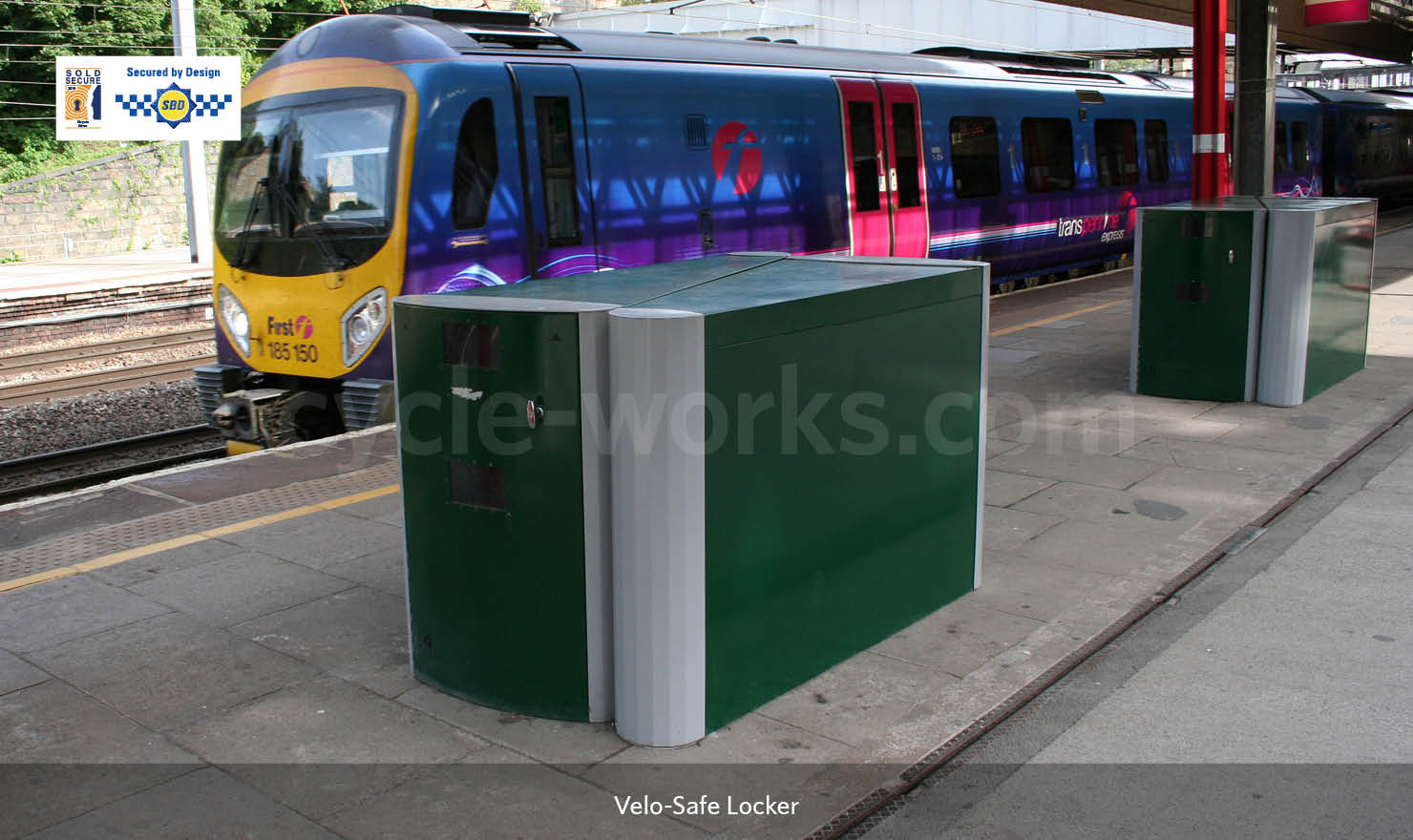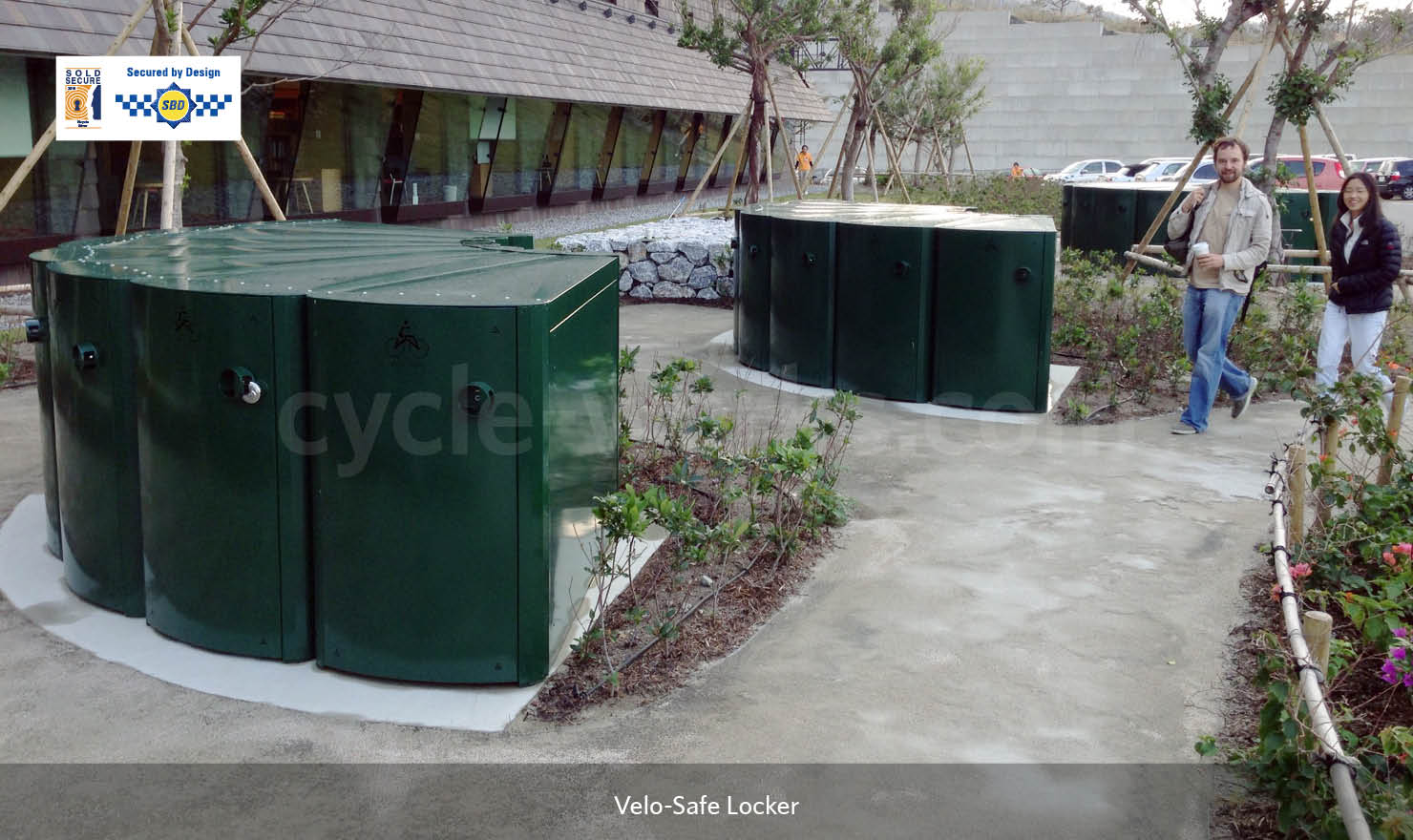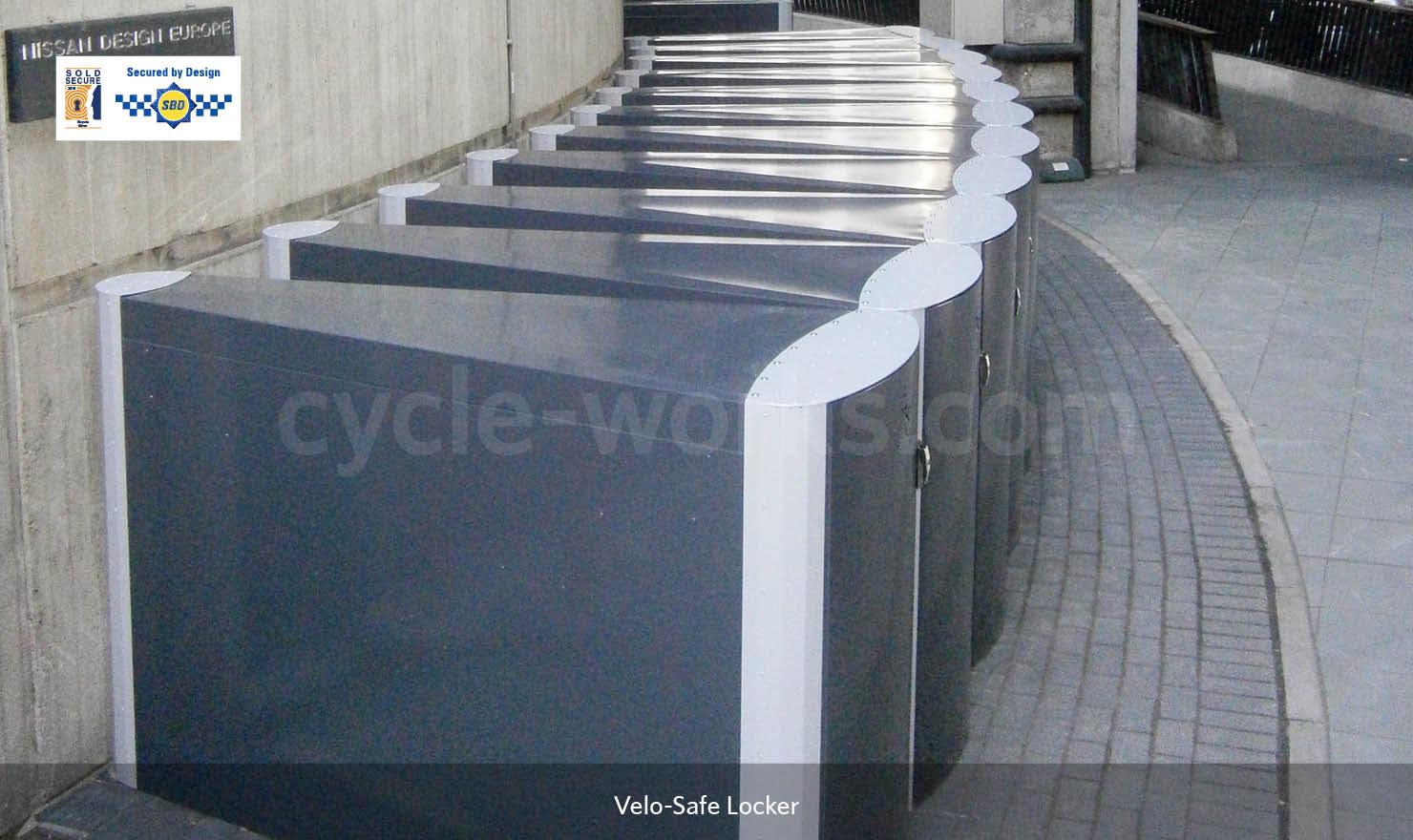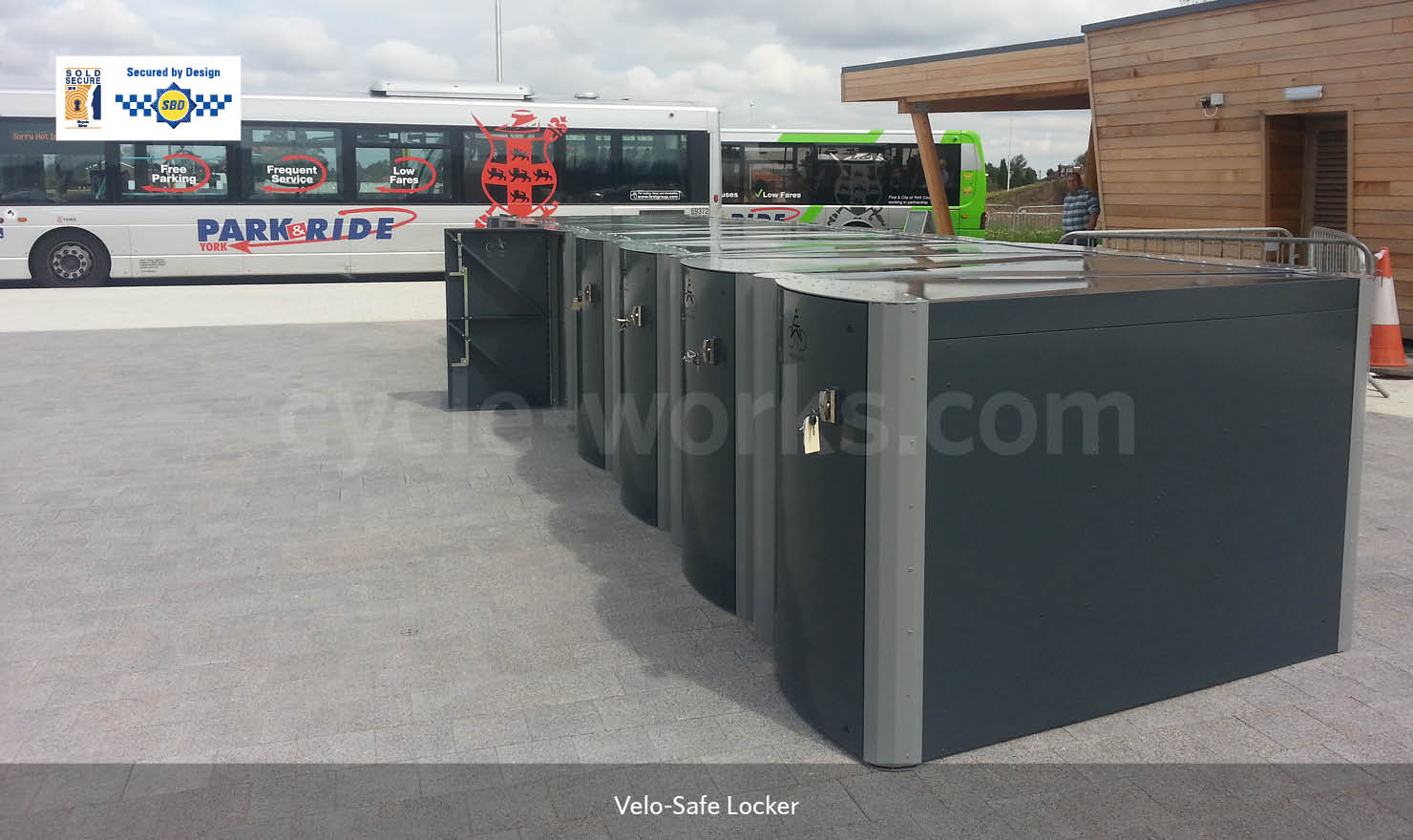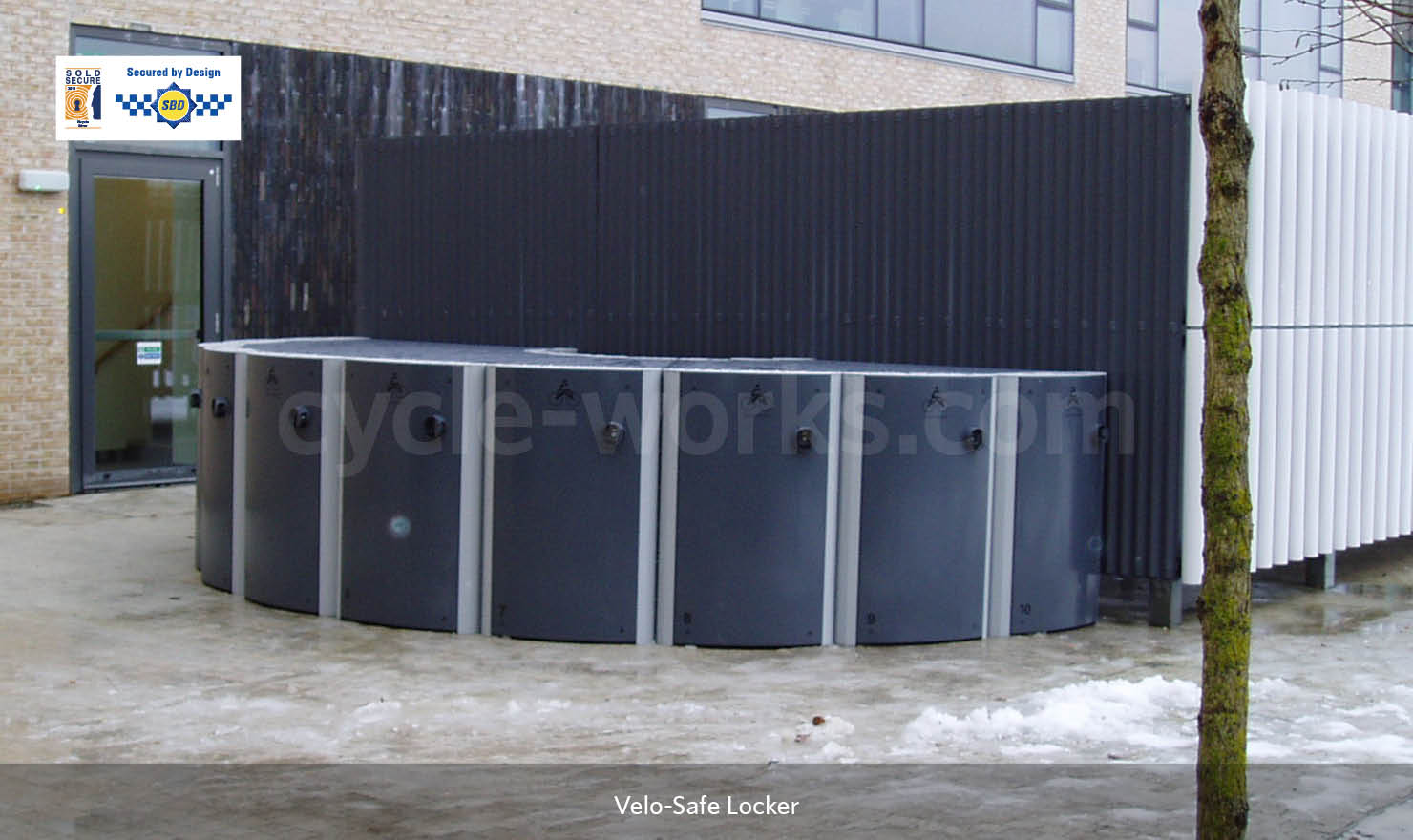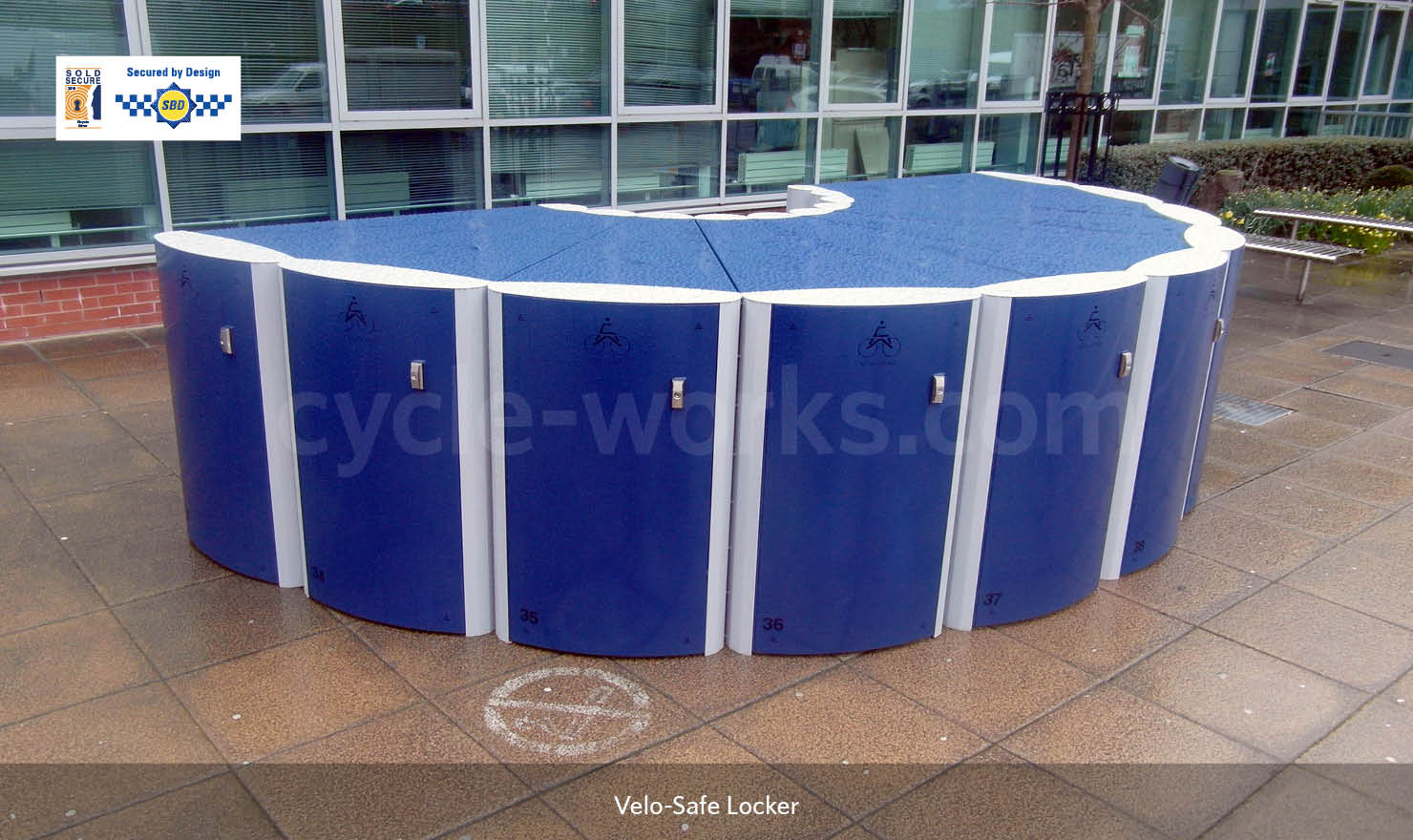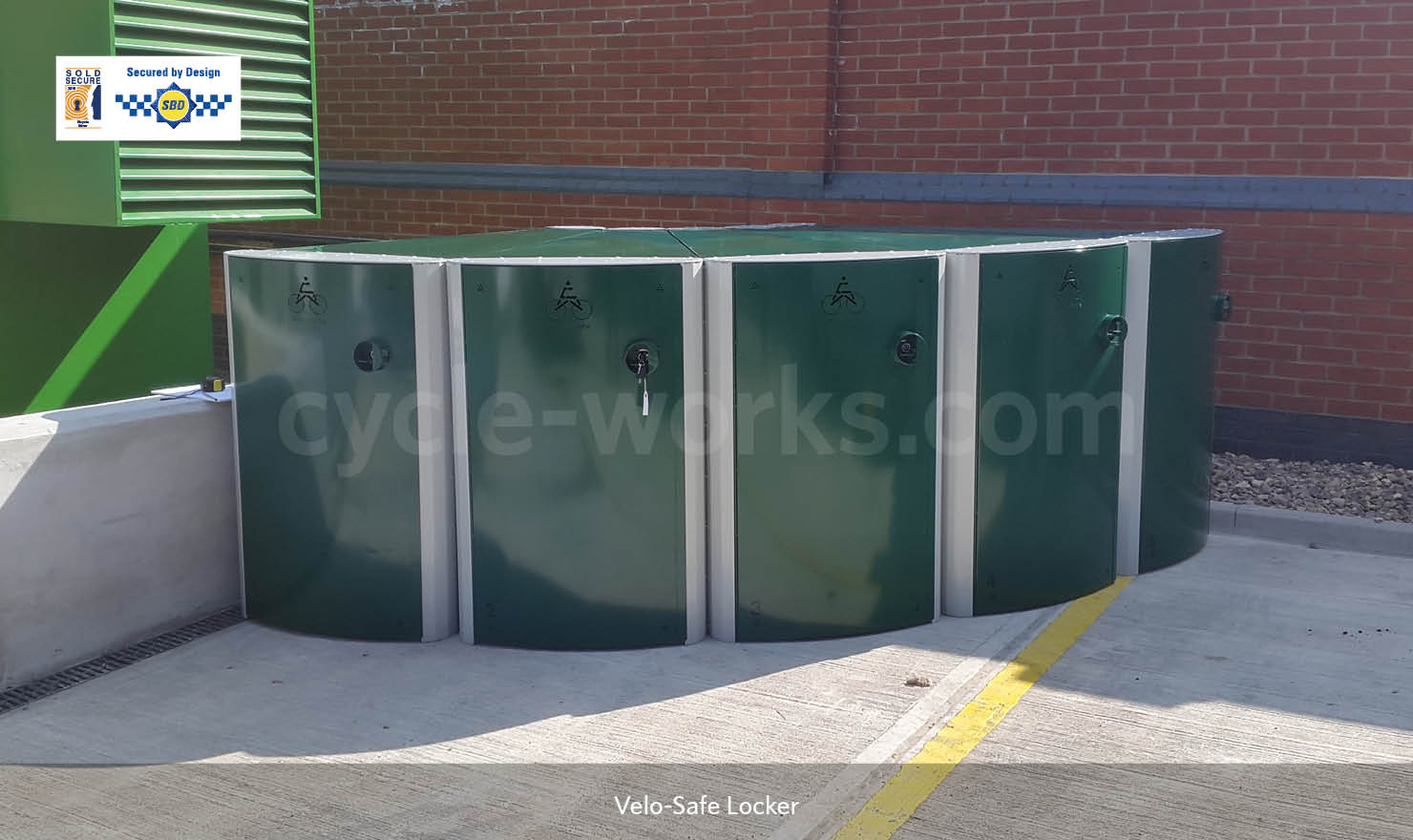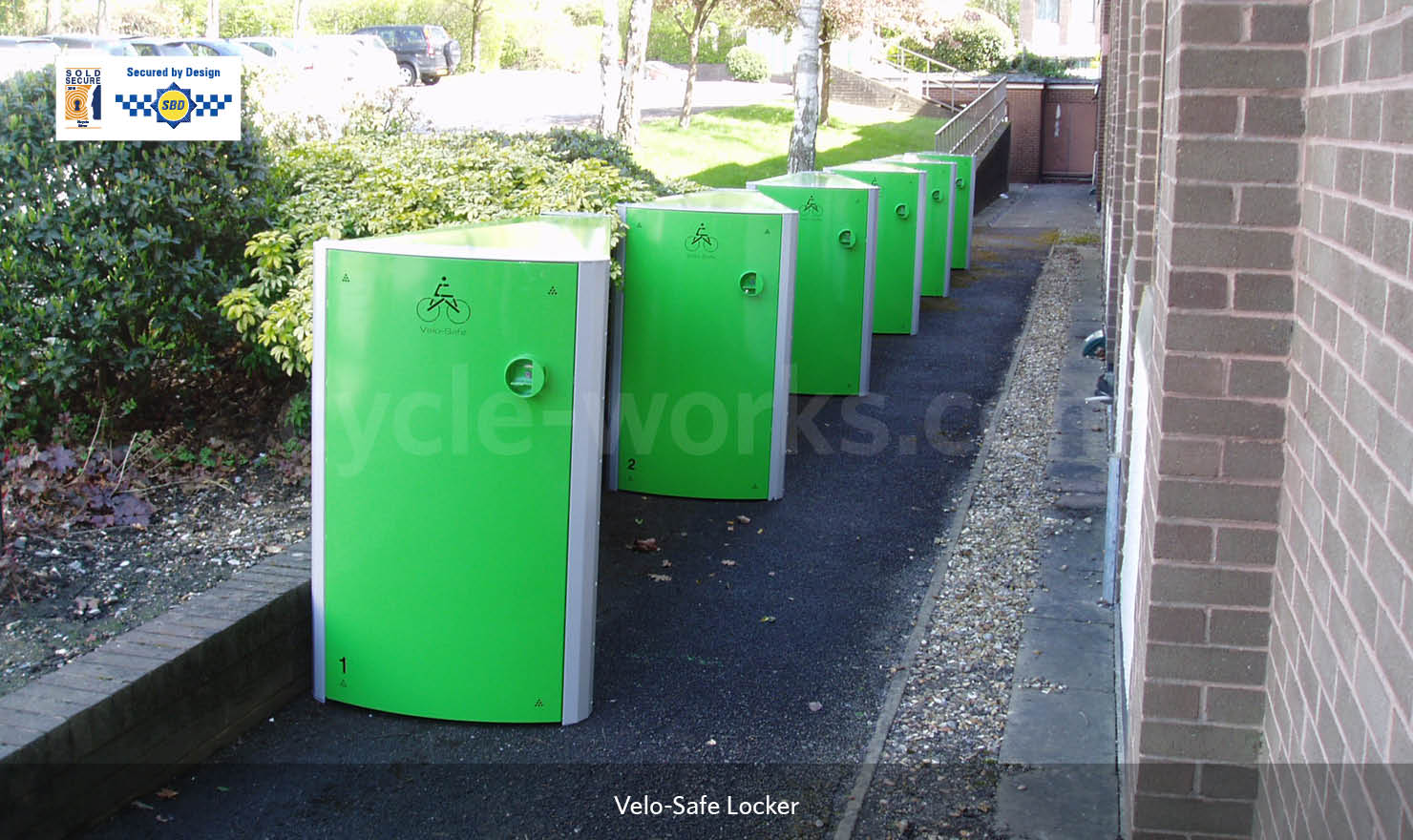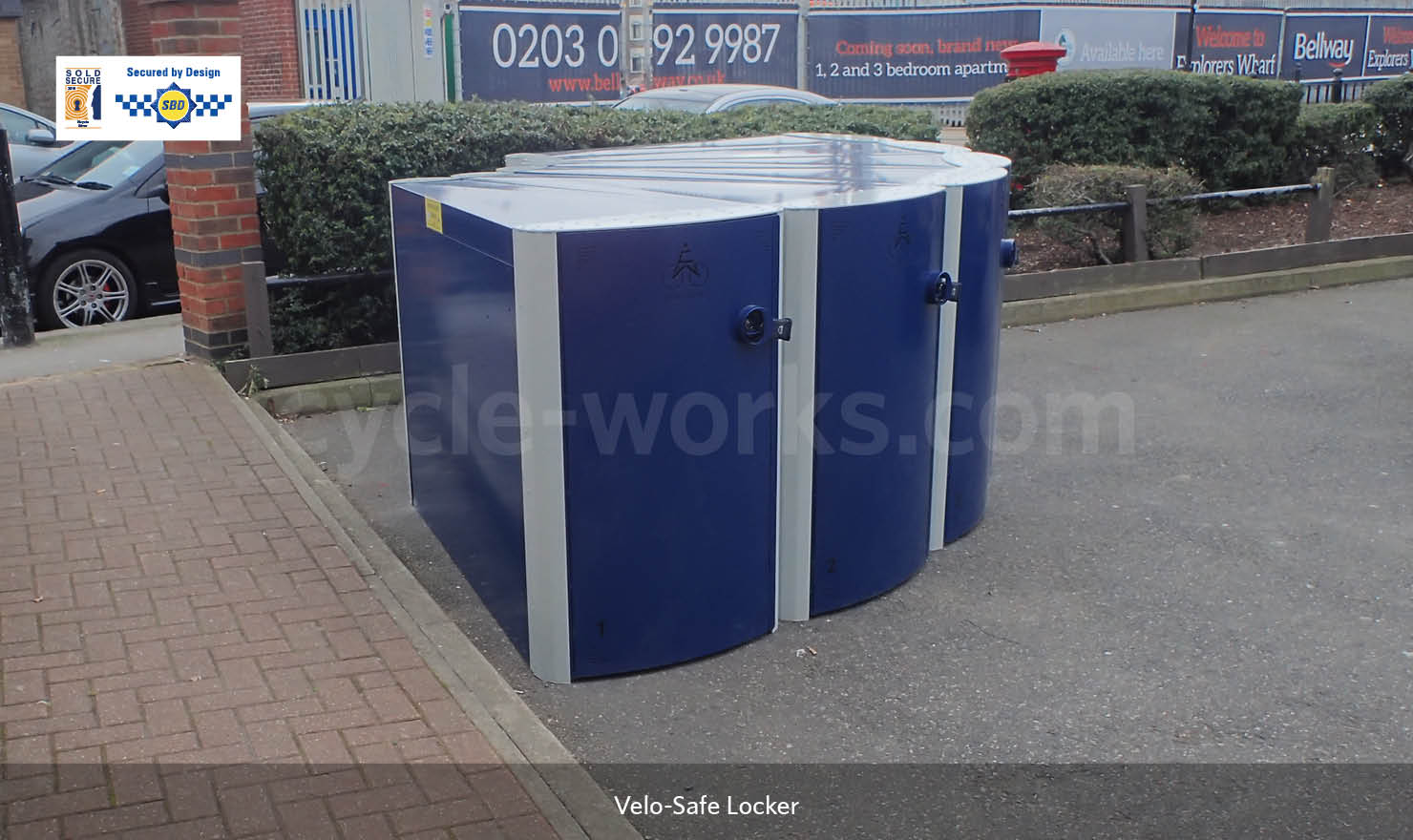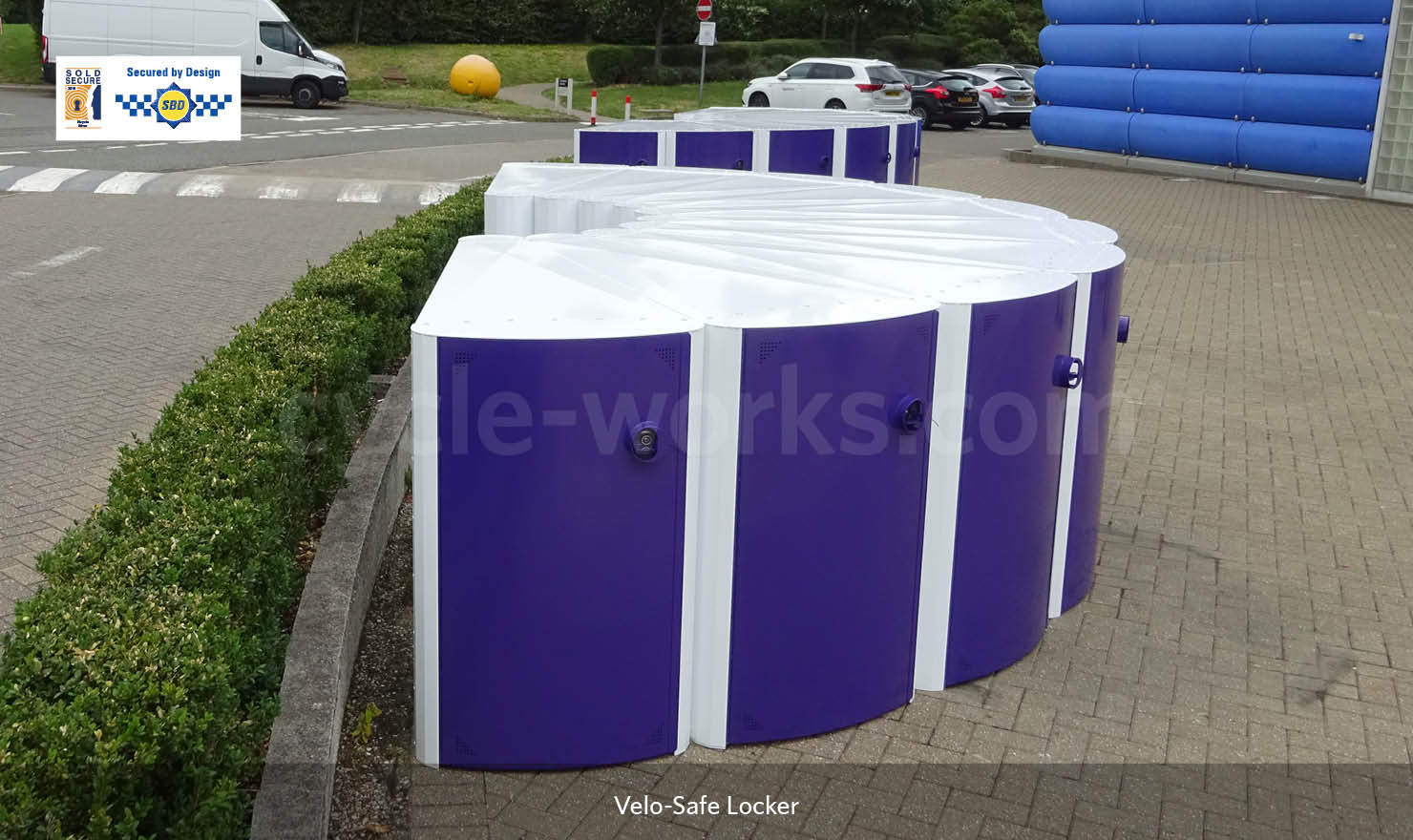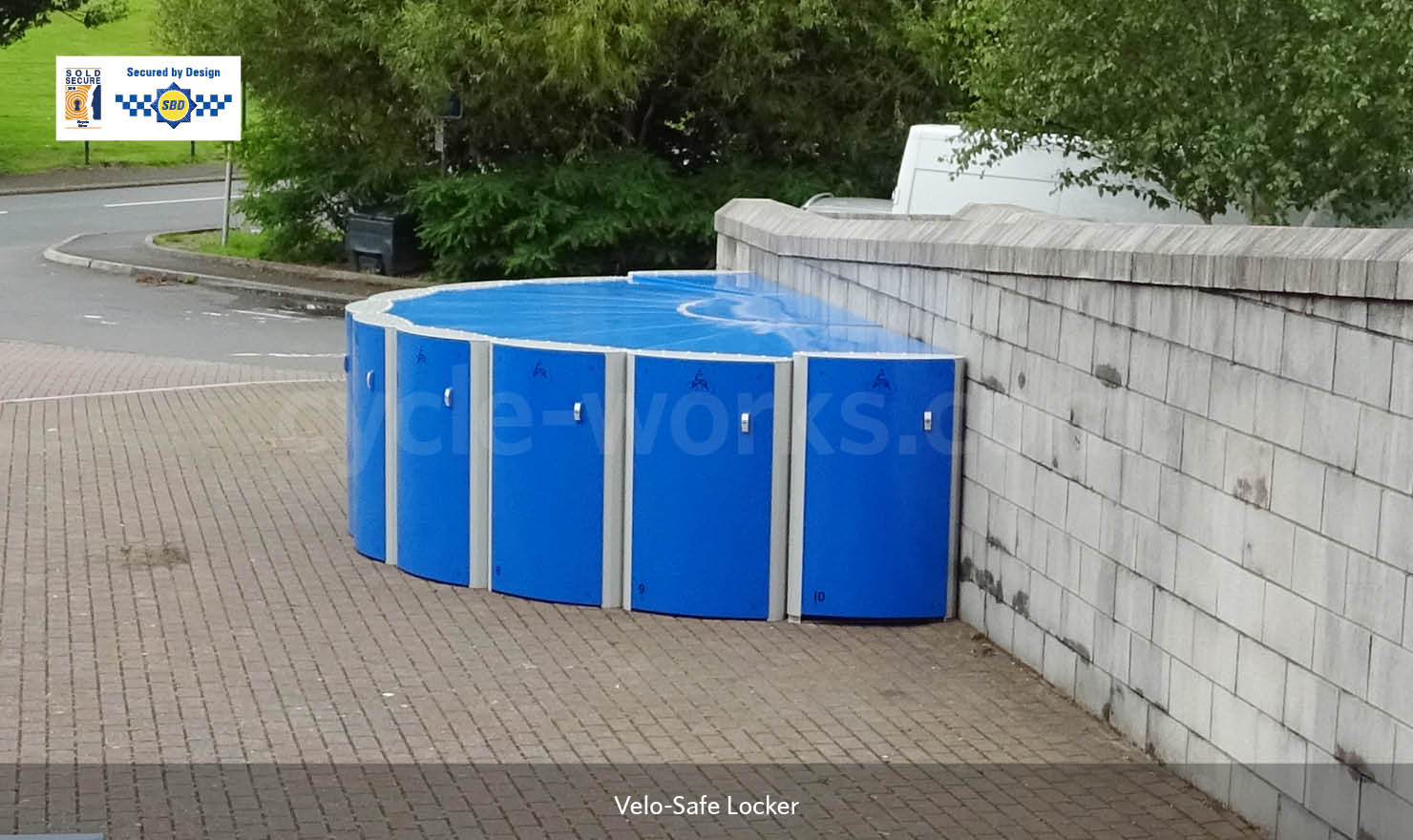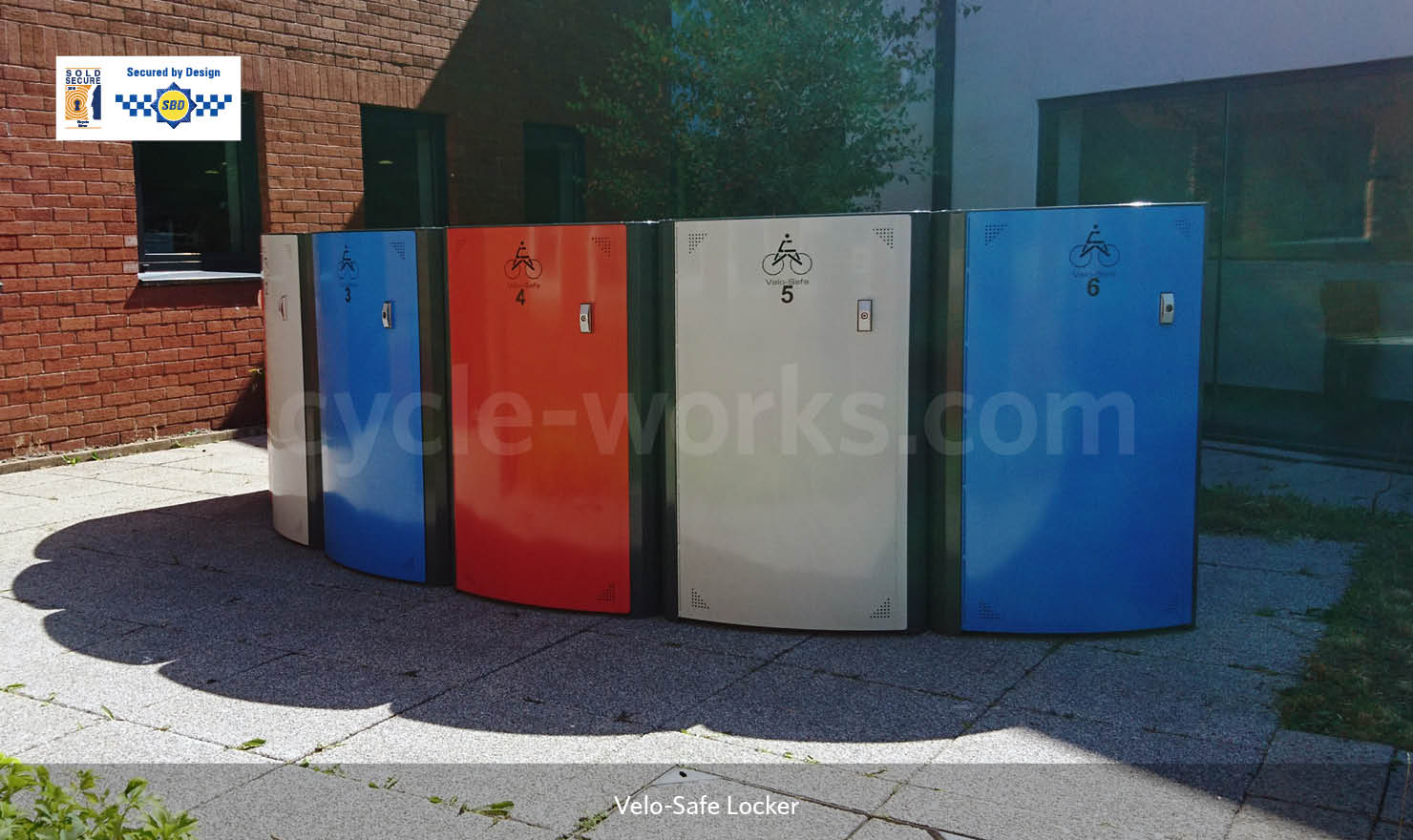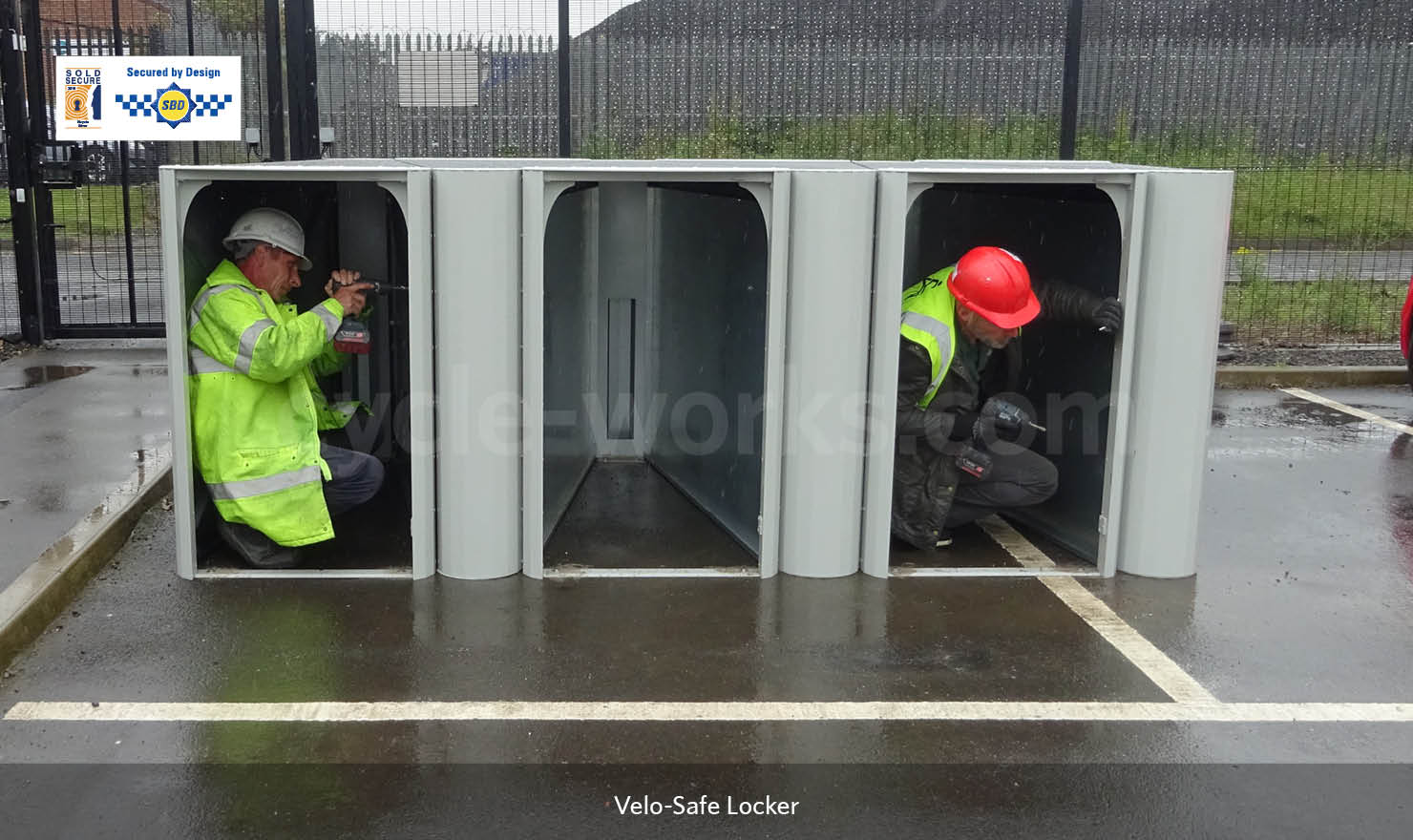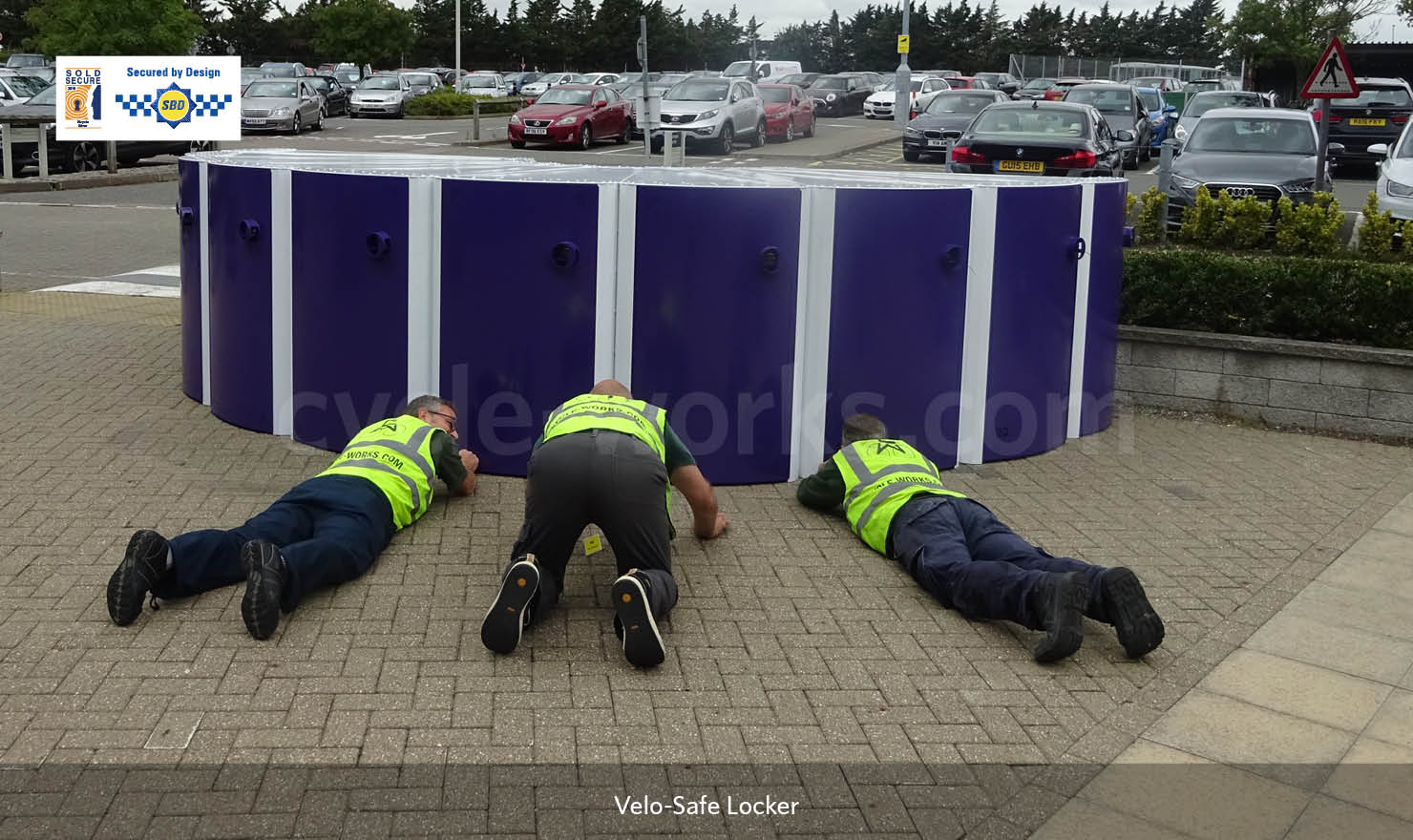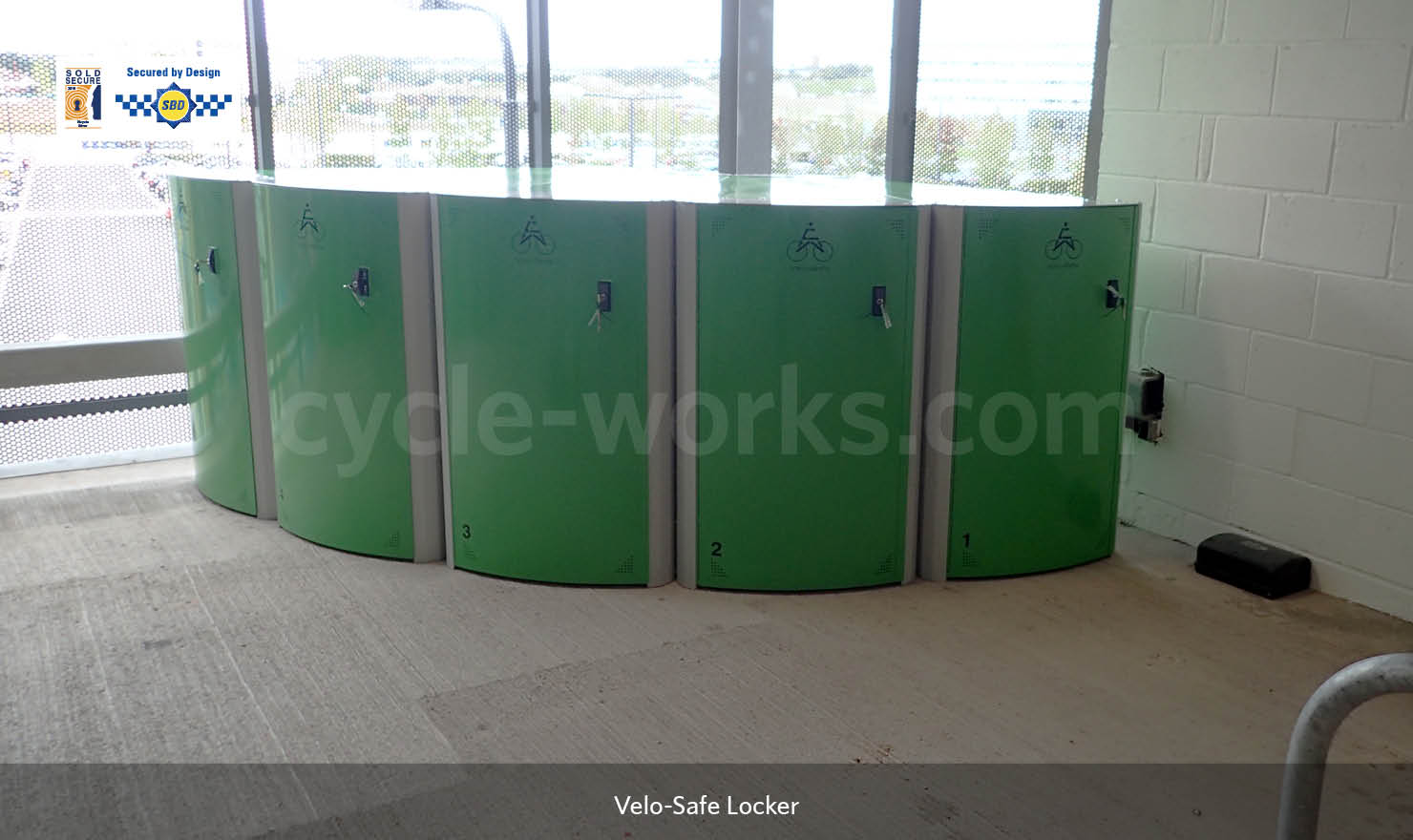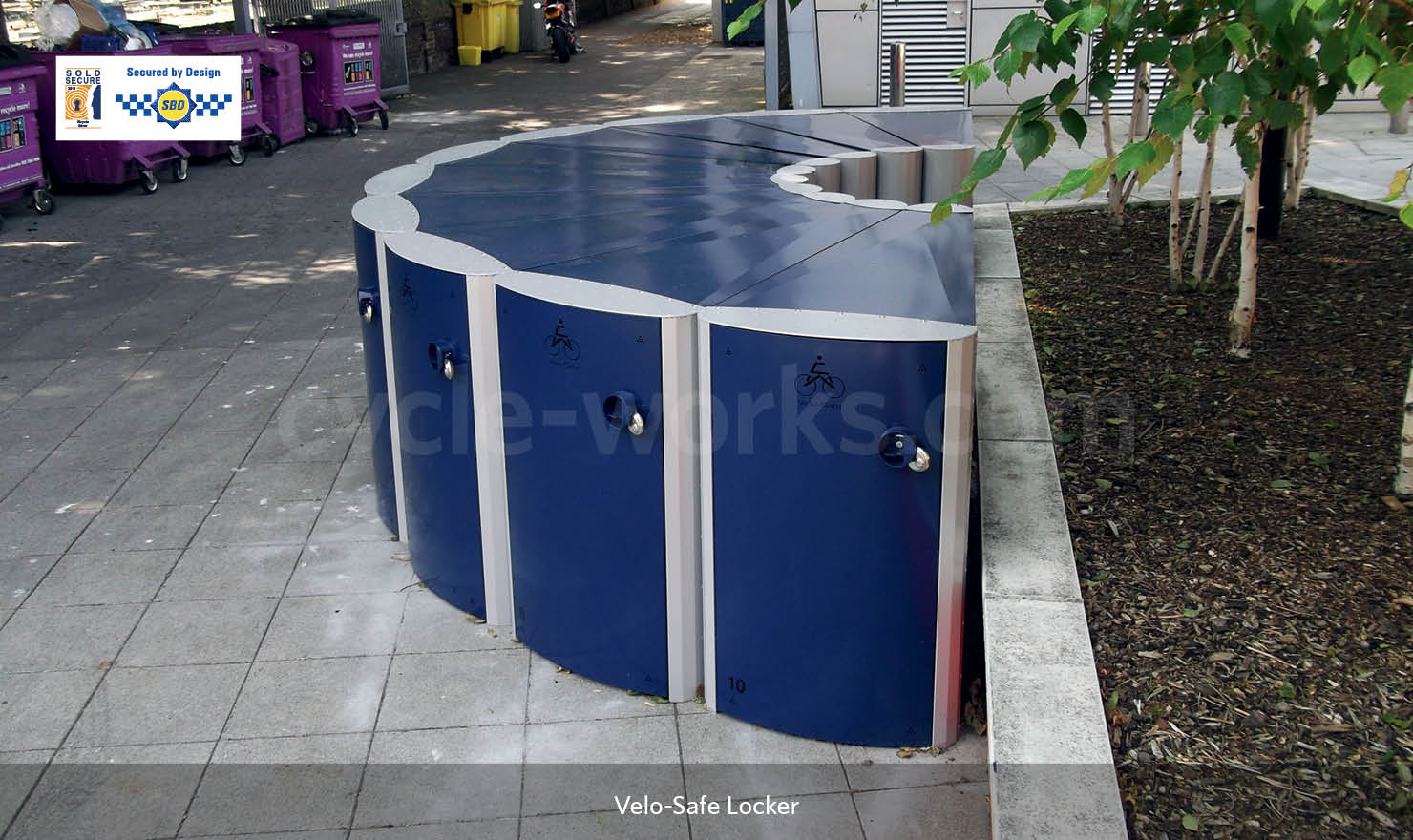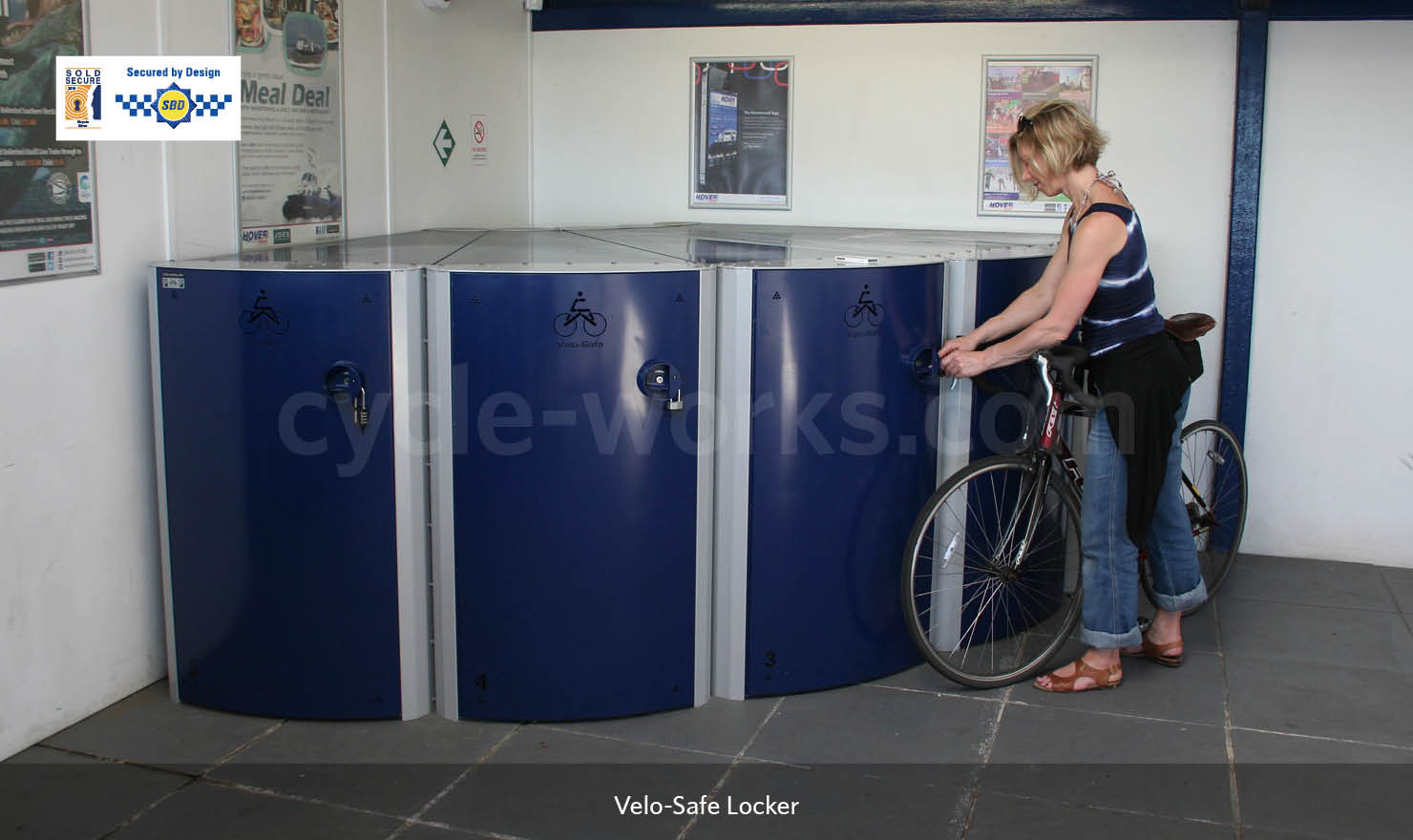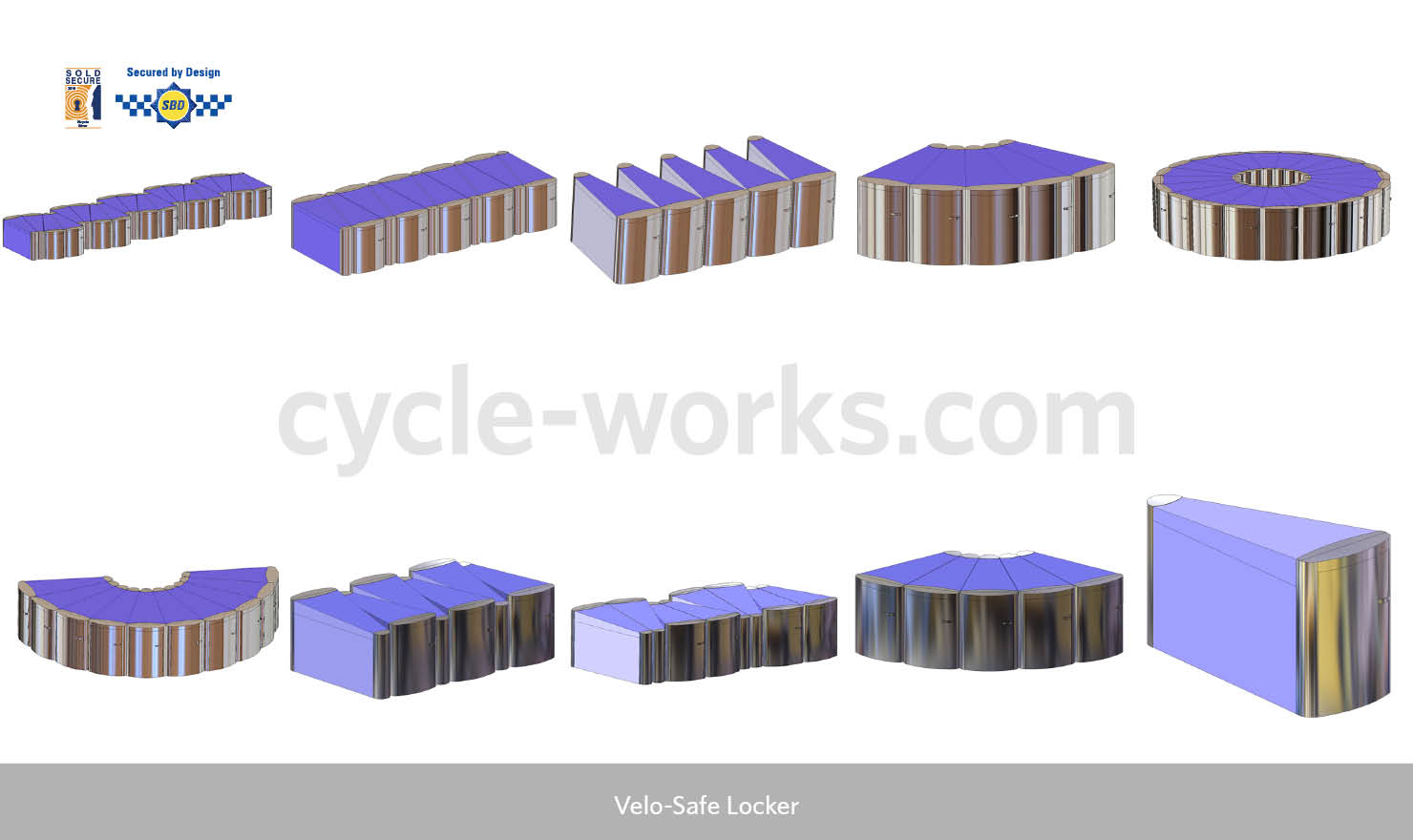 This high security and space-efficient bicycle locker can be arranged in many different layouts including circles, semi-circles and back to back in a line.
It has been specifically designed to fit sites that cannot accommodate bigger lockers or that require flexibility with the layout. Since its launch in October 2008, the Velo-Safe has been installed at many different sites across the UK, such as hospitals, universities, council sites, railway stations, large companies and residential developments.
The Velo-Safe locker is available with electronic access.
---
Features & Benefits
Parks one bicycle per locker

Secured by Design Approved

Very space-efficient and versatile

Can be installed in many configurations, e.g. in a circle or semi-circle, back to back interlocking, in a 'wave', or in a line (e.g. against a wall)

Various locking methods are available

Can be customised to match surroundings or corporate colours

Available with electronic access
---
Secured by Design Approved
The Velo-Safe cycle locker has been approved by Secured by Design.
---
Why this Product is so Good
These space-efficient lockers can be arranged in many different layouts, which can often be decided on site by our experienced installation team.
The simplest is in one long row or interlocking lockers with access from both sides. However, the lockers can also fit neatly into a corner to form a quarter circle, semi-circle or even a complete wheel. They can also be arranged in waves or doubled back to back to give a modern, funky look.
The unique stylish shape means that the Velo-Safe has a small footprint and can therefore fit into corners and areas that would not normally accommodate a locker. The bicycle is wheeled in backwards and the handlebar twisted to the side, which uses less space than if the bike was stored in a straight line.
The modern rounded locker design blends in well in all surroundings, and as the lockers can be coated in many different RAL colours, they can be matched to fit your colour scheme or to blend in with buildings and nature.
This cycle locker can be used to help demonstrate compliance with BREEAM and achieve a high BREEAM rating.*
It can also be used to help contribute towards gaining your 2 ENE8 Cycle Storage Credits when used in an appropriate situation, under the Code for Sustainable Homes.
The Cycle-Works team who installs the lockers are polite, courteous and knowledgeable, willing to comply with all the necessary admin and legislative paperwork that comes with a site like ours.

The design allows easy placement in the most obscure of places, allowing the use of otherwise dead space to be put to good 'green' use, whilst larger installations also look inviting and elegant.

I have always been impressed with the simplicity of design of both the Velo-Safe locker and its locking mechanism. They are strong enough to resist attack, yet easy to maintain in the harsh environment we have here, right on the coast.
---
Testimonial



Marcus Nash
Queen Alexandra Hospital, Portsmouth
Manager, OASIS & Wellbeing Lead.
These lockers are available to hire in some locations.
Please contact us, or click here to see a map of current locker rental sites.
*Cycle-Works and its products and services are not affiliated, endorsed or certified by BRE Global or its affiliates. All rights are reserved.
Layout & Space Requirements
The lockers can be arranged in one long row or interlocking with access from both sides.
Lockers can also be installed in a quarter circle, semi-circle or full circle. Single lockers can be installed where space is tight.
---
Layout Suggestions
What makes the Velo-Safe locker unique is its patented shape. This shape means that lockers can be combined in many combinations to fit as many bike spaces as possible into a wide variety of different spaces.
The design of the Velo-Safe is based on a triangle with an 18° angle between the two long sides. This means that 5 Velo-Safe lockers fit into a 90° quarter circle. This allows Velo-Safe lockers to fit neatly into corners.
10 Velo-Safes can be arranged in a 180° semi-circle, which is a great arrangement against flat walls. The Velo-Safe design typically fits 2 more lockers into a semicircular design than a line of traditional lockers.
Velo-Safe lockers can be arranged into a full circle comprised of 20 individual lockers. The diameter of the circle is 5.2 metres. An additional space around the circle of 1.2 metres is needed all round for access.
Velo-Safe lockers can be placed back to back to form a line with access on both sides.
Lockers can be arranged side by side in a simple line if required. Small triangular cover plates are available to close the gap that forms in the back when installed against a wall.
For long narrow spaces, a saw tooth configuration using banks of 1, 2 or 3 lockers can be created. The shape of the Velo-Safe means that the rows of lockers can be closely spaced without causing a problem with access to the lockers behind them.
Interesting architectural effects are possible with the Velo-Safe. One example is to alternate groups of 3 Velo-Safe lockers to create an attractive wave design.
---
Capacity
Each Velo-Safe locker stores one bike.
---
Dimensions
Height: 1900mm

Width: 780mm wide at the from, narrowing to 260mm at the back

Height: 1200mm
---
Mounting & Installation
A level concrete base is required. This can be either a complete concrete base or concrete pads under the shelter uprights and racks. Please see below for an example of a layout or contact us for further information. This system is installed by our team of experienced installers.
---
Materials, Locking Mechanisms & Accessories
Material Options
This sturdy locker is made of pre-galvanised and zintec coated steel, which can be powder-coated in any RAL colour. We offer a wide range of stock colours at no extra cost, but can provide all other standard RAL colours for a small set-up fee.
Locking Mechanisms & Options
The standard locking option is users own padlock with master key override.
Other Locking Options are Available:
High security stainless steel pop out t handle with high security cylinder.

High security die cast pop out t-handle with anti-drill protection and high security cylinder.
Benefits of the high Security T-handle Inserts & Master Key Cam Lock:
All-new mechanism based on a revolutionary and unique asymmetrical warded key way.

Seven stainless steel locking elements fasten the central core to the outer body.

The internal components are machined from brass for excellent durability and reliability.

Over 750,000 key combinations.

Further protection from drilling is provided by a second hardened roller inside the lock, which spins freely when a drill bit comes into contact with it.

The Series 35 has no 'shear line', with its associated susceptibility to picking and bumping.

Hardened steel anti-drill center post.
---
Advertising & Branding
The end panels of the lockers are normally blank but can have a large cycle image for identification.
Other corporate logos or a large advertising panel can be fitted instead, if required. The front door of the Velo-Safe is also ideal for branding and corporate logos. For example, Chester is a demonstration Cycling City, so their lockers feature their eye-catching logo.
---
Frequently Asked Questions
Do you sell to private households?
Yes, we are happy to provide private households with this locker if required. Its space-saving layout makes it ideal for small front or back gardens.
How strong is the locker?
The locker has been subjected to considerable practical testing at many vulnerable sites. The unique wedge shaped design gives it enormous strength and security.
How to they fix to the ground?
The Velo-Safe is fixed to the ground with 60mm long coach bolts, which are inserted into plastic plugs. This method can be used for most smooth, hard and level surfaces. We only need to drill 10mm diameter holes to a depth off 55mm.
Pricing
Velo-Safe Lockers are extremely economic units to install. Quotes are based on your bespoke specification, location and the quantity required.
Please contact us for a quotation, call 02392 81 55 55 or email sales@cycle-works.com.
---
Delivery
Current lead time is 6-8 weeks from receipt of your written purchase order. Extra time may be needed if extensive customisation is required.