Josta® BikeStore2 – 2-tier bike locker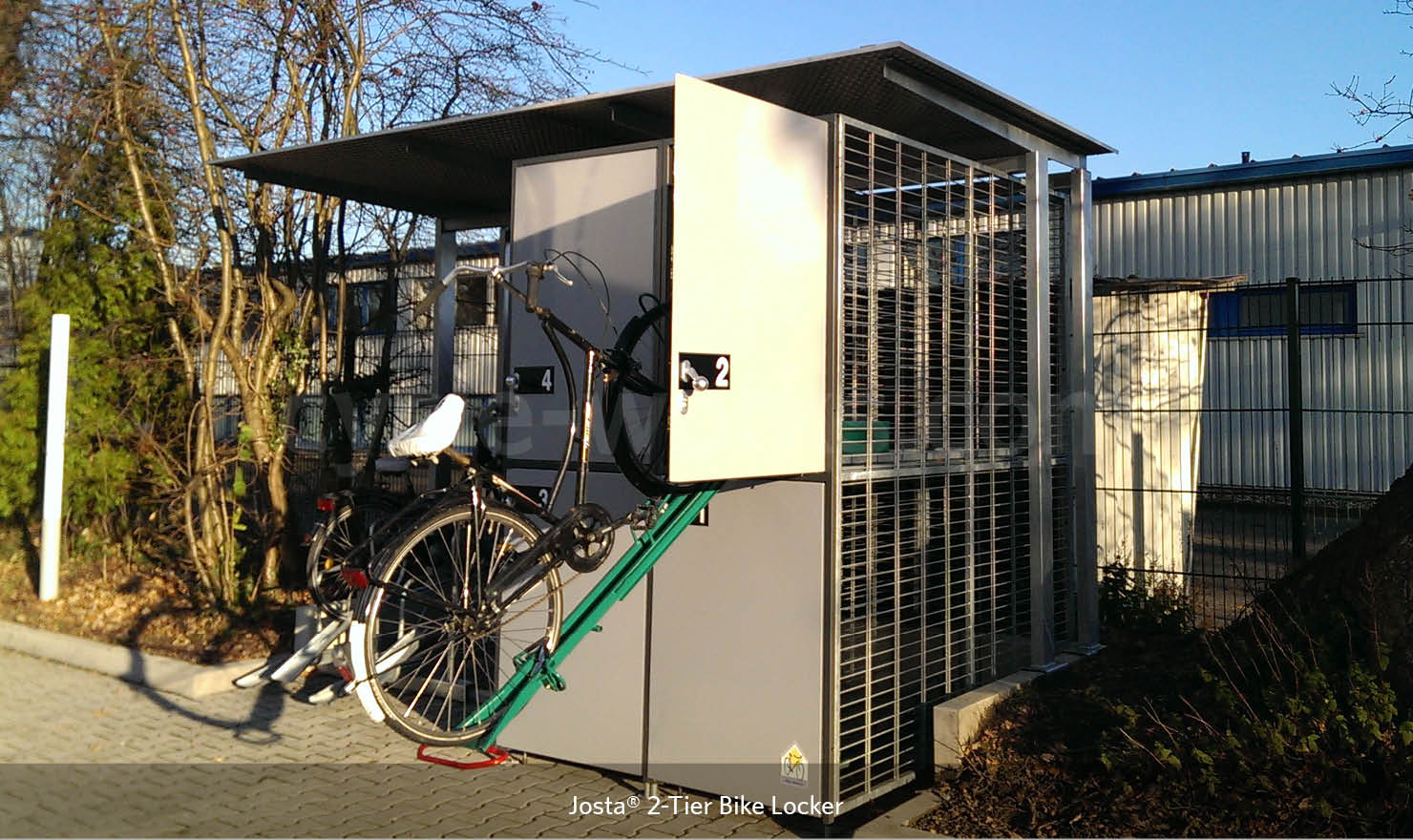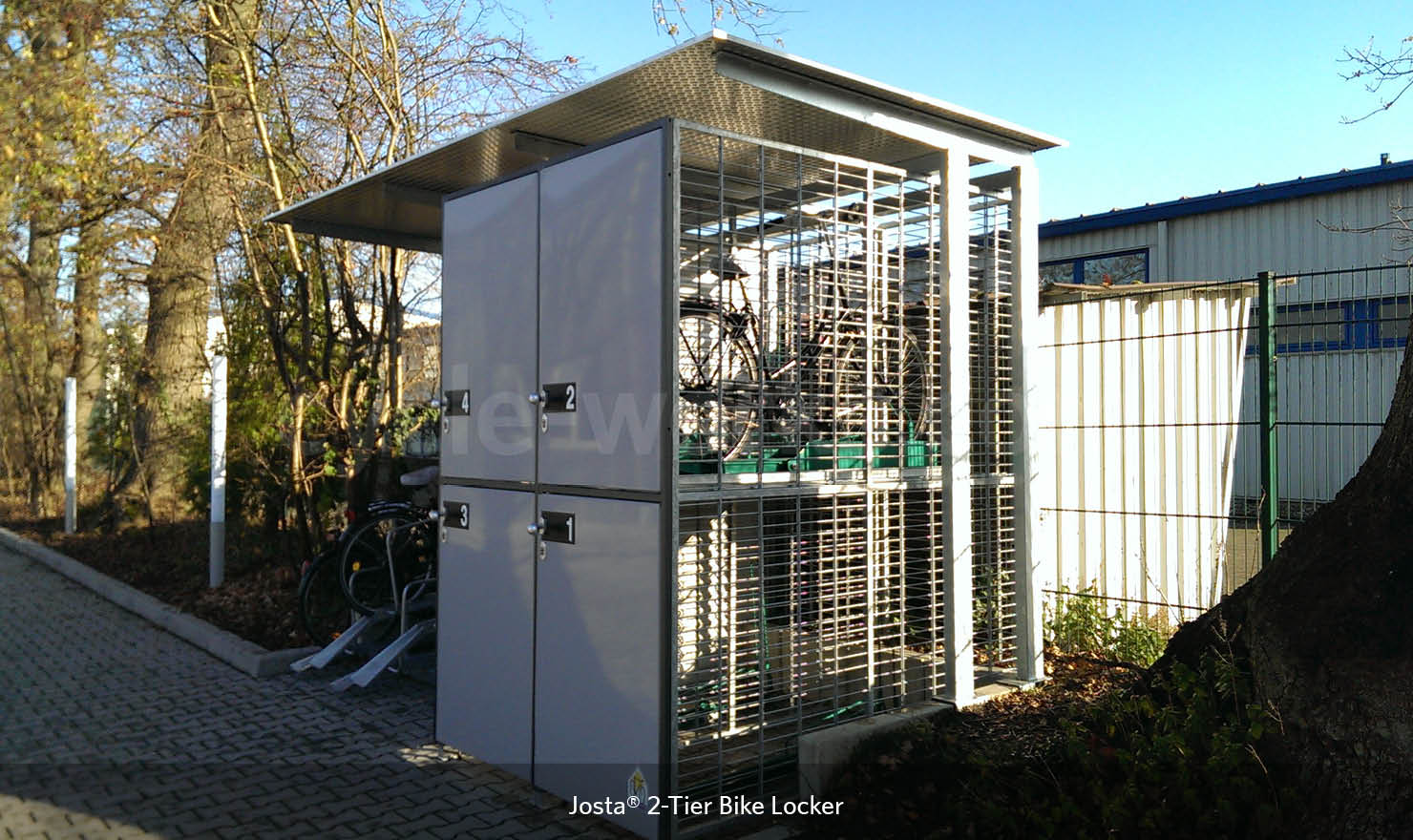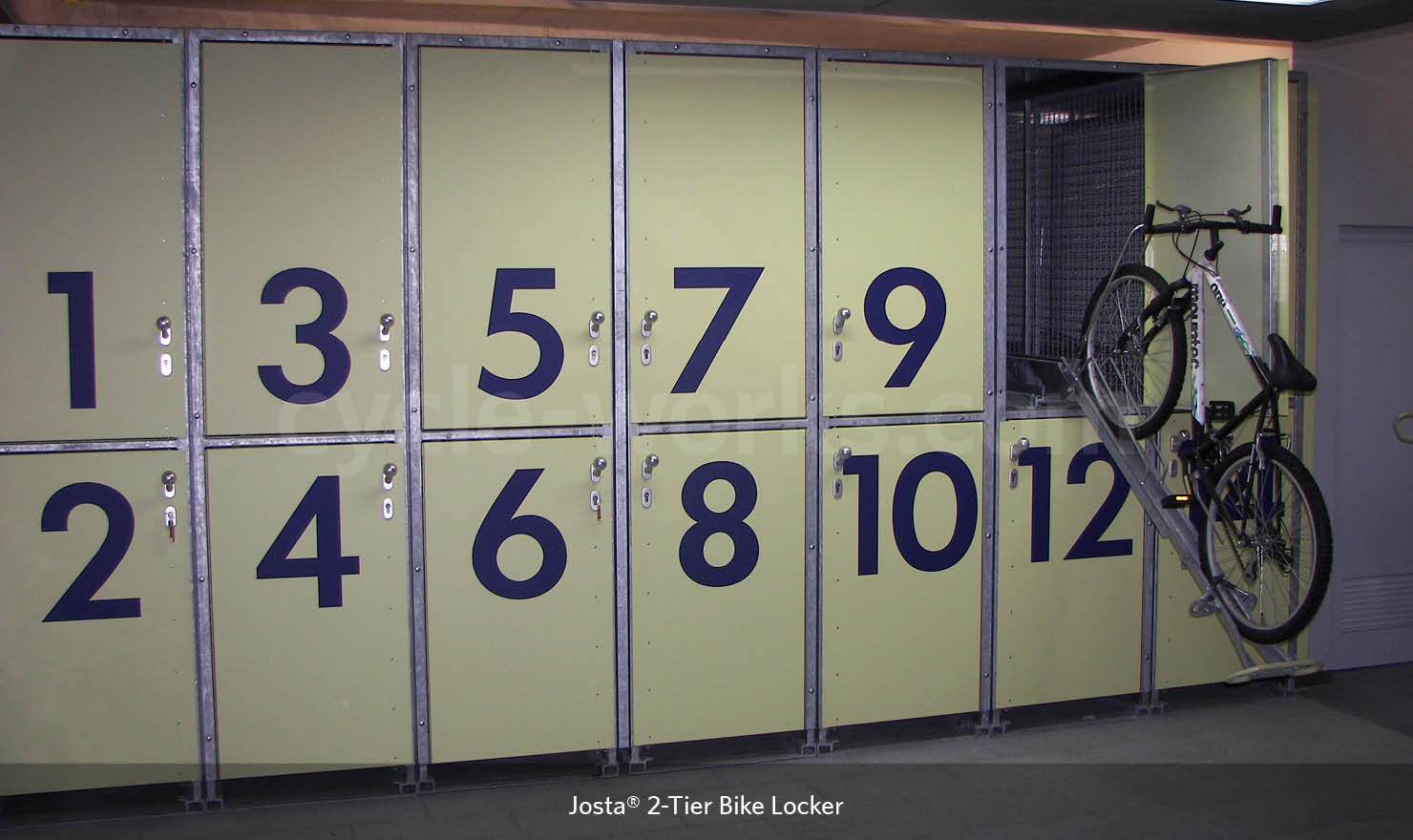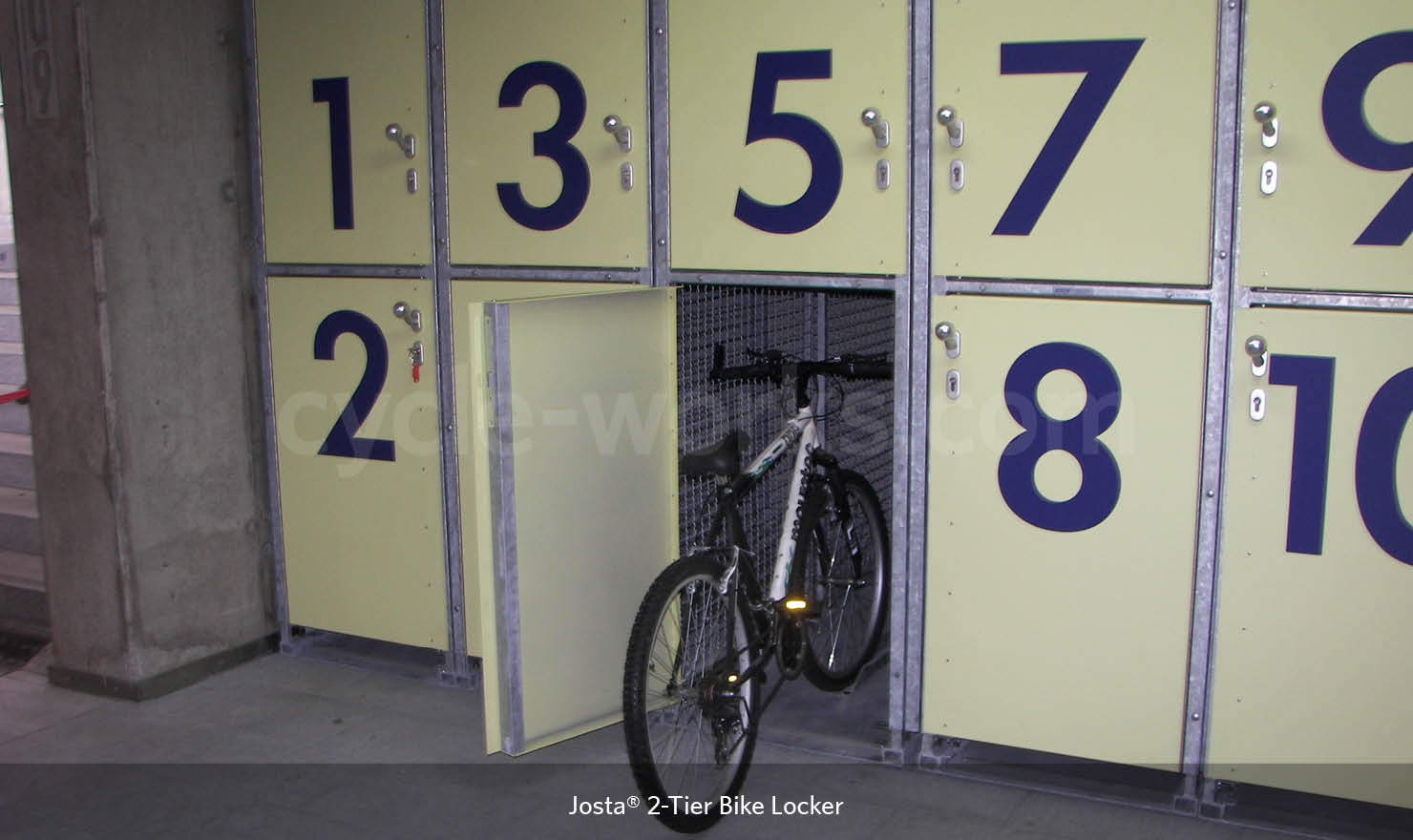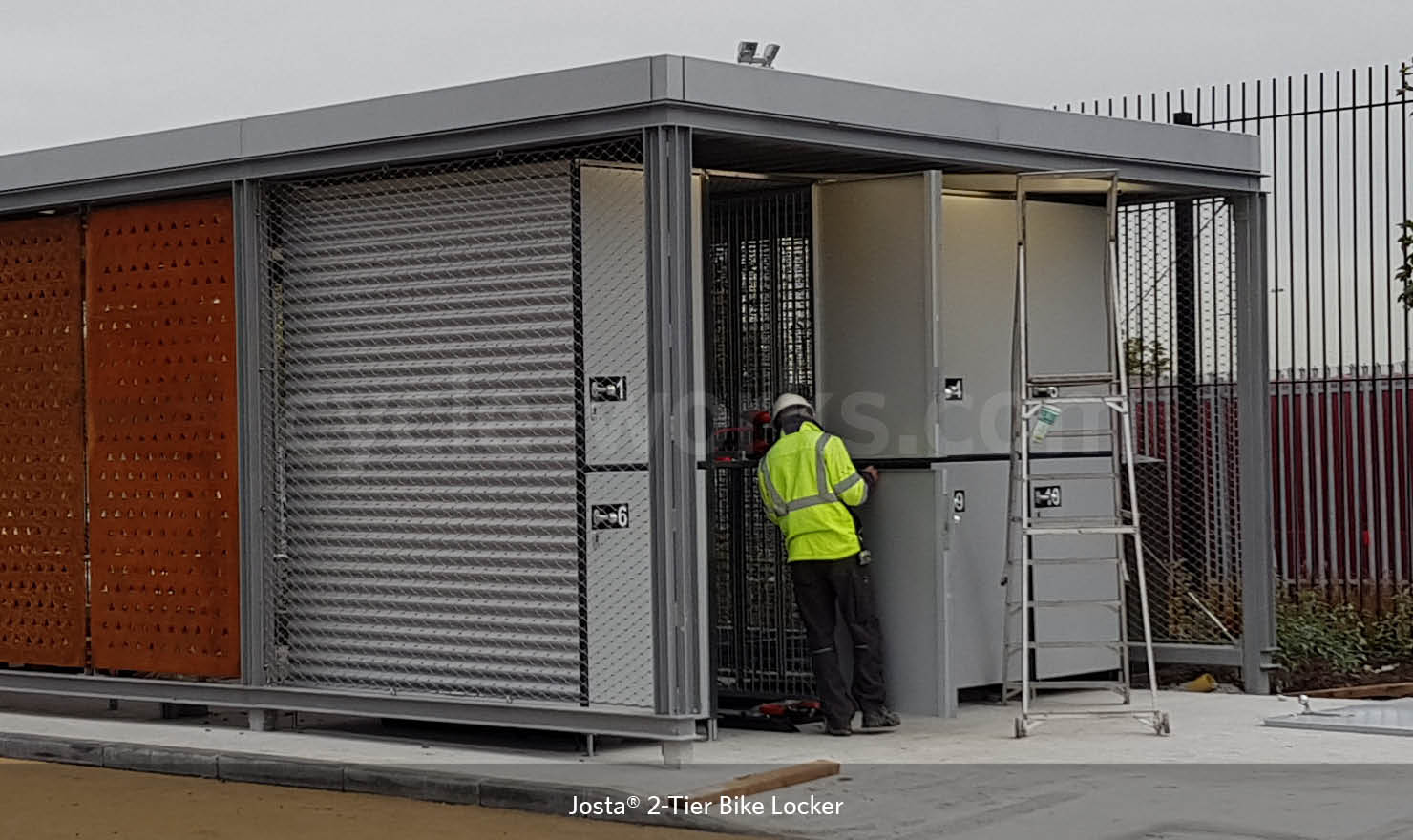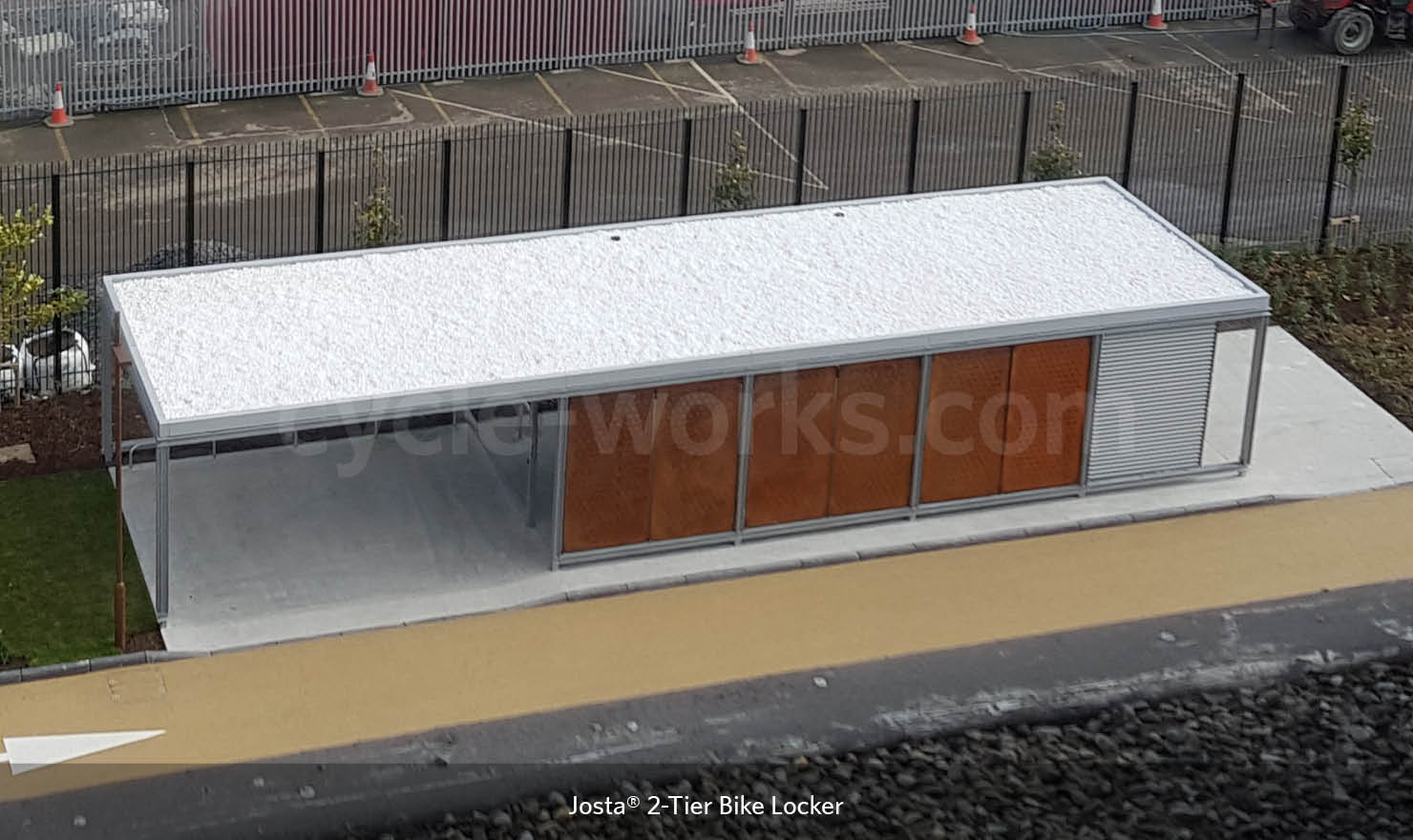 The Josta® BikeStore 2 is a unique 2-tier secure bike locker that combines the space saving qualities of the popular Josta 2-tier rack with the added security of an individual cycle locker.
Features & Benefits
Space-efficient: parks one bicycle in the top locker, one in the bottom
Individual secure bike parking
No lifting of bike required: the top rack drops down for easy loading and unloading
Key operated, electronic or digital lock access
Why this product is so good
Each user has their own lockable compartment, which allows them to store their bicycle and valuable accessories in a dry, secure environment.
As two bikes are parked directly on top of each other, this system increases the amount of bicycles parked by up to 50%, or reduces the size of the site needed.
There is no need to lift the bicycle, as the top rack comes down for loading and unloading. A special patented gripping mechanism ensures that the bike cannot roll back and injure the user.
Layout & Space Requirements
The lockers can be arranged in rows along the walls or back to back in the centre of the room.
In order to allow easy access to the locker, a minimum of 2.5m of free space in front of the doors is recommended.

A headroom of 2650mm is required for these lockers.
Capacity

One bicycle per locker. Two lockers are installed as one unit – one rack at the top, one at the bottom, directly underneath.
Dimensions

Height: 2550mm
Width: 850mm.
Depth: 2050mm
Mounting/Installation

A level concrete base is required. This system is then installed by our team of experienced installers.
Materials, Locking Mechanisms & Accessories
Material Options

The lockers are made of galvanised or powder coated mild steel, available in a variety of colours. The racking system is made of galvanised mild steel.
Locking Mechanisms & Options

Key operated, Electronic, Digital lock access, Hasps for users own padlock.
Advertising & Branding

Advertising can be done on the end or door panels. User instructions can be attached to the lockers
Issues & FAQ
Issues to consider
Cost
A major issue with the 2-tier lockers is often the initial expense – they are more expensive than other lockers. However, the extra cost is usually outweighed by the increase in cycle parking capacity that they provide.
This allows our customers to meet building requirements.
In addition, the provision of high capacity bicycle parking often means that fewer car parking spaces need to be allocated for the required cycle parking. This means that some of the initial cost of the racks can be retrieved by profitable use of car parking space, which can be either rented or sold to users.
Funding sources are often available, such as councils, grants, lottery or EU funds.
Frequently Asked Questions
Do you sell to private households?
Not really for this product, simply because we have found that other products are more suitable and cost-effective for home storage.
What about people who do not want to use the top level?
We have found that this is usually not a problem. There is no need to lift the bike as the rack comes down for easy loading.
What about maintenance?
There are very few moving parts, and the nylon bushes have an extremely long life. Replacement components are readily available if the locker is damaged, e.g. by cars or trucks.
Customers & Sites
We have done many sites with these products, including some of the following categories:
Councils
Hospitals & Healthcare
Schools, Colleges, Universities
Architects & Construction Companies
Major Employers
Bike Stations
Residential
Transport Operators – Train/Bus /Air
We have worked directly for most of the major construction companies, or as a subcontractor. We have worked directly for:
Bovis Lend Lease
Laing Homes
Jones Lang Lasalle
Laing O'Rourke
Mansell
Harry Neal
Blenheim House Construction
Mace
Menzies
Hadham Engineering
CMF
Brookfield
ISG
Sir Robert McAlpine
Carillion
Barratt
Galliford Try
Price Requirements
Prices will depend upon the actual specifications chosen, and the quantity required.
Normal payments for councils, authorities or recognised institutions is by invoice on installation, on 30 day terms.
However, in some situations a deposit may be required.
Other methods of payment may be acceptable.
Please contact us for a detailed quotation.
Delivery
Current lead time is 3-4 weeks from receipt of your written purchase order.
Terms & Conditions
Orders are subject to our normal terms and conditions.