BikeAway wall-hoop rack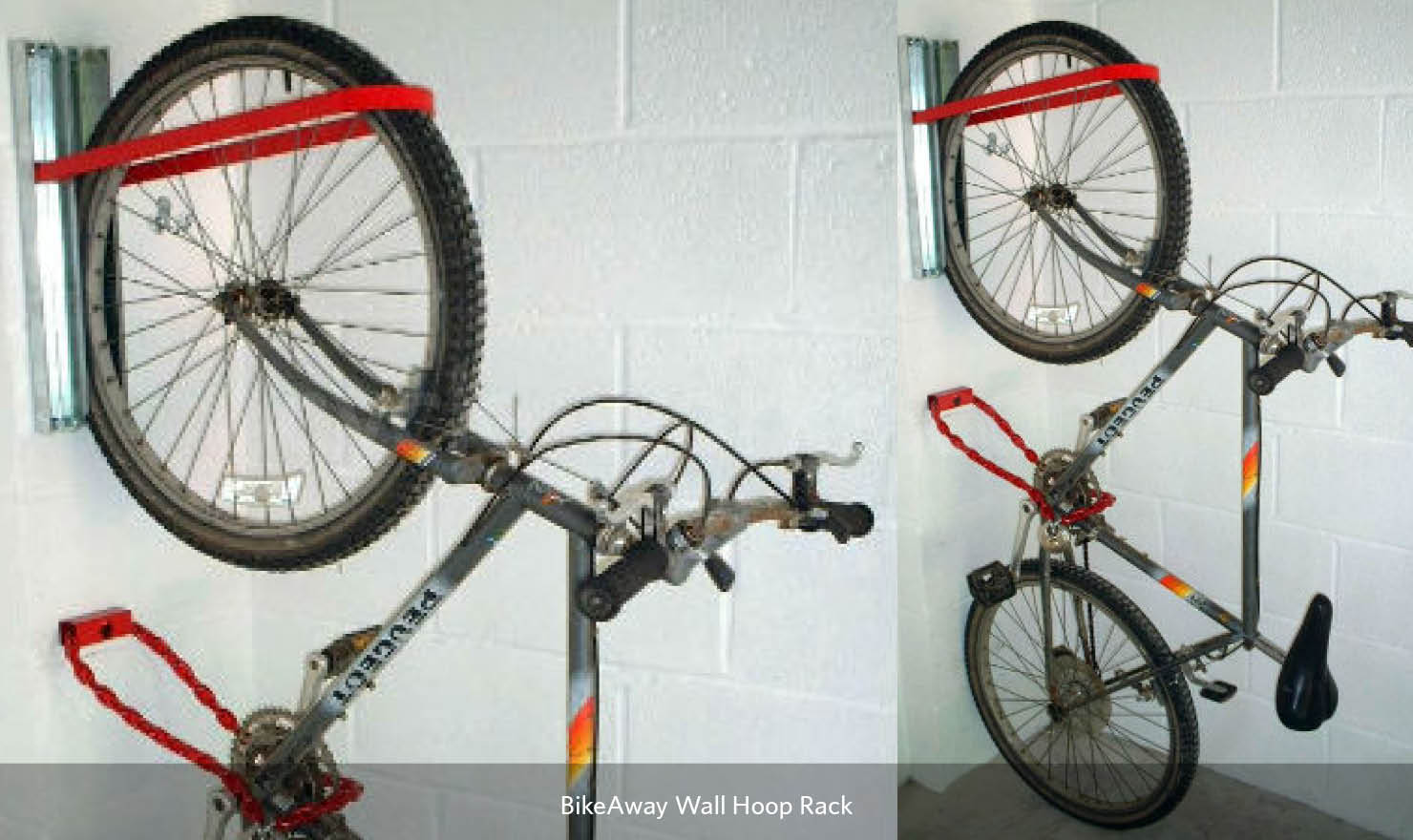 The BikeAway wall-hoop rack parks one bike vertically.
Features & Benefits
Space-efficient and affordable wall mounted rack
Holds the bike in place well, using a patented mechanism
Neat and organised individual parking
Why this product is so good
This functional and well-designed rack parks the bike vertically. It is a space-efficient and cost-effective way of storing a bicycle. There is also a free-standing version of this rack, the BikeAway free-standing rack.
This storage system is ideally suited to for indoor storage areas like garages, hallways or cellars. The patented hoop is fixed to a wall, and the bike is locked with a secure wall chain holder and chain. This can be the cyclist's own chain or one purchased separately from us.
A hook is enclosed which can be fixed to the wall to allow storage of cycle helmets, jackets and other gear.
This cycle rack can be used to help demonstrate compliance with BREEAM and achieve a high BREEAM rating.*
This cycle rack can be used to help contribute towards gaining your 2 ENE8 Cycle Storage Credits when used in an appropriate situation, under the Code for Sustainable Homes.
*Cycle-works and its products and services are not affiliated, endorsed or certified by BRE Global or its affiliates. All rights are reserved.
Layout & Space Requirements
Please allow a spacing of 600mm between racks (centre to centre).
Capacity

This system holds one bicycle per rack. Rows can be as long as required.
Mounting/Installation

The BikeAway wall-hoop rack needs to be assembled by the customer but is delivered with clear assembly instructions.
Materials, Locking Mechanisms & Accessories
Material Options

The racks are made of powder coated mild steel.
Locking Mechanisms & Options

The cyclist can lock the bike frame and wheels to the rack or the (optional) chain-holder using their own chain.
Accessories

Chain holder

This very simple but clever design is easily fitted to a wall and cannot be removed from the wall whilst the chain is in place. Available in two sizes, 6mm and 8mm to fit the chains which are available separately.
Chain

Made from welded steel chain with deep case hardening for hacksaw resistance. It is zinc plated and protected by thermo-shrunk sleeving, making it ideal to use with our chain holder. Available in two sizes, 6mm and 8mm.
Padlock

Stainless steel disc padlock. Ideal for use with chain.
Clothes hook

A free clothes hook is included in the price.
Issues & FAQ
Issues to consider
Security
The rack provides locking points for a bike.

However, the racks are only as good as the user's lock. The bikes are visible to potential thieves and vandals, and they are open to the elements (unless under a shelter). Accessories, wheels, saddles etc can be stolen from them.
Please see our product range for more long-term secure bicycle parking.
Space efficiency
Several Bikeaway wall hoops are installed at the same level, which means that a rack spacing of 600mm is required. For a tighter spacing, we recomend using Josta or Cyle-Safe wall racks, as these can be staggered in height.
Frequently Asked Questions
Do you sell to private households?
Yes. This product is ideal for home storage.
Please contact us for a quotation.