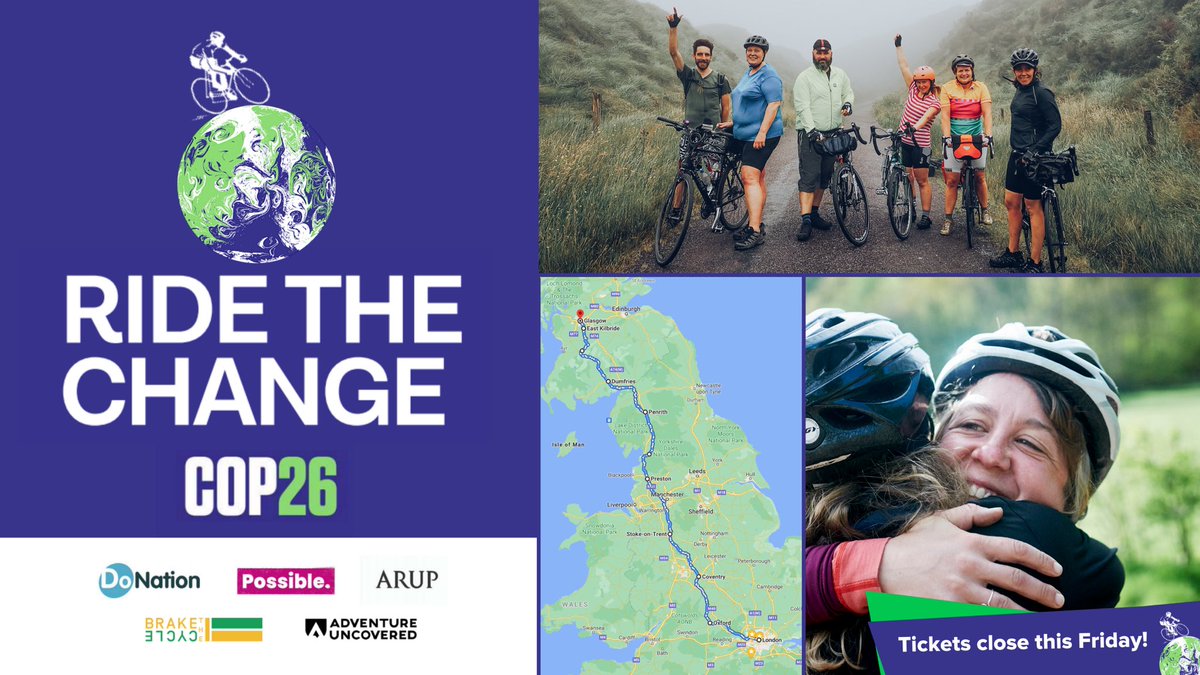 Cycle-Works is proud to be supporting the Ride for Change – A 475-mile bike ride from London to Glasgow. One hundred and seventy-five cyclists will participate in this year's event by completing at least one leg of the race over the seven days. Seventy of the cyclists will be cycling the whole distance. The ride will take place over seven and a half days and will arrive in Scotland just in time for the start of COP26 – The UN Climate change conference.
Cycle-Works has provided the event racking for the cyclists to safely park their bikes at the various scheduled stops throughout their journey to Glasgow. Our event racking is ideal for this type of activity as it is lightweight and easy to transport. It can be easily put together and taken apart very quickly
The cyclists set off on Sunday, the 24th of October, from the Teahouse Theatre in London and are expected to reach Glasgow on the 31st of October, just before the start of COP26.
The cyclists involved will not be raising money in the traditional sense. Instead, they will raise sponsorship in the way of climate actions and pledges by friends and family, who will pledge changes to their everyday behaviour to help combat climate change For example, they could change energy suppliers, cycle more regularly to work or recycle more. All these actions should inspire and encourage sustainable behaviour.
The cyclists involved are not professional cyclists but are demonstrating that cycling is possible and realistic for longer distances.
The COP26 summit provides the perfect opportunity for people to make a positive change and have their voices heard on climate change issues.
Many of Glasgow's iconic structures are already lit up to showcase the bicycles' role in the fight against climate change. All the world leaders and influencers attending the event will see Scotland's unique history as the birthplace of the bicycle.
Cycle-Works are pleased to support this important event and want to give all the cyclists our full support, as we keenly follow the group's progress to Glasgow. To read more or to support a ride visit we are donation to find out more: https://www.wearedonation.com/en-gb/individuals/cycle-cop26/