Steal-Me-Knot Stand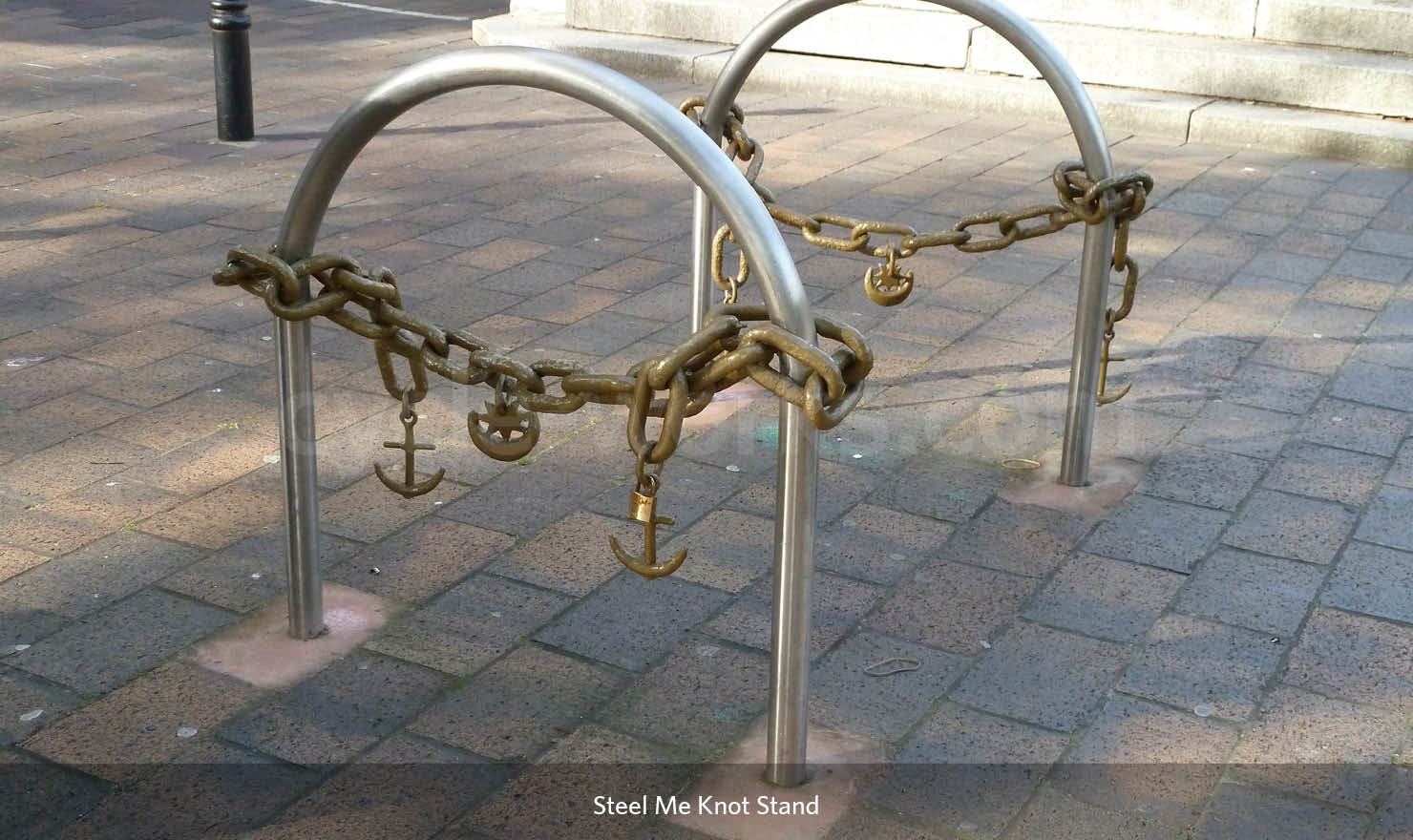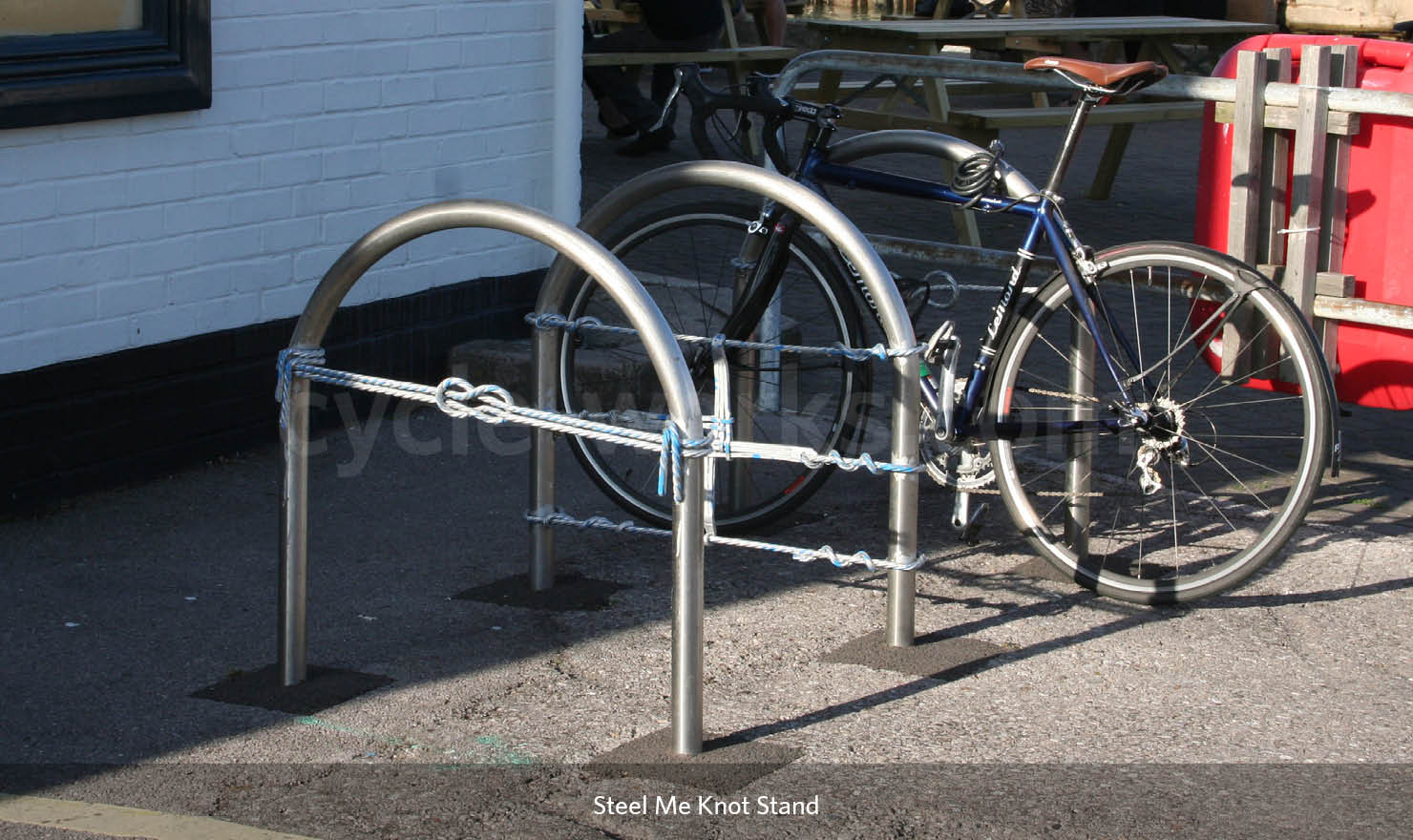 This new rack is a variation of the classic Sheffield/Rounded A stand. A chain replaces the horizontal security bar, making it particularly suitable for coastal towns and sites.
Students on the BA Interior Design course at the University of Portsmouth were asked by Portsmouth City Council to design bike stands to be used around the city.
This design is by Rebecca Weaver and has been commissioned for production by Portsmouth City Council.
---
Features & Benefits
Elegant and stylish rack with a nautical theme

Suitable for seaside towns and sites

Parks 2 bicycles, one on each side

Available in a number of finishes and mounting options
---
Why This Product is so Good

The Steal-Me-Knot rack is ideal for sites where the looks of the rack are as important as its functionality, for example in city centres and coastal recreation sites.
This cycle rack can be used to help demonstrate compliance with BREEAM and achieve a high BREEAM rating.*
This cycle rack can be used to help contribute towards gaining your 2 ENE8 Cycle Storage Credits when used in an appropriate situation, under the Code for Sustainable Homes.
*Cycle-works and its products and services are not affiliated, endorsed or certified by BRE Global or its affiliates. All rights are reserved.
Layout & Space Requirements
Racks should be spaced so that users can access their bikes easily, which is usually between 800mm and 1000mm apart.
Capacity
Each rack parks two bicycles – one on each side.
Dimensions
Mounting/Installation
Racks can be embedded into concrete to a depth of 300mm.
Surface mounted racks are bolted to good quality concrete with 100mm x m10 or m12 bolts, with 4 bolts to each leg.
Toast racks are supplied welded to rails in multiples of 2, 3 or 4 hoops and are bolted to the ground through the rails with 110mm x m12 bolts.
---
Materials, Locking Mechanisms & Accessories
Material Options
An excellent long-lasting finish that is less damaging to the bike's paintwork. Nylon is available in most RAL colours. We recommend this is done in conjunction with galvanising.
Galvanised mild steel – an 'Industrial' looking, but effective protection for 10-15 years.
Galvanised and powder coated mild steel available in wide range of colours.
Stainless steel – a non-rusting material that suits modern surroundings. 'Marine Grade' 316 stainless steel is also available.
---
Locking Options
The heavy duty chain allows the cyclist to lock the bike frame and wheels with their own chain or D-lock.
---
Security
The Steal-Me-Knot provides many locking points for a bike.
However, the racks are only as good as the user's lock. The bikes are visible to potential thieves and vandals, and they are open to the elements (unless under a shelter). Accessories, wheels and saddles can be stolen from them.
Please see our product range for more long-term secure bicycle parking.
Damage to bikes
Like all similar racks, the bike just rests against the rack and the opposite bike.
---
Frequently Asked Questions
Do you sell to private households?
Not really for this product, simply because we have found that other products are more suitable and cost-effective for home storage
Customers & Sites
We have done many sites with these products, including some of the following categories:
Councils
Hospitals & Healthcare
Schools, Colleges, Universities
Architects & Construction Companies
Foster and Partners offices, Battersea, London.
We also supply plans and give assistance to architects and planners on request.
We have worked directly for most of the major construction companies, or as a subcontractor. We have worked directly for:
Bovis Lend Lease

Laing Homes

Jones Lang Lasalle

Laing O'Rourke

Mansell

Harry Neal

Blenheim House Construction

Mace

Menzies

Hadham Engineering

CMF

Brookfield

ISG

Sir Robert McAlpine

Carillion

Barratt

Galliford Try
Transport Operators – Train/Bus /Air
Major Employers
Bike Stations
Residential
More information coming soon.
Pricing
Steal-Me-Knot Bike Racks are extremely economic bike stands to install. Quotes are based on your bespoke specification, location, the quantity required and whether you would like any additional modules included.
Please contact us for a quotation, call 02392 81 55 55 or email sales@cycle-works.com.
---
Delivery
Current lead time is 6-8 weeks from receipt of your written purchase order. Extra time may be needed if extensive customisation is required.