Solent Open Access Shelter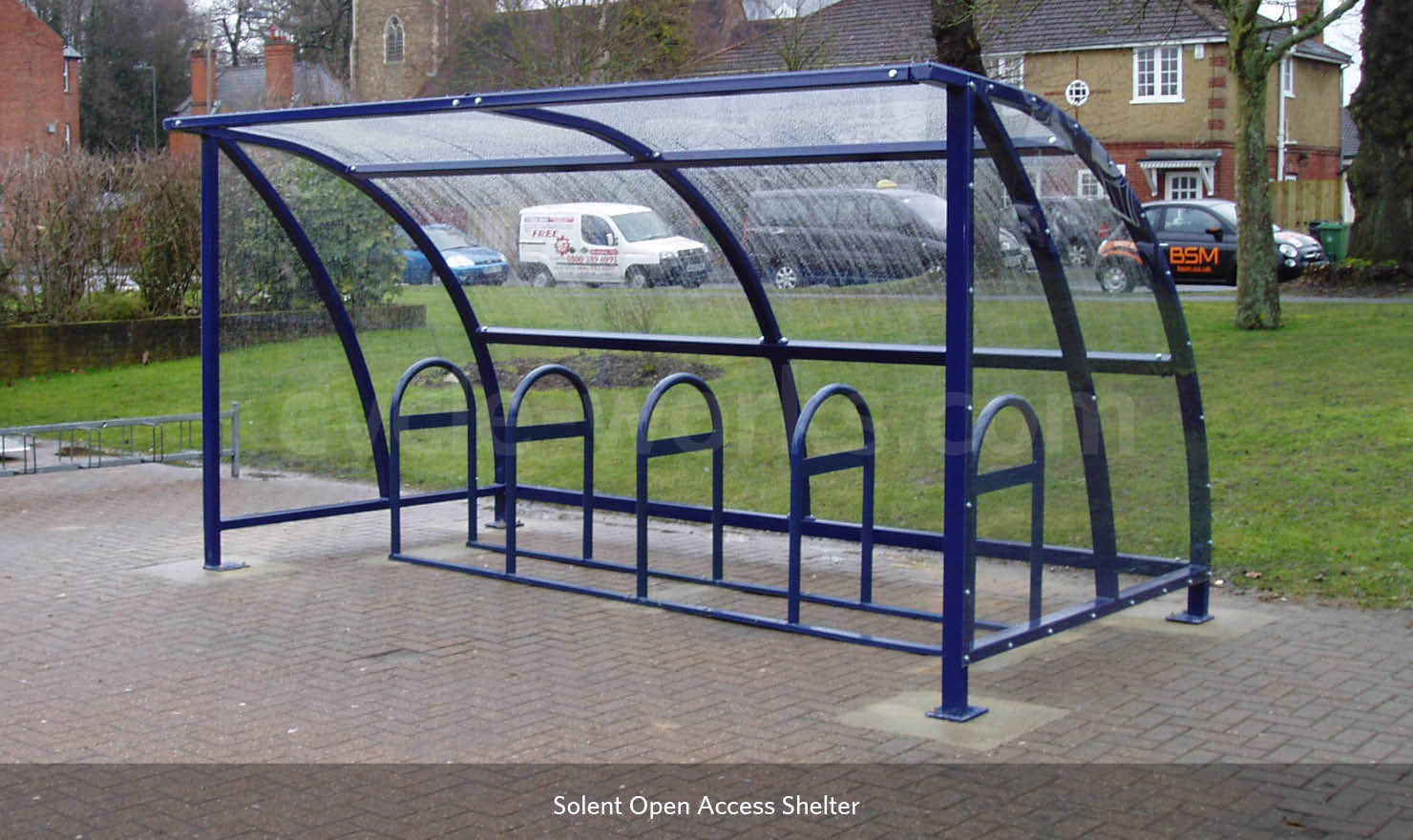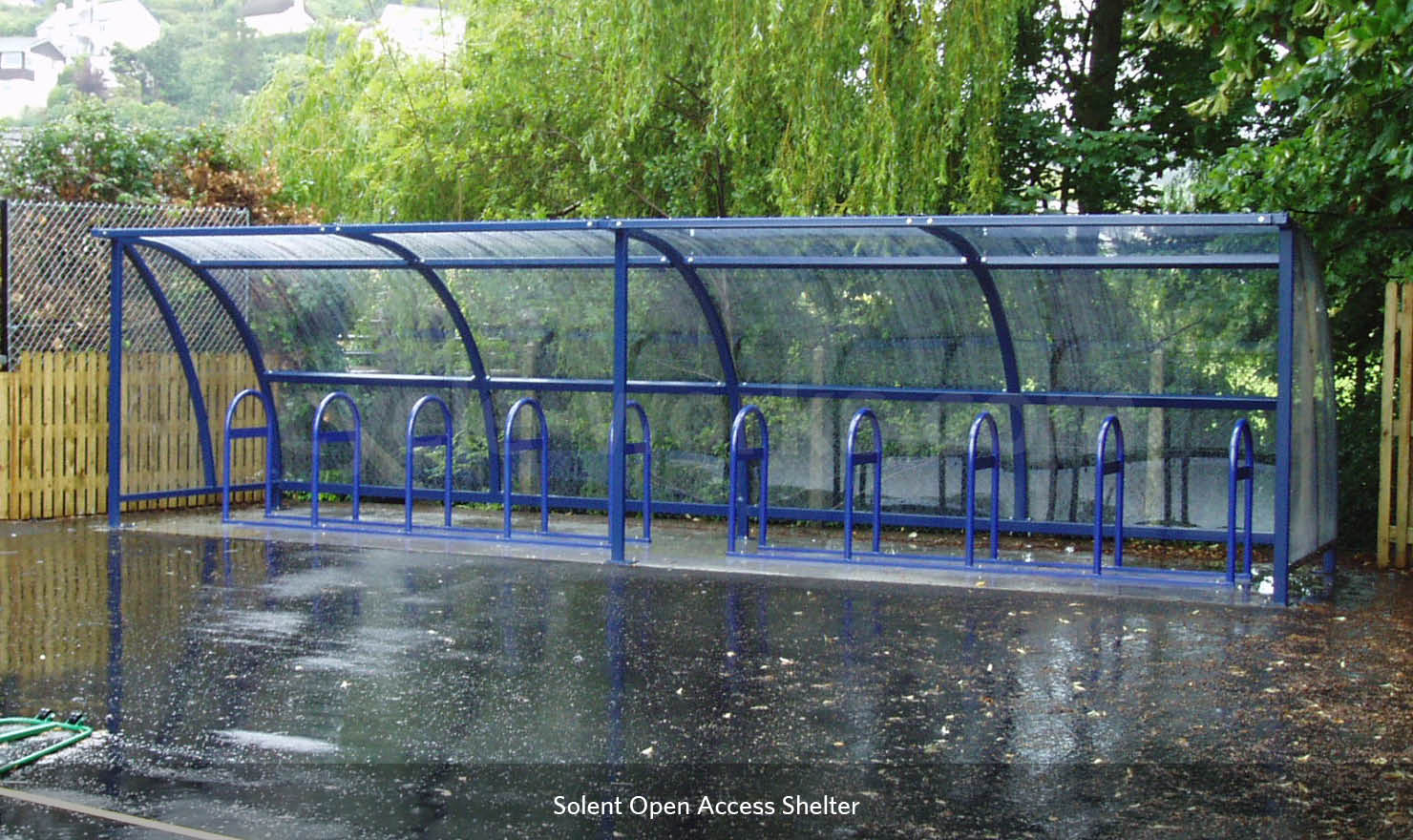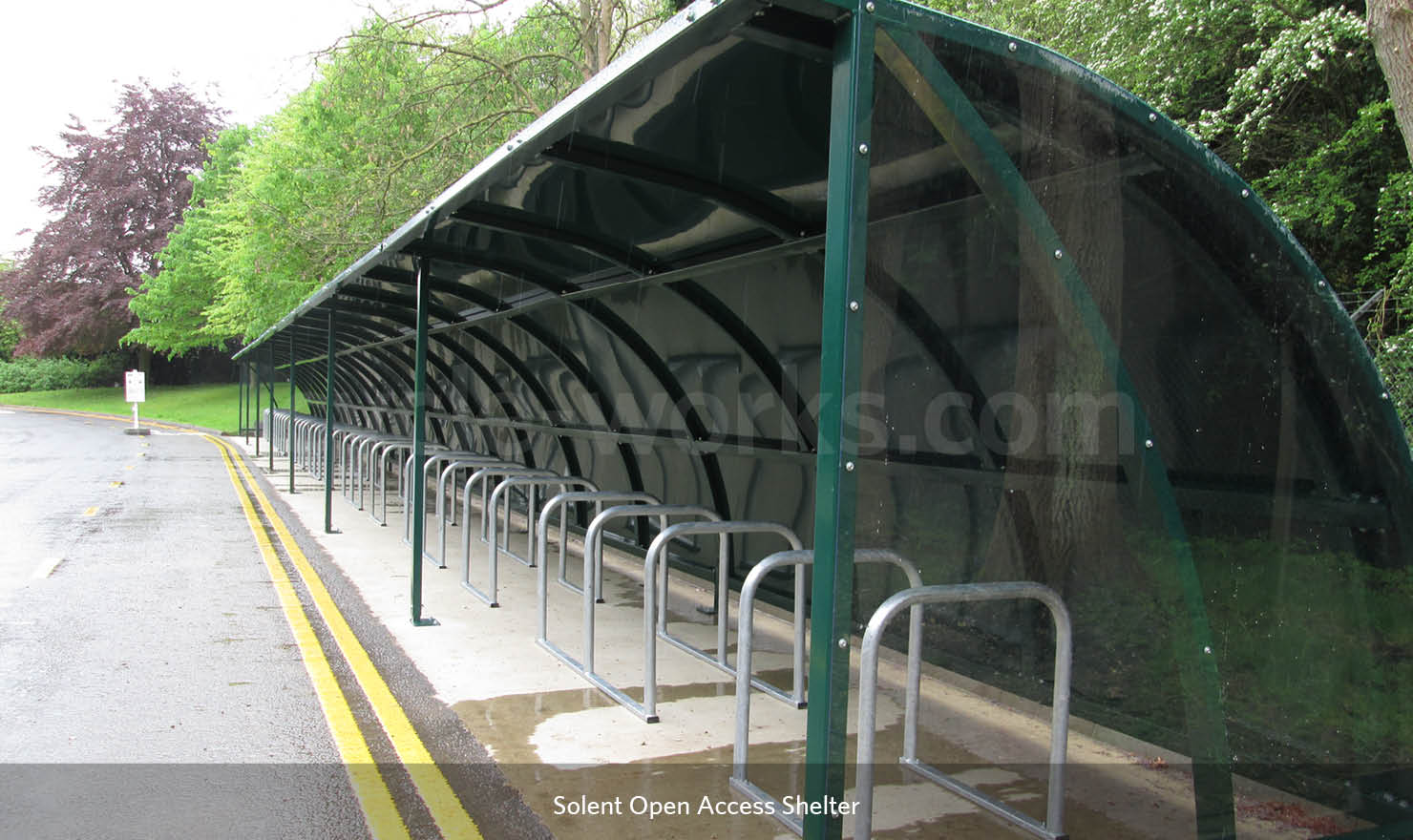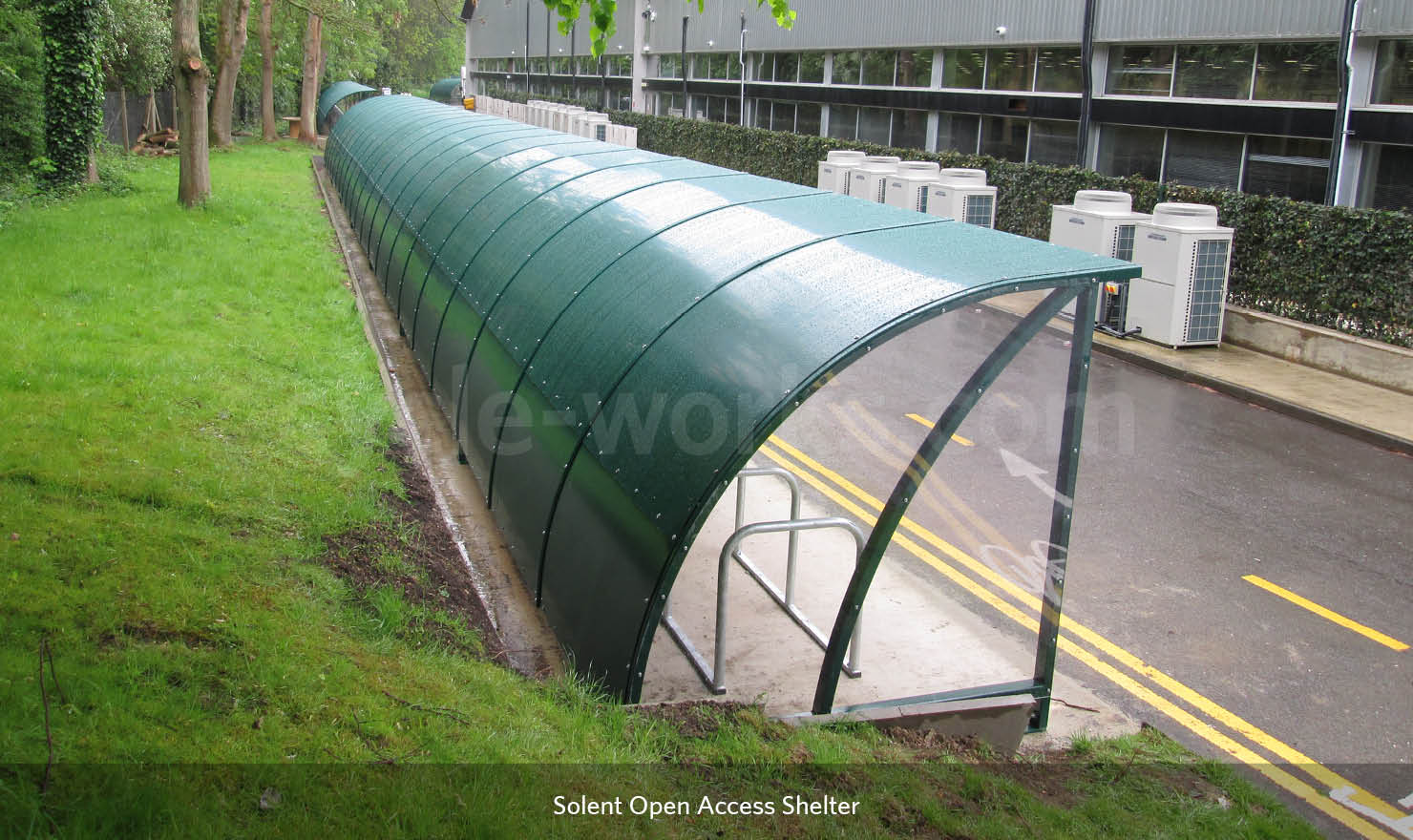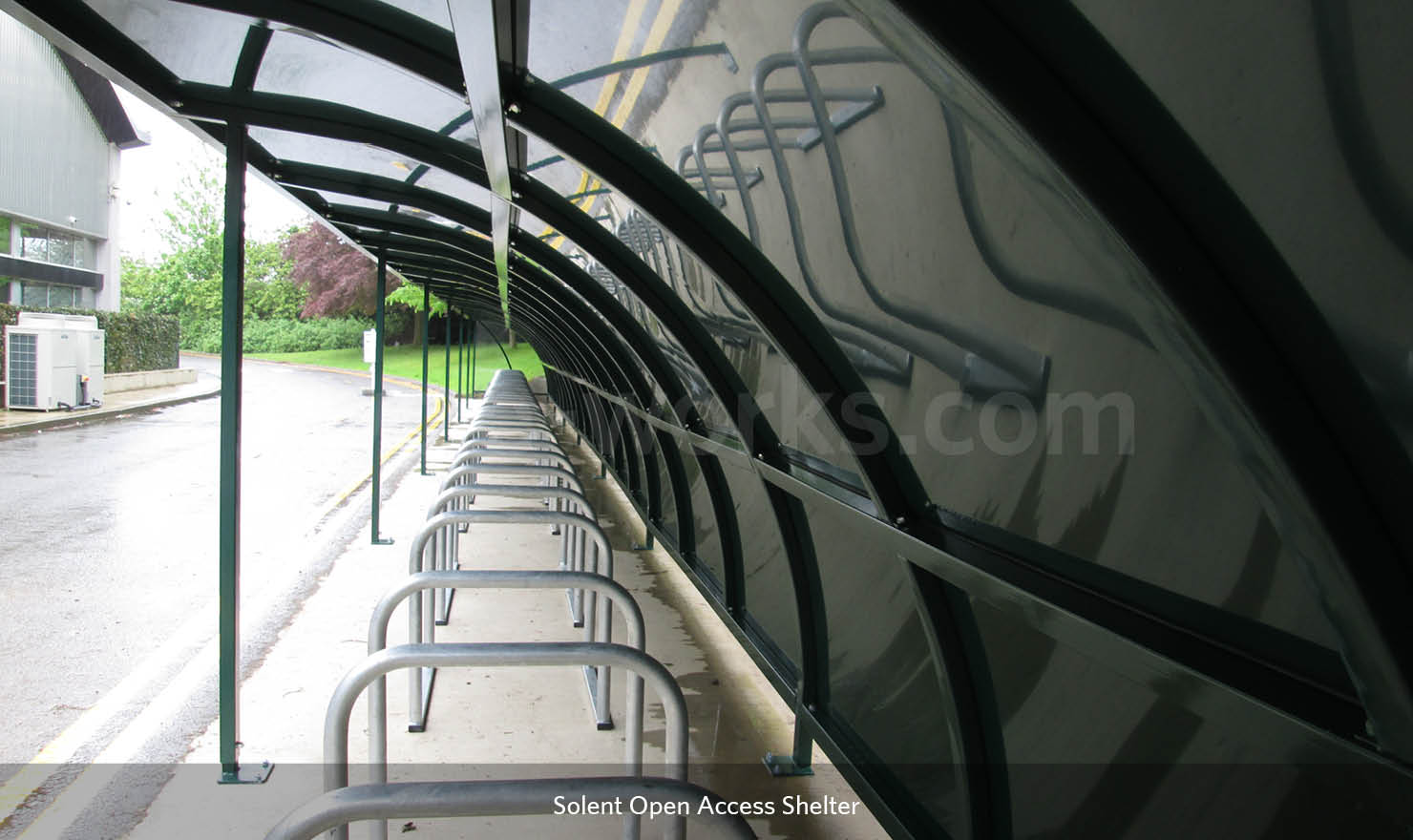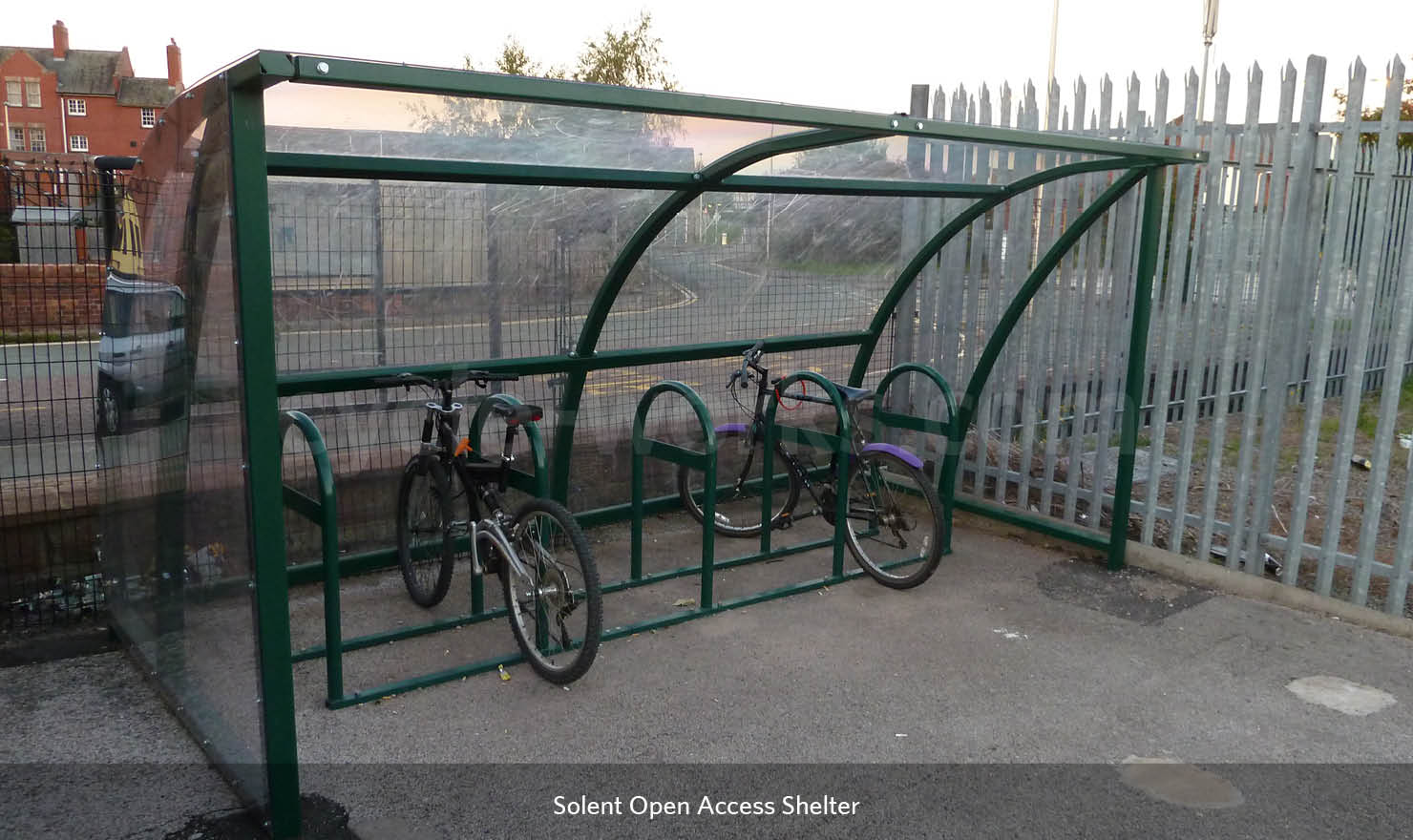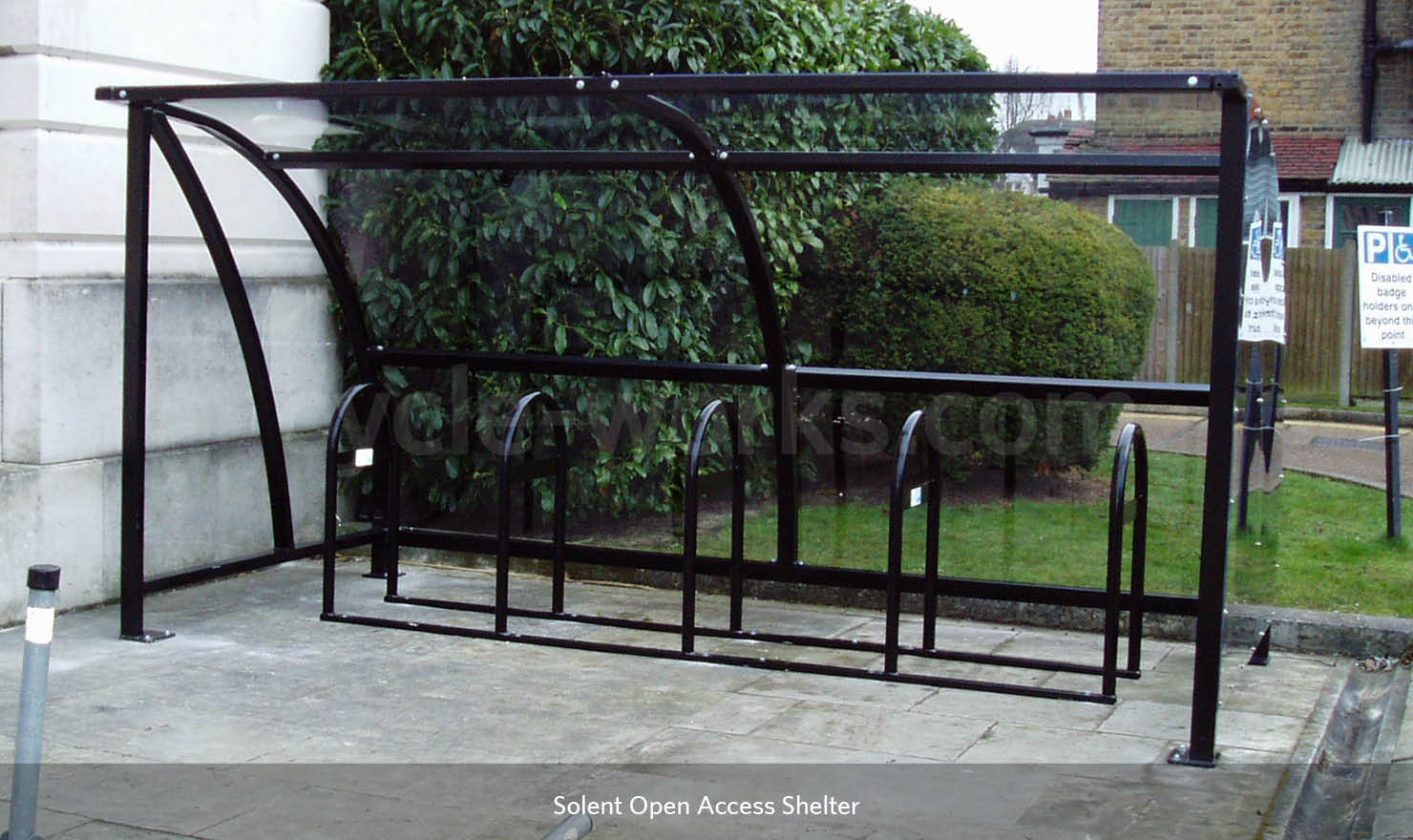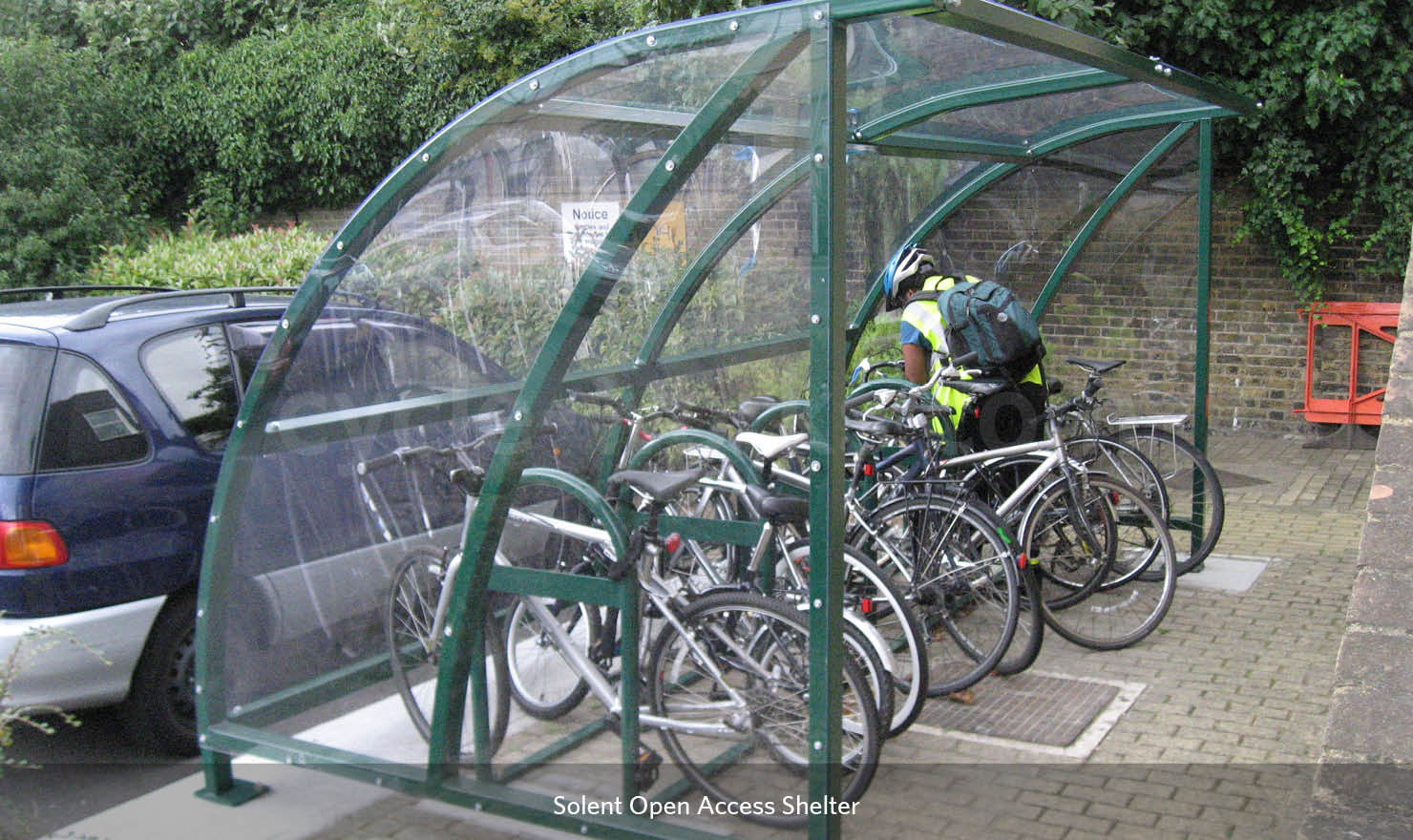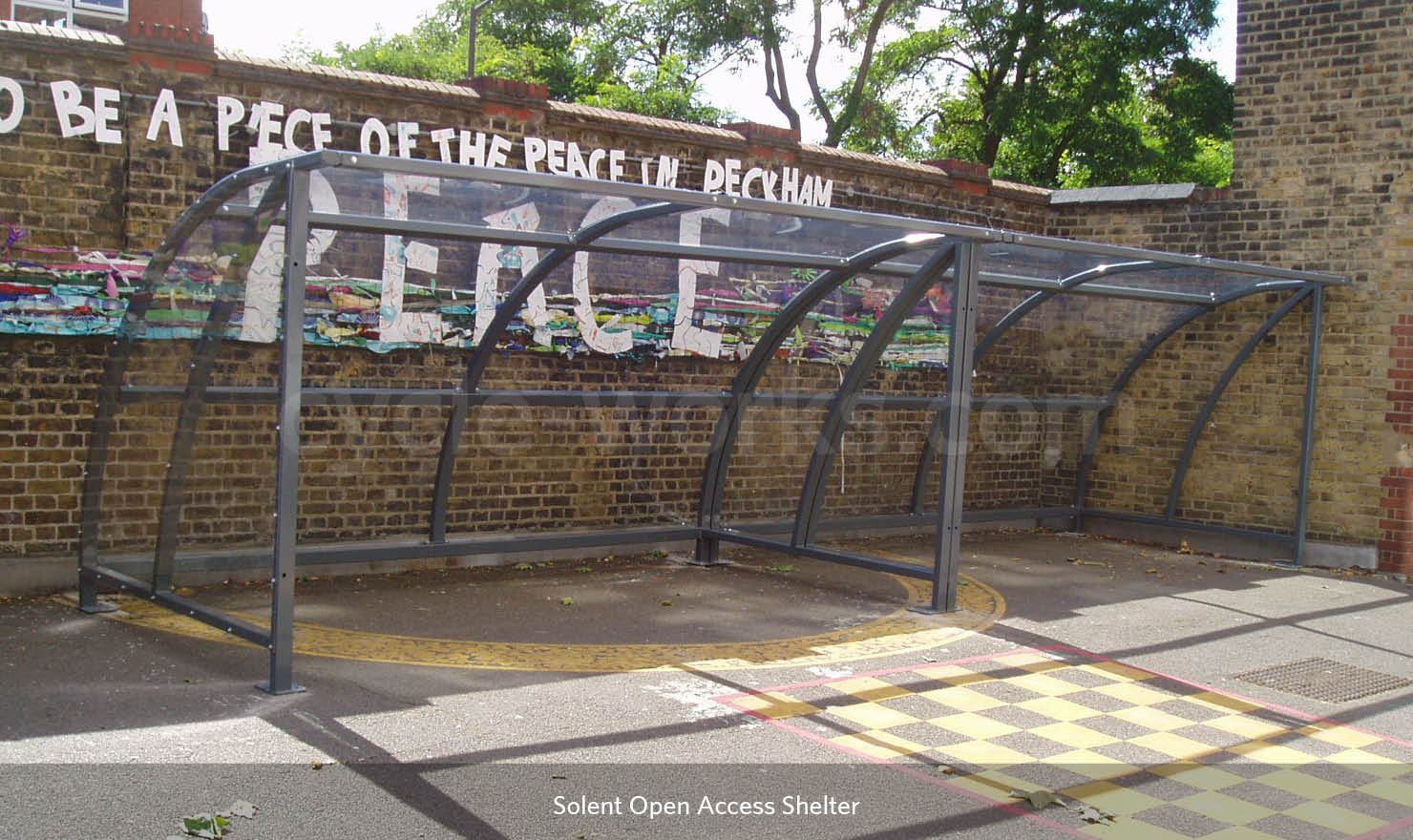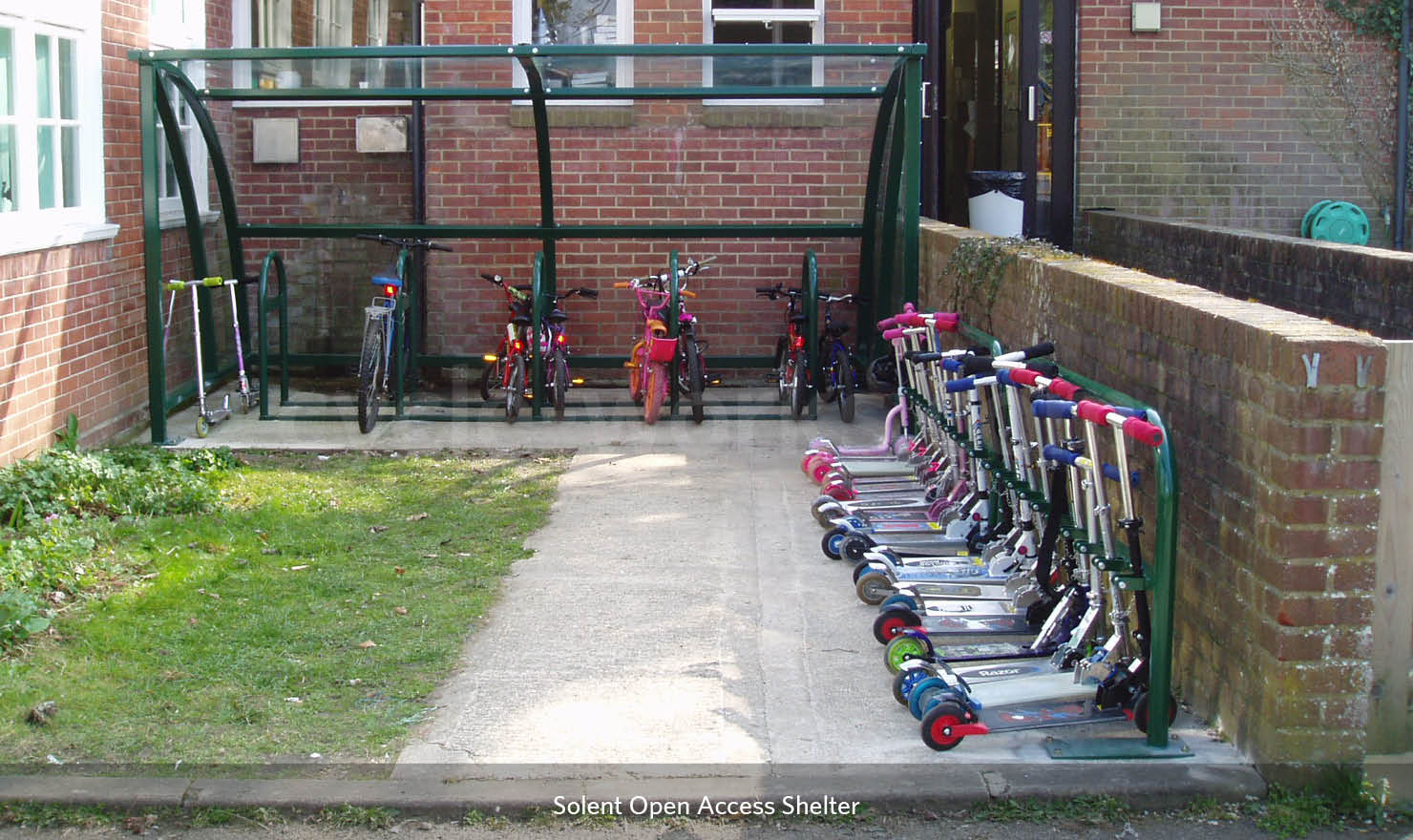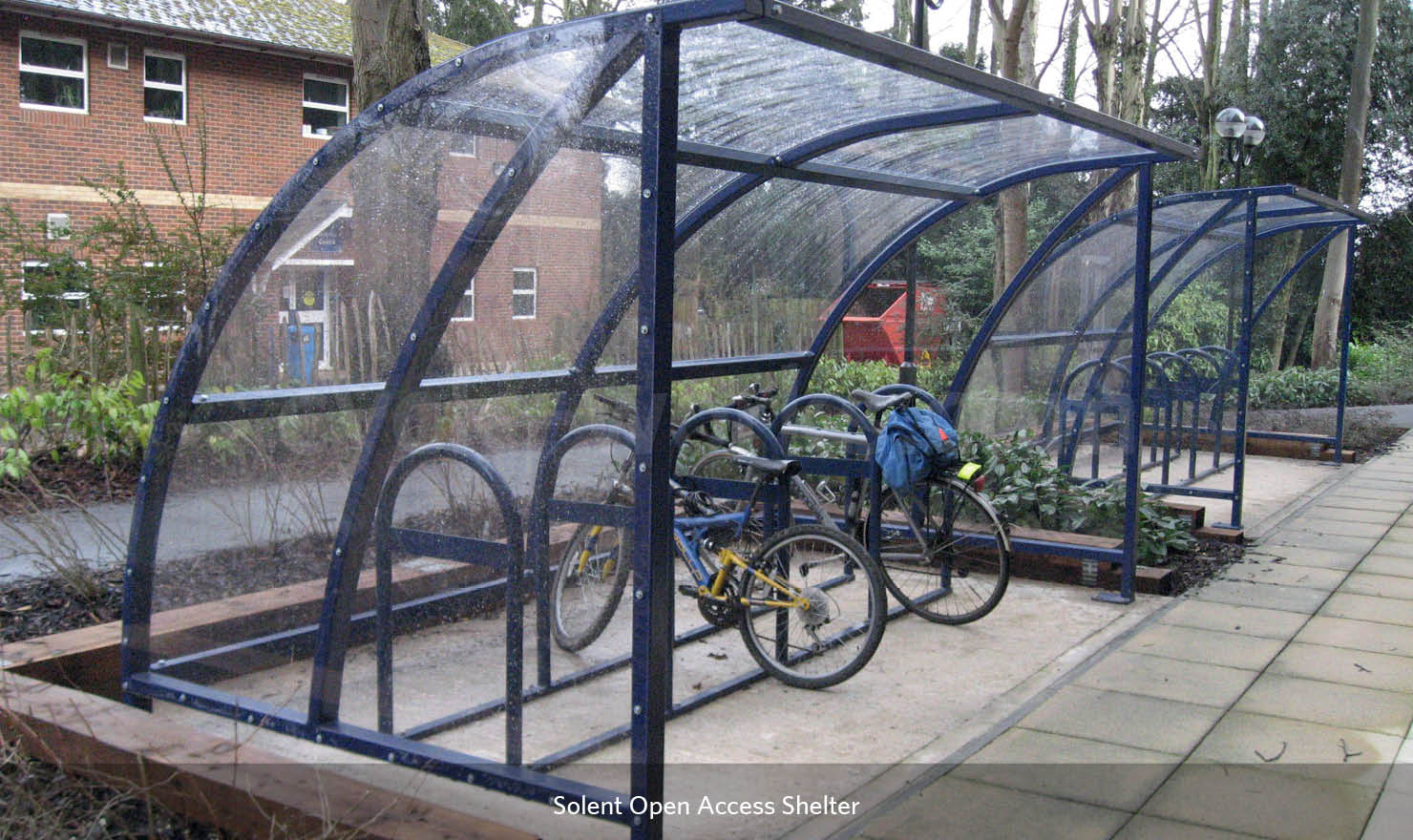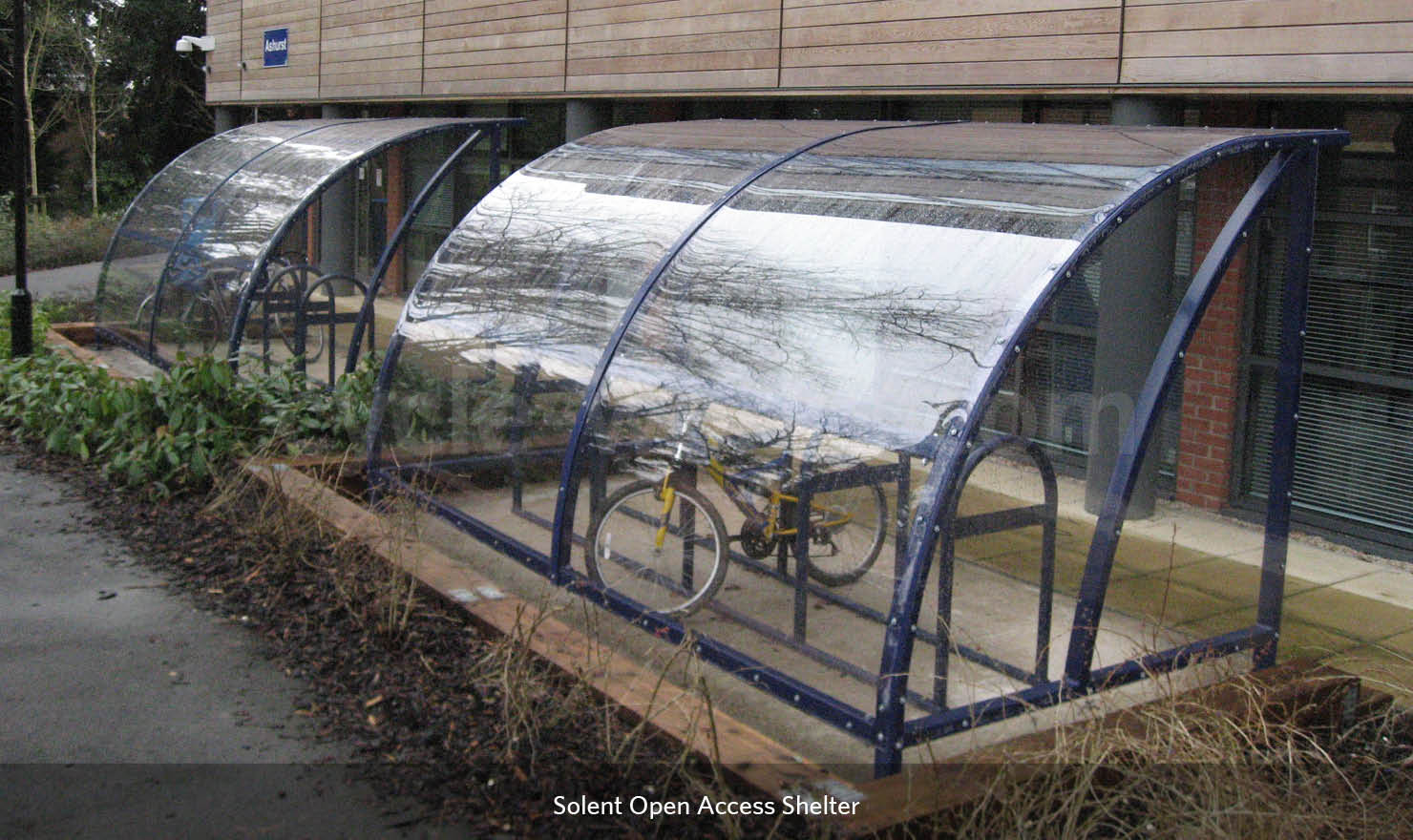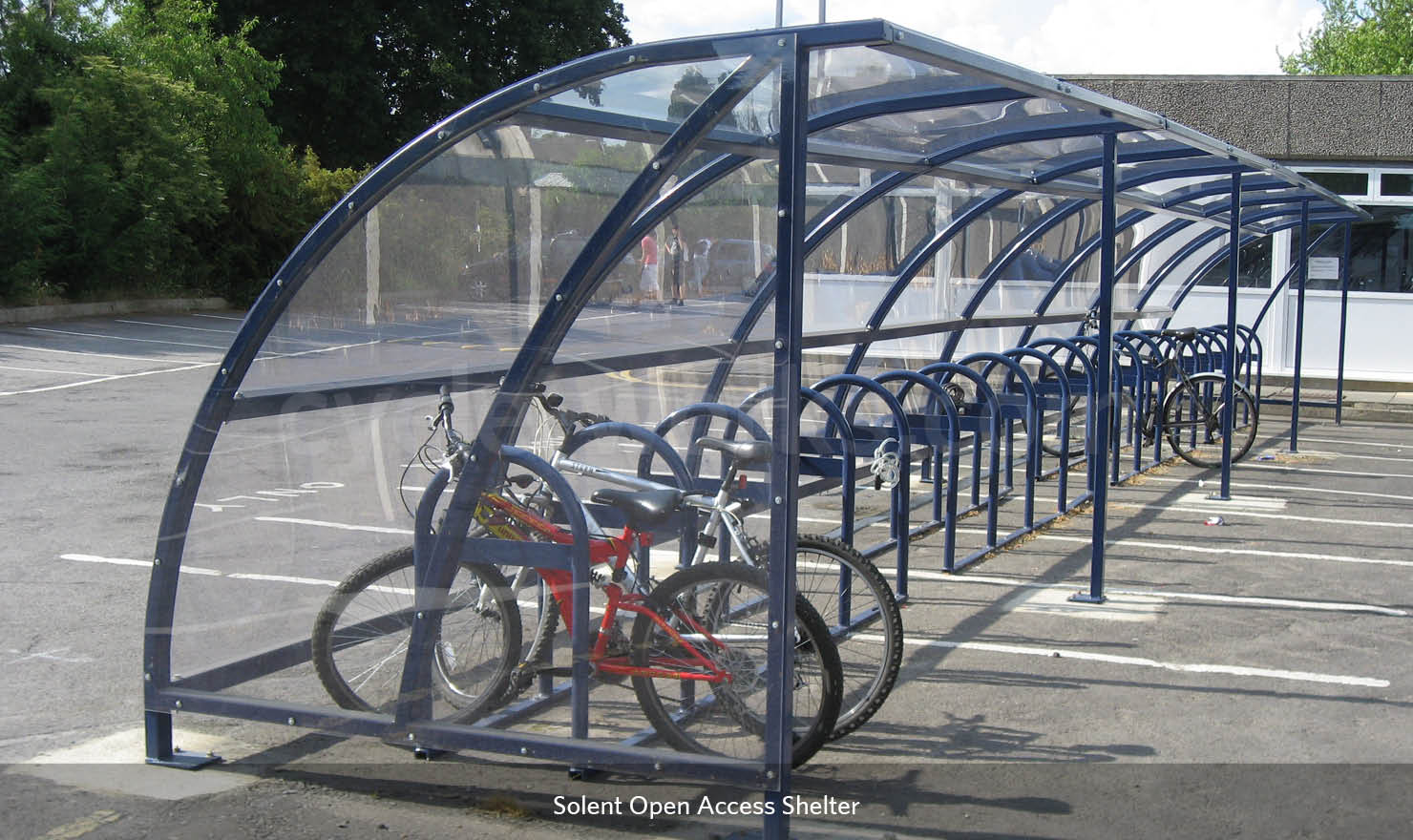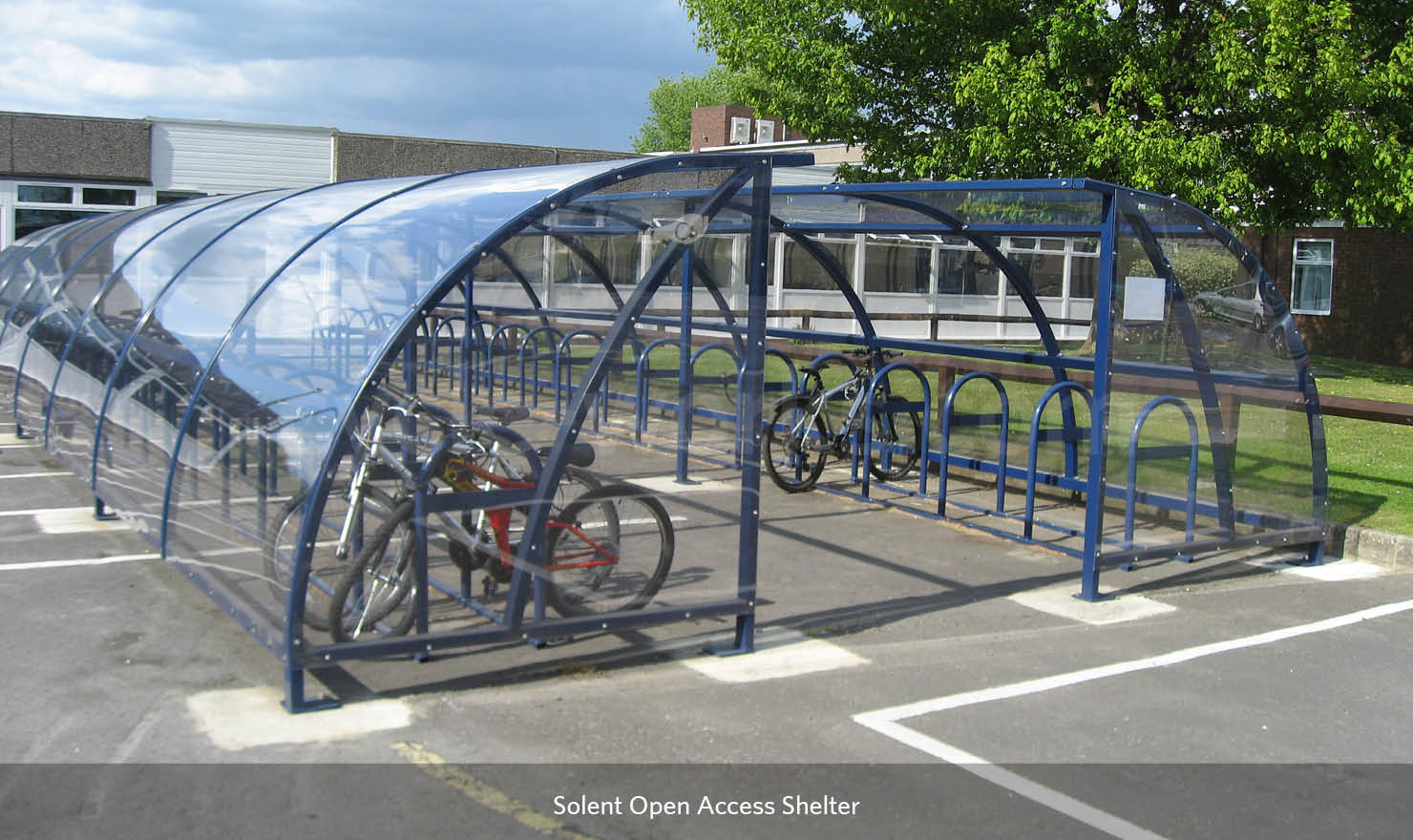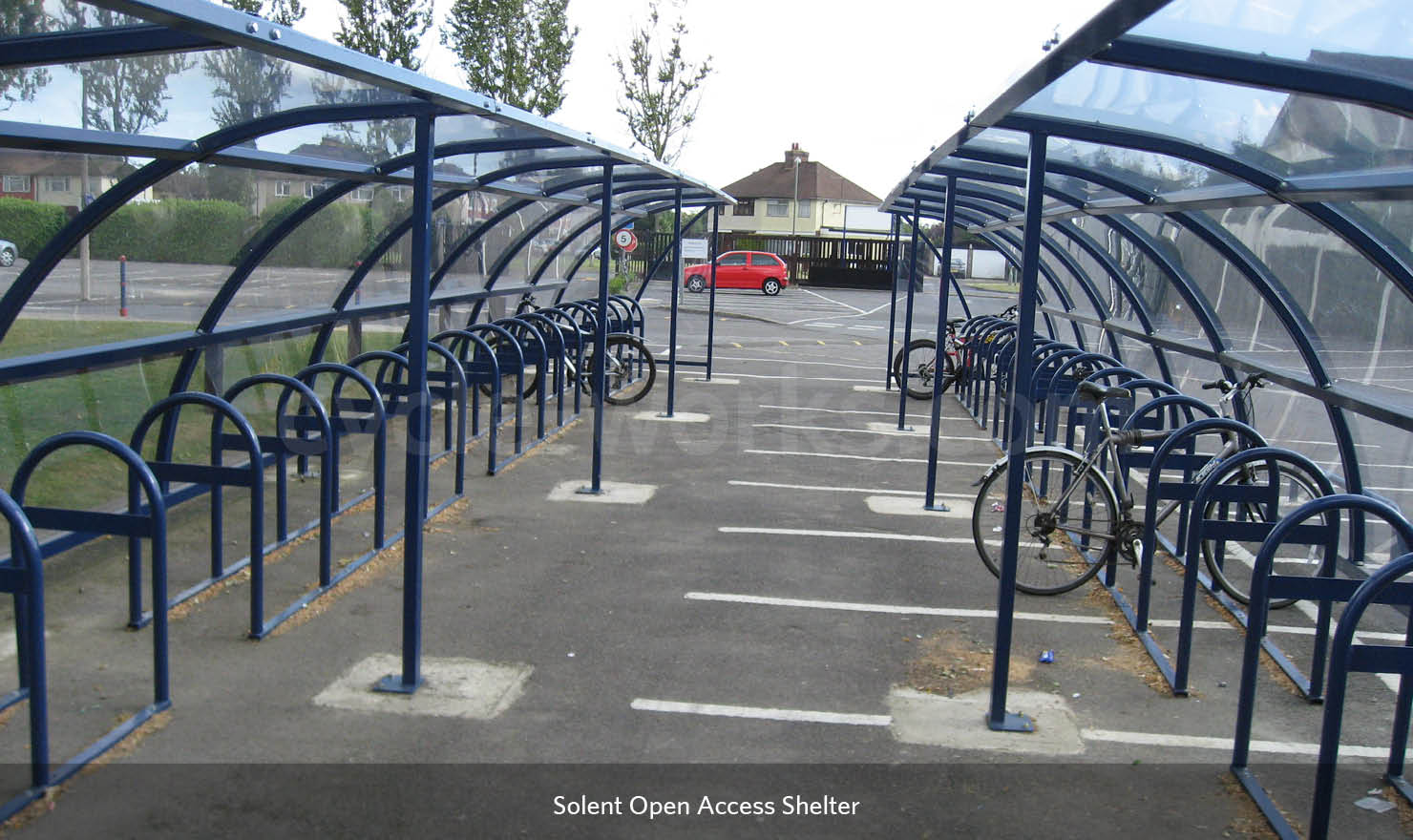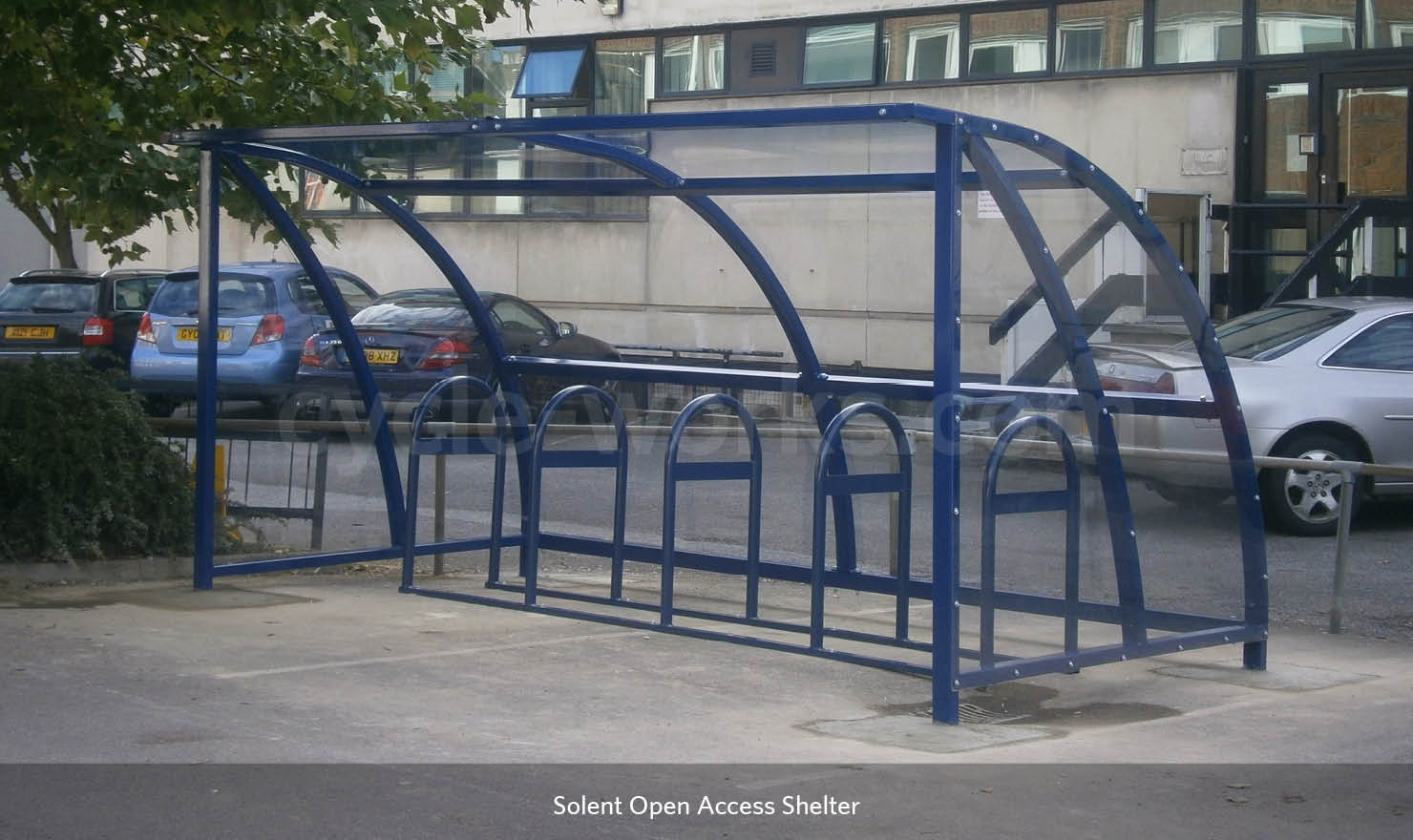 The Solent shelter is a popular solution for schools, councils and employers as it combines a sleek rounded design with affordable prices. Itt provides good weather protection from the rear and sides.
Features & Benefits
Galvanised and powder coated mild steel construction – Most standard RAL colours available.
Large 75 x 50 x 3 box section.
Thick 5mm PETg UV2
Available with clear PET or coloured aluminium composite panels.
Capacity: Rows can be as long as required.
Price includes our popular Rounded A racks, supplied in a galvanised finish as standard. Upgrade to powder coating available.
Capacity: The standard shelter comes in 4.1m sections for 10 bikes. However, we can make this shelter to any length.
Why this product is so good
The Solent shelter is very popular with schools, councils and employers as it combines a sleek rounded design with affordable prices.
The bikes are protected from the elements on three sides, and the lockable gates stop intruders from gaining access to the bicycles.
In addition, we have replaced the standard Sheffield stand with our popular Rounded A racks, as we believe that these offer better security than standard racks without a security bar. They are also more elegant and rounded and take up less space when not in use. We also use 5mm PET UVg, as it is more durable than the standard 3mm or 4mm PET used as standard by most other companies.
This cycle shelter can be used to help demonstrate compliance with BREEAM and achieve a high BREEAM rating.*
This cycle shelter can be used to help contribute towards gaining your 2 ENE8 Cycle Storage Credits when used in an appropriate situation, under the Code for Sustainable Homes.
*Cycle-works and its products and services are not affiliated, endorsed or certified by BRE Global or its affiliates. All rights are reserved.
Layout & Space Requirements
Solent shelters can be installed in one long row, and this is the most cost-effective solution. Two smaller shelters can also be installed facing each other.
Capacity
The smallest standard shelter parks 10 bicycles. Rows of shelters can be as long as required.
Dimensions
Height: 2000mm.
Width: 2300mm
Length: 4100mm for every 5 stands (10 bike spaces)
Mounting/Installation
A level concrete base is required. This can be either a complete concrete base or concrete pads under the shelter uprights and racks. Please see below for an example of a layout or contact us for further information.
This system is installed by our team of experienced installers.
Materials, Locking Mechanisms & Accessories
Material Options
These shelters are made of galvanised and powder coated mild steel. The standard cladding is manufactured from 5mm UV stable, shatterproof, impact-resistant and non-combustible translucent PET material. Alupanel cladding is also available.
Locking Mechanisms & Options
The cyclist can lock the bike frame and wheels to the rounded A rack with their own chain or D-lock.
Issues & FAQ
Issues to consider
Security
There are no gates, so the bikes are accessible to potential thieves and vandals. Accessories, wheels and saddles can be stolen from them.
The 'Rounded A' rack provides many locking points for a bike. However, racks are only as good as the chain or padlock used. Please see our product range for more long-term secure bicycle parking.
Frequently Asked Questions
Do you sell to private households?
Not really for this product, simply because we have found that other products are more suitable and cost-effective for home storage.
What about maintenance?
Easy. Replacement components are readily available if the shelter is damaged, e.g. by cars or lorries. Replacement PET panels can be ordered and installed by us.
Customers & Sites
We installed this product for many sites, including some of the following categories:
Councils
Hospitals & Healthcare
Schools, Colleges, Universities
Architects & Construction Companies
Transport Operators – Train/Bus /Air
Major Employers
Bike Stations
Residential
We have worked directly for most of the major construction companies, or as a subcontractor. We have worked directly for:
Price Requirements
Please contact us for a detailed quotation.
Delivery
The current lead time is 6-10 weeks.
Terms & Conditions
Orders are subject to our normal terms and conditions.