Inverted U Rack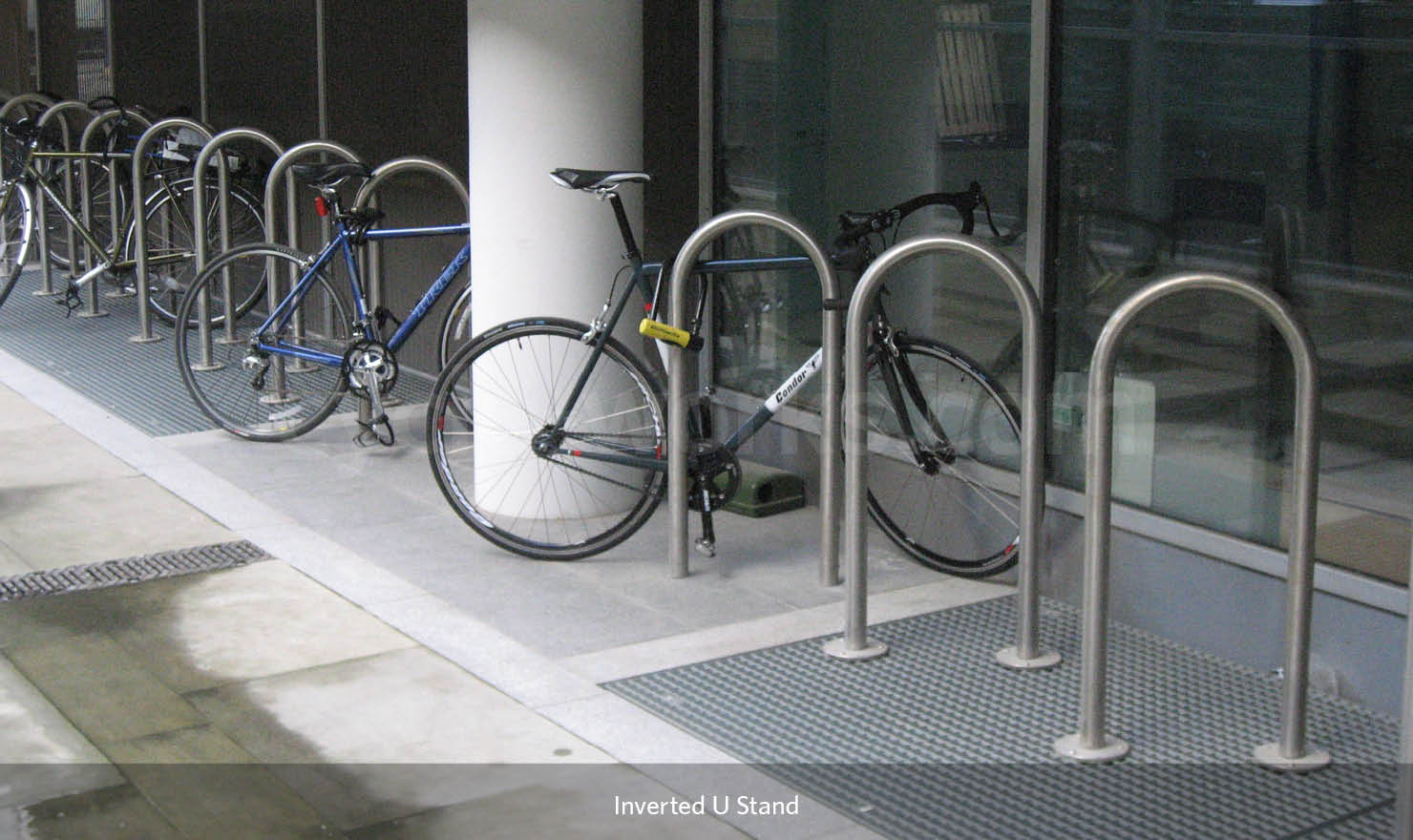 The Inverted U rack is a Rounded A rack without a security bar.
It can be delivered in a variety of finishes and mounting options and holds the bike well.
Features & Benefits
Sleek and  sturdy rack
Parks 2 bicycles, one on each side
Available in a number of finishes and mounting options
Why this product is so good
The Inverted U rack holds the bike well, with the top of the rack between the saddle and front stem which keeps the bike stable.
When compared with the standard Sheffield stand, it becomes apparent that the Inverted U takes up less space when not in use, while still supporting bikes of all sizes well.
This cycle rack can be used to help demonstrate compliance with BREEAM and achieve a high BREEAM rating.*
This cycle rack can be used to help contribute towards gaining your 2 ENE8 Cycle Storage Credits when used in an appropriate situation, under the Code for Sustainable Homes.
*Cycle-works and its products and services are not affiliated, endorsed or certified by BRE Global or its affiliates. All rights are reserved.
Layout & Space Requirements
Racks should be spaced so that users can access their bikes easily, which is usually between 800mm and 1000mm apart.
Capacity

Each rack parks two bicycles – one on each side.
Dimensions

600mm wide
950mm high
Tubing outside diameter 48mm
Other options are available
Mounting/Installation

Racks can be embedded into concrete to a depth of 300mm.
Surface mounted racks are bolted to good quality concrete with 100mm x m10 or m12 bolts, with 4 bolts to each leg.

Toast racks are supplied welded to rails in multiples of 2 or 3 hoops and are bolted to the ground through the rails with 110mm x m12 bolts. Rows can be as long as required.
Materials, Locking Mechanisms & Accessories
Material Options

Galvanised and powder coated finish

An excellent long-lasting finish that is less damaging to the bike's paintwork. Powder coating is available in most RAL colours.
Galvanised mild steel

'Industrial' looking, but effective protection for 10-15 years.
304 Stainless steel

A non-rusting material that suits modern surroundings. 'Marine Grade' 316 stainless steel is also available.
Locking Mechanisms & Options

Cyclist can lock the bike frame and wheels with their own chain or D-lock.
Issues & FAQ
Issues to consider
Security
The Inverted U rack provides many locking points for a bike.

The racks are only as good as the user's lock. The bikes are visible to potential thieves and vandals, and they are open to the elements (unless under a shelter). Accessories, wheels and saddles can be stolen from them. For additional locking points and increase security, we recommend the Rounded A rack, which includes a horizontal security bar.
Please see our product range for more long-term secure bicycle parking.
Damage to bikes
Like all similar racks, the bike just rests against the rack and the opposite bike. We recommend powder coating as this offers some protection for the bike's paintwork.
Frequently Asked Questions
Do you sell to private households?
Yes, we are happy to sell to the public in small quantities. We have to add VAT to our prices.
Price Requirements
Please contact us for our current price list.
Normal payments for councils, authorities or recognised institutions is by invoice on installation, on 30 day terms.
Delivery
The current lead time is 4-6 weeks.
Terms & Conditions
Orders are subject to our normal terms and conditions.