BikeBunker and BikeBunker Plus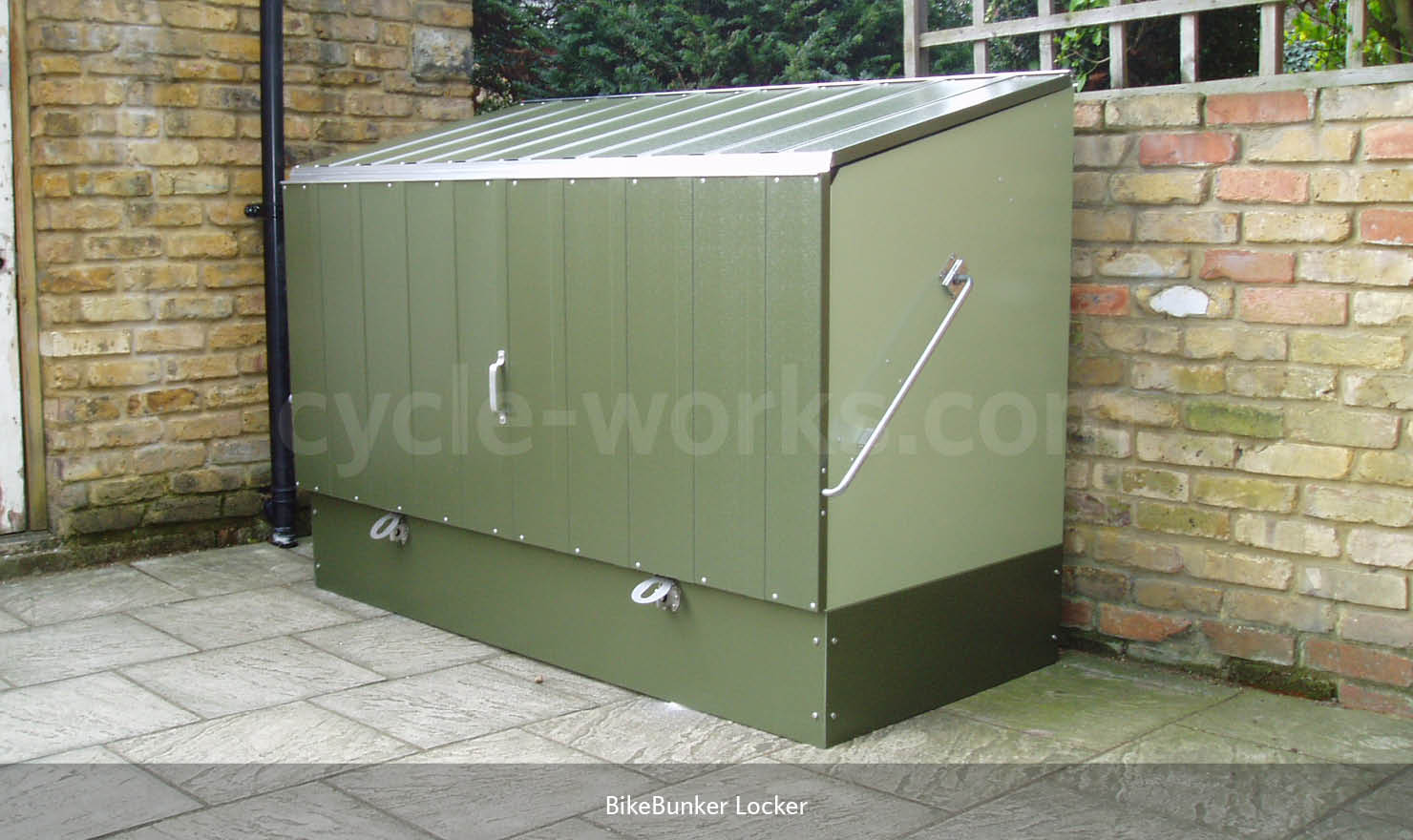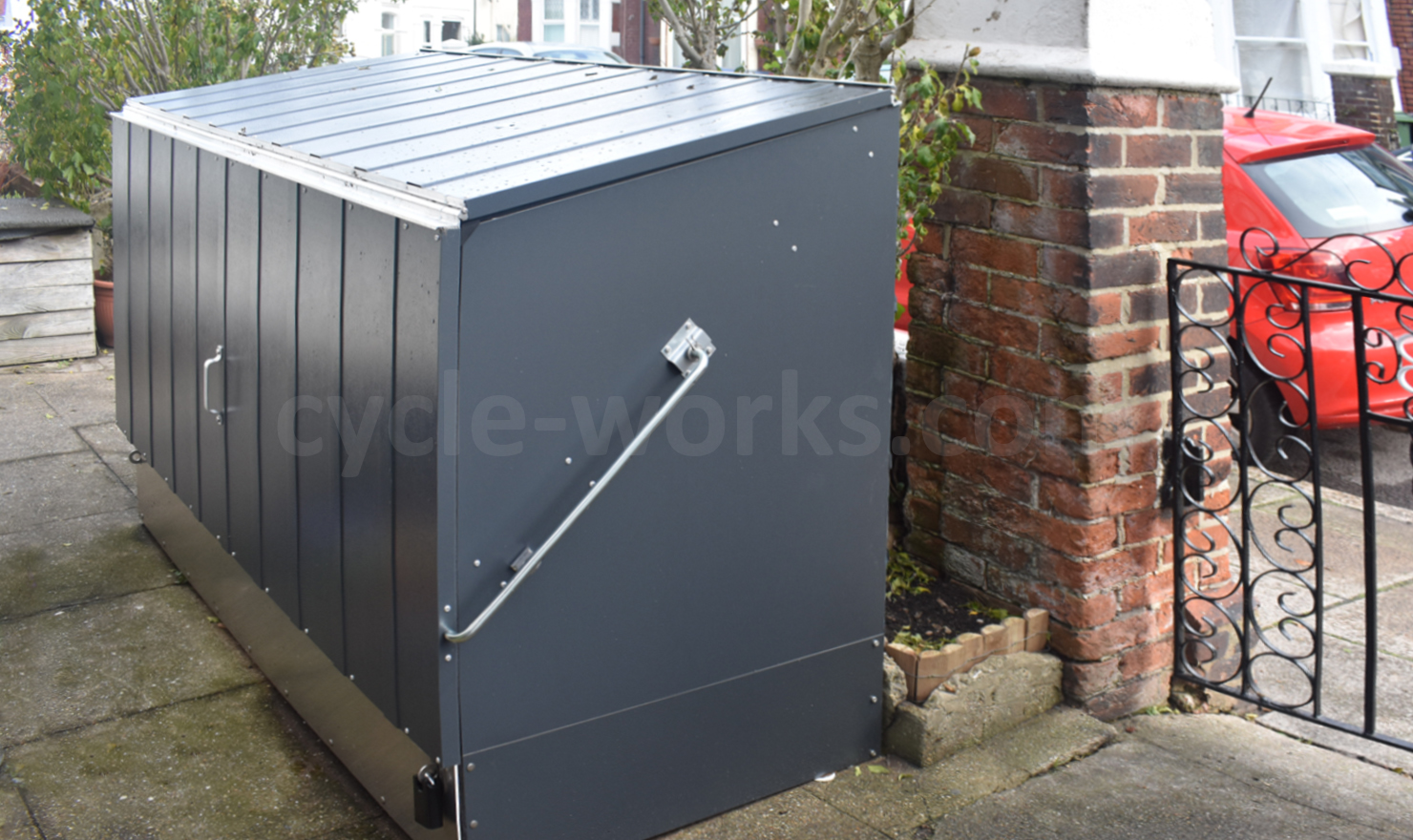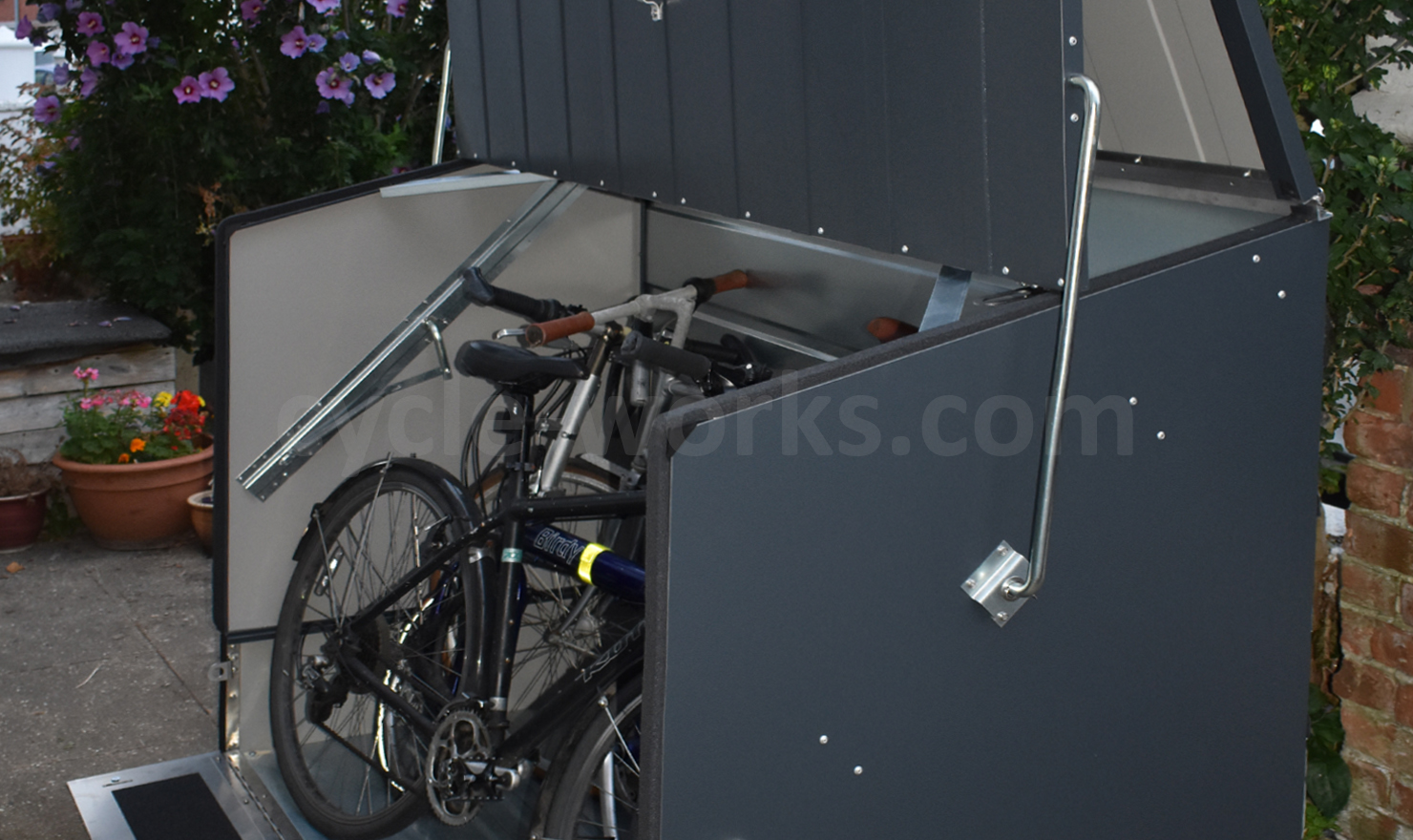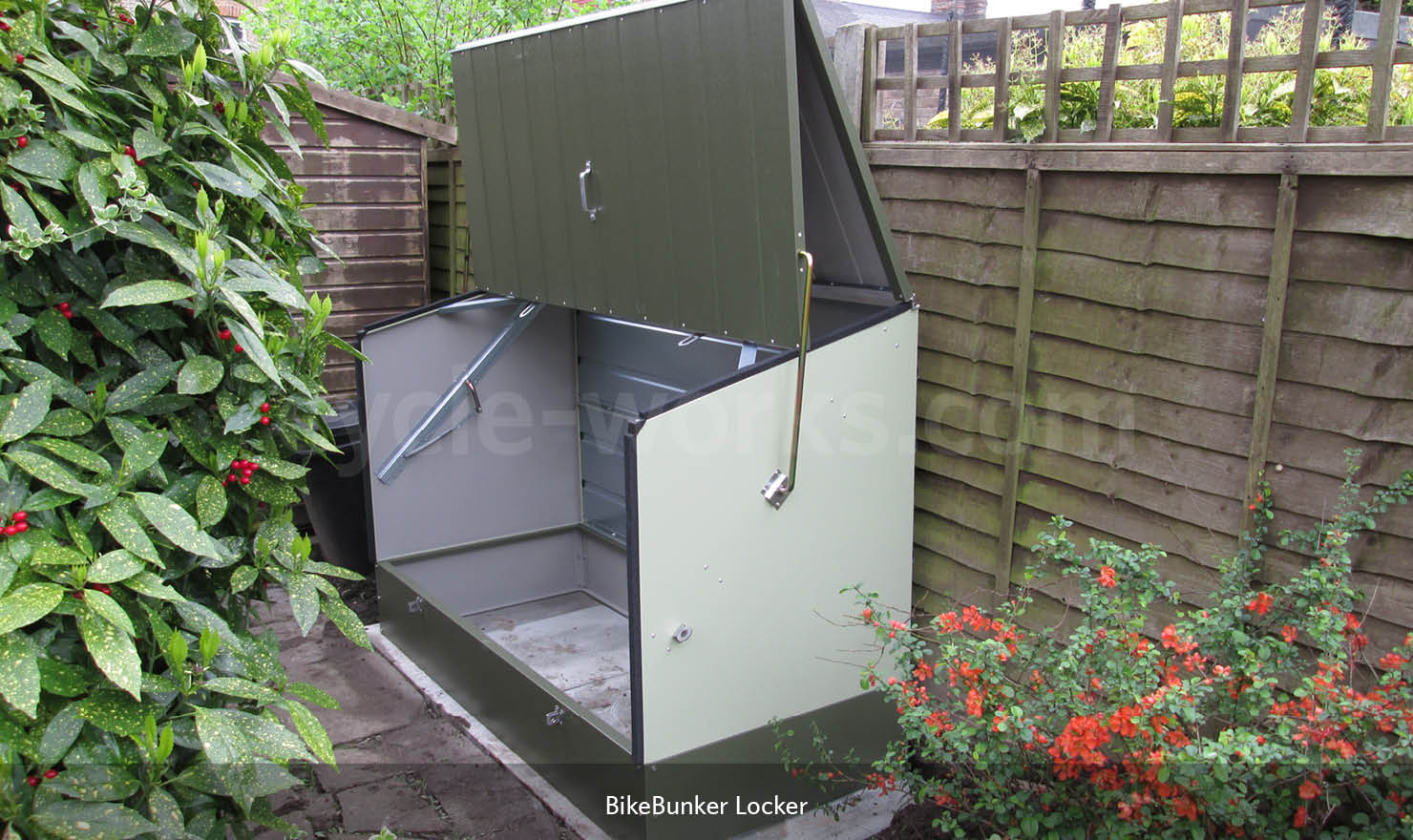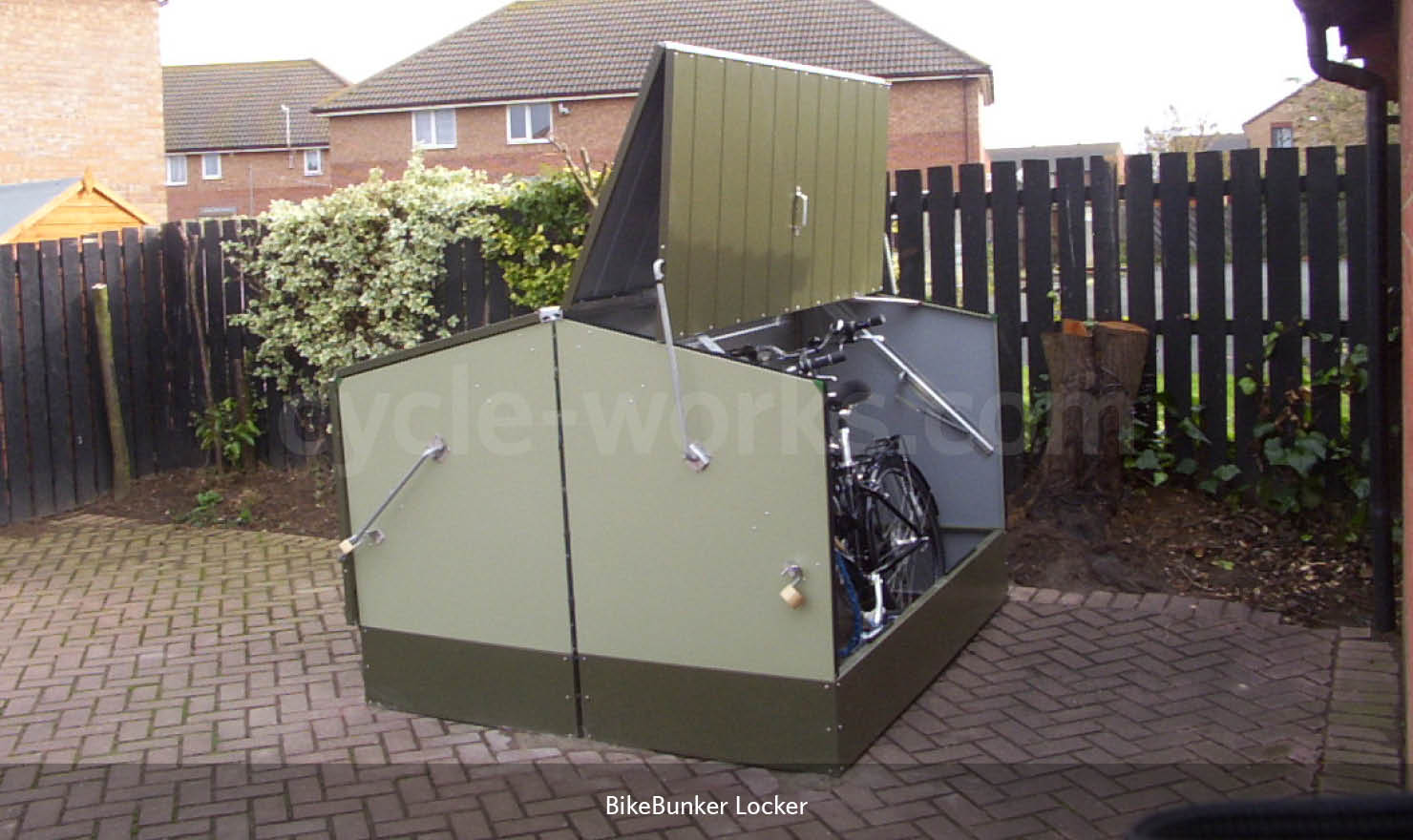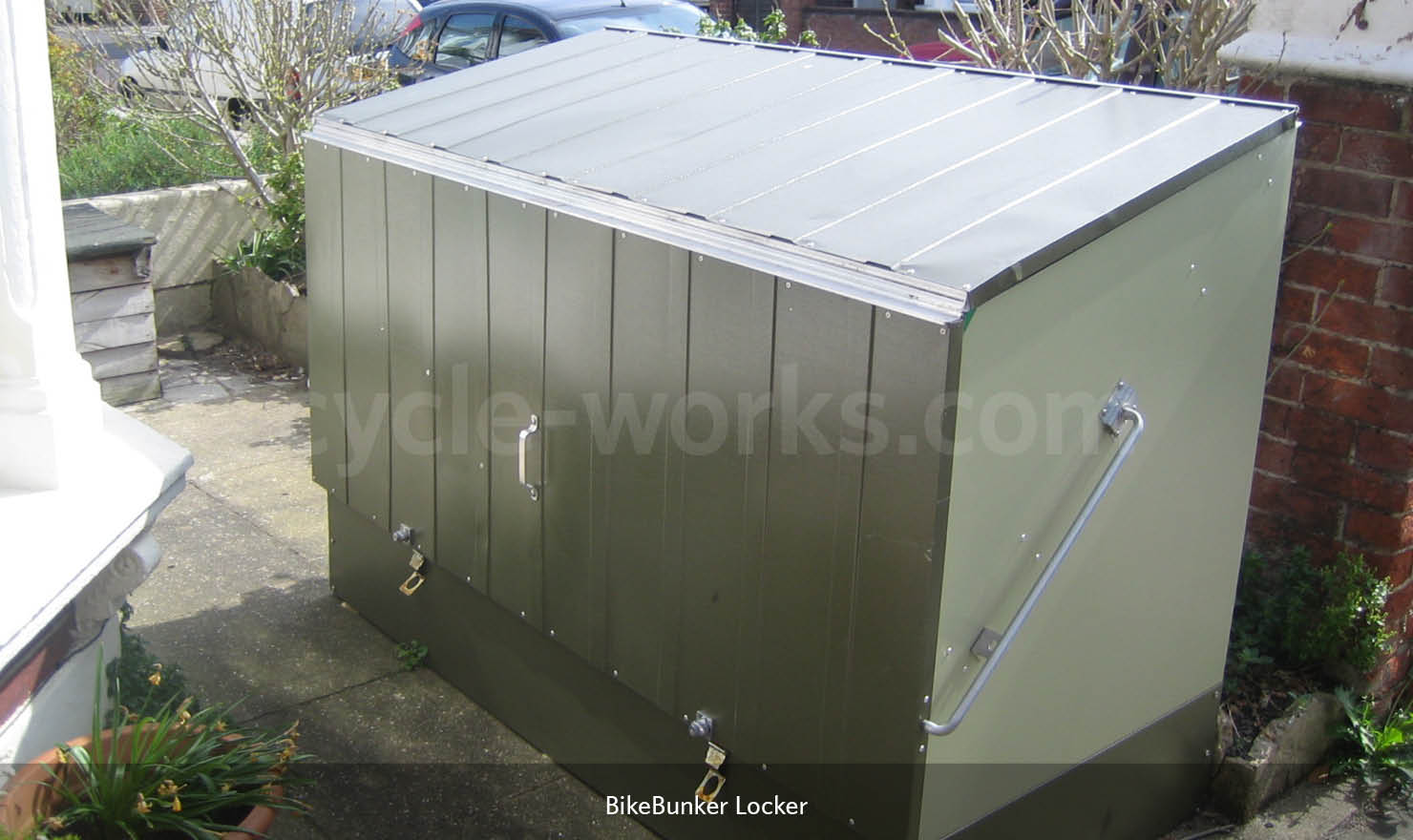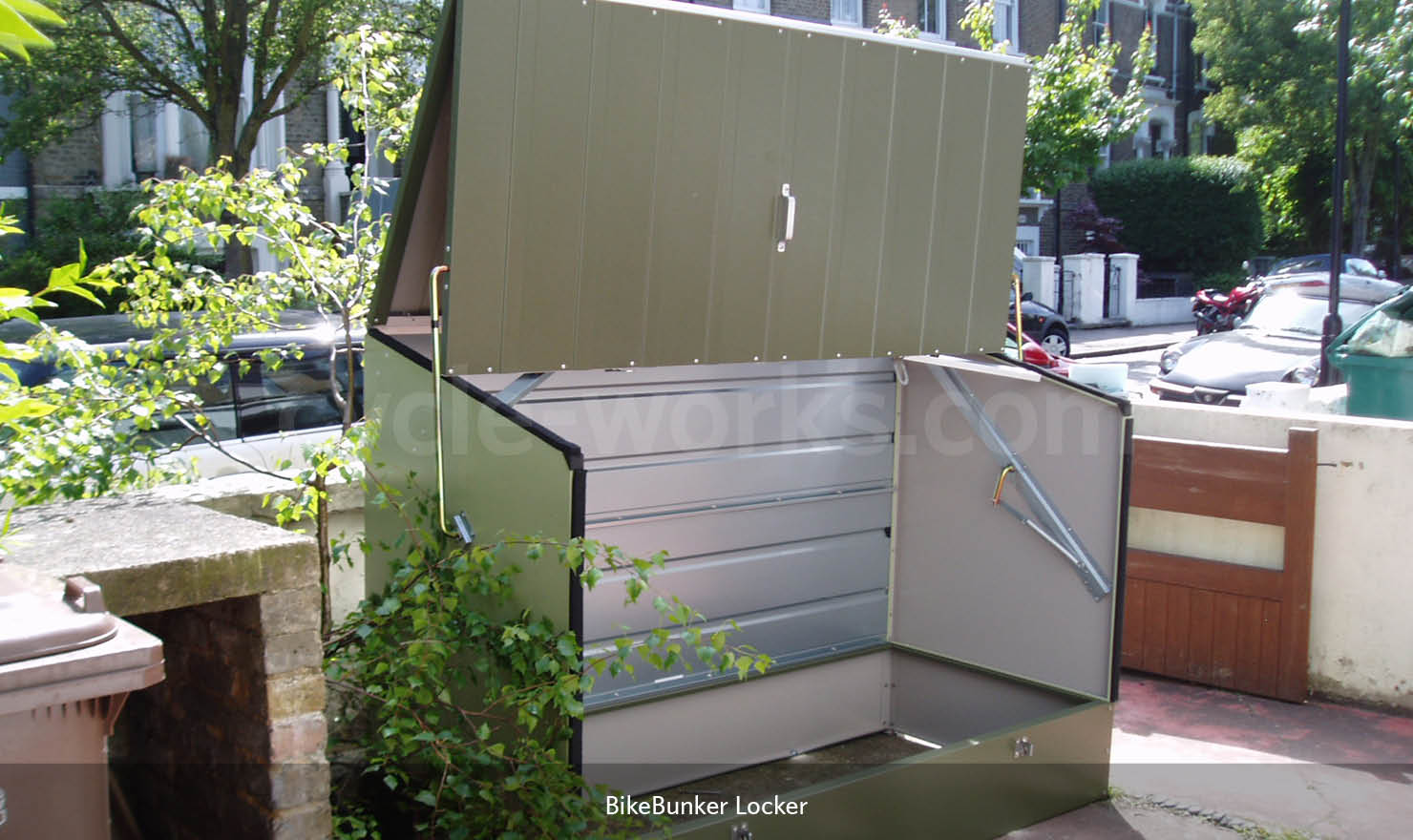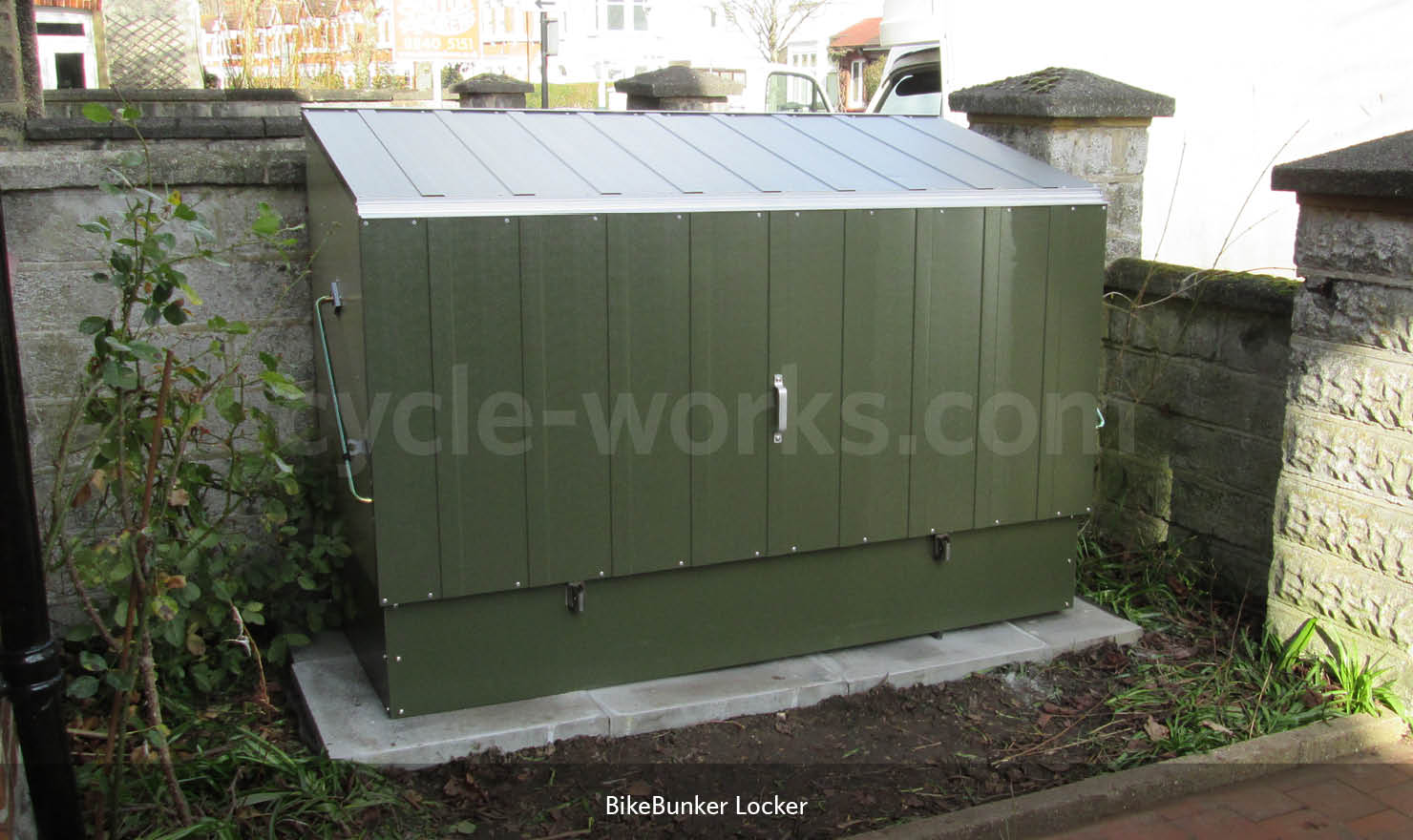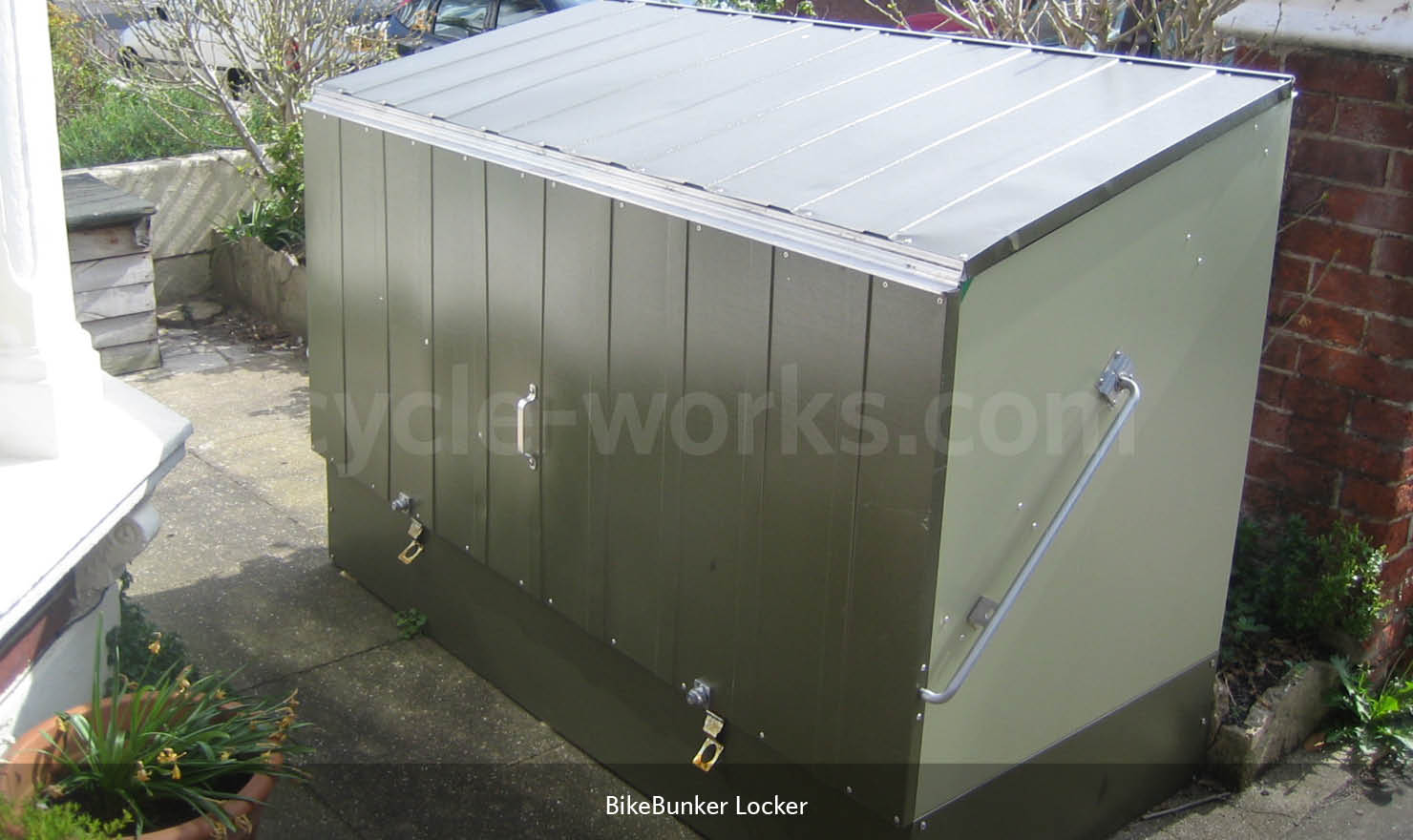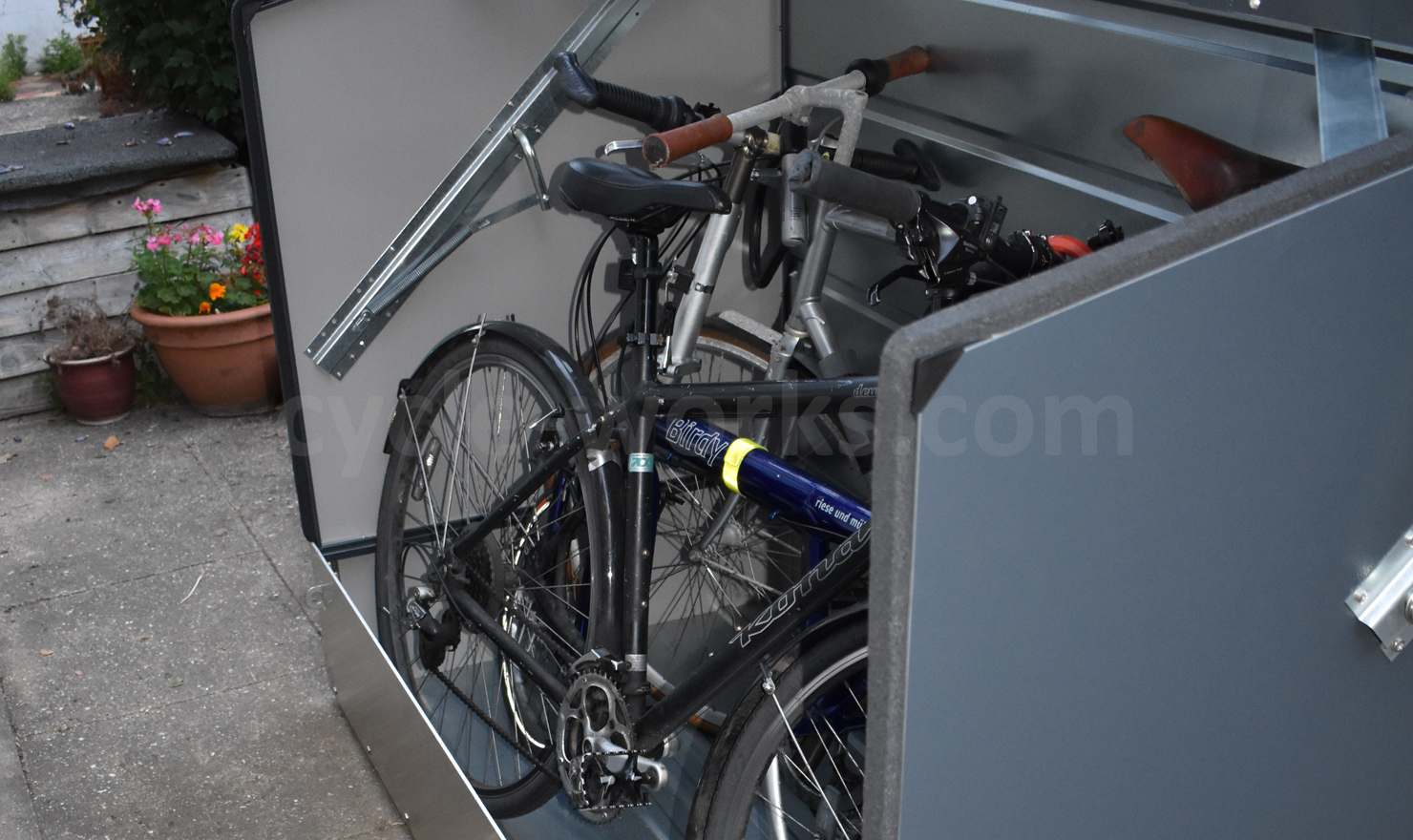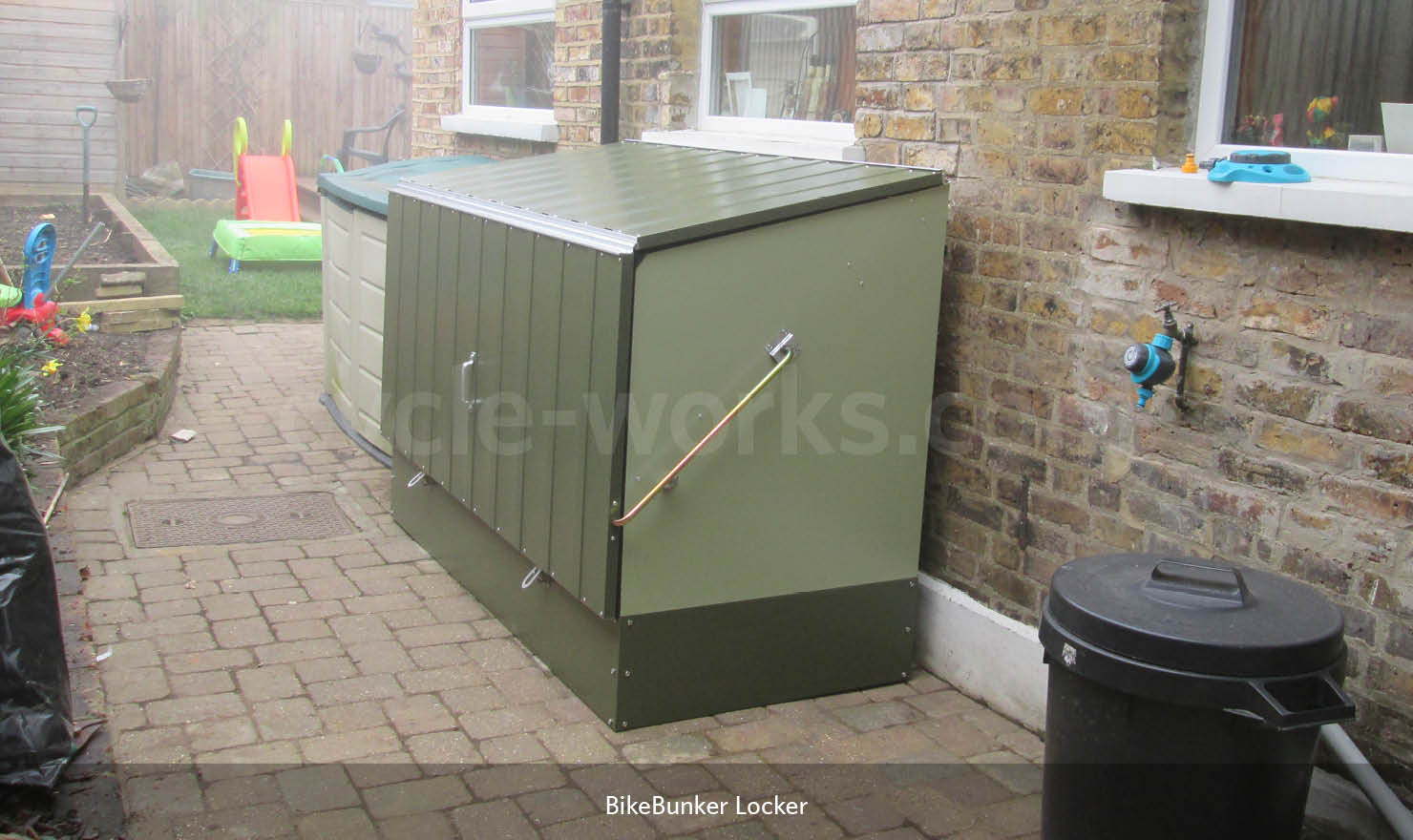 The Classic BikeBunker is a domestic bicycle store for two to three bikes, while the BikeBunker Plus offers additional security features.
---
Classic BikeBunker



Made of PVC coated galvanised steel

Two large 100mm stainless steel hasps at the front of the unit, plus 2 hasps at the sides

Provides cost-effective storage for up to 3 adult bicycles

Four locking hasps for added security.
---
BikeBunker Plus
The BikeBunker Plus is supplied with the following additional features:
two stainless steel hasps

two high security padlocks (Sold SecureGold Approved)

a Heavy Duty Ground Anchor (again Sold Secure Approved)

a High Security Cable (LossPrevention Board tested), which prevents the cycles from being removed even if thieves manage to break into the locker.
The BikeBunker Plus has been tested and certified by the Loss Prevention Certification Board and awarded the LPS1175 Security Rating 1. In addition, it has achieved the Police SBD mark (Secure By Design) "Preferred Police Specification."
---
Why These Products are so Good
The unobtrusive green colour scheme blends in with most buildings and gardens.
In addition to the bicycles, any related kit can be stored neatly and tidily away from any potential thieves.
This cycle locker can be used to help demonstrate compliance with BREEAM and achieve a high BREEAM rating.*
This cycle locker can be used to help contribute towards gaining your 2 ENE8 Cycle Storage Credits when used in an appropriate situation, under the Code for Sustainable Homes.
Layout & Space Requirements
This locker can be installed against a back wall or free-standing. Two lockers can be placed back to back.
Please allow 1.5m in front of the unit for loading and unloading.
Capacity
Stores up to three bikes plus kit.
Dimensions
External: Height (front): 1.13m, Height (back): 1.33m, Width: 1.96m and Depth: 0.89m
Internal: Height (front): 1.09m, Height (back): 1.29m, Width: 1.80m and Depth: 0.84m.
Weight: 68kg.
Mounting/Installation
This locker can be installed on any good, flat surface.
For installation onto damp surfaces such as lawns, we recommend the optional plywood floor.
The unit is delivered as a flat pack for self-assembly. This usually takes two people approximately half a day, using standard tools. Electric screwdrivers are useful and make the process quicker but are not essential.
---
Materials, Locking Mechanisms & Accessories
Material Options
This locker is made from PVC laminated sheet steel.
Locking Mechanisms & Options
The Cycle-Works enhanced security Bike Bunker comes with four hasps. This means that there are four locking points in total, one each side and two at the front of the unit.
---
Considerations
Security
Made from PVC coated mild steel, this locker is quite tough and durable. However, if security is a major concern we recommend the our Velo-Safe, Velo-Box or BikeAway lockers.
In addition, the locker is only as good as the locking mechanism used; therefore, we recommend using a strong padlock.
---
Frequently Asked Questions
Do you sell to private households?
Most BikeBunkers are installed in domestic locations. However, we have also installed a number of these lockers at commercial premises where several users are willing to share access to one locker.
To download the BikeBunker product sheet click here.
Pricing
BikeBunker and BikeBunker Plus are extremely economic units to install. Quotes are based on your bespoke specification, location and the quantity required.
Please contact us for a quotation, call 02392 81 55 55 or email sales@cycle-works.com.
---
Delivery
Current lead time is 6-8 weeks from receipt of your written purchase order. Extra time may be needed if extensive customisation is required.