BikeAway Free-standing Rack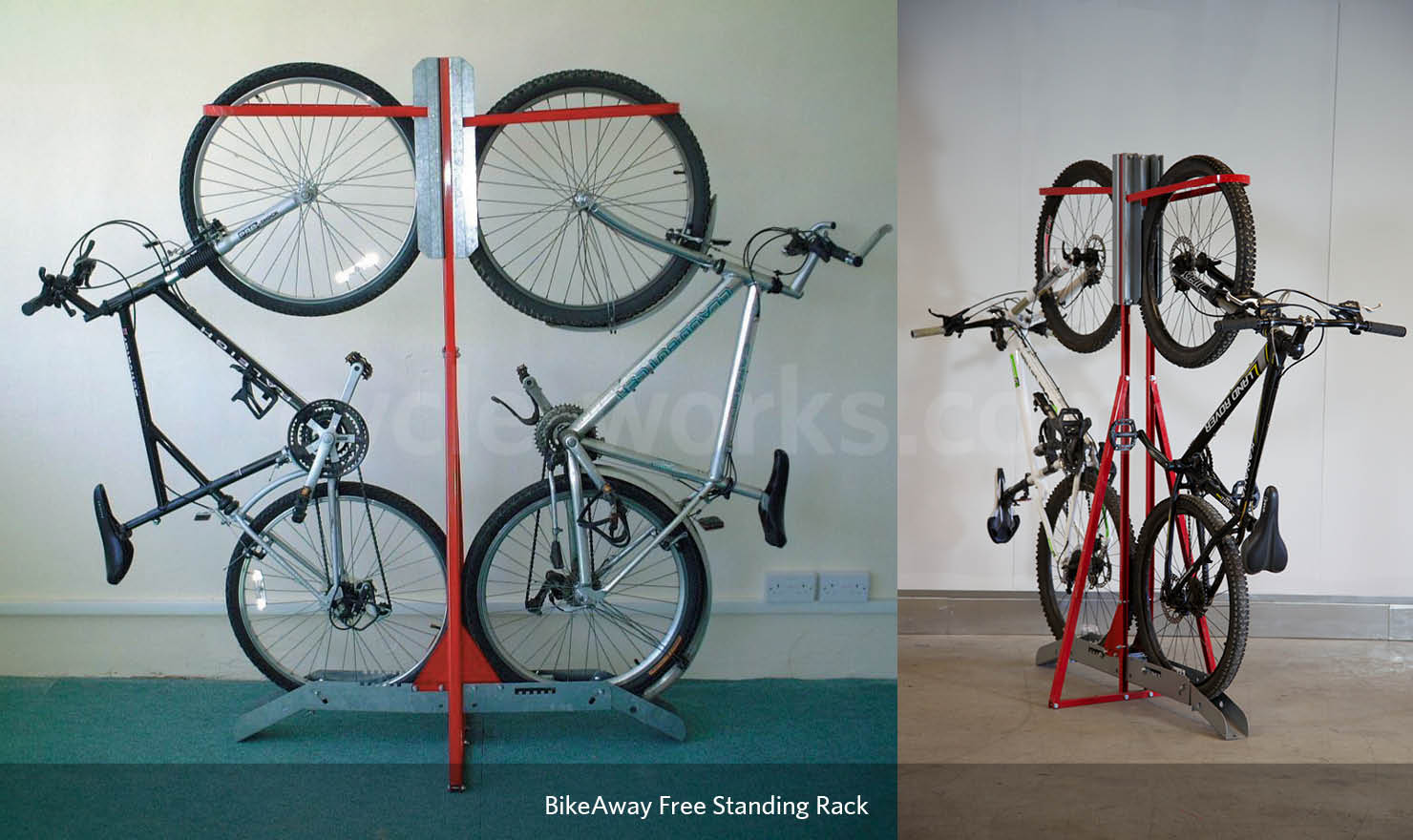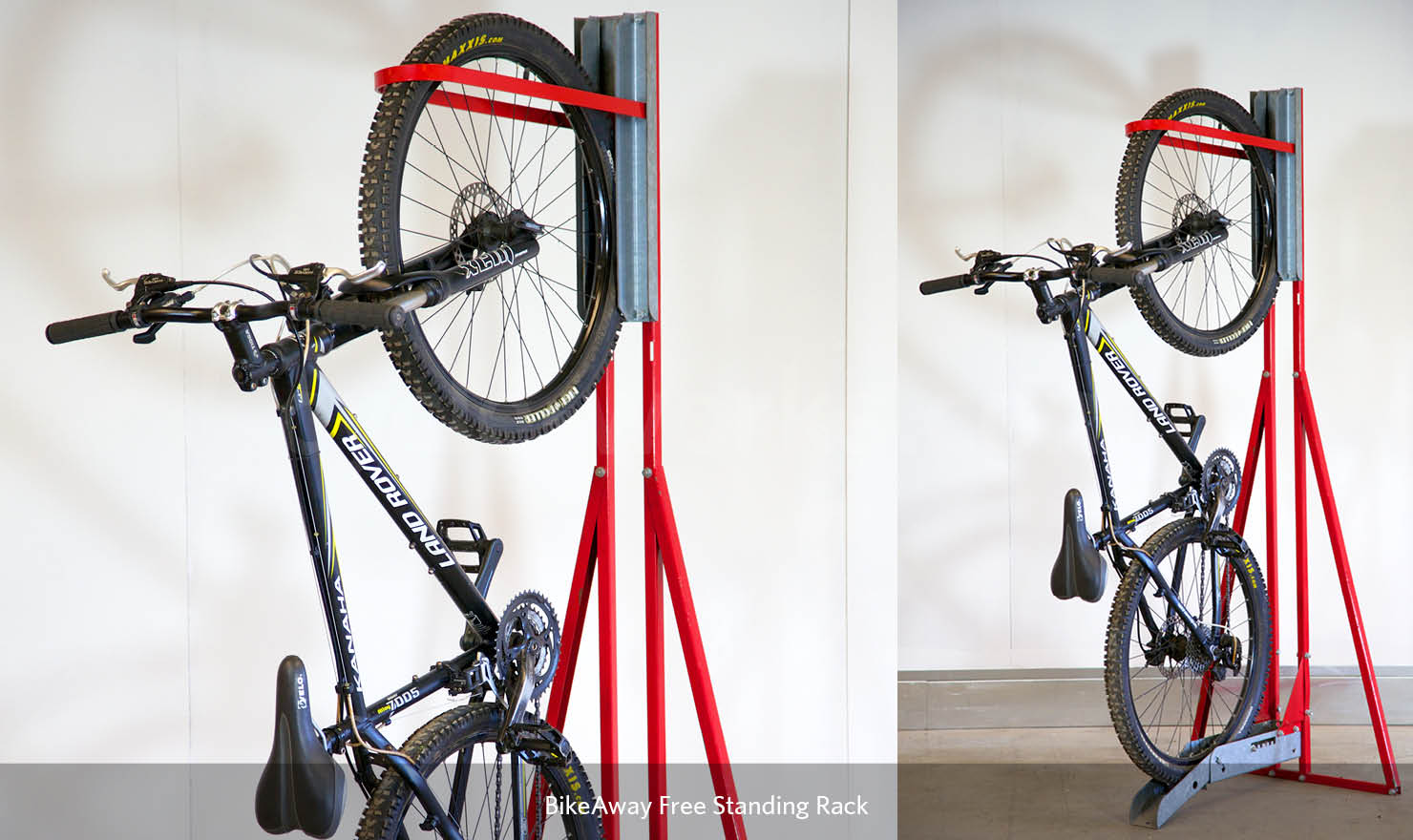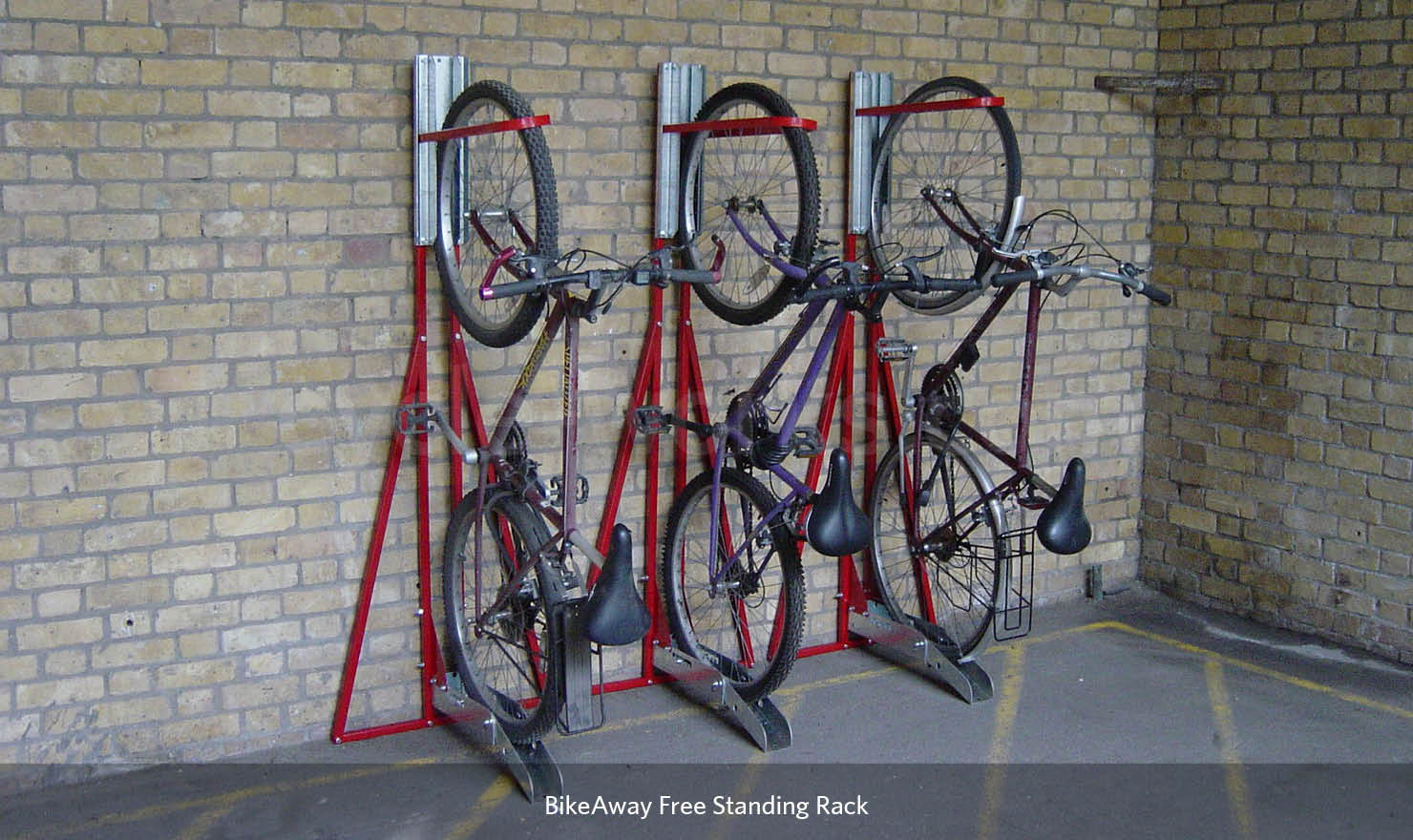 The BikeAway Free-standing rack parks one bike vertically.
---
Features & Benefits
Space-efficient and affordable bike parking

Holds the bike in place well

Neat and organised individual parking

Single or double (back to back) storage
---
Why This Product is so Good
This functional and well-designed rack is the free-standing version of the BikeAway wall-hoop rack and parks the bike vertically. It is a space-efficient and cost-effective way of storing a bicycle.
The patented hoop design of the Free-Standing BikeAway allows the cycle to be securely held in an upright position whilst the ramp carefully lifts the mudguard off the ground, protecting it from damage.
A double rack stores two bikes back to back, off a central spine.
This cycle rack can be used to help demonstrate compliance with BREEAM and achieve a high BREEAM rating.*
This cycle rack can be used to help contribute towards gaining your 2 ENE8 Cycle Storage Credits when used in an appropriate situation, under the Code for Sustainable Homes.
*Cycle-works and its products and services are not affiliated, endorsed or certified by BRE Global or its affiliates. All rights are reserved.
Layout & Space Requirements
Capacity
This system holds one bicycle per rack. Rows can be as long as required.
Mounting/Installation
The Free-Standing BikeAway needs to be assembled by the customer but is delivered with clear assembly instructions.
---
Materials, Locking Mechanisms & Accessories
Material Options
The racks are made of mild powder coated steel.
Locking Mechanisms & Options
The cyclist can lock the bike frame and wheels to the rack using a chain.
Accessories
Chain – Made from welded steel chain with deep case hardening for hacksaw resistance. It is zinc plated and protected by thermo-shrunk sleeving. Available in two sizes, 6mm and 8mm.
Padlock – Stainless steel disc padlock. Ideal for use with chain.
Zip-up Cover – This cover is available as an optional extra to be fitted over the Free-Standing BikeAway rack. It is easily fitted to your stand and protects you cycle from the elements.
---
Security
The rack provides locking points for a bike.
However, the racks are only as good as the user's lock. The bikes are visible to potential thieves and vandals, and they are open to the elements (unless under a shelter). Accessories, wheels, saddles etc can be stolen from them.
Please see our product range for more long-term secure bicycle parking.
---
Frequently Asked Questions
Do you sell to private households?
Yes. This product is ideal for home storage.
To download the BikeAway Free-standing Rack product sheet, click here.
Pricing
BikeAway Free-standing Racks are extremely economic racks to install. Quotes are based on your bespoke specification, location and the quantity required.
Please contact us for a quotation, call 02392 81 55 55 or email sales@cycle-works.com.
---
Delivery
Current lead time is 6-8 weeks from receipt of your written purchase order. Extra time may be needed if extensive customisation is required.