BikeAway Heavy Duty Locker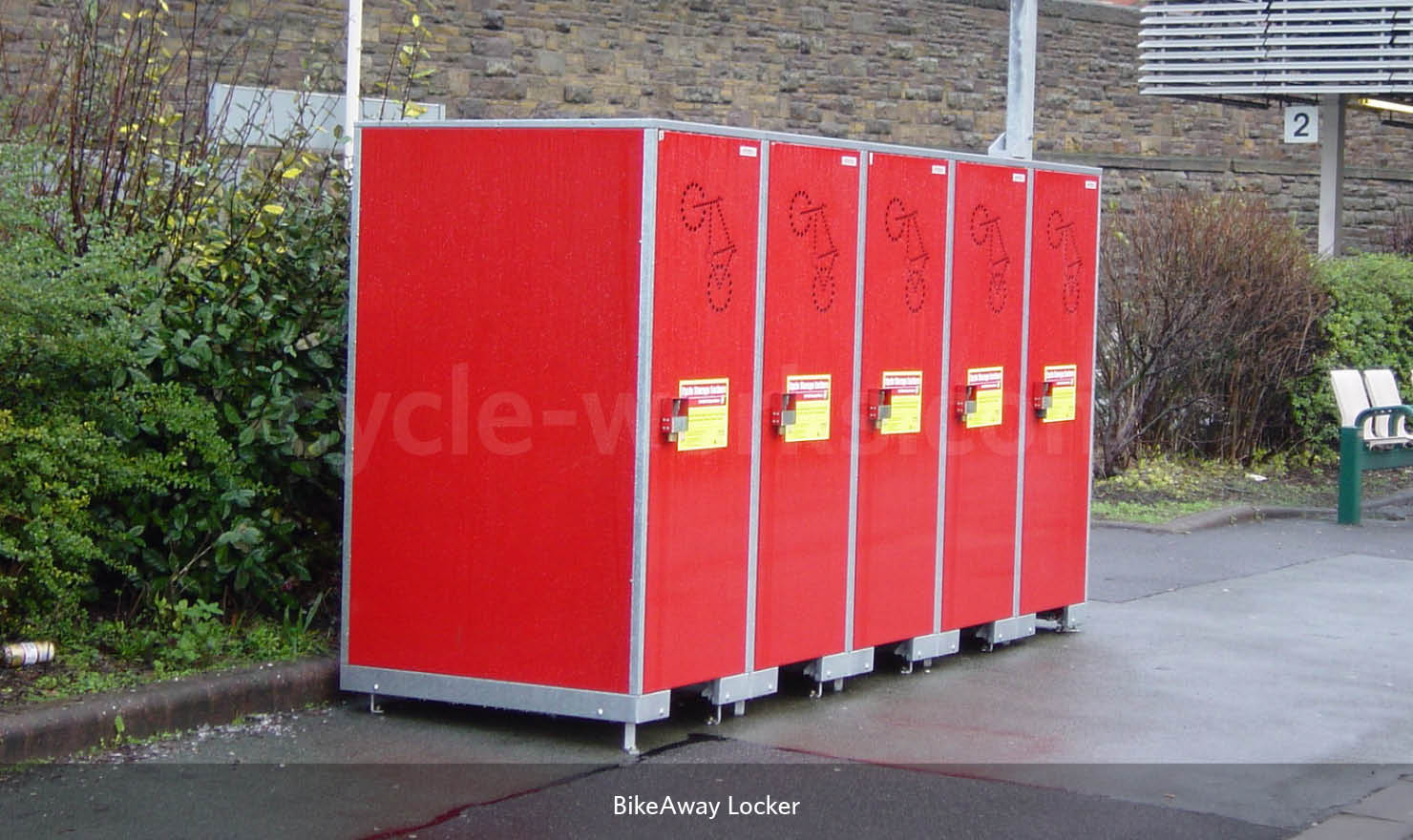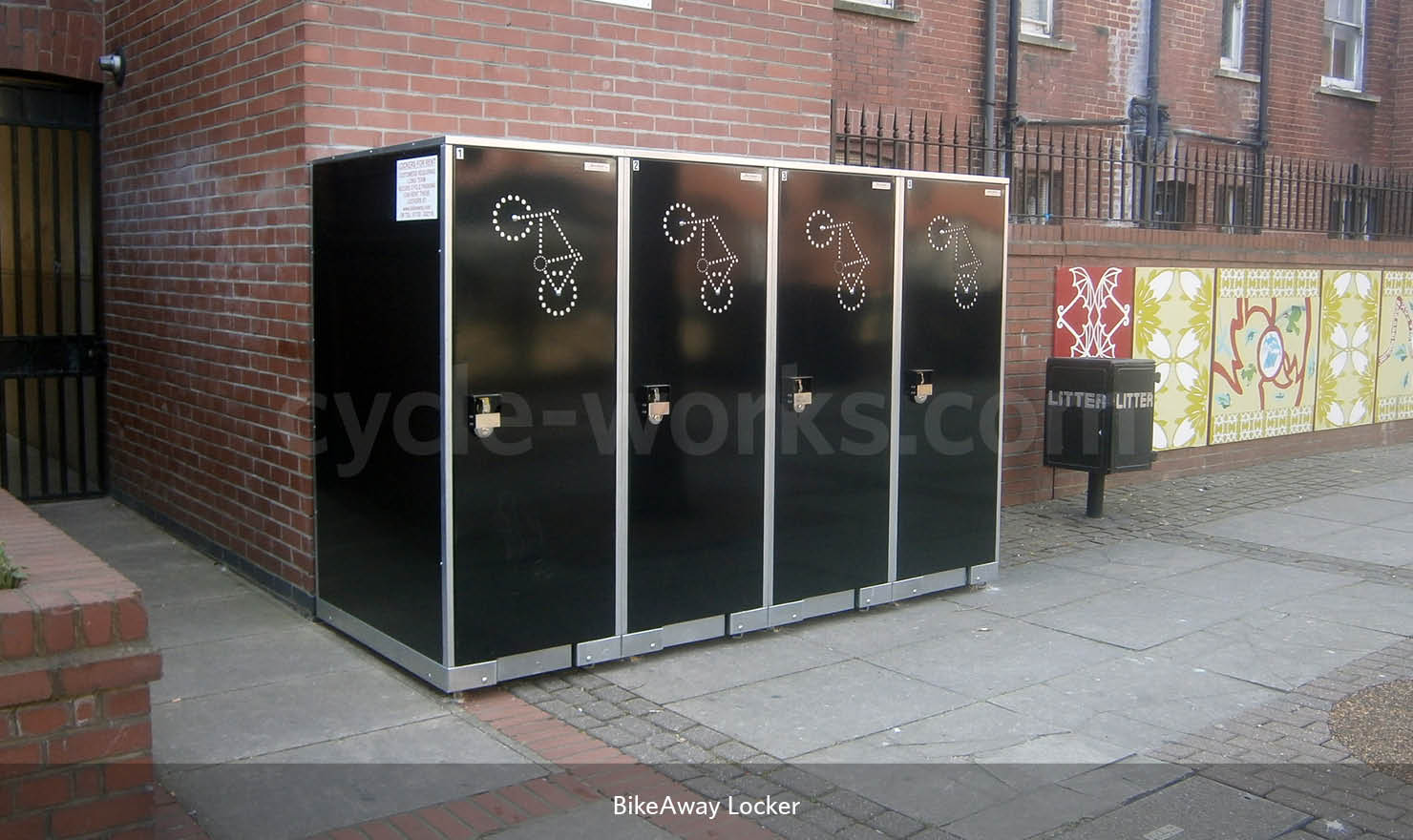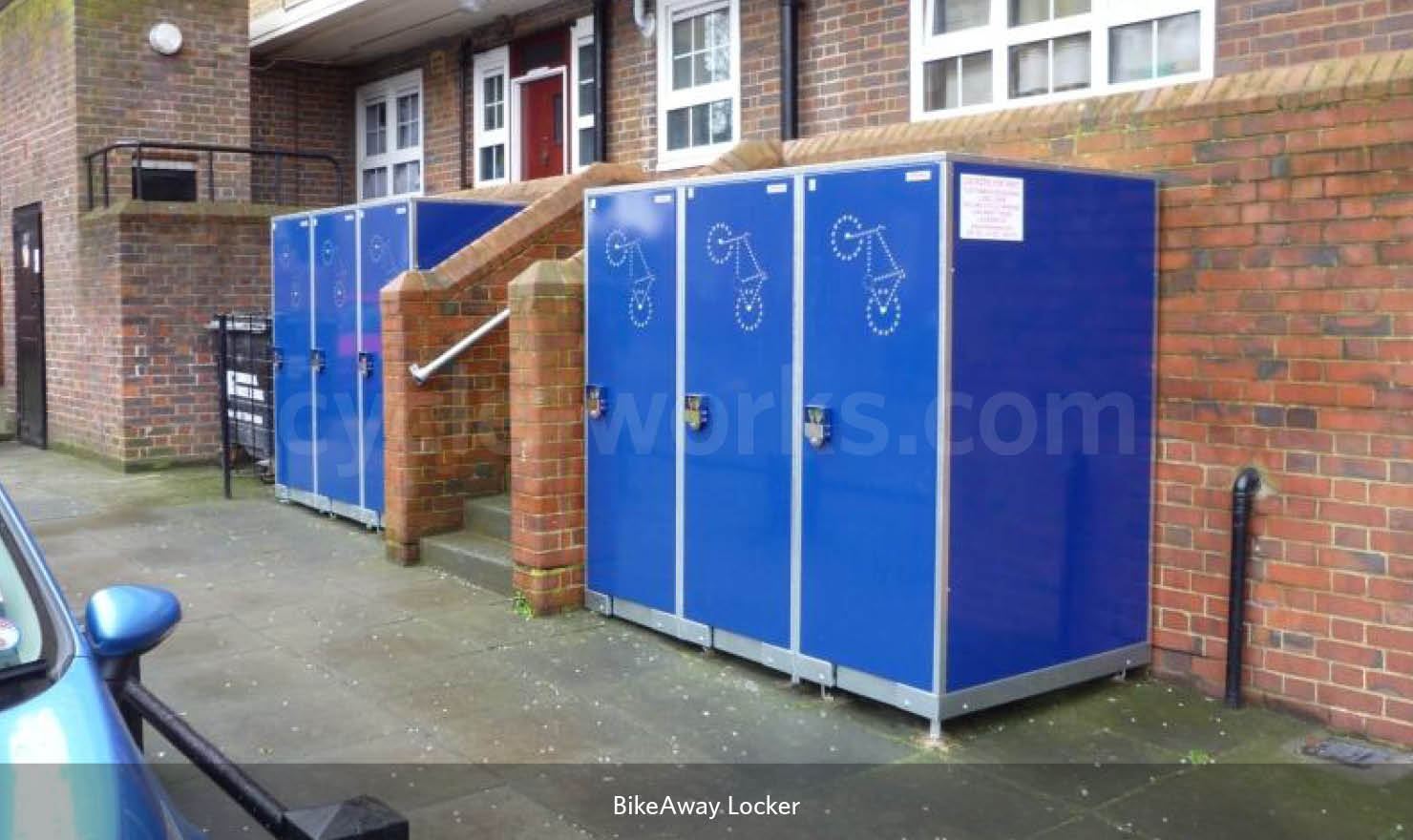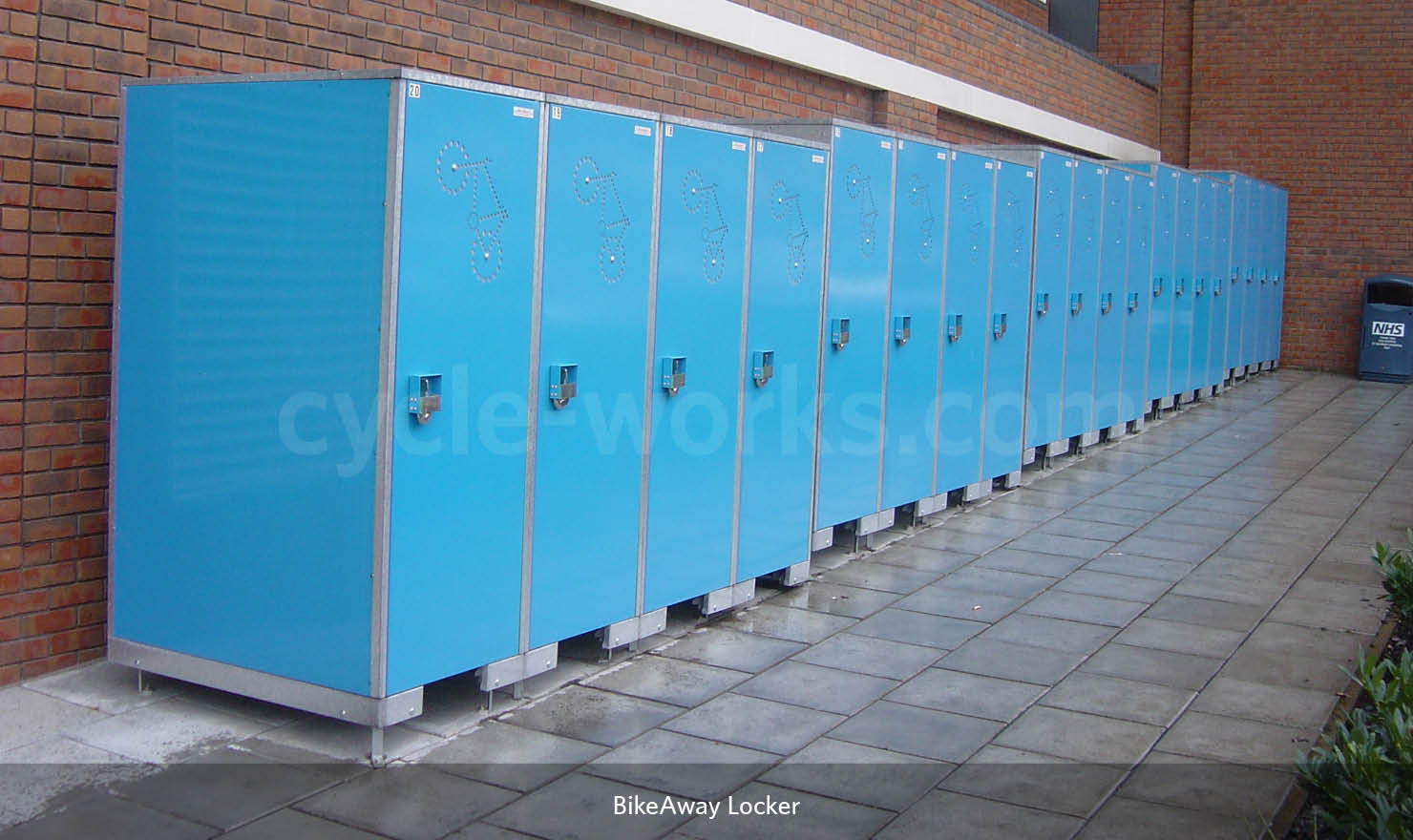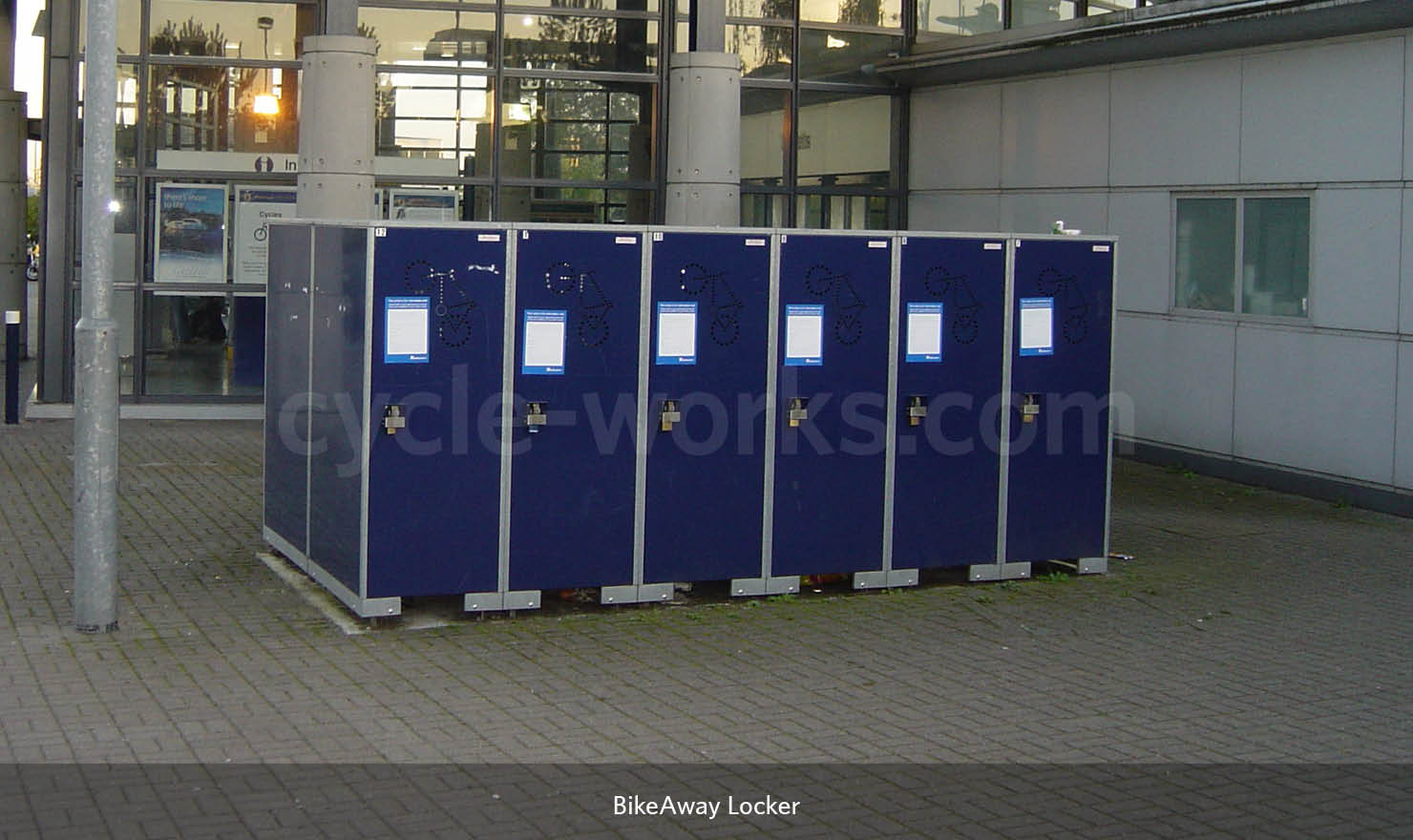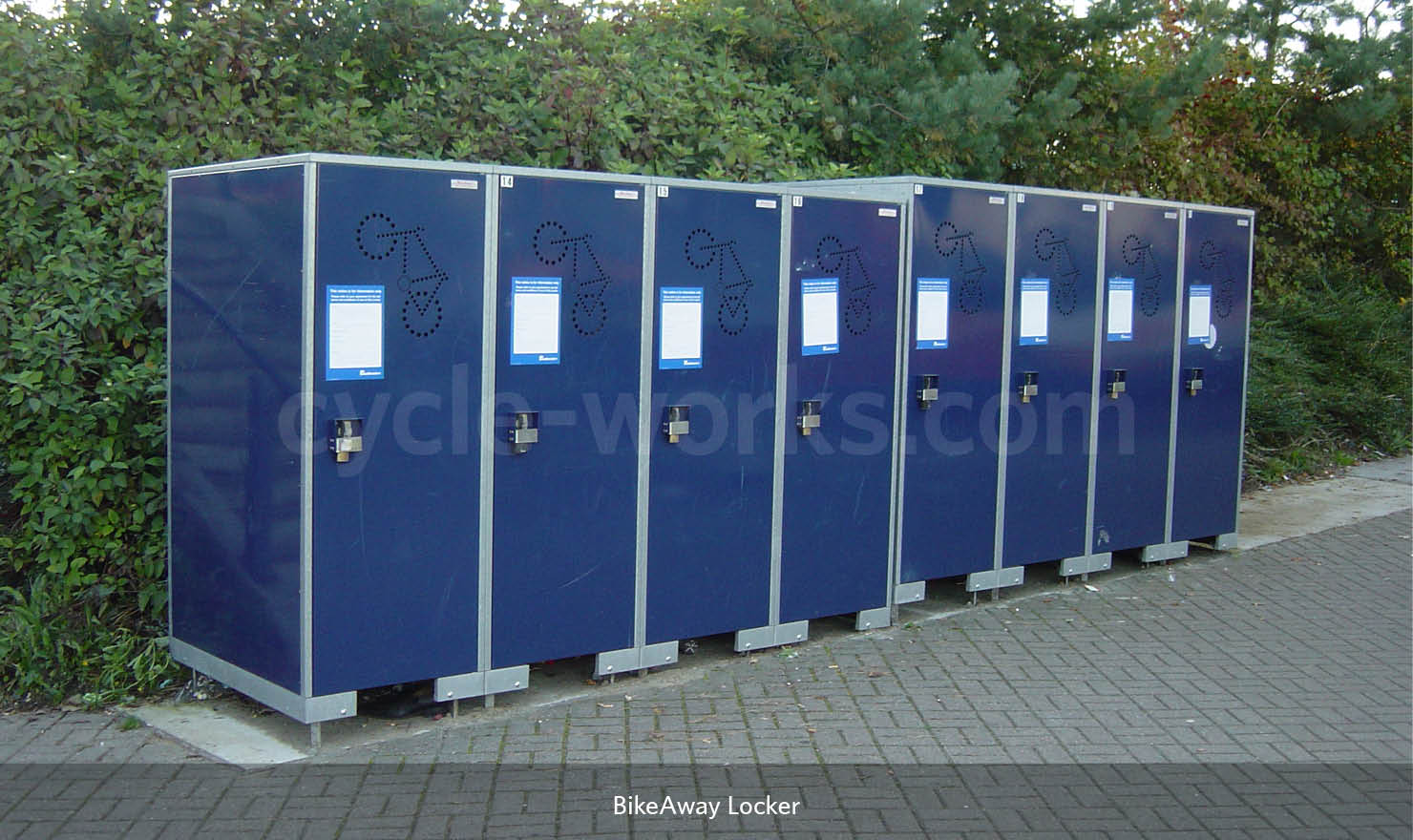 The BikeAway Heavy Duty locker is a galvanised steel bicycle locker which stores one bike vertically.
It boasts additional security features to the standard locker, as listed below.
Features & Benefits of the standard BikeAway locker
Space efficient due to its small footprint
Sturdy 1.5mm galvanised steel construction
Easy to use and suitable for schools
ADDITIONAL features & Benefits of the Heavy Duty BikeAway locker
2mm thick doors incorporating strengthening tie bars which provide an inner frame within the door
Additional stainless steel lock guard making tampering with lock almost impossible
Although not accredited with full certification (due to development work carried out by our company) this locker has passed the attack test in line with industry standards
Additional kick plate at base of door as recommended by the rail industry
Why this product is so good
This individual locker is ideal where space is at a premium. They are particularly space-efficient when fitted against a wall. Therefore, this locker is a popular option for schools, colleges and large organisations.
There is no metal-to-metal contact between the bike and locker and the bike is stored safely off the ground.
The small footprint means that 6 BikeAway lockers fit into just one standard car parking space with generous access for the cyclists.
A Heavy Duty version is available, which includes 2mm thick doors with strengthening tie bars, and additional stainless steel lock guard and an additional kick plate at the base of the door as recommended by TRANSEC. This version of the locker has passed the attack test recognised by Secured by Design.
This cycle locker can be used to help demonstrate compliance with BREEAM and achieve a high BREEAM rating.*
This cycle locker can be used to help contribute towards gaining your 2 ENE8 Cycle Storage Credits when used in an appropriate situation, under the Code for Sustainable Homes.
*Cycle-works and its products and services are not affiliated, endorsed or certified by BRE Global or its affiliates. All rights are reserved.
Layout & Space Requirements
Capacity
Dimensions
The BikeAway locker is 68cm wide, 115cm deep and 190-200cm high. The legs can be adjusted to accommodate gradients.
Layout & Space Requirements
The minimum quantity for any site is 2 lockers (for stability reasons).
Rows can be as long as required and the lockers can be installed back to back. More lockers can easily be installed at a later date.
Ideally leave at least 1.5m of clear space in front of the lockers for easy access.
Mounting/Installation
These lockers can be installed onto any smooth, hard and level surface.
This system is installed by our team of experienced installers.
Materials, Locking Mechanisms & Accessories
Material Options
This sturdy locker is made from 1.5mm steel - for comparison, most cars are 0.8mm. The heavy duty version features 2.0mm steel doors.
The doors and end panels are coated in a choice of 2 standard colours, British Racing Green (RAL 6005) and Oxford Blue (RAL 5003). All other surface are supplied in a galvanised finish, but coloured back panels are available at an extra charge. For large orders, the doors can be painted in a special colour scheme or corporate colours.
Locking Mechanisms & Options
The cyclist uses their own padlock to lock the door. An override mechanism then allows the operator to obtain independent access to the locker when necessary.
This is especially relevant for security-sensitive areas where spot-checks need to be carried out.
A key operated lock is also available.
Accessories
Every locker is equipped with a clothes hook on the inside of the door to store waterproofs, helmets and other kit.
Additional extras
Helmet lockers
Extended back panel – to fit larger bikes
Coloured back panel – if the back of the lockers is on view
Upgrade to Heavy Duty Locker: 2mm strengthening tie bars within doors, 2mm doors, extra kicking plate
75mm Disc padlock, punch numbered keys with numbered locker
Advertising & Branding
Advertising can be attached easily to the end panels
Issues & FAQ
Issues to consider
Ease of use
BikeAway lockers are quick, safe and easy to use. They have been installed in many schools, where the children are happy and able to use them. Most children can store a bike in a BikeAway in about 10 seconds. Should you nevertheless prefer to install horizontal lockers, please have a look at the other products in our locker range.
Safety
The BikeAway locker is a sturdy and secure locker, however, it is only as good as the padlock used. Therefore, we recommend using a strong padlock.
Frequently Asked Questions
Do you sell to private households?
Not in general, mainly as the minimum order is for 2 lockers to give them stability. However, we would be happy to provide private households with this locker if required.
Customers & Sites
We have done many sites with these products, including some of the following categories:
Councils
Hospitals & Healthcare
Schools, Colleges, Universities
Architects & Construction Companies
Transport Operators - Train/Bus /Air
Major Employers
Bike Stations
Residential
We have worked directly for most of the major construction companies, or as a subcontractor. We have worked directly for:
Price Requirements Please contact us for our current price list.
Normal payments for councils, authorities or recognised institutions is by invoice on installation, on 30 day terms.
However, in some situations a deposit may be required.
Other methods of payment may be acceptable.

Delivery Current lead time is 6-8 weeks from receipt of your written purchase order. Extra time may be needed if extensive customisation is required.  

Terms & Conditions Orders are subject to our normal terms and conditions.